Lahti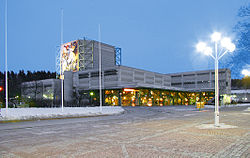 Lahti
(Swedish:
Lahtis
) is a city in
southern Finland
, on the shore of Vesijärvi and by the esker Salpausselkä.
The city is known for sports, especially ski jumping and skiing. It has hosted many world championship and hosts the yearly international Lahti Ski Games (Finnish:
Salpausselän kisat
).
Lahti is also a traditional industrial city. However, the city has suffered heavily during the economic downturns, especially in the early 90s, earning a somewhat gritty reputation. Unemployment and alienation are still commonplace in suburbs of Lahti. Things are however now looking brighter again with a new direct railroad to Helsinki and the city centre being revamped.
Understand
Lahti was just a village until it got the railway in 1870. It then grew quickly and got its city status in 1905. Now Lahti has a population of 100,000 making it the 8th largest city in
Finland
by population. The area of the city is 154,6 square kilometres, of which 19,54 km² is water. It is near the country's gravity centre by population.
The area was inhabited already 9,000 years ago, with one of the oldest settlements found in Finland.
Get in
By car
Lahti is 104 km from
Helsinki
, a one-hour drive on
freeway 4
connecting the two cities. The drive will take a little less than one hour in the summer, more in the winter. Other major cities within an hour or two are
Kouvola
(east),
Mikkeli
(northeast),
Jyväskylä
(north),
Tampere
(northwest) and
Hämeenlinna
(west).
By bus
There are frequent buses from Helsinki and other major cities in the region, as well as cities further north along highways 4 and 5. See https://www.matkahuolto.fi/en/ for schedules.
By train
Travel from
Helsinki
to Lahti by train takes about an hour. Trains are preferred by locals, because they're fast and comfortable. There are several train types:
If you travel with children, you should choose
perhelippu
(family ticket). With each adult, one child can ride for free. For example, if you are two adults and three children (6–16), you will only pay for two adults and one child. Children who are under 6 usually get no ticket and thus no reserved seat – they are supposed to share a seat with their company if there are no free ones – so you may want to pretend they are 6 (even toddlers), to get the ticket, at least if you have no older children.
The city centre is less than ten minutes walk from the train station. Cross Mannerheiminkatu and travel north on Rautatienkatu. Pass the radio hill (with the tall legacy masts) on your left and the railway tracks behind you.
By plane
The nearest passenger airport is Helsinki Airport, about 90 km south of Lahti. From the airport you can travel to Lahti by bus (direct) or train (requires a transfer in
Tikkurila
).
There is an almost hourly
ExpressBus
coach connection from Helsinki-Vantaa airport to Lahti bus station, departing from platform 13 in front of Terminal 2. The service operates round the clock, although there may be a gap of 1 to 2 hours between services in the small hours of the night. The trip takes between 1 h 15 min and 1 h 30 min, depending on whether the service calls in towns on the way. In some cases, there is a change of coach at Kerava but it is well co-ordinated and easy. Tickets cost €20.50 (round trip €36.90) for adults, €10.30 for Finnish students (ISIC
not
accepted) and children of age 4–16.
Get around
By bus
Lahti has a good system of public transport. You can ride from one part of the city to another with a single ticket of €3.20, kids €1.60. Kauppatori is the center of Lahti's public transport system, but be aware that many bus lines go in both directions from Kauppatori. You can use the
interactive route planner
to find bus routes.
By foot
See
Lahti has a partly deserved reputation as an unattractive, economically depressed industrial town. In the recent years, however, Lahti has improved its reputation with a lovely harbour area with outdoor cafes and bars. In the harbour area there is also beautiful Sibelius Hall which is used for concerts and conferences.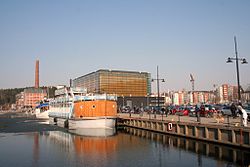 address: Ankkurikatu 7

Built in 2000, Sibeliustalo is an example of a modern wood construction and the largest wooden building built in Finland in a century. Finnish forests were the main inspiration for the architects. The building consists of four parts: The renovated ex-carpentry factory (the oldest industrial building still existing in Lahti, built by August Fellman in 1907 to serve as a kraft pulp factory with a sawmill, the building was extended many times and it served as a glass factory, wood meal factory, carpentry factory and wooden house factory), the Main Hall with wonderful acoustics, the congress centre and the Forest Hall (a beautiful lake scenery opening from Forest Hall's windows). Guided tours for groups of 1-13 persons. The ex-carpentry factory was renovated into a restaurant, offices and cabinets. Sibelius Hall host about 800 events every year: about 140 concerts from classical music to rock, pop etc.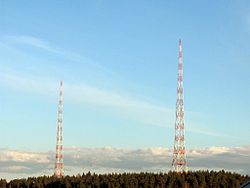 Lake Vesijärvi

address: Ankkurikatu

A nice way to spend a summer day is to embark on a paddle steamer (stern-wheeler) to cruise Lake Vesijärvi. Remember to have an ice-cream onshore.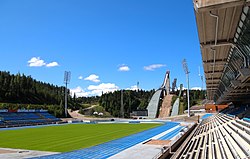 Do
Lahti has the best known symphony orchestra in Finland, Sinfonia Lahti. The annual winter sport event Salpausselän kisat is very popular and worth seeing.
Puksu city trainPuksu train goes through the city's entertaining places. It starts from Vesijärvi harbour, then goes to Laune park, then Farm Animal Yard, "Little Marketplace" and back to Vesijärvi harbour.

Yli-Marola 4H Farm Animal Yard

address: Neljänkaivonkatu 47

Barnyard animals in the sweet country milieu right in the city center. Open only in Summer.

Outdoor swimming pool

address: At the ski jumping centre

In the summer, the bottom part of the highest ski jump is opened as a pool. There's a shallow kids area as well as a deeper area, which goes quickly from 2m to 3m deep. Swimming ability required. You can borrow trunks and glasses.

Sports ParkYou can play almost anything in the sports park. There are tennis courts, a tennis wall, volleyball court, baseball field and of course a football field. Inside, there are tennis, badminton, and squash courts.

Steam locomotive trip to Heinola

address: Salpausselänkatu 8.

Enjoy a ride to the neighboring city of Heinola on a 1947 steam locomotive via a 37km track no longer used by regular passenger trains. The train stops at many old stations along the way. Schedules are published on the website, and tickets can be bought on board.
Parks

Laune Family Park

address: Kaarikatu 26

In Laune park, you'll have lots of fun. There's a traffic city, where you can drive with free bicycles and scooters. There are pipes and water, and parents can rest on grass while kids are having fun.

Vesiurut

address: Pikku-Vesijärvi park

Vesiurut means water organs. Every day at 1PM and 6PM, at the park there is a small 15 minute concert. The fountain starts in unison with music from speakers up in the trees. There are some classical music pieces and some Finnish pop music pieces. You can sit on rocks around the fountain, but be aware - you may get wet. During the fall, there are also lights playing.

address: Ruoriniemenkatu 10, Lahti

Public beach, changing rooms and toilets, a small number of public parking spots are located nearby. Close to city centre on the shore of Vesijärvi, water quality in the lake is excellent.

address: Salpausselkä, Lahti

Tens of kilometers of forest trails for walking, cycling and skiing. No dogs allowed on ski trails in winter.
Festivals
Classic Motor ShowAn event for fans of old cars and motorcycles; American cars from the 1950s and 60s are particularly well represented. Hobbyists, collectors and automobile clubs bring out their well-polished treasures from their garages, car-related businesses market their services, there are presentations, competitions and a motorcade. The main event takes place indoors, but there are almost as many beautiful old cars to see in the yard as well. Namely, people who arrive in a vehicle that's at least 30 years old may park it on the fairgrounds free of charge (and they will be part of the "outdoor" exhibition).
Buy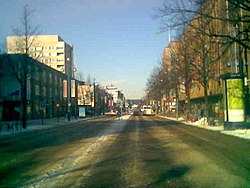 Shopping centers
Lahti has several big shopping centers.
Trio

address: Aleksanterinkatu 20

There are over 90 shops on 3 floors.

address: Aleksanterinkatu 19-21

It's a big center with 3 floors and a basement floor. The three upper floors are filled with shoes, clothes, toys, electronics, kitchen utilities, games, movies and everything that you need in your household. In the basement, there's a S-Market grocery store, a chain which has a store in almost every city in Finland.

address: Kauppakatu 16

A big 2-floor Anttila department store which sells nearly everything. There are also several smaller shops, a cafe and an InterSport sports shop.

Syke

address: Kauppakatu 18

Shopping center Syke is located just opposite of Liike. Unlike Liike, which has a few shops. Syke has several — S-Market, which sells household products and food, Clas Ohlson, which sells electronics and household products, Emotion, which sells cosmetics and womens lingerie, TOP Sport, which sells sports equipment.

Laune districtA couple of kilometers south of the city center, a large commercial area filled with large hypermarkets, electronic goods, car stores and charity shops (flea markets).

KarismaSituated about 5 kilometers east from the city center, next to the E75 motorway. It has nearly 80 shops.

address: Pasaasi 2

Independent shopping center in Renkomäki district.
Just by walking around in the city centre you can find stores that sell almost anything (everything from buttons to cars).
Factory outlets
Lahti has several good factory outlets. For clothing Finnkarelia Outlet in Hollola and Luhta Outlet in Lahti are good places to visit. Maria Drockila's candle factory in Orimattila's old spinning mill is also worth a visit.
Eat
Ahtialan Pizza-Kebab

address: Ahtialantie 137

There is a variety of pizzas and kebabs. It's located quite far from the town centre.

phone: +358 400-156-706

address: Rautatienkatu 15

An Italian restaurant serving Italian-style pizzas and also has a catering service.

Ararat

address: Rautatienkatu 10

Pizzas & kebabs.

address: Aleksanterinkatu 15

This place is said to have the best kebabs in Lahti.

address: Mariankatu 8

Spanish styled food

Italiano

address: Jalkarannatie 1

Great variety of Italian dishes.

Lahden Kebab & Pizza

address: Vapaudenkatu 22

Lorano

address: Hämeenlinnantie 26

Lounaskahvila Tara

address: Aukeankatu 1

address: Ritaniemenkatu 11

Oluthuone

address: Rautatienkatu 11

address: Rauhankatu 19

famous for their wrapped kebabs.

Ravintola Erika

address: Lahdenkatu 46

phone: +358 10 279 2930

address: Rautatienkatu 7

Finnish fine dining with local delicacies.

address: Aleksanterinkatu 10

Right next to Kauppatori. An interesting restaurant specialized in Mexican food. There's also a bar downstairs.

Tähti Pizzeria

address: Ostoskatu 16

phone: +358 424 925 230

address: Rautatienkatu 13

Grill and distillery.

phone: +358 3 751 6309

address: Vapaudenkatu 10

Italian food, good pasta and their own ice-cream. You can talk Italian with the owner.
Drink
Other places worth to visit are restaurant Taivaanranta and Teerenpeli which have their own whisky distillery and beer brewery.
address: Vapaudenkatu 20

This place has its own whisky distillery and beer brewery. You can buy single cigars as well, they are kept in a big humidor. In Teerenpeli there is very nice atmosphere and friendly service.
Sleep
Budget
Mid-range
phone: +358 3 813 711

address: Vapaudenkatu 24

Pet friendly hotel in the center of Lahti. There are conference facilities for 50 people. The hotel has 171 rooms, bar and disco.

phone: +358 3 339 39 11

address: Vesijärvenkatu 1

Formerly known as Next Hotel Salpaus. Standard mid-range hotel of the Swedish chain.
Splurge
phone: +358 20 1234 655

address: Aleksanterinkatu 14
Go next
Among the neighboring towns and cities are
Asikkala
,
Heinola
and
Orimattila
. Many of them have something worth a visit, although perhaps just a brief one.
Medieval Greystone Church of Hollola

address: Rantatie 917

Visit nearby Hollola for it's medieval greystone church. Completed around 1480 it represents the best middle aged church architecture. This church is famous for it's well preserved wooden carvings, some of which are from the 1400s.

Messilä resortIn the winter one of the most popular ski resorts of southern Finland, in the summer a place to hike and play golf.

Päijänne National ParkNational park in Finland's second largest lake. Explore with boat or canoe. A nature trail with nice views is reachable by road.