Lake Alfred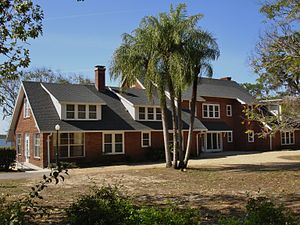 Lake Alfred
is small town of 4,000 people in north-central
Polk County
,
Florida
. The town lies along U.S. 17/92, which runs north/south through the center of town. Easily a drive-though community for motorists, it is worth a stop to hike through Mackay Gardens, browse the family-owned businesses along Haines St, or maybe even learn to water ski.
Understand
History
Lake Alfred was established in 1883 soon after the South Florida Railroad reached the area by settlers escaping the cold of Fargo, North Dakota. The town was initially called "Fargo", but the Post Office objected over confusion with
Largo
. The town then took on the name Chubb and later Bartow Junction because it lay at the junction of a road leading south into the county seat Bartow. In 1913, it was named Lake Alfred after the nearby lake which, in turn, had been named for Alfred Parslow, an early settler. The Mackay estate on the north shore of Lake Rochelle was built around 1920. It was purchased in 2004 by the city and is slowly being renovated to its original glory and will hopefully be placed on the National Register of Historic Places soon.
Climate
Lake Alfred's climate is much the same as the rest of Central Florida (except coasts). Winters are mild, with highs in the 70s (21-27°C) and lows in the 50s (10-15°C). Lows in the 30s (0-5°C) are common after cold fronts and there are usually a handful of lows below freezing each winter, although that requires clear skies, so it usually warms very rapidly after sunrise (30°F at 6AM, 55°F by noon is typical). Cold fronts occasionally pass by as squall lines, so tornadoes in December or January are not unusual. Snow is rare; the last measurable snowfall was in 1977, although sleet/wintry mix fell in an unusually cold January 2010. Summers are hot and humid, with highs around 90-95°F (33-35°C) and lows around 74-78°F (23-26°C). During the summer, onshore winds from both coasts travel inland, heat up, rise and build into thunderstorms, usually along a rough line. Lying in the center of the state, the line of storms (each called a "seabreeze") often collide and become severe, with tornadoes (small EF0-1s...not like the powerful tornadoes in the Plains states), 50+ mph winds, and hail possible. Strong storms are usually preceded by cooler winds caused by the rain-cooled air (cold air sinks) rapidly flowing away from the storm. The temperature after a strong thunderstorm passes can drop from 95°F (35°C) to 75°F (24°C) and since the storms can be fairly small, you can drive 5 miles and the temperature will drop/rise 20°F (10°C) between rain-cooled and surrounding areas.
Get in
By car
Lake Alfred is located along
U.S. 17/92
, just north of
Winter Haven
and east of
Auburndale
and a few miles west of
Haines City
. County Road 557 runs north from town to Interstate 4 (exit 48); a branch of it—C.R. 557A—connects to
Polk City
.
By bus
Winter Haven Area Transit (W.H.A.T.) operates one route through town, along U.S. 17/92.
Route 15
runs between the Winter Haven Terminal (north side of downtown) and downtown
Haines City
. Adult fare is $1.50/ride with no free transfers. A day pass for adults costs $3 and is good for 24 hours. Discounts are available for students & seniors.
By plane
The nearest commercial airports are
Orlando International Airport
(
MCO
) and Tampa International Airport (TPA).
Winter Haven Municipal Airport (GIF) & Jack Brown's Seaplane Base () are located just a couple miles west of Lake Alfred off U.S. 92. They serve general aviation, but not regularly-scheduled, commercial flights.

Get around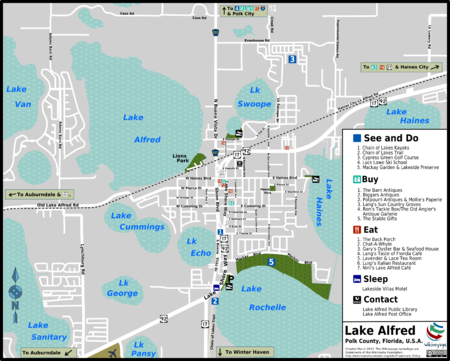 The only effective way to get around town is with a car or on foot. The town extends just a dozen or so blocks in all directions from the intersection of Haines St and northbound U.S. 17/92, so walking is a reasonable option. The nearest car rental agencies are in
Winter Haven
and
Auburndale
.
By bus
Public transportation consists of WHAT Route 15 along U.S. 17/92. This will only get you a mile or two within town, so at $1.50/ride isn't a practical way to get around Lake Alfred.
By taxi
Checker Cab Co.

phone: +1 863 665-8151

Serves all of Polk County.

Imperial Taxi

phone: +1 863 968-9494

Serves Winter Haven, Auburndale, Lake Alfred, & Haines City.

Polk County Taxi

phone: +1 863 521-2924

Serves all of Polk County.

Shooting Star Taxi

phone: +1 863 420-0108

Yellow Cab/Maingate Taxi

phone: +1 863 292-9166

Serves all of Polk County.
See
Mackay Garden & Lakeside Preserve

phone: +1 863 291-5270

address: 900 Mackay Blvd

Beautiful old mansion & estate with a playground and nature trails. The estate was built by Scottish entrepreneur Alexander Mackay, who named it "La Rochelle". The 7,000 square foot mansion is a great example of Craftsman style architecture. The interior is only open for tours (need to be scheduled) and for private events. There are a few miles of nature trails around the estate. The trails are marked by paint on posts & trees, but some sections aren't well marked and/or aren't cleared very wide (less than 2 ft wide in spots). Near the estate is a playground, restrooms, and small, Florida-friendly garden (showcases the local vegetation to minimize watering and fertilizer). The city purchased the estate in 2004 and has invested in many improvements to the site, but there is still more to be done.
Do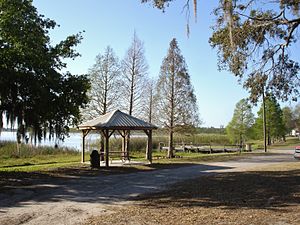 Watersports
Public boat ramps are accessible off U.S. 17/92 for Lake Rochelle & Lake Haines.
phone: +1 863 956-5277

address: 1116 Old Lake Alfred Rd

Water ski school. Pay for individual lessons/rides, daily (3-4 lessons), or weekly (5 days, 3-4 lessons/day, & accommodation).
Golf
Cypress Greens Golf & Tennis Community

phone: +1 863 956-4179

address: 1000 Cypress Creek Blvd

Private 9-hole course. Golf club rental available.
Cycling/walking
The
Winter Haven Chain of Lakes Trail
is a multipurpose paved trail leading from the split/merge of U.S. 17 & U.S. 92 on the south side of town south through the northern neighborhoods of Winter Haven, ending in Central Park.
Annual events
Bluegrass Bash — January. Bluegrass & clogging festival held at Mackay Gardens & Lakeside Preserve.
Grillin' and Chillin' BBQ Competition — October. Entertainment, shopping, and...of course...BBQ! Held at Lion's Park.
Buy
phone: +1 863 956-1363

address: 167 C.R. 557A

The owners regularly travel abroad to purchase antiques and ship them back to this store. There is a good variety of finer quality English & country antiques, with lots of furniture & home decor items. They also have a good selection of stained glass windows salvaged from old homes/furniture. This isn't a high-end antique store, but most of the stuff is good quality and the place is not overflowing with inexpensive nick-knacks like most antiques stores you'll find in the region. The family also owns the adjacent "The Stable Gifts" & "The Back Porch" restaurant.

Biggars Antiques

phone: +1 863 956-4853

address: 140 W Haines Blvd

Antique store, with a focus on country antiques & oak furniture.

Lang's Sun Country Groves

phone: +1 863 956-1460

address: 5900 U.S. 17/92

Gift-fruit shipper, offering citrus gift baskets and assorted candies, jams, juices and small gifts.

Potpourri Antiques and Gifts/Mollie's Paperie

phone: +1 863 956-5535

address: 144 W Haines Blvd

Antique furniture, silver, & glass. Home decor and designer gifts.

Ron's Tackle Box/The Old Angler's Antique Gallerie

phone: +1 863 956-4990

address: 380 S Lake Shore Way

Bait & tackle shop that also offers collectible knives, trophy fish/game mounts, and specialized outdoorsman-type gifts.

The Stable Gifts

phone: +1 863 956-1363

address: 110 C.R. 557A

Various home decor gifts. Located next to The Barn antiques.
Eat
The Back Porch at The Barn & stable

phone: +1 863 956-2227

address: 115 C.R. 557A

Chat-A-Whyle

phone: +1 863 956-1515

address: 185 Lake Shore Way

Located next to The Barn antique store. Follow S.R. 557 a few miles north of town to the intersection of S.R. 557A.

Gary's Oyster Bar & Seafood House

phone: +1 863 956-5055

address: 660 E Alfred Rd

As the name suggests, this restaurant features a wide range of seafood eats, from shrimp & catfish to oysters and alligator.

phone: +1 863 956-1460

address: 5900 U.S. 17/92 W

Serving up fresh soups, salads, & entrees...but save room for desert. A wide range of homemade pies, ice cream, shakes, and more is the highlight. Most dishes/deserts feature fresh, local citrus & strawberries.

Lavender & Lace Tea Room

phone: +1 863 956-3998

address: 430 N Lake Shore Way

Luigi's Italian Restaurant

phone: +1 863 956-9100

address: 228 S Lake Shore Way

Nini's Lake Alfred Café

phone: +1 863 956-3504

address: 148 W Haines Blvd
Sleep
Lakeside Villas Motel

address: 1255 S Lake Shore Way
Connect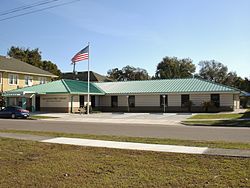 Lake Alfred Post Office

phone: +1 863 956-4664

address: 195 W Haines Blvd

phone: +1 863 291-5378

address: 245 N. Seminole Ave

There are 8 computers for public use with internet access. A wi-fi wireless internet connection is available. Behind the library is a small garden. There are just 3 parking spots in front of the building; a gravel parking lot is directly across the street. The Friends of the Library bookstore is open Saturdays 10AM-3PM.
Stay safe
Emergency

phone: 911

phone: +1 863 291-5200

address: 190 N Seminole Ave

Polk County Sheriff

phone: +1 863 533-0344
Cope
The nearest hospital and medical clinics are in
Winter Haven
.
Go next
Boaters and water skiers can head south to
Winter Haven
, where its
Chain of Lakes
offers plenty of space to roam. Much more in the way of
nature parks
and
antiques shopping
can be found throughout
Polk County
.