Lake Garda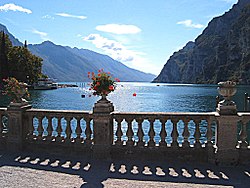 Lake Garda
is a lake in the north of
Italy
, and the surrounding region. It is a popular holiday location.
Understand
The lake is situated at the border of the Po river plain, with the north part stretching into the mountains.
The north of the lake seems to be more suitable for the people who enjoy a quiet, peaceful holiday, but a bell rings from the Northern most town of Riva Del Garda often early in the morning. The south has a theme park and a few man-made beaches so is for the more outgoing, adventurous person.

Cities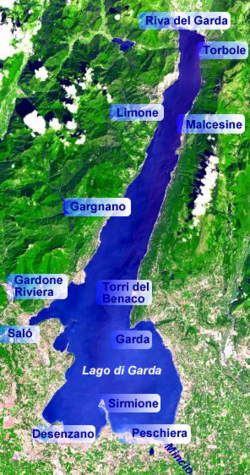 There is a handful of small towns scattered all around Lake Garda. Some of the towns from the north clockwise to north-west are:
; In
Trentino-Alto Adige
; In
Veneto
– for Monte Baldo – a ski resort in winter, and trekking site in summer
– among its attractions: Villa Albertini – one of the most splendid villas on the lake
– a home for homonymous vines
– a small picturesque town with a tiny old harbour and a medieval castle
– see an old Austrian fortress, and the river Mincio – the main outlet of the lake
; In
Lombardy
– located on the peninsula to the south is has a 13th-century castle and the ruins of a Roman villa, attributed by some to the famous Roman poet Catullus
– the largest town on the lake. It has good ferry connections to other destinations on the lake
– is a nice lake-side town notoriously known for being a capital of the Republic of Salò at the end of WWII
– a small town known for Vittoriale – an eccentric (like its former owner) estate of Gabriele d'Annunzio with a large park. Giardino André Heller is another place worth a visit.
– gets its name from lemons! Lemon trees grow throughout it, and is a lovely view
NB:
Bear in mind that the town of
Riva del Garda
at the north tip of the lake is different from
Garda
, which is near the other end of the lake.
Talk
All people speak Italian as a first language but basic English is known. Many locals also speak fluent German as this area is a popular tourist destination for Germans and Austrians. As with anywhere in the world, it is good manners to learn some basic phrases in
Italian
.
Get in
Get around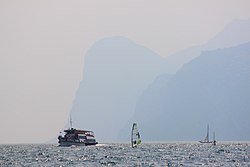 By boat
Perhaps this is the most convenient kind of transportation for the locations along the lake shores.
Gestione Navigazione Laghi
provides regular ferry services in the area. A fast ferry takes about 2½ hours to cross the lake from the South to North. For schedules and tariffs check their
online search
service or get a schedule from the
download page
.
A car ferry connects
Torri del Benaco
at the E shore of the lake with
Toscolano-Maderno
at its W shore. In summer another car ferry connects
Malcesine
with
Limone sul Garda
.
Boat taxis are also available. Perhaps it's a better option than a regular taxi, as the later one will cost you more money and it will take longer to travel.
By bus
See
Get in
section for connections by bus around the lake.
By bicycle
Rental bike service companies, easy biking itineraries at Garda Lake Region. The northern part of Lake Garda offers Europe's probably most spectacular offroad trips, mostly on rough military roads from the First World War. Riva del Garda is a fine starting point, with trips ranging from easy to the most demanding and rewarding, like Tremalzo.
See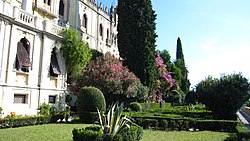 There are many historical places and buildings around the lake. The architectural style is mostly traditional Italian vernacular, which is very picturesque. There are also many classical-style churches, grand houses and castles. There is a large church is located at the northernmost end of the lake.
phone: +39 328 612 6943

It's a private island with a villa and a beautiful garden.
Do

Peddle boats or peddlos are available to rent throughout the lake although there are boundaries you must stick to as you are given a certain amount of time and that life guards are regular throughout the water.
In
Malcesine
take a
cableway to Monte Baldo
. Beautiful views can be seen from the top, and a small shop/restaurant is there. For those who get a re-instated fear of heights going up at the start, fear not, as there is a halfway stop.
In
Bardolino
you can visit the
Zeni Winery and Wine Museum
, to see the museum, and then, of course, buy some wine.
In
Sirmione
try famous
sulphur springs
or enjoy its beaches.
On the south of the lake in the vicinity of
Peschiera del Garda
there is big theme park
Gardaland
. It is a theme park for everybody, whether it be thrill-seekers, kids at heart, or just stressed out parents.
Eat
As per usual, fine Italian cuisine is sold. This consists of pasta, pizza and many other traditional Italian dishes. But other options are available such as German, American and British style foods. Italian ice-cream is fresh and homemade- great for those who have a sweethtooth. Ice-cream shops are common, with some sprouting out of shops and restaurants. Some "gelato" (ice-cream-like treat usually made in the shop) shops have 50+ flavors. Smaller shops with only a half dozen flavors might be more enjoyable. These seem to focus on the flavors they offer, and making the decision on which flavor to choose will take much less time. Breakfast is not the same as English or American breakfasts so be careful when you ask for full board. Breakfast at Le Paul in Sirmione, has English and American style foods. They even offer cereal.

Drink

Always drink plenty of water or other fluids as weather can be very warm.
One of the most popular summer drinks in the area is the Aperol Spritz. Obtained by mixing Aperol, Prosecco wine and sparkling water. Usually served in a glass with ice cubes, and a straw. Can be garnished with a slice of orange, and served with green olives.

Stay safe
Many shops have outdoor stands and stalls, even if a shop is indoors, so always carry the receipt with you. Bag theft is not uncommon as in theme parks, lines often have a bag drop off point, which in turn is left unattended. If your bag is stolen it is usually left in the street with just your wallet or camera/phone stolen.

Go next