Lake Louise
Lake Louise
is a beautiful mountain lake in the middle of
Banff National Park
in the
Alberta Rockies
region of
Alberta
,
Canada
. The lake is surrounded by snow-capped peaks, and at the far end is a large glacier. The lake is quite isolated, but provides a magnificent setting for a luxury resort, the Châteaux Lake Louise, and a conference wing on the 'inland' side of the hotel.
There is a very small town of the same name at the base of the mountain.
Understand
The lake, a major tourist attraction, can be crowded during the day as coach tour groups arrive. Before 8AM, you can see the lake with few people around; at dawn, the light shines onto the back wall of the glacier lake. Just before dusk is also reasonably quiet.
Lake Louise Visitor Centre

phone: +1 403-522-3833

address: 201 Village Road
Get in
By car
Lake Louise is 186 km (120 miles) west of
Calgary
, and 56 km (36 miles) North-West of the town of
Banff
on the
Trans-Canada Highway
(Highway 1, Alberta 93).
An alternative from Banff is the Bow Valley Parkway (Highway 1A), this is a restricted speed narrower tree lined road, which although does not provide such clear views of the mountain does provide a better chance of seeing wildlife such as bears and deer.
If you are driving and would like to check out the Parks Canada
road report
By plane
Calgary International Airport is a 2.5 hours drive to Lake Louise. There are several car rental agencies at the airport or you can book one of the many shuttles which drop off at hotels in Banff and Lake Louise.
To book an
airport shuttle
ahead of time, contact
Brewster Airporter & Resort Connector
,
Mountain Connector
or
Banff Airporter Inc.
By bus
Rider ExpressBus service along the Trans-Canada Highway from Winnipeg to Vancouver, twice daily. Service from Calgary, Strathmore, Canmore, and Banff (Alberta); Revelstoke, Salmon Arm, Kamloops, Hope, Abbotsford, and Vancouver (British Columbia); Medicine Hat, Swift Current, Moose Jaw, Regina, Whitewood, and Moosomin (Saskatchewan); and Brandon, and Winnipeg (Manitoba).
Get around
Once in Lake Louise, you have access to some of the most beautiful drives in North America.
North: The Icefields Parkway, connects Lake Louise to Jasper. It is 230 km (142 mi) taking you along the most beautiful drive in North America. Along the Icefields Parkway you can stop and take a tour on the Columbia Icefield which is a glacier that covers an amazing 325 square km of land. An information centre there includes an interpretive section and a café.
West The Great Divide denotes the highest ridge-line in the Canadian Rockies and creates a natural border with British Columbia and Yoho National Park 10 km west of town.
East Banff is 60 km (36 miles) south-east of Lake Louise on either Hwy 1 (Trans Canada Highway) or the 1A (Bow Valley Parkway). Hwy 1 is quicker, but if you have some time to explore and enjoy the scenery the 1A is the way to go. There tends to be more animals sighted on the 1A and the scenery is breathtaking (not that you're going to get a bad view from any road in Banff National Park). Leave some time for a walk at Johnston Canyon, it's an easy walk anyone can do to the lower falls (1.1 km) or you can continue on further to the Upper Falls and the Ink Pots.
National Car Rental is located in the village of Lake Louise and there is a Hertz location in the Fairmont Lake Louise hotel. Otherwise the
tour buses
are an option. .
See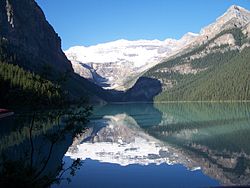 The main attractions at Lake Louise are the vibrantly coloured glacial lakes and Victoria Glacier at the head of Lake Louise. Other lakes to stop and explore in the area (all within
Banff National Park
) are Moraine Lake, Bow Lake and Peyto Lake.
Lake LouiseSpectacular example of a glacial lake. Best seen first thing in the morning before the hoards of other tourists arrive.
Do
As a
ski-resort
and
wilderness area
, tourist activity varies according to the season. The primary form of spring and summer recreation in the area is walking around the lake on the lakeside path, hiking on mountain trails leading from the lake, and admiring the scenery. During the summer, canoes can be rented and fishing is a popular activity. The ski resort turns into an interpretive centre in the summer months and gives visitors a beautiful view of Lake Louise from the top of the
Gondola
.
Winter
phone: +1 403-522-3555

address: 1 Whitehorn Road, Lake Louise

Lake Louise hosts men's and women's World Cup ski events every November, making it the best-known ski area in Banff National Park. As such, it is also the busiest and most touristy. It is located close to the Lake Louise town site. The scenery is fantastic, as is the terrain when there is fresh snow. Snowshoe tours and Sunny Tube park (next to the magic carpet) for those who don't ski or board. Excellent all you can eat buffet breakfast served in the Whiskey Jack Lodge ($12). If you're on the Club Snowboard/Ski program get the early bus!

phone: +1-877-919-7779

is the oldest dog sled tour company in the west, and goes along the Continental Divide

Ice skateon the lake, rental skates are available within The Fairmont Château Lake Louise and down in the village at Wilson Mountain Sports.

Sleigh Ridesleave from in front of The Château Lake Louise

Snowshoeing, cross country skiing and winter walking trailsare abundant, rentals are available at the same places as the ice skates and Parks Canada will be more than happy to give you trail info, or guided tours do leave from The Fairmont Château Lake Louise.
Summer
address: 1 Whitehorn Road

Lake Louise Mountain Resort runs one of the chairlifts with gondolas in the summer up to an interpretive centre giving you a great spot to take breathtaking photos and learn about the local wildlife.

Canoerentals are available on Lake Louise and Moraine Lake

Guided Hikes are available through The Fairmont Château Lake Louise or you can also check out Great Divide Nature Interpretation
There is some great rock climbing in the area. Wilson Mountain Sports in Lake Louise rents all the climbing gears except rope and harness.
Horseback riding, there are two companies which offer trail rides and pack trips in Lake Louise. Brewster Adventures and Timberline Tours
Events
Buy
There isn't a lot of shopping in Lake Louise. There are some stores at The
Fairmont Château Lake Louise
as well as in the hamlet at Samson Mall.
There are two gas stations in the village providing fuel and basic supplies.
Eat
Most of the restaurants are located within the hotels in the hamlet of Lake Louise. Dining at the Post Hotel is simply amazing. Additionally, ask at your hotel or camp-ground where they would recommend.
There are a couple of restaurants located at Samson Mall, also the Station Restaurant which was converted from the heritage-listed train station and another at a gas station. There are also a few restaurants located just outside of Lake Louise at the various other hotels just off the beaten path. Bill Peyto's Cafe in the hostel serves good basic food.
Lake Louise Railway Station & Restaurant

phone: +1 403-522-2600

address: 200 Sentinel Road

Interesting building and a few exhibits for rail enthusiasts. Reasonable food but the number of tables exceeds the kitchen capacity, so expect a long wait at peak times.

address: 203 Village Road

Excellent food (burgers, chili, salads) at a reasonable price.

Whitehorn BistroVery good food, if a little pricey, with a patio at 2042 metres providing probably one of the best views from a restaurant you will ever see. Be aware can be cold outside even in June.
Drink
Most hotels in the hamlet of Lake Louise have a bar or pub.

Sleep
The lake is approximately an hour's drive from
Banff
, where a much wider variety of accommodations are available.
phone: +1 403 522-3511

address: 111 Lake Louise Dr

One of Canada's grand old hotels, the Château is the only option if you want to stay right at the lake, but be warned - the château is luxurious, but extremely expensive. If you have the money, it is worth it for the beautiful surroundings and the clear crisp mountain air.

phone: +1-866-332-3590

address: 109 Lake Louise Drive

Good selection of room sizes and a reasonable restaurant.

phone: +1 403-522-3595

address: 105 Lake Louise Drive

Very good quality, well furnished chalet rooms and cabins.

phone: +1 403-522-3844

address: 101 Village Road

phone: +1 403 522-3791

address: 210 Village Road

phone: +1 403 522-2201

address: 203 Village Rd

A large hostel in the town. There is a café at the hostel. In winter, dorm beds from $27 (non-member $31), private rooms from $78 (non-member $86). In summer, dorms from $34 (non-member $38), private rooms from $99 (non-member $112). Ski packages are available. Pets not allowed.

phone: +1 403 522-3989

address: 200 Pipestone Road
Stay safe
Lake Louise Medical Clinic

phone: +1 403-522-2184

address: 200 Hector Rd
Go next
Escape the crowds of tourists at Lake Louise and travel up the
Icefields Parkway
Highway 93 North - Banff to Jasper Highway, one of the most scenic drives in North America with sites such as:
Bow Lake,
Bow Glacier,
Crowfoot Glacier,
Mistaya Canyon,
Waterfowl Lake,
Parkers Ridge,
Wilcox Pass,
Into
Jasper National Park
,
Columbia Icefields,
Athabasca Falls,
and eventually
Jasper
.
Along the Icefields Parkway there are numerous opportunities to camp or stay in a rustic wilderness hostel.
For the adventurous you can get to
Banff
from Lake Louise on foot via the
Saddleback Trail
. It is an easy to moderately difficult 4-5 day hike complete with empty camp-sites. The trail is passable from July through to October. Check with the Park Canada Information office in town for up to date trail conditions, the disposition of any local Grizzlies and advice.