Lake Sevan Region
Lake Sevan Region
is in
Armenia
, and it is the same as the Gegharkunik Marz of
Armenia
.
Cities
– This city is not on the lakefront and does not really cater to tourism. It is a convenient spot to get supplies however.
– A village on the eastern shores of Lake Sevan with some very nice views and relaxed, quiet atmosphere.
– A tucked away city in the southeast corner of the lake. There are a few small monasteries and chapels, mountains and valleys that only those making it this far will have a chance to see.
Itineraries
From
Yerevan
, once you get to Lake Sevan visit Sevanavank Monastery, then head south to Hayravank Monastery and Noratus Cemetery. If you'd like to explore further, you can continue on down to Vanevan Monastery and Makenyats Monastery, plus check out the towns of
Kavar
and
Vardenis
.
Understand
Lake Sevan is a popular summer beach destination and has many resorts, cabanas, fish restaurants and other amenities for visitors.
Lake Sevan lies at about 2,000 m asl, twice that of Yerevan. The temperatures are significantly cooler than in Yerevan, and the winters much longer. This popular spot for a getaway in the summer is usually packed in July and August, when it's warm enough to enjoy the beaches and swim in the waters. Although Armenia is landlocked, this lake, which covers 5% of the country is vast, and much of it quite pristine, with some decent beaches.

Talk
Armenian and Russian are universally spoken. English, French and German spoken by a few, though English is gaining quickly.

Get in
By marshrutka
If you just want to go to the "kghzi" peninsula with the most popular beaches during the summer, then marshrutkas make frequent trips from Yerevan for cheap. Throughout the year you can take the
Ijevan
/
Dilijan
/
Noyemberyan
marshrutka and hop off at the lake as well, or depending on where you want to go in the region you can take a van directly to
Vardenis
or
Martuni
or
Kavar
.
By train
There is a train that can take you to the peninsula, and then continues around the top of the lake over to
Shorjha
, a beautiful spot. The train, while cheap, does not earn rave reviews.
Get around
By thumb
There are many cars crossing the region. So, you will not have issues finding someone to take you as far as you desire. Always offer a little tip in return—the equivalent of a marshrutka ride is common.
By taxi
Getting to
Shorjha
on the far side is trickier, and a taxi may be your best bet. You can get a taxi to the Lake with some time for you to enjoy the beach for about 10,000
dram
round trip. Taking taxis around this area is not hard, but just stick to the established prices of 100 dram/km, and 1,500 dram per hour for waiting time.
See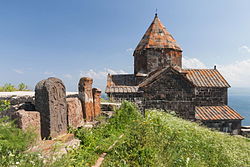 Sevanavank MonasteryThe most visited destination of the lake is the peninsula known as kghzi, meaning island, which it once was before Stalin had much of the water drained from the lake. The monastery is a must, for the great views it affords of the vast lake, most of which visitors never see except from this spot. The monastery is on top of the peninsula hill, and is built of crude black stone on the exterior. The interior has a beautiful old altar used for services by the new seminary down the hill. Steep, rough steps lead up to the monastery.

Hayravank MonasteryA rarely visited monastery overlooking Lake Sevan. It's a 9-12th C complex with church, chapel and "gavit" or entrance hall, surrounded by many "khachkars" - elaborately carved gravestones. Nearby are remains of a Bronze Age settlement.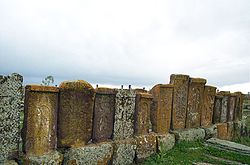 Noratus Khachkar Cemetery20 km south of Sevan, near Gavar, is Noratus village, with the largest khachkar cemetery in the world. Elaborate carvings describe the lives and often gruesome deaths of those buried here. With a small burial chapel. Another 500 m south is the tiny church of Daputs Vank.
Other destinations in the region include:
North shore – The north and west shore of the lake is much calmer than the area around Sevan city. The hills right behind mage nice hikes.
Do
Swimming
Wind surfing and sailing
Paddle and row boating
Hiking and cycling opportunities are endless
Eat
There are a number of excellent fish restaurants along the shore, especially just north of the kghzi peninsula. Barbecued fish is cheap (not the ishkhan trout though), and is always juicy. The fried fish is usually quite nicely marinaded and is also cheap. Crayfish (rock) are also found at these restaurants, and are worth trying. The crayfish and fish are also sold along the side of the roads, by little street vendors holding their hands apart.

Drink
Vodka

Stay safe
Armenians tell of drownings due to rip currents and whirlpools in the lake. Though this does not appear to be documented, and is more likely a result of a population that does not have much swimming experience, don't swim out too far alone.

Go next