Lakhimpur
Lakhimpur
is in
Assam
,
India
Understand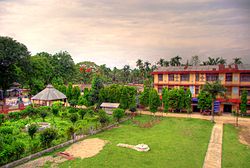 Lakhimpur is a district in Assam, India. Being one of the greenest districts in India, it is full of greenery. Many historical temples etc. could be visited in this place, which, apart from this, is full of local culture seeing a mixture of Aryan and non-Aryan culture. Namghars, temples fill this place. Mishing villages etc. could be visited to enjoy the colourful culture of the place.
Get in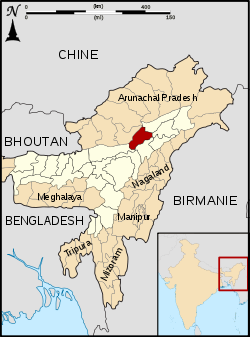 Lakhimpur is well connected by roads from the rest of Assam.
This place can also be entered by train or by air. The
Nakari Railway Station
is the place to get in when coming by rail. The airport is in
Lilabari
.
Get around
Lakhimpur is spread over about 2277 square kilometers of land. You can use buses and other vehicles like wingers etc. to move in the city. Personal vehicles like cars, bikes etc. could also be used.

See
Padumani ThanPadumani Than is a visit worthy temple in Lakhimpur, which has a story to tell. Not far away from North Lakhimpur town, it can be reached via the national highway that passes through Lakhimpur.

Basudev ThanBasudev Than is located in the Dhakuakhana sub-division. Established in the 17th century, this place is worth visiting for history lovers, religion lovers and anyone interested in visiting a peaceful place.

Satajan WetlandsThis is a home for many migratory birds, thus making it worth visiting by nature enthusiasts and also for those who simply want to enjoy nature, or have a picnic nearby.

Ganesh Mandirsee lord Ganesha on a ship! Shiva Mandir and Durga Mandir are also worth visiting.
Do
Drive around the place, which is full of greenery and get lost in nature
Spend an evening in the Gandhi park or other parks, enjoying
Explore the traditional villages, knowing about the various cultures and understanding the richness of North-East Indian culture, particularly Lakhimpurian culture
Visit the historically rich temples, knowing their history, value, and what makes them an attraction to visit
Visit the namghars, enjoy the Vaishnavite culture prevalent in the place
Visit the tea gardens and smell the environment
Buy
Local clothes like silken Mekhela Sadors
Eat
Typical Assamese dishes, with low oil
Mishing cuisine
Foreign food, including English, Chinese etc. are available
Characteristic Indian food is also quite popular
Sleep
Many hotels are available, like A&A2, Nondikeshore etc.
Cope
Read at the District Library