Lamphun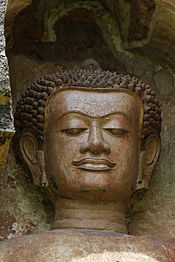 Lamphun
(ลำพูน) is a city and province in the
Northern River Valleys
of
Northern Thailand
.
Understand
Legends handed down for more than 1,400 years refer to this ancient town as Hariphunchai. Its first ruler was Queen Chamthewi who was of Mon extraction. In the late 12th century, King Mengrai overran the town and subsequently integrated it into the Lanna Kingdom.
Today, Lamphun still retains its enchanting ambience of a small but old community. It is some 670 km from Bangkok and only 26 km from Chiang Mai. Located on the banks of the Kuang River, its attractions include ancient sites and relics as well as forests and mountains and delightful lakes. Lamphun is Thailand's most famous producer of longan fruit.

Get in

This is a fairly small city compared to most places Westerners go. Buses come here from Lampang bus station, and also from Chiang Mai, only 40 km distant. The bus is about 50 baht. The bus station itself is a little out of town, as most are in Thailand, but there are motorcycle taxis and samlors (if you are lucky with the latter) at the bus station. There are no tuk-tuks at all.

Get around
You either walk, take a samlor, or a motorcycle taxi if you do not have your own transport.
It is not all that far to walk anywhere.

See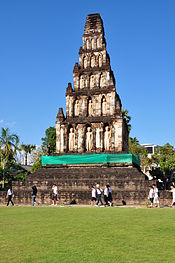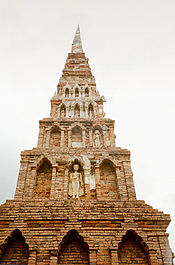 Wat Kukut
address: Chamadevi Rd
Commonly referred to a Ku Kut (กู่กุด), built in the Lawo (Lopburi) style. One of the outstanding stupa (or chedi) in Dvaravati style (from the 6th to the 13th centuries). It has a square base and five terraces modeled on Gupta style of architecture. The lowest being the biggest and the smallest terrace at the top. As Hindu gopurams in South India, each terrace has niches, housing standing Buddha Images. The "chedi" houses the ashes of the queen Cham Thewi of Haripunchai kingdom. The adjacent temple was built in the 13th century CE. The chedi is a square structure similar to Buddhagaya in India.
Wat Phra That HariphunchaiA royal temple complex, in the center of the town. It houses a pyramid-shaped stupa modeled on Wat Kukut. The stupa is known as Chedi Suwanna and was built in 1418. A principal landmark is the 46-metre tall golden chedi whose present appearance was the result of the restoration work in 1443 by a king of Chiang Mai. Other architectural works include the ancient-style brick arch adorned with fine designs and the pair of sculptured lions at the door.

Hariphunchai National Museum (พิพิธภัณฑสถานแห่งชาติหริภุญชัย), across the road from Wat Phra That Hariphunchai. Displays and exhibits include historical development and archaeological items found in Lamphun. Another displays ancient utensils, Lanna indigenous arts, and carvings.

Tham Luang Pha Wiang Cave

address: Moo 2, Pa Phlu, Ban Hong

One of northern Thailand's largest caves and by far one of the most interesting. It is a large cave only accessible via a 15 min walk uphill. You should carry a bottle of water. It is well-worth the effort to get there.
Phra Nang Chamthewi Statue (อนุสาวรีย์พระนางจามเทวี) is in Nong Dok public park in town commemorating the first ruler of Hariphunchai.
Suthewa Ruesi Statue (อนุสาวรีย์สุเทวฤาษี) - Legend has it that the Rusi, or ascetic, was the actual founder of Hariphunchai. As an ascetic refraining from worldly affairs he invited Phra Nang Chamthevi, a daughter of the King of Lopburi, to ascend the throne and helped her to firmly establish Buddhism in the land.
Wat Mahawan (วัดมหาวัน), an old temple built in the times of Queen Chamthewi. Enshrined here is a Nak Prok statue (statue with mythical serpents overhead) which was brought to the temple by the queen. Commonly known as Phra Rot Lamphun (พระรอดลำพูน), it serves as the model for the famous votive tablet.
Wat Phra Yuen (วัดพระยืน), an old temple from the 11th century about 1 km east of the old town centre. The huge chedi with a large square base and four tall standing Buddha images dates from the beginning of the 20th century.
The Ku Chang-Ku Mah Chedi (กู่ช้าง-กู่ม้า), northeast of the old town, is surrounded on four directions by standing statues. The chedi itself is cylinder-shaped and commemorates Queen Chamthewi's war elephant and her son's steed.
The Ban Nong Chang Khun (บ้านหนองช้างคืน) is the most famous longan growing area in the country. The fruits are in season during July–August. Longans were introduced to the area during the reign of King Rama V and have since spread into neighbouring provinces.
Wat Phra Phutthabat Tak Pha (วัดพระพุทธบาทตากผ้า) - Legend has it that the Lord Buddha once stayed here, leaving a trace of likeness of monk's saffron robe and his footprint on stone ground.
Ban Hong (บ้านโฮ่ง) - It has several old temples built in admirable indigenous style, e.g., Wat Phra Chao Ton Luang (วัดพระเจ้าตนหลวง), Wat Pa Puai (วัดป่าป๋วย), and Wat Dong Rusi (วัดดงฤาษี). The later two temples both maintain 100-years-old Ho Trai (scripture halls) built with wood in delicate patterns.
Wat Phra Bat Huai Tom (วัดพระบาทห้วยต้ม) is the largest temple in the district, boasting a large Lanna-style chedi and an extensive place of worship built in laterite by Karens living in the vicinity who were admirers of the highly revered Phra Kru Ba Chaiwongsa.
Chedi Ha Duang (เจดีย์ห้าดวง). The site is believed to have been an ancient town.
Mae Ping National Park (อุทยานแห่งชาติแม่ปิง) - Its main feature is the Ping River.
Do
The most well-known event in Lamphun is the Song Nam Phra That Hariphunchai (งานสรงน้ำพระธาตุหริภุญชัย), which dates back to olden times. Held to celebrate the province's principal religious site, it takes place in May.
Another event is the Longan Fair (งานเทศกาลลำไย) in August which is designed to promote this hugely popular fruit. There are the beautifully decorated longan parade and longan contests.
Buy
The Pha Mai Yok Dok (ผ้าไหมยกดอก) is an elaborately woven material in traditional method. Originally used in the northern royal court, it became popular during the reign of King Rama VI. The distinctive craftsmanship and skills in producing this type of silk have endeared it to those who prefer the traditional designs.
A hand-made cotton fabric (ผ้าฝ้ายทอมือ) - It is moderately priced and of designs and colours which have been improved yet retaining the indigenous feel and tradition. It is generally made into tablecloths, place mats, drapes, and other household items.
Wood carvings (งานไม้แกะสลัก) are made from softwood into animal figurines, dolls, utensils, and decorative items. The natural textures of the wood are clearly visible which adds beauty to the products.

Eat
This is rarely a foreign tourist destination. Most farang go to Chiang Mai, and miss the laid back experience of this place. There is little written or spoken English, so unless you speak some Thai, you will need to use body language and work your way about, but these are friendly people, and the restaurants are very cheap. You can get a good Thai meal for 100 baht or less, including a full-sized bottle of Chang beer. Charoenraj Rd (the north-south main street) is the road to Chiang Mai and is called Chiang Mai-Lamphun Rd in Chiang Mai.

Drink
Temple House Lamphun

phone: +66 65056 9839

address: 102 Inthayongyos Rd

Coffee shop on ground floor, gallery on 2d floor, accommodations on 3d floor and two cottages out back for hire. Check out templehouselamphun on Facebook.
Sleep
Hotel DNK Residence

phone: +66 81 7961969 or +66 53 562462

address: Soi 14, Charoenraj Rd

Air conditioned, modern, and clean, two storey, with balcony, at the totally ridiculous price of 380 baht per night! The manager speaks no English, but her daughter, who manages the similarly named restaurant across the lane is totally fluent. You will have to tolerate the noise of crowing roosters, owned by the neighbours, most of the day. Breakfast is 35 baht (cooked breakfast!), and dinner with a reasonable range of Thai food is about 75 baht (slightly more with a large bottle of Chang beer!).

phone: +66 81 8830903

address: 56/2 Moo 4, Baan Mean Kaw

Huge garden with 5 cottages, including a Thai traditional two storey wooden house. Northern Thai set dinners served. Transportation is available from Chiang Mai and Lamphun, but you can come here by songthaew also.