Lampung
For the city in Northern Thailand, see Lampang.
Lampung
is a province in
Sumatra
,
Indonesia
.
Cities
- the capital city of the province
Get in
By plane
Lampung is served by
Radin Inten II Airport
(
TKG
) about 20 km north of the provincial capital Bandar Lampung. There are regular flights from Jakarta (both Soekarno-Hatta and Halim airports), and flights from a range of other Indonesian cities including Bandung, Medan, Palembang, and Batam.

By car
Lampung is the southern terminus of the three (i.e. the Western, Central, and Eastern) Trans-Sumatran Highways The main road into the region is the Eastern Trans-Sumatran Highway (also known as Asian Highway AH25, although this is not signposted), which provides connections from cities such as Palembang, Jambi, and Pekanbaru. Keep in mind that road conditions are variable, and especially in the rainy season suboptimal.

By ferry
There is a highly frequent ferry connection from Merak on the island of Java to Bakauheni in the southeast of Lampung.

Do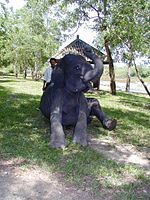 Way Kambas (elephant school) is about 2-3 hours drive from Bandar Lampung. You can ride elephants and watch the show for a small admissino charge.
Krakatau is an active volcanic island in the Sunda Strait.
Pasir Putih Beach is a busy tourist area with beautiful reefs and very calm waves.
A visit to
Bukit Barisan Selatan National Park
, or surfing at Karang Nyimbor, Tanjung Setia, are highly recommended.
Eat
Some local specialities are:
Seruit is grilled freshwater fish with special spicy sour sauce made of fresh small chilli, baked shallot, shrim-paste, with sour taste taken from either 'blimbing wuluh' or 'rampai' with sparkles of citrus juice, serves with fresh salad or boiled cassava leaves or boiled eggplants. You can find this speciality at Rumah Warung restaurant in Kawasan Sentra Industri Keripik (banana chips industry area) Kedaton, Bandar Lampung
Pindang Lampung is made from either seawater fish (Kembung or Baung) or fresh water fish (gold fish or Patin) with tasty sour soup, served with fresh cucumber and kemangi, you can find as well in Rumah Warung, for info call +62 721 9011173
Tempoyak is preserved duriant to make sambal, just add spice and stirfry or cook with other dish, smells delicious, tasty duriant
Kopi Lampung is special home made arabica coffee
Kripik Pisang - crunchy fried banana chips available natural, or adulterated with chocolate, cheese, strawberry, milk or a range of other flavours.
Kripik Raja Ikan - fish flavoured crispy fried crackers.
Sambal Lampung - even by Indonesian standards this sambal (spicy sauce) is fierce and fiery. Look for it freshly made at roadside vendors, or in bottled form at food stores.
Mie Kodon - a wheat based noodle served in a huge variety of ways, often with Sambal Lampung. Could be fried or in a soup format.
Sleep
Bandar Lampung has many city hotels across a wide range of budgets.
Accommodation in the relatively undeveloped, remote regions of Lampung Province, is very basic and few people are fluent in English.
Go next
Banten — across the Sunda Strait, the westernmost part of Java island.
South Sumatra and Bengkulu — the provinces bordering Lampung on the north side.