Lanark
Lanark
is a small market town in
Clydesdale
,
South West
Scotland, and is nowadays a commuter town for Glasgow. The prime reason to visit is for the nearby UNESCO world heritage site of
New Lanark
. It was at Lanark that William Wallace (1270-1305) first strode into history, leading a 1297 uprising against the English and killing the Sheriff. This escalated into the First War of Scottish Independence, and Wallace triumphed a few months later at the Battle of Stirling Bridge.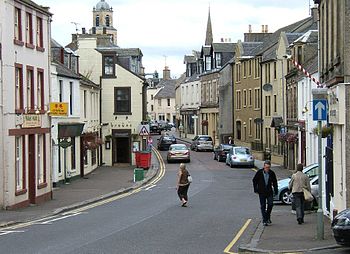 Get in

Trains run from Glasgow Central every 30 mins via Motherwell, Wishaw and Carluke to Lanark, taking an hour. From Edinburgh or England, change at Motherwell.
By bus: Stuarts Coaches Bus 240X / 241X runs from Glasgow Buchanan Street via Wishaw and Carluke to Lanark, hourly M-Sat.
Stuarts Coaches Bus 91 runs hourly M-Sat from Lanark via Symington to Biggar, which has an hourly bus to Edinburgh.
Stuarts Coaches Bus 30 / 31 runs M-Sat 3 or 4 times a day from Lanark via Thankerton, Symington, Abington, Crawford and Leadhills to Wanlockhead.
Whitelaws Coaches Bus 258 runs every couple of hours M-Sat from Lanark via Kirkmuirhill to Lesmahagow - this is on A74(M) with buses between Glasgow and Dumfries.
are on Bannatyne Street.
By car: Lanark is near the junctions of the A70, A72 and A73. New Lanark is signposted on brown tourist signs from the M8 and M74 motorways.

Get around
To New Lanark:
Stuarts Coaches Bus 135 runs between town and New Lanark, M-Sat hourly and two per hour Sunday. It's a ten minute ride, or a two mile walk.
Taxi:
a ride within town will cost around £5, to New Lanark will be about £10. Several firms are based along the High Street:
Cameron Taxis 68 High Street, ML11 7ES, tel +44 1555 664105
Clydewide Taxis 99 High Street, ML11 7LN, tel +44 1555 666333
Ellen's Taxis 68A High Street, ML11 5JU, tel +44 1555 673970
See
See for the nearby mill village, and waterfalls along the Clyde.
at 15 Castlegate is the statue of a dog, erected in the 1840s by its owner after it was poisoned. He suspected the culprit was his neighbour Miss Inglis, who had strenously opposed him building next door to her. So he put up this statue on his roof, its reproachful expression directed into Miss Inglis' parlour window. Her house is long gone so the dog now girns in an unfocussed manner towards the Lidl supermarket.

phone: +44 1555 666680

address: 29 Bloomgate, ML11 9ET

Tells the history of the town, which is one of Scotland's oldest burghs.
Nothing remains of Lanark Castle except a marker at the end of Castlegate.
Do
There's a Golf Club east of town off Whitelees Rd, and a north of the centre on Chapland Road with floodlit all-weather courts.

phone: +44 1555 661853

address: Lanark Race Course ML11 9TA

Activity based stays: riding lessons, hacking, forest trails, ponies. With its own hotel and B&B on site. The Centre is on the old race course, which closed as a racing venue back in 1977. The nearest racetrack is at Hamilton Park, which has flat-racing May-Oct.
Lanark Lanimers: "Lanimers" means Land Marches, or beating the bounds of the burgh. A ceremony has been held each year since 1140, usually on the Thursday between 6 and 12 June. Dressing up, parades, pipe bands and suchlike. The next event is Thurs 11 June 2020.
Buy
There's a Tesco and a Morrisons in town centre.

Eat
Prego

phone: +44 1555 666300

address: 3 High Street, ML11 7LU

Offers pizza, pasta and seafood, and other Italian cuisine.

phone: +44 1555 661600

address: 36 Wellgate, ML11 9DS

American diner: burgers, hot dogs, ribs, fries, nachos and sundaes.
There's an Indian restaurant Jholpai at 1 Hope St (daily 17:00-22:00) and a Chinese takeaway by the railway station (W-M 16:00-23:00).
Drink
phone: +44 1555 678740

address: 15 Bloomgate, ML11 7ET

No longer a Wetherspoon and the food has taken a dive, but still a decent drink.

Maisies Bar

phone: +44 1555 664644

address: 12 Wellgate, ML11 9DT

"The braw wee pub" is a traditional Scottish bar, sometimes drouthy, never snooty.
Sleep
Rosemount is a small B&B at 14 West Port in town centre.
And see "Do" listing for the Equestrian Centre.
Go next
Follow A70 west towards Alloway near Ayr, birthplace of Robert Burns, or to Ardrossan the ferry port for the Isle of Arran.
East, head via Peebles into the Tweed valley and Scottish Borders, with fine ruined abbeys at Melrose and Jedburgh.