Lancaster (Pennsylvania)
Lancaster
is a city in
Lancaster County
in the
Pennsylvania Dutch Country
.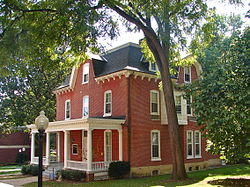 Understand
Lancaster is home to a very diverse group of people. It is a strong agricultural town with various farmlands all over. It is a scenic place with lush vegetation and great produce. This is because the Amish dwell in and around Lancaster's many townships. The Amish are fairly isolated from the rest of the community, but they are acknowledged, respected, and not bothered. They are masters of farming and simple living, for they don't use electricity. They teach in their own schools, and they have their own churches. They get around by horse and buggy and they are easily seen, wearing black suits, hats, and bonnets. But that is not all Lancaster has to offer. Lancaster has evolved from Pennsylvania's capital back in 1799, before Harrisburg was named the capital in 1813, to a strong and well known city in Pennsylvania. It is actually the oldest inland city in the United States. Lancaster has grown into a modern and attractive city that has something to offer for all people of all ages. From the farms to the downtown offerings of the city, you will enjoy Lancaster.
Visitor information
Get in
By train
Amtrak
has frequent service to Lancaster with its
Keystone Service
trains. There are up to seven daily trains from
New York City
via
Philadelphia
and from the state capital
Harrisburg
. Additionally, there is one daily service from
Pittsburgh
, the
Pennsylvanian
. is located at 53 E Mcgovern Ave, near downtown Lancaster.
By car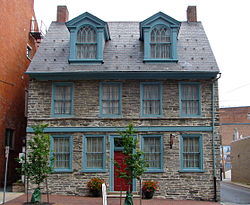 Interstate highways lead most traffic into
Lancaster County
.
I-76, also known as the Pennsylvania Turnpike.
One of the most pleasant routes from the East Coast Cities is via I-78 through New Jersey to exit 13, Bethel (Pennsylvania), then Route 501 south to Lancaster. It is a beautiful farmland drive, especially at sunset.
Another good routing from I-78 is exit 54A, US-222 South (Hamilton Boulevard). This is also very scenic, but a faster and more direct routing.
A very nice, scenic drive that takes you through the heart of the Pennsylvania Amish Country is a connecting road between Route 30 West from Philadelphia and Old Philadelphia Pike, Newport Road. The gentle rolling hills take the road through open Amish farm land and passes by Pequea Valley High School. Not only is Newport Road a nice, refreshing, scenic road, it also bypasses all the traffic of the Lancaster Outlet areas and takes you to Old Philadelphia Pike which puts you right back on the highway portion route 30 towards York County.
By plane
Get around
Although you can pay for buggy rides in the rural areas, plan on having a car to get around. Some places and towns, such as the Rockvale Square retail outlets and the town of
Intercourse
, are easily navigable on foot. It is possible to tour the county by bicycle, but it shouldn't be attempted unless you're a cyclist who doesn't mind hills!
Public Transportation is provided by
Red Rose Transit
, however, don't expect it to be anything like metropolitan areas. Buses do not run often and service ends by 6PM!
Tips
Online map and direction providers are usually very accurate in Lancaster County. They may be slightly confusing at times on back roads, but directions and mileage are very precise, especially along main routes.
Lancastrian drivers are generally very polite, with notable exceptions; they will be courteous as long as you return the favor.
You may pass the buggies. If you don't, locals will immediately peg you as a tourist. Keep an eye on oncoming traffic, activate your 4-way or hazard flashers for the duration of the manoeuvre, and pass quickly but safely, with sufficient distance from the horses.
Yes, horses do relieve themselves on the road. If you must dodge "road apples", please be careful!
Travel By Limo
See
The Amish
Although the
Amish culture
dates back hundreds of years, they have not done much to change their lifestyles. They are traditional and they have a strong sense of community. They exist inside a larger community and everyone gets along without internal problems. They keep to themselves, but they give back to the outside Lancasterian community with their goods.
Many of the venues which explain "The Simple People" and allow the voyager to learn about how the Amish live are in small nearby villages, such as Bird-In-Hand and
Intercourse
.
phone: +1 717 299-0954

address: 2209 Millstream Rd

Information on the life and faith of the Amish and Mennonites, quilting information, guided tours of Lancaster, Biblical Tabernacle as a reproduction of the original Old Testament tabernacle.
Sights
phone: +1 717 361-1000

Founded by the Anabaptist Brethren, this college has a center dedicated to the study of Plain communities in America. The center employs several experts on Plain societies like the Amish and contains a one-of-a-kind library of resources on the Mennonite, Brethren, and Amish.
The Ephrata Cloister. A beautiful historic site with original, 18th century buildings. Tours explain the lives of the German religious refugees that created the community in 1732.

Franklin and Marshall CollegeFounded by Benjamin Franklin and John Marshall (separately, as Franklin College and Marshall College, respectively), this college is on the highest hill in the city of Lancaster.

phone: +1 717 872-3011

address: PO Box 1002 1 South George St. Millersville, PA 17551

Founded over 150 years ago today, Millersville University is one of the most highly regarded public universities in its region of the United States.

Strasburg Rail RoadAll aboard America's oldest short-line railroad, where you'll ride authentically restored passenger cars pulled by a huge, coal-burning steam locomotive. See our Amish neighbors up close as they work and play on nearby farms.

Plain and Fancy FarmGood all-around tour of the Amish community including a restaurant, bus tours and a movie. Particularly good if you're a foreign visitor without a car.

Antiques CapitalThe Antiques Capital in Adamstown is the premier year-around antiques destination with 5,000 quality dealers, farm markets, golf courses, easy access to Lancaster and Reading outlet centers, auto racing, micro brewery, fine lodging, dining, camping, Amish and Mennonite culture and more.

Historic Lancaster CityThe City of Lancaster was established in 1730 and is now designated as one of the largest historic areas of the country. Begin your tour of the city at the Visitor's Center near Central Market Center, corner of Queen and King Streets.

The first successful Woolworth five-and-dime store operated in Lancaster on July 18, 1879. While neither of the original local Woolworth buildings is still standing, the National Christmas Center has a reproduction of the original store with many original Woolworth's Christmas items, the Lancaster Historical Society has a large collection of Woolworths-related material and the various walking tours of downtown Lancaster show the sites and tell the story.

LititzFounded in 1756, Lititz is known for its quaint, tree-lined streets and historic district, its many unique shops, museums, businesses, inns, bed and breakfasts, Wilbur Chocolate and Sturgis Pretzel.
*
Do
address: 2425 Lincoln Highway

Yet another great place to see a performance. Great for a romantic date or just for pleasure.
Amish Buggy Rides: You may have to travel a little to experience this. In Bird-in-Hand Pa, Abe's Buggy Rides takes you on a scenic tour of Lancaster county

phone: +1 717 394-6185

address: 2395 Covered Bridge Dr

Historic farm with picnic area, playground and activities.

Amish VillageEnjoy an educational guided tour through this 1840s farm house furnished as a typical Lancaster County Old Order Amish house. Grounds include barn with farm animals, operating water wheel, smoke house with PA Dutch foods, blacksmith shop with tools of the smithy's trade, village gift shop and picnic area after tour.

phone: +1 717 768-1568

address: 2760 Old Philadelphia Pike, #A, Bird-in-Hand, PA

Live theatre with musicals and magic shows that vary throughout the year.

Choo Choo Barn - Traintown U.S.A.See Lancaster County and America captured in miniature in hand-built detail. Featuring more than 140 animated figures and vehicles and 18 operating trains.

Covered Bridges Lancaster county has many covered bridges. It is a tradition that the passenger pays a toll to the driver when crossing a covered bridge. This generally takes the form of a kiss.

address: 510 Centerville Road

You may have heard about dinner and a movie, but how about dinner and a broadway show. This is the place to go for quite an experience. This place has a fun atmosphere which is great for groups to come and dine and watch a broadway performance. Friends, food and theater. Nothing can beat that

Dutch Wonderland Family Amusement ParkIt's A KINGDOM FOR KIDS! Especially suited for younger children. Families with pre-teens may prefer nearby Hersheypark.

First FridaysLancaster's First Fridays are an exhilarating celebration of the arts! Every month, without exception, we showcase the arts in downtown Lancaster. Walk around and explore our 70+ arts venues. You'll find new exhibitions, live music, theatrical performances, artist receptions, and fun surprises, too.

Lancaster Barnstormers BaseballAn independent baseball team that plays in the Atlantic League. Very competitive baseball with very reasonable ticket prices. All home games are played at Clipper Magazine Stadium in the James Street District of downtown Lancaster.

Landis Valley Village and Farm Museum

phone: +1 717 569-0401

address: 2451 Kissel Hill Rd

Largest Pennsylvania Dutch Living History Farm & Village in the country, interpreting German Heritage from 1740-1940, including tours and traditional craft demonstrations.

LaserdomeHigh-tech fun park, with laser tag, virtual reality and laser theater. Even as an adult, you will havea lot of fun. They offer laser shows that play to the music of the Doors, and the Rolling Stones.

Leisure Lanes Bowling and Golfing CenterGo bowling in the winter, and mini golfing in the summer. If you are adventurous, you could do both in a days time. Bowling lane is open 24 hours a day.

Anderson Pretzel Bakery

address: 2060 Old Philadelphia Pike

These pretzels are delicious. They offer free tours to see how they are made and learn a little about the history of the bakery. The tour ends with, of course, a sampling of their great pretzels. You can buy them, and other snack foods to take home to the family and relive the experience later.

Balloon Flights Daily

address: 2300 Lincoln Highway

Lancaster is a beautiful and scenic place to see when you drive around. It is even more beautiful from the sky. You can ride a hot air balloon and relax in the sky.

address: Downtown

The oldest, continuously operating farmer's market in the country! A must-see! You can find just about anything here. The Amish and local vendors all bring their products to sell here. Everywhere you walk, you will see and smell all kinds of food. The market is open Tuesdays and Fridays from 6AM to 4PM and Saturdays from 6AM to 2PM.

address: 721 Landis Valley Road

This is a great place to take your kids. This interactive museum allows kids to explore their senses and touch everything.

Wheatland

address: 1120 Marrietta Av

This is the home of President James Buchanan. They give costumed tours of his historical mansion. This place has been around for ages and has a lot of history inside the walls.

Clipper Magazine Stadium

address: 650 N. Prince Street

This establishment is home to the Lancaster Barnstormers baseball team. The tickets are cheap and the games are always fun. In the winter time, they turn the stadium into an ice skating rink.

Lancaster Malt Brewing Company

address: 302 N. Plum Street

Great food, great micro brews, and you can see how it is all made with the tours they have to offer.

address: 223 N. Water St

This is the best concert venue in Lancaster city. All kinds of artists come through to play for the locals. They have a constant calendar to remind you months in advance of who is playing and when. They also cater to parties in the Lizard Lounge

address: Harrisburg Pike

In the summer Long's Park has "Summer Music Series", which is free concerts being held at the park each Sunday. Also, the park has an annual "Art's and Craft" festival which showcases 200 top artists and craftspeople from across the United States, Canada and beyond. Long's Park is also known for their annual Sertoma Chicken Barbecue (known as the World's largest chicken barbecue in the Genius Book of World Records!)
Buy
Eat
Lancastrians are well known for their local food, including the traditional "
smorgasbord
" (PA Dutch-style buffet). Although, there are plenty of "chain" restaurants around, such as Texas Roadhouse, Fuddruckers, Ruby Tuesdays, Panera Bread, Friendly's, Chick-fil-A, McDonald's, Arby's, and Burger King.
Budget
Pine View Acres Dairy 2225 New Danville Pike. +1 717 872-5486. This is NOT a "sit down" restaurant, but is definitely a must see! This dairy is a small, old fashion convenient store. Pine View is very inexpensive and sells the best homemade ice cream, juice, and milk (the beverages are in bags, just like elementary school days!). There is also an area to pet baby cows. This is a great place to visit with friends and family on a relaxing, sunny day.
Mid-range
Bird-in-Hand Family Restaurant & Smorgasbord

phone: +1 717 768-1500

address: 2760 Old Philadelphia Pike, Bird-in-Hand, PA

Farm-fresh smorgasbord (PA Dutch-style buffet), menu-dining, and take out. Kid-specific buffet too. Breakfast, lunch, dinner smorgasbords are all different. Near Dutch Wonderland, Rockvale and Tanger Outlets, and the Village of Intercourse, PA.

BrickyardGreat bar food and specials, near the Clipper Stadium.

El Serrano Mexican/Peruvian Restaurant in a very atmospheric castle. Food is high quality. 2151 Columbia Ave +1 717 397-6191

phone: +1 717 394-7111

address: 150 Eastbrook Rd. (Rt. 896) Smoketown, PA

PA Dutch favorites served all-you-can-eat family style, from the menu, or to go. Souvenir shop and bakery.
House of Pizza in Willow Street is a family oriented cash-n-carry restaurant located just minutes south of the city in the small community of Willow Street. Besides pizza, local favorites include stromboli, fresh cut french fries, and many soft serve ice cream choices. Locals enjoy ice cream at the picnic tables on warm summer evenings.
Lyndon City Line Diner 1370 Manheim Pike. +1 717 398-4878. Most popular diner in Lancaster with a huge menu of items. This place always seems to be crowded. Be prepared to wait for a table during busier times, especially on Sunday mornings after church.

Neptune DinerClassic diner on the north side of the city.

Olde Hickory Inn

address: 709 Olde Hickory Rd

Very good breakfasts at good prices. Can get very crowded, especially on Sunday mornings after church lets out.

address: 1344 E Main St

East Earl (Route 23 at Routes 897 and 625). You have never experienced anything like this. Shady Maple's breakfast, lunch, and dinner smorgasbord of food has everything you could ever want to eat. There is almost too much food here. It is a great place to go with the whole family or a large group of friends.

Taj Mahal

address: 2080 Bennett Ave

Indian food. The naan, or flat bread is delicious and they have all kinds of curry dishes.

Villa Nova West Sport Bar & Restaurant

address: 2833 Columbia Ave

This bar/restaurant is great for all ages. Very friendly staff with a fun atmosphere! Absolutely must try the steak tip sandwich AND an appetizer of "wing zings".
Splurge
phone: +1 717-394-2422

address: 402 N Queen St

This is in the city, near lots of bars and restaurants. Two story restaurant with seasonal outdoor for amazing food and drinks in one of the nicest bars in town. Contrary to it's name there's no lodging, but a great piano bar on second floor.

phone: +1 717 656-8983

address: 38 Deborah Drive.

Cozy restaurant in the heart of Leola Village offering simple, rustic Italian cuisine. No dress code and reservations are not required, but recommended.
Drink
Up until Prohibition, Lancaster had several fine breweries which earned it the reputation as Munich on the Conestoga. With the resurgence of microbrewing in the last decade or so, a few new breweries have cropped up. If you want to get your favorite mass-produced, lowest common denominator, lite beer, there are more than enough bars and restaurants to patronize. But these three establishments are worth checking out, particularly if you're a beer connoisseur.
Note regarding alcohol sales:
- Under Pennsylvania law, beer purchased at various beverage outlets can only be sold in quantities
no less
than 1 case. Smaller quantities can be purchased, but only at bars that offer carry-out service.
Alley Cat

address: 30 E Lemon St

Delicious pizza (and cheap too). Plus low-to medium price range for drinks ($3-4.50 for a mixed drink) and a good amount of seating for those less interested in sitting at the bar. Young to middle-aged crowd most nights.

Annie Bailey's Irish Pub

address: 28 E King St # 30

Your typical Irish Pub. Good atmosphere for the older folks. Very large deck recently built to handle the smoking crowd and the addition of an "Irish Tiki Bar". Solid middle price range ($3.50-5 for a mixed drink) and good food. Young professional crowd over lunch, college students on Friday and Saturday nights.

phone: +1 717 397-8646

address: 449 West Lemon

The pit stop for those who live on the West End of Lancaster. Good food, good prices, good staff. Smoking is permitted inside. Low to medium price range ($3.50-5 for a mixed drink). Usually a neighborhood crowd, some young locals mixed in. Limited seating in the back. Excellent jukebox. The Dutchland Rollers (the local roller derby team) sometimes calls this bar home.

Bube's BreweryBube's Brewery is an intact historic 19th century brewery and museum complex located in Mount Joy, PA. Bube's has had a few different restaurants operating for several years:
Chauncey's Pub
address: 6049 Main St, East Petersburg
Hildys

address: 448 West Franklin St

Local watering hole. Drinks only, no food, therefore: you can smoke inside, it can get thick at times. Older local crowd before 8PM, Franklin and Marshall students and younger crowd after that. Mostly bar seating, some tables. Low to medium in terms of drink prices ($3-5 for a mixed drink).
Lancaster Brewing CoThis micro brewery crafts a wide variety of brews and also serve food as well. The Amish 4 grain Pale Ale is their specialty. They make seasonal beers as well like their Pumpkin spice ale for the Fall.
Lizard Lounge

address: 223 N. Prince St

Best place to go to hang out with the "hip" crowd. Bottom floor of The Chameleon Club. Open Tu-Su. Usually a drink special ($1 beers, $2 wells) on weeknights. DJ's on Tuesdays, sometimes Wednesdays. Karaoke on Thursdays. Biggest party in town on First Friday.
Lucky Dog Cafe

address: 1942 Columbia Ave

Good for both younger and older crowds. Fun bar atmosphere. Must try the wings and on Thursday's try the $.25 great tasting shrimp.
Shamrock Cafe

address: 312 West Walnut

The downtown "blue collar" bar. Low prices for drinks. Smoking friendly. Pool table. The bartenders here are the old school sort: if you tip well, and they get to know your name, you will be taken care of. Limited take out options. Has an undeserved reputation for being a "rough" joint, but pay no mind. Give it a shot and make some new friends.
Stoudt's Brewing CompanyHas the distinction of being the first micro brewery in Pennsylvania and has won several awards for its brews.
Tally-Ho Tavern

address: 201 W. Orange St

A very nice, gay-friendly bar in the downtown area. Medium to upper price range ($5-7 dollars a mixed drink) but well worth it. Bartenders are very friendly and make a stiff cocktail. Smoking friendly. Small dance floor. This place is relatively quiet before 11PM, but packed by 2AM.
Sleep
Budget
There are plenty of cheap options, including camping, cabin rentals, and
cheap hotels
.
Mid-range
address: 117 East Main, Terre Hill

Romantic B&B in small town surrounded by Amish farms. Hear the clip-clop of Amish buggies as they pass by. Fireplaces, jacuzzis, gourmet breakfasts await.

phone: +1 717 768-8271

address: 2740 Old Philadelphia Pike, Bird-in-Hand

Resort-style hotel in Amish Country between Lancaster and the Village of Intercourse. 1 outdoor pool, 2 indoor pools, hot tubs, tennis and basketball courts, a picnic pavilion, fitness room, game room, business center, various meeting rooms, laundry room, and gift shop. There are a smorgasbord restaurant and live theatre onsite. Free Wi-Fi. Group discounts.

phone: +1 717 687-8014

address: 20 Leven Road

Campground and RV park in Gordonville, Lancaster County's Amish Country, next to farmland. Pet-friendly. Pool, playground, dog-run area. Free Wi-Fi. Cabin rentals, tent camp sites, RV sites (including sites with 50 amp and cable hookups). Includes free guided bus tour of Amish Country.

phone: +1 717 299-9999

address: 1 Hartman Bridge Rd

The hotel is shaped like, and decorated like, a paddle-wheel steamboat.

phone: +1 520 257-3119

address: 24 S. Willowdale Drive

Situated just off of routes 30 & 896, surrounded by the Rockvale Outlets and located in the heart of the "Amish" countryside.

phone: +1 717 464-2711

address: 2416 Willow Street Pike

Scenic family-friendly resort hotel including pool view rooms and suites for up to 10 people. Recreational facilities including water park, golf and tennis. Willow Tree Restaurant and Smorgasbord plus an on-site bakery. Free Wi-Fi, parking and shuttle to the airport, train and bus stations.
*
Splurge
Go next
Nearby destinations suitable for day trips include: