Land's End (Gaspé Peninsula)
Located at its outermost extremity, where the St. Lawrence estuary meets the open ocean,
Land's End
(La Pointe)
is where you'll find the bulk of the
Gaspé Peninsula
's population, as well as the most interesting attractions of the region.
Cities
— with a population of about 7,000, this old mill town is the Gaspé Peninsula's second city
— the Peninsula's largest city and main transportation hub and service centre; gateway to Forillon National Park (see below)
— this loud-and-proud tourist haven is a jarring contrast to the tranquil, off-the-beaten-path feel of the peninsula as a whole
Other destinations
(Parc national de l'Île-Bonaventure-et-du-Rocher-Percé) — the former home to a massive seabird colony and a restored fishing village, the latter an offshore rock formation that's unquestionably the foremost tourist attraction of the Gaspé Peninsula
(Parc national du Canada Forillon) — the literal Land's End that gives this region its name, with an astonishingly diverse range of natural environments from mountains to seashore
Talk
If you're a non-French speaker, you've likely run into your share of language difficulties thus far on your Gaspesian trip. Take heart: in the Land's End region you should have an easier time of things.
Gaspé
is the region's largest city and main government and service centre, while
Percé
is accustomed to accommodating tourists from all over Canada and the U.S., so English speakers are much easier to come by in both of those places than in other parts of the peninsula. As well, signs and other information within the national parks are invariably bilingual.
Get in
As with the rest of the Gaspé Peninsula,
Provincial Route 132
is the main road in and out of the Land's End area. Via it and Autoroute 20, Gaspé and Percé are an eight- and nine-hour drive, respectively, from
Quebec City
. From
Montreal
, add two and a half hours.
As an alternative, Gaspé is home to
Michel Pouliot Airport
(Aéroport Michel-Pouliot de Gaspé)
(
YGP
), which is served with daily flights from Îles de la Madeleine, Quebec City, and Montreal on Air Canada Express.
A more unusual way to get into this part of the peninsula is by boat. Chandler is the Gaspesian port of call for the M/V CTMA Vacancier, a cruise ship that plies the St. Lawrence from Montreal to the Îles de la Madeleine with additional stops in Quebec City and the Charlevoix region. The sixth day of the weeklong cruise, which includes a full-day stop in Chandler and an optional shuttle to Percé, is a great opportunity to briefly explore what the Land's End region has to offer.

Get around

The part of Route 132 that runs through the Gaspé Peninsula is an oddity, with a lasso-shaped trajectory that does a 360-degree turn and loops back in on itself. But the fact that it's signed est (east) and ouest (west) like any normal route, rather than clockwise and counterclockwise, can make navigation a headache. If you're driving between Gaspé and Percé and notice that the signs have changed direction yet you didn't make any U-turns, you're not seeing things: it just means that 132 has completed a half-circle along that loop and is starting to double back. When in doubt, have a GPS handy.

See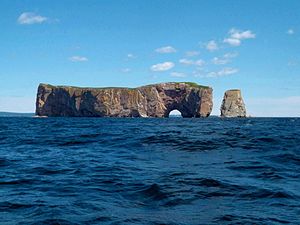 There's a good reason folks make the long drive out here: Land's End is home to an outsize share of the iconic tourist attractions that have put the Gaspé Peninsula on the map. Number one with a bullet on that list is
Percé Rock
(Rocher Percé)
in the town of the same name: a 20-metre (66-foot) high, naturally arch-shaped offshore rock formation that's grouped with the nearby seabird colony of
Bonaventure Island
(Île Bonaventure) into the Gaspé Peninsula's most popular national park.
A word of warning, though: don't go to Percé if you're expecting the majestic solitude and wilderness you normally associate with the term "national park". If that's more what you're after, head north to
Forillon National Park
just outside Gaspé.
Gaspé is also a good place to go on days when your outdoor adventures get rained out. For a decidedly more academic experience, why not learn about the rich history and culture of the local area at the
Gaspé Regional Museum
(Musée de la Gaspésie)
?
Eat
Restaurant options abound (relatively speaking) in this part of the peninsula. Gaspé is the place to go if you want a semblance of fine dining, with a number of surprisingly elegant and refined options.
Meanwhile, in Percé, oftentimes it's only the prices that are upscale: this is a tourist town
par excellence
, with the requisite glut of lackluster fare sold at a premium. If you're insistent on dining in the shadow of the rock, choose wisely.
Further south, Chandler's status as a
village-relais
(a Québécois term for a small village or town with a disproportionate wealth of services for highway travellers) means it's the place to go for a fix of familiar
fast food chains
like McDonald's, Subway, and Tim Hortons.
Drink

For the only thing that could be reasonably called a "nightlife scene" in this part of the province, head to Gaspé. That goes double if you like your booze with a side of live music: Bar Apollo in the outlying "suburb" of Rivière-au-Renard for country fans; La Voûte downtown for rock-and-rollers.
The Land's End region is also home to two of the Gaspé Peninsula's most renowned craft breweries: Pit Caribou and Frontibus, in Percé and Gaspé respectively.

Go next
Depending on which way you're headed down 132, the next region you'll pass through will be either the
Upper Gaspé
(La Haute-Gaspésie)
or
Chaleur Bay
(La Baie-des-Chaleurs)
.