Landshut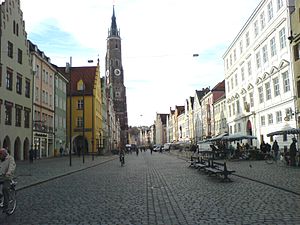 Landshut
is the capital and with 63,000 residents the biggest city of
Lower Bavaria
in the
German
federal state of
Bavaria
. The city is best known for the
Landshut Wedding
(
Landshuter Hochzeit
), a quadrennial re-enactment of the actual medieval wedding, including knights' tournaments. In times the Wedding isn't scheduled, Landshut still is good for a nice day trip from Munich.
Understand

Landshut was founded in 1204 by Duke Louis I Wittelsbach. Not even 30 years later it already became residence, and after the division of the duchy of Bavaria in 1255 the capital of Lower Bavaria. In the 15th century the famous Landshut Wedding took place, one of the most splendid festivities of the Middle Ages. At the beginning of the 16th century Lower Bavaria and Upper Bavaria were reunited. Although Landshut at that point lost its status as capital, the 16th century was the city's architectural boom era. After that, Landshut lost most of its significance, besides a short time of importance in the beginning of the 19th century, when the University of Bavaria resided a mere 26 years in Landshut.
For a brief time towards the end of World War II, a subcamp of the Dachau concentration camp was located near Landshut. During the war Landshut only had to suffer one major Allied bombing, when the area around the train station was heavily hit. However, most parts of the city were virtually unharmed by the war, and much of the medieval city center is still intact today.
Since the opening of the new Munich International Airport close to Landshut in 1992, the city has become an attractive business location.

Get in
By plane
Munich International Airport
(
MUC
), Europe's sixth busiest airport, is located 40 km (25 mi) to the west of Landshut. It is a major hub for Lufthansa and its Star Alliance partners and offers connections to most airports in Germany and Europe, as well as to many intercontinental destinations. The airport is easily accessible by car via autobahn A 92. Furthermore, there is a bus service, that directly connects the city with the airport. The buses leave the airport once every hour and it takes approx. 40 min to reach Landshut, where the buses stop at Landshut Central Station and in the historic city center. A one-way ride costs €10, with discounts for families and regular customers.

By train

Landshut Central Station is located 1 km (0.6 mi) north of the historic city center. It is a stop of approx. 120 regional trains daily, with frequent connections to Freising, Ingolstadt, Munich, Nuremberg, Passau, Regensburg, Rosenheim, and Salzburg. The hourly service to Munich takes approx. 45 min.

By car

Landshut is well connected to the German autobahn and federal street network.
A 92 - Munich - Landshut - Deggendorf
B 11 - Munich - Landshut
B 15 - Hof - Regensburg - Landshut - Rosenheim - Austria
By bicycle

Landshut is located at the Isar-Radweg, a long distance bicycle route, that runs along river Isar from the Austrian border via Munich and Landshut to Deggendorf.

Get around

Landshut is small enough to be explored on foot. Furthermore, the medieval city center is a pedestrian zone with no motor vehicles allowed. Going by bike is an option, too. However, the extensive use of cobble stone pavement in the city can make for a very unpleasant ride. An alternative for the less sporty type is the city's bus network (StadtLinie). Its 15 lines will take you to every point of interest, within the city and the surrounding countryside.

See
Do
Buy
phone: +49 871 4303179

address: Am Alten Viehmarkt 5

A huge shopping center with fashion stores, groceries, barber shops, book stores, jewelers, drug stores, movie theaters and restaurants.

phone: +49 871 29475

address: Altstadt 18-20

A shop that has everything in stock, that a modern, stylish man might need. Products range from cigars and spirits, through leather bags and hats, to flasks.
Eat
phone: +49 871 89990

address: Ländtorplatz 2-5

Certainly one of the best restaurants in Landshut and the only one with a Michelin Star in Lower Bavaria. The German dishes served are excellent and priced accordingly.

phone: +49 871 3199333

address: Am Alten Viehmarkt 5

This international restaurant is located within the Kinopolis movie theater center in CCL. The place can be quite loud and packed at times, which leaves the service staff a little overstrained.
Drink
phone: +49 871 9750583

address: Innere Münchener Straße 6

The Landshut branch of the Mexican-style cocktail bar chain, where you can get small Mexican dishes, too. It is a good meeting and jumping-off point for a long night out.

address: Meisenstraße 28

The club is very popular with the locals and the youth of the surroundings of Landshut, even though prices are quite high. The music revolves around R'n'B, hip-hop and electronic music, and the crowd seems very peachy.
Sleep
Connect
phone: +49 871 4306454

address: Luitpoldstraße 7

Internet cafe with five workstations, that also houses a DVD rental, a laundromat and a small casino.
Go next