Langkawi
Langkawi
,(Jawi:لانكاوي ) officially known as Langkawi, the Jewel of Kedah (Malay: Langkawi Permata Kedah) is an archipelago of 99 islands (an extra 5 temporary islands are revealed at low tide) in the Andaman Sea, some 30 km off the mainland coast of northwestern Malaysia. The islands are a part of the state of Kedah, which is adjacent to the Thai border. In 2008, Sultan Abdul Halim of Kedah consented to the change of name to Langkawi Permata Kedah in conjunction with his Golden Jubilee Celebration. By far the largest of the islands is the eponymous Pulau Langkawi with a population of some 65,000, the only other inhabited island being nearby Pulau Tuba. Langkawi is also an administrative district with the town of Kuah as the capital and largest town. Langkawi is a duty-free island.
Understand
Legends of broken pots and seeping gravy
Langkawi's most prominent mountains, Gunung Macinchang and Gunung Raya, and a whole series of towns and villages are said to be named after a local legend. The story tells the tale of a wedding between two families of giants, with Mat Raya's son wanting to marry Mat Cincang's daughter. During the wedding feast, a fight broke out between the two wedding parties, reputedly because the son was caught flirting with another woman.
During the fight, pots and pans were thrown, and a large pot of gravy (
kuah
) was broken and the contents flowed onto the ground. The place where the gravy was spilled became known as Kuah (the largest town on Langkawi island) and where the crockery (
belanga
) was broken (
pecah
) was location of the village Kampung Belanga Pecah. The gravy seeped into (
kisap
) the earth at the village named Kisap. And the hot water pot crashed where there are now hot springs at Air Hangat.
The name "Langkawi" has two possible origins. First, it is believed to be related to the kingdom of Langkasuka, itself a version of the
Malay
negari alang-kah suka
("the land of all one's wishes"), centered in modern-day
Kedah
. The historical record is sparse, but a Chinese Liang Dynasty record (c. 500 AD) refers to the kingdom of "Langgasu" as being founded in the 1st century AD. Second, it could be a combination of the Malay words 'helang', meaning "eagle" and 'kawi', meaning "reddish-brown" or "strong", in old Malay.
Langkawi eventually came under the influence of the Sultanate of Kedah, but Kedah was conquered in 1821 by Siam and Langkawi along with it. The Anglo-Siamese Treaty of 1909 transferred power to the British, which held the state until independence, except for a brief period of Thai rule under the Japanese occupation of Malaya during World War II. Thai influences remain visible in the culture and food of Langkawi.
Langkawi remained a sleepy backwater until 1987, when the island was granted tax-free status with the intention of promoting tourism and improving the lives of the islanders. The following boom was spectacular and now Langkawi figures on most every European travel agency's radar.
Sheltered by the mountainous backbone of
Peninsular Malaysia
, Langkawi escapes the northeastern winter monsoon entirely and enjoys sunny skies in winter when the eastern provinces are flooded. Coupled with natural white sand beaches, lush jungle foliage and craggy mountain peaks - but hampered by inaccessibility - the island was at one time touted as "Malaysia's best-kept secret".
The 10,000 hectares of Langkawi and its 99 islands were declared a geopark by the United Nations Educational, Scientific and Cultural Organisation (UNESCO) in 2007.

Get in
By plane
By boat
Langkawi Ferry operates fast air-con boats from Kuala Perlis (RM18, 75 min), Kuala Kedah (RM23, 105 min), Penang (RM60, 165 min) (the ferry is freezing cold, so bring warm clothes), and Satun (RM35 or THB350, 75 min), (Satun ferry to Langkawi: last boat departs Satun at 16:00.) Langkawi to Satun: the last van for Hat Yai from downtown Satun departs at 17:00 Thai time. 17:15 service from Langkawi cannot make the connection.
Tropical Charters operates ferries from Kuah Jetty to Koh Lipe twice per day during the high season (October-late April) at 09:30 and 14:30 from Langkawi and 11:00 and 16:00 from Koh Lipe. During the low season, from late April to late May, the company only has morning trips. From late May, the ferry stops running until October. Price is RM118 one way (RM100 if you book online), including the longtail boat transfer and Thai custom fee. Check in is at the inner entrance of the Jetty Point Food Court. Registration closes 30 minutes before departure. The trip takes 90 minutes. Arrival in Lipe is at the Bundhaya Resort.
Telaga Harbour operates speedboats from Ko Lipe, Thailand twice per day during the high season, at 09:30 and 14:30 (RM128 1-way, RM248 return, 75min). These boats dock at the south end of Pattaya Beach. Bookings can be made online.
Get around

There is effectively no public transport on the island, so your choices are to use taxis or to rent a car, motorbike/scooter, or bicycle.

By taxi
A taxi from the airport to Pantai Cenang costs RM20 or less with Grab. You can buy a coupon at the taxi desk in the airport. From the ferry terminal to Pantai Cenang the price is RM24. For those arriving at the Kuah Jetty and going into Kuah Town, the price is RM8.

By car or motorbike/scooter
Renting a car or motorbike/scooter is highly recommended due to lack of public transport. This can be done at the airport, the port complex, or from shops on Pantai Cenang. Refrain yourself from renting from touts, as many are operating illegally without permits and usually without insurance. Remember that accidents happen to tourists on motorbikes/scooters every day, so be careful although the traffic is not as chaotic as in Penang and other areas.
Renting an air-conditioned mid-sized sedan costs RM70-RM150 per day (depending on model, condition and length of stay) and a 150cc motorbike/scooter costs RM40-45 per day. Cheaper but usually very used and older are the semi-automatic 115cc bikes for RM25 a day. A tired Proton with in Pantai Cenang maybe around RM60-90/day.
Check your fuel level regularly because petrol pump stations (gas stations) are far from one another. However, rental agencies do not care how much fuel is in the tank when the vehicle is returned so do not spend more on fuel than you have to. Fuel costs about RM1.90 a litre and you should return the bikes with the same filling level as you picked it up. Some rentals do check the level and mark it when you sign the slip.
At the petrol station for the first time will confuse you. You will need to guess how much fuel you need and pay first. Most saloon cars if empty are RM50 to fill up and motorbikes are approximately RM5. Sometimes you fill up your car/bike and you haven't used what you have paid for not to worry you can claim this back at the counter.
Remember to drive safely and slowly on the island and on the left side of the road. There are tourists, children and animals like chickens, cows and even buffaloes crossing. Take care not to run over the beautiful snakes or monitors. Cattle and snakes like to lie on the road at night; the blacktop radiates heat.
Laws you need to know.
#You must carry your driver's licence at all times.
#Seat belts are mandatory in all vehicles. Fines are given ranging from RM50 plus if not wearing.
#Helmets are mandatory. Fines are same as above but more importantly the hospital does not have facilities to treat head injuries, so you will have to get a medivac out to Penang, which takes 45 minutes or more — if the helicopter is available.
#An international driver's licence is not necessary but licences must have text in English.
Road blocks are commonplace in Langkawi; they are mainly interested in locals with no licence/tax disc. Make sure you have the above items and your seat belt fastened, and you will have no problems.

By bicycle
There are not much opportunities to rent bicycles here. If you do find somewhere, then expect to pay RM10-30 per day.

See
Telaga Tujuh Waterfalls aka Seven Wells

phone: +60 4 9667789

This waterfall is named after the seven natural pools along its path. Legend has it that fairies used to come down to the pools to bathe and frolic. There are 2 viewing areas at Telaga Tujuh. The lower area is at the base of the waterfall and the higher area is where the 7 pools are. You can bathe in the pools and even slide down the slick rock between them. Be warned, to get to the 7 pools, you have to climb 638 steps which can get quite slippery when wet. As with most Malaysian tourist sites, the toilet facilities are not maintained and rubbish is strewn everywhere.
There is also a jungle trekking course available at the site which will lead you through a trail of about 2,500 m, up 2 mountains. This trail is achievable with slippers, but it is best to wear comfortable hiking shoes or boots as some segments of the trail are nearly vertical. These trails are not recommended for family trips.

Gunung RayaThe tallest mountain on the island, at 881 m. Spectacular views from the lookout point on the top. There is a resort hotel serving meals and indifferent coffee at the summit. There is a lookout tower which one may climb for RM10. There is also a possibility to climb the mountain which requires good health as there are 4287 steps in the stairs.

phone: +60 4 9592559

address: Jalan Datai, Mk. Ayer Hangat

Over 1,000 crocodiles and alligators. Witness a boxing match of man vs crocodile, or take a ride in a rickshaw drawn by a crocodile. This "attraction" is not for everyone as the crocodiles are inbred and deformed.

Laman Padi Rice Garden

phone: +60 4 955 4312

Rice fields and nice landscaping. Museum in English details process of cultivating rice.

phone: +60 4 9664223

Beautiful garden located on , designed based on Langkawi heritage.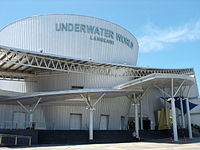 Do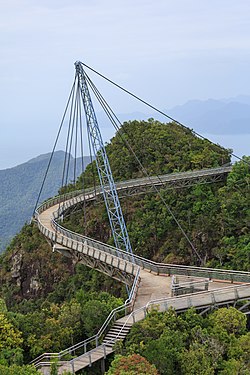 phone: +60 4 959 4225

Ride the cable car to the top of Gunung Mat chinchang and walk across the 700-m high Sky Bridge for a spectacular view of the islands and Thailand. Includes a very steep section which is spectacular both going up and coming down. Doesn't operate in bad weather. Also it doesn't run during the regular maintenance days, check before you go. Officially you are not allowed to take food and drink on the cable car, but they seem not to be checking backpacks (when unlucky and all your water is taken by the security, you can buy one at the top). If they are not operating, or you are really into hiking, you can trek partway up the mountain through the jungle. To do this, from the parking lot at Telagah Tujuh Waterfalls go left just before the road goes really uphill and then turn left again at the water reservoir. The trek is very steep most of the way and in a pretty bad condition because the contractors laying down the piping for cables littered garbage all the way to the top. Only attempt this if you are fit and have good hiking boots. Temperatures at the top of the mountain are 4-5⁰C lower than at sea level

Rent a scooterMaybe the best way to discover the island. Plenty of rental shops along Jalan Pantai Cenang.

Go-Karting

phone: +60 4 955 5827, +60 4 955 5792

address: Lot67, Jl Pantai Cenang

Morac International Karting features a 1,000-m track.

phone: +60 4 9661006

address: A-14-15 Pokok Asam, Kuah 10th floor of Langkawi Parade Shopping Complex

Only movie theatre in Langkawi. Current Hollywood and local films.

phone: +60 4 959 2620

There is a world-class, 18-hole golf course located near the Datai resort.

phone: +60 16 2715 082

address: 15 Lorong Keramat, Pantai Cenang

Traditional Hatha Yoga classes in English (also French, Dutch and Chinese). Run by an Irish/Malaysian couple. Yoga retreats and workshops are also available.

Jungle trekkingFollow any of the numerous jungle trek routes available throughout Langkawi. The vegetation is not dense. It will be a memorable experience.
Beaches
Pantai CenangThe most popular beach in Langkawi, features fine powdery sand and many beachfront restaurants and bars. Located at the south-western tip of the island, 2 km long.

Pantai TengahLocated just south of and contiguously with Pantai Cenang. 1 km long. Means 'Middle Beach'. Peaceful and tranquil alternative to the hustle and bustle of Pantai Cenang. All inclusive resorts popular with families.

Pantai KokIsolated, relatively undisturbed stretch of beach in the western part of Langkawi Island, 12 km north of Pantai Cenang. Telaga Harbour, and the cable-car ride to the peak of Mat Cincang Mountain and the Telaga Tujuh Waterfalls are located here.

Tanjung RhuNorthernmost tip of the island. Centuries-old limestone caves, mangroves, waterways, limestone crags and sandy beaches make it a nature lover's paradise. This beach is made up of 2 long stretches that include Tanjong Rhu Resort and Four Seasons, half of the Tanjung Rhu beach belongs to these resorts, guards don't allow you trespass the limits of their beach.

Datai Bay BeachThe most expensive resorts are located here.

Burau BayBeach lined with rocky outcrops located at the West Coast of Langkawi. Nearby Burau island is also a roosting place for migratory birds.

Pantai Pasir HitamThe sand is mixed in white and black shades, due to rich tin and iron ore deposits.

Pasir TengkorakVery beautiful small beach in the north of the island.
Tours
Tours can be arranged via any hotel or a multitude of online agencies. Prices vary; the ones given here are averages.
phone: +60 13 407 3166

Private & sharing yacht charter cruises; cruise packages for sunset, full day or overnight cruises around Langkawi and in the Andaman Sea.

phone: +60 12 578 5408

Educational and recreational tour. The tour slowly cruises the river and you will able to watch animals like birds, monkeys and eagles actively searching for food. You can experience for yourself the mangrove trees on your left and right banks of the river.

phone: +60 12 4050649

Combined mangrove and sailing yacht tour incorporating eagle watching, sting ray feeding, a traditional fish farm excursion and a mangrove speedboat safari for 1 hour plus a 6-hour sailing yacht cruise to the Langun Island Sand Spit Beach and incorporating the Pirate Lagoon as well as fishing, salt water jacuzzi, join in sailing, dolphin spotting, tunnel cave.

Island Hopping ToursYou will be brought to several islands around Langkawi, usually the Pregnant Maiden Island and Pulau Beras Basah. A dive into the cool deep Pregnant Maiden Lake is a must. The tours take 4 hours. They have pick-up service and can be booked from any hostel/motel at lower rates.

Jet Ski Island Tours or Jet Ski Safari

phone: +60 12 2002155

Breathtaking view touring the islands of Langkawi on a jet ski. You will be given a choice of three different tours. Private tours can be arranged. The tours take approximately 4 hours and leave at 09:00 ending 13:00. They have pick up service and can depart from Pantai Cenang or Sheraton Langkawi Beach Resort.

Birdwatching ToursThere are over 200 species of birds on the islands. The best times to watch them are the early mornings or early evenings.

MarinasFour first-class marinas provide berths for many international yachts.

Kayaking & Swimming Adventure4-hour tour. Paddle along the mangrove forest. Opportunities to see kingfishers, sea eagles, kites, plovers, herons, fiddler crabs and mud skippers.

Jungle Trekking in the Rainforest4-hour tour. Pick up from your hotel. Lots of monkeys and birds. Junglewalla also offers tours suitable for families or advanced hikers.

Mangrove & Limestone Cruise4-hour tour. Explore the mangroves forest and the ancient limestone outcrops and rock formations and possibly walking fish, Kingfishers, and Eagles. Prices vary, depending on the quality of the guide as well as the package components. It can range anywhere from RM70-200 for adults. Alternately, you can charter the boat for RM300 if you are more than 2 people.

Nature Walk2-hour tour. At sunrise or at dusk. See monkeys, insects, and flying squirrels.

Scuba Diving & SnorkellingOnly around Pulau Payar Marine Park (20 km south of Langkawi). There is a viewing platform for relaxation between underwater adventures. While Pulau Payar Marine Park does boast healthy coral and a good variety of fish, you will not be issued fins with your snorkel and the lunch the various tour operators supply is well below par.

Eagle FeedingWhile you are on one of the various boat tours, the tour operators will toss pieces of chicken to the eagles. This is a wonderful display, but encourages the eagles to rely on tourists for food, and not to hunt on their own. As a result, it is very destructive to the eagle population. Please do not support eagle feeding. Tell the boatman to keep the chicken for himself.

Helicopter Joyrides

phone: +60 4 9699690

address: Pekan Baru, Kuah Town

See Langkawi from aerial view at a very afforable price.
Buy
ATMs and money exchange booths are available at the Langkawi Airport, at Langkawi Parade Shopping Complex, next to Underwater World at Pantai Cenang and at Cenang Mall.
Langkawi is a duty-free island, and alcohol is significantly cheaper here than in the rest of
Malaysia
.
Hotel tariffs and retail goods are exempt from government duty. Visitors with more than 48 hr stay in Langkawi are exempt on items like wines and liquor (1 liter), tobacco (200 cigarettes), apparel, cosmetics, souvenirs and gifts, food and food preparations and portable electronic items (one item).
Shop around before buying: the airport is probably the most expensive place to buy anything. Shop in Kuah town for batik, tobacco products and chocolate confectioneries.
phone: +60 4 9667528

address: A-14-15 Pokok Asam, Kuah

One of the largest duty-free shopping complexes in Langkawi. A one-stop shopping location for wines & liquors, chocolates, local souvenirs, clothing & beachwear, luggage, home decor, electronics and other products. Grocery store on bottom level offering fresh and frozen foods.

The Zon Duty-Free Shopping Complex

phone: +60 4 9555300

Cheap place to buy cigars, cigarettes, alcoholic beverages, clothing, electronics, chocolates, and biscuits.

Kompleks Budaya KrafEnormous handicrafts centre built in neo-Islamic style.

KV Tobacco

phone: +60 19 5422558

address: 136, Kompleks Kelana Mas

Well-stocked tobacco and cigar shop. Easily recognisable by a big orange signboard, and door painting by the left. Has a variety of Cuban cigars, rare European smoking pipes and packed tobaccos. Knowledgeable and friendly shop owner.
Eat
Practically all resorts have their own restaurants and many tourists choose to eat in, but there are lots of other options as well. Be adventurous and strike out on your own to savour the numerous foods at the stalls and restaurants all over Langkawi.
Generally, restaurants are expensive and the portions are smaller there than at stalls, so you may want to order more than just a main dish at a restaurant. Also, if you don't like spicy food, watch out: Langkawi people like their food hot, and even if they tone things down at your request, you may still find your food challenging to eat. Try one of the many seafood restaurants, but beware of certain restaurants advertised in the brochures targeting tourists. An example of such restaurant is the 'Coco Beach Restaurant', close to the airport.
If you choose to order seafood or fish, take note if the price is by weight or by a set price for the dish. The unwary can be hit with a much larger bill than expected. Also, beware of restaurants telling you that they only have the bigger size lobsters available, as that is what they tell everyone (a common practice at Coco Beach Restaurant and Palm View Restaurant, at Pantai Cenang). When your lobster or crab is served, you will discover that you will definitely be paying for 900g of shell instead of meat! To counter this, order fish, squid and prawns, to be safe.
Budget
For a taste of simple Malay-style breakfast, just walk up to a small stall opposite the Underwater World in the mornings and feast on the famous freshly-prepared banana leaf-wrapped
nasi lemak
(steamed rice in coconut milk). The price is most affordable at less than RM 2 for a pack. Go local and enjoy this with a glass of hot teh tarik or really good local coffee. This very unassuming stall is just simple and great (clean too!) The nasi lemak comes with curried beef, squid in chili, friend salted fish or chicken.
AddaMaya CaféSmall, cosy place for meals and coffee. The chef can whip up great meals - from local dishes to western fast food easily (and in that little cabin of his). It can get a bit dusty as it is located fronting the main road. Locals like to come here for good food at reasonable prices.

Rafi's PlaceRustic shack. No visible signboard either but ask around and you will find Rafi's. Rafi is a Penangite but has been on the island since 1988 so he considers himself very much local. Ask him for recommendations and he'll happily tell you. Ample parking space in front of his 'shack'. Good ambiance especially early mornings.

Tomato Nasi KandarTypical budget Indian food establishment with patrons all day (and night!) long. Very crowded even in the wee hours of the morning. They serve an enormous variety of dishes, from the flavoured roti varieties to naan, briyani and kebabs. The standard is quite high - to an extent where the meal is extremely value-for-money. The only problem is that their waiters are exceedingly bad at taking orders.

Restoran FatimahTry this for really authentic Malay food. Their lunch spread is amazing - so amazing that they attract bus loads of Malaysian visitors. Just enjoy the food and leave your cultural baggage and complaints behind as you will be in a totally different ambiance but friendly, nevertheless.

Restoran Almaz

address: northern end of Pantai Cenang

A really nice little restaurant with Roti and Indian food that is very tasty and cheap.
Mid-range
Artisans Pizza CafeOffers freshly cooked pizzas with both traditional and Malaysian toppings. The satay pizza and sambal pizza are particularly good. You can dine in or takeaway and they also deliver to guesthouses and the beach. Their house specialties: Hungarian Goulash and Madam's Fishbake are particularly recommended. Tomato soup is also great.

Babylon Mat Lounge & BBQMats are laid out on the sand for guests to sit on and there is a low table with a candle. They also have a live band or playlist that is passed off as a DJ. In contrast to the atmosphere, the staff are quite rude compared to other places.

Cenang Boat Quay

address: Pantai Cenang

Offers a variety of pizza, German sausages, pasta, local dishes, fusion food and a grilled fish hawker. The concept here is by individual hawker selling the different styles of food. Sunset view at the Quay.

Champor Champur

address: Pantai Cenang

Moderately wacky fusion food in a fusion setting courtesy of a Dutch-Malaysian couple with an affinity for Africa. Great ambiance - feels like eating in an outdoor garden.

Fat Mum Restaurant

phone: +60 2 4707863

address: Pantai Tengah

Just up the road from Awana Resort. Great authentic local Chinese seafood restaurant, good food for a reasonable price.

Hole in the Wall Fishfarm & Restaurant

phone: +60 4 9675301

address: Kilim River, northeast part of the island

Floating on the river, part of the amazing scenery of the Kilim Mangrove Forest. They serve the freshest Malay style seafood you will be able to eat on Langkawi island. The traditional dishes of freshly caught fish, prawns, crab, lobster. are famous. Shuttle service from Kilim jetty to the fishfarm restaurant and return is free of charge for lunch and dinner guests (However, if your bill is less than RM50, you have to pay an absurd amount for the shuttle. The logical workaround here is to order the cheapest available item to make the bill RM50) If you book a Mangrove Tour, you will most definitely end up having your lunch here. However, you may want to give their package buffet a pass and try their dishes.

MimiGreatest 'ikan bakar' or grilled fish with tantalizing self-made sauce. Also offers a variety of traditional Malay dishes like tomyam and 'ayam masak merah' (chicken cooked in non-spicy sauce).

phone: +60 4 9554128

address: Lot 1225 Jl Pantai Cenang

Some tables having water views. They have fresh seafood displayed out front. Choose from a wide range of cuisines, including dishes prepared in Malay, Thai, Chinese and Western styles.

Rasa RestaurantGood Malaysian food with reasonable prices. Seating available outdoor in courtyard overlooking main road or inside.

Red Tomato Restaurant and Lounge

phone: +60 12 5136046

address: 5 Casa Fina Ave

Charm and great dishes. Look out for the owner's red VW Beetle parked in front of the place. Has great western breakfast and lunch menus, and pasta and tasteless pizza for dinner. Homemade bread, good choice of cheeses. Gluten-free pasta is available. Air-con and terrace seating, Free WiFi and a red piano. Owned by a German lady.

Rose Tea 2Thai food. Great service.

Sun CafeA friendly and relaxing restaurant that offers a variety of Western food, Italian food, and Malaysian food. Hot and cold beverages, cappuccino to milkshake, fruit juice, mocktail. If you love fish, try their fillet of barracuda. They are also open for dinner too. Also famous for the very nice restrooms.

Taj Mahal

address: Landcon Square

Huge open-sided restaurant, also has an air-con room opposite for hot days. Specialises in Arabic and North Indian dishes all of which are very healthy, very tasty and very cheap. Very popular with locals and with Indian and Arabic holidaymakers. Great place to just sit around for a few hours occasionally ordering another batch of fresh flat breads and dips.

T. Jay's Italian Bistro & Pizzeria

phone: +60 4 9553995

Though this place looks a little sleepy, they make some great wood-fired pizzas.

Telaga Arabic Cafe and RestaurantThe same kitchen serves an indoor dining area and a large outdoor area across the street. Good good with reasonable prices. Stay and enjoy some of the best hookah/shisha (tobacco water pipe) smoking anywhere. While good, the food is not as great as some Middle Eastern restaurants in Kuala Lumpur.

Tulsi Garden

address: Pantai Tengah

Good Indian food (northern and southern). Quiet place to have dinner and chat with friends. You can ask the chef to tone down the chili or spiciness levels.

USSR RestaurantRussian fare. Waterside restaurant with tables overlooking the harbor. Managed by Russian expats who serve up the real deal.

Wonderland

phone: +60 12 6230441

address: Lot 179, 180, 181 Pusat Perniagaan Kelana Mas

Locals claim that Wonderland serves up the best seafood on Langkawi Island; offering local favourites of traditionally cooked seafood entrees, the chilli crab is especially flavorsome. Service is friendly and prompt and the atmosphere is lovely.
Splurge
La Sal at Casa del MarAs expected on holiday, dining is a relaxed, quality experience at your Home by the Sea. Food offers the best in Modern Asian and Western Cuisine with a focus high quality fresh produce and is served by attentive and friendly staff. The bar offers a wide variety of wine from the old and new worlds. The cocktail list is exciting and innovative with themed cocktails around our sunset, pool side relaxation and post dinner period.

The Light HouseFantastic food on the beach wonderful views.

phone: +60 4 9594866

address: Lot No. C9 Perdana Quay

Japanese style bakery & bistro owned by Tun Dr Mahathir Mohamed, ex-Prime Minister of Malaysia. Quality breads and full meals. Amazing view of the harbour and the yachts especially if you have your breakfast al-fresco outside. Attentive staff. Try Tun's Favourite Breakfast set (2 softboiled eggs, a bowl of mutton curry and thick toasted bread) with coffee and orange juice. Good place to have a leisurely breakfast.

phone: +60 4 9593830

The only authentic Italian restaurant on Langkawi island. The restaurant offers typical Italian food, good wines and draft beer. The Mediterranean style surrounding is just beautiful and the tables are set up right on the waterfront.

PapadamIndian restaurant that also serves Arabic food.

address: Jl Teluk Baru

Fine dining restaurant that serves great Western food too. If you're a big fan of lamb, you must try their lamb shank. Tender and full of flavours. Its portion is huge too! Good for someone who wants a hearty meal.

phone: +60 4 9554118

address: Lot395 Jl Telok Baru Pantai

Japanese restaurant, with excellent food and wonderful service.
Drink
Because of Langkawi's tax-free status, alcohol is much cheaper than in the rest of Malaysia. Religious Muslims do not consume alcoholic drinks, and while they do tolerate non Muslims who do, try not to behave in a rowdy imbibed manner near them, their houses, mosques, and please respect local culture and communal sensitivities. For those living on a budget, you can obtain alcohol at cheap prices from the local duty-free shops - the larger the outlets, the lower the prices. Expect to pay RM35 for 1L Absolut Vodka, RM37 for 1L of Johnny Walker Red Label, RM45 for 1L Kahlua, RM60 for 1L Bailey's, and RM70 for 1L Chivas Regal 12 years. Small cans of beer: RM2.30 for Tiger Beer 330ml and RM1.80 for some cheap Dutch beer. Small quantities? 500ml of some random Gin per RM15.
Some of those prices can be as cheap as a half of the price of the same product on the Duty Free Shop of the International Airport at Kuala Lumpur (KLIA)
Despite low alcohol prices, Langkawi is predominantly popular with couples and families. Single travelers and backpackers may therefore be disappointed with the lack of nightlife. Most bars remain empty, particularly in the low season, and the 1-2 nightclubs may only seem worthwhile in the peak season, and even then only on Friday or Saturday nights. Overall, Langkawi provides a family-friendly alternative to Thai locations such as Phuket and Koh Samui.
phone: +60 4 9531801

address: Jalan Teluk Baru
Sleep
Budget
If you are looking for budget accommodation, your best bet would be to walk along the beach and adjacent road at Pantai Cenang. It is hard to find budget accommodation in other beaches in Langkawi, except Pantai Cenang and Kuah town. Prices there normally range from RM50 to RM150 per room per night, on or next to the beach.
Langkawi actually does cater to budget single travellers although the type of chic backpackers' hostels available in Kuala Lumpur and Penang are not to be found here. Dormitory rooms are available on booking sites and hostel sites, but some dorms don't appear on all of them, so it's worth checking a few.
Rainbow Lodge20 beds

phone: +60 4 9551300

30 rooms

Cenang Beach Motel

phone: +60 4 955 1395

Good value. Clean rooms with fan or air-con directly on the beach.

Chandek Kura HotelNice rooms, but must drive to beach

Daddy's Guesthouse

phone: +60 13-8181711

Not-so-clean but spacious rooms. Uncle Jay is really nice caring person. Wifi available in the receiption

Gecko GuesthouseBar on site. Nice lobby — comfy couch, wi-fi access, Astro TV playing, aquarium and friendly cats. They also have a few monkeys around one tree. Computers with internet access in the nearby Swiss Inn.

phone: +60 12 417 8499

Room with balcony, A/C, 32" LCD TV. Mini-fridge (50 lt), hot shower, local TV selected satellite TV (Astro), WiFi.

GeoPark Hotel & Dormitory30 rooms. WiFi access in lobby. Outdoor pool. You will need to rent transportation as this is in a secluded area.

Melati Tanjung MotelManaged by a local family. All rooms have air-conditioning.

The Palms Guest House8 rooms with queen beds (no twin rooms). Attached bathrooms with hot and cold shower. Mini-fridge. Free WiFi.

phone: +60 17 469 39 77

12 clean rooms with queen beds and twin rooms), run by a lovely local couple. Attached bathrooms with hot and cold shower. Mini-fridge, TV, Private Beach, Free WiFi, Motor Scooter Rental, Fishing/boating trips with the owner. If you are looking for somewhere quiet and comfortable to get away from it all, without breaking the bank, then Senari Bay Resort is a good option. 15 min walk from Pantai Cenang.

Zackry Guest House

address: Lot.735 Jl Teluk Baru

Great place for young and single backpackers. Family-run guest house. Free wi-fi, TV & DVDs at the common area. Common kitchen. Free coffee and tea. Free refill drinking water facility. Fan shared bathroom and ensuite aircond room available. Not suitable for family with children below twelve and or elderly.

phone: +60 13 5000063

address: 396, Taman Nilam, Mukim Kuah,i

phone: +60 12 4752880, +60 19 7208708

address: No.70,Taman Cenderawasih

15 min drive from jetty at Kuah. The homestay has 4 rooms, 2 bathrooms and kitchen complete with electric appliances such as TV with Astro, refrigerator, washing machine, and water heater. Air-con and fan and provides blankets and towels. This homestay is spacious and suitable for a large group vacation trip (max 15 person including children; additional charges will apply for extra blankets, towels and pillows).

address: Pantai Cenang

3 self-catering holiday homes for weekly or long term rental. Situated in a quiet location, near Underwater World. 2 fully furnished, 1-bedroom houses (houses 1 and 2 double bed + single bed or roll out sofa ) and one chalet/studio, (house 3 - double bed). Air-con, self-catering kitchen, fully furnished, clean and comfortable amenities & quality linen, cleaning products provided, good security, mosquito nets, smoke alarms and fire extinguishers. Houses 1 and 2 have secluded and covered gardens. House 3 has covered seating area at front with table and chairs. Outside parking. Weekly rates (7 nights) from approx. RM1,200 and longer term prices are negotiable.

phone: +60 4 9552632 , +60 175600803 (Awie)

address: Jalan Pantai Cenang, 07000 Langkawi Kedah Darul Aman

Really nice little guesthouse. Chilled atmosphere and very reasonable prices. The rooms are basic and clean, only cold water but in this place that is fine. Free WiFi and the loung area is comfortable enough. They have dorms from RM15, rooms with shared bathrooms for RM40, rooms with attached bathrooms for RM60 and rooms with air-con and hot showers from RM80.

phone: +60 174256796, +60 195640251 (Whatsapp)

address: No.490 Taman Nilam,07000 Langkawi

Provides more than 15 units home stays, 10 units Serviced apartments with swimming pool in Kuah town, guest house and chalet with swimming pool as well. Car rentals and local tours can be arranged. Most of the home stay have 3 bedrooms and 2 bathroom, full kitchen with electric appliances such as TV with Astro, refrigerator, washing machine, Air con, ceiling fan, blankets, towel. The home stay and serviced Apartment is suitable for large family group vacation trip (max 15 persons including children; no charge for extra pillow and blankets.
Mid-range
Awana Porto Malai208 spacious rooms and suites offer panoramic views of the lagoon and nearby islands and equipped with modern amenities and facilities. Fun swimming pool with fountains and slide for kids.

phone: +60 4 9661818

High-rise hotel with 282 rooms.

phone: +60 4-9533000

address: Jalan Kuala Muda, 07100 Padang Matsirat

All rooms are equipped with in room safe, air-conditioning, television and refrigerator. Some of its services and facilities are restaurants, shops, coffee shop, meeting facilities, laundry, laundry service/dry cleaning and concierge.

phone: +60 4 9551808

address: Lot PT 892, Jalan Pantai Cenang

Beach front resort. Clean, comfortable and friendly. Coffee Garden. Air-conditioned rooms. Somehow, the hotel room TV sets are not equipped with remote control. And, make sure you get a room with a beach view, otherwise it might not be worth staying.

Charlie Motel

phone: +60 4 9551200

Dialysis treatment also available

Citin Hotel Langkawi by Compass Hospitality

phone: +60 3 966 9000

address: No. 3, Jl Pekan

Renovated, 46 cozy rooms, clean, air-con, 22" LCD flat screen TV, ensuite bathroom. There is a cafe which provides a decent breakfast and the lobby is with WiFi. The friendly staff are well informed about the island.

CoCoTop Hotel

phone: +60 4 9672559

Quiet, Clean, air-con, friendly Environment with a hint of bakery fragrant every morning from a local owned bakery, 30 room hotel with, attached bathroom (hot and cold shower) and two single beds and TV.

phone: +60 4 9668585,+60 19 4499880

address: No. 33 Persiaran Putera, Kuah

132 rooms with air-con. The hotel's Central Park Restaurant has Malay, Chinese and Western cuisine.

Federal Villa Beach Resort88-room 3-star beach resort on of land with a view of the sea. Cozily tucked against a backdrop of majestic green hills fronting a white sandy beach.

phone: +60 4 9553030

address: Jalan Lima

232 spaciously large rooms averaging 480 sq ft. Langkawi's premier convention hotel.

Holiday Villa Resort2 swimming pools, 3 tennis courts. 258 sea-facing guest-rooms and luxurious suites TV, in-house movies, air-con, fridge, mini bar, in-room coffee/tea-making facilities and in-room safe deposit box.

phone: +60 4 9666828

address: Batu 3/4, A-14-15 Pokok Asam

168 spacious rooms and suites. All rooms with air-con, heated showers and mini refrigerator.

address: Lot 1577, Kawasan Mata Air, Mukim Ulu Melaka

Full facility resort. No beaches here but a truly green surrounding.

Kondo Istana Langkawi

phone: +60 4 9661118

address: Lot 575, Jalan Penarak, Kampung Padang Lalang, Mukin Kuah

15 budget rooms, all of which have air-con, cableTV, and refrigerator. Fitness room/gym, internet, and room service.

phone: +60 4 9660600

address: Langkawi Seaview Hotel

143 rooms. WiFi.

Mutiara Burau BaySprawling resort the tropical rainforest. 4 restaurants and 150 cabanas. There's a long stretch of beach and plenty of space for you to stake your own private spot if you don't mind swimming in the sewage outfall. The Seashell Beach and Cafe is a nice little place you can while away the evening with a couple of drinks and a pretty good live band. Go early to get a table as it can fill up pretty quickly after dinner.

phone: +60 4 9551308

Has been there for quite sometime. Rather sprawling... straddling both sides of the Pantai Cenang road. The beach-facing rooms are most popular. The regular beachside barbeque is great.

Shirin Villa3 bedrooms (2 air-cond + 1 fan). For 6 people, suitable for couple, friends &amp family gathering. Fully furnished, AstroTV, Kitchen, fridge.

phone: +604 955 1751

address: Jalan Pantai Cenang

Quiet getaway nestled in a carefully landscaped tropical garden and waterscape

Tropical Resort

phone: +60 4 9554075

Quiet and clean chalets. Owned by Musa and his German wife, Laila. Rooms come with fan or air-con, attached bathroom (hot and cold shower) and two single beds and TV. Short walk from the beach, convenience shops, Malay style eateries, car rentals, stylish cafés, spa. Long term stays at discounted rates are available. No alcohol is permitted.

address: 1-19 Jalan Pandak Maya 7

Rooms with LCD TV, air-con, WiFi, heated showers, hair drier but no refrigerator. Clean.
Splurge
phone: +60 4 9591088

Built in the middle of virgin tropical rainforest, between the Mat Cincang mountain range and the Andaman Sea. Centuries-old trees, many with huge buttress roots and jungle creepers envelope the resort. 186 rooms and suites.

phone: +60 (4) 959 1888

address: Karong Berkunci 200, Burau Bay

Biggest hotel on the island, with 424 rooms and suites. There are 9 F&B outlets including the Sunken Pool Bar and Boat House Bar. Nature walks with a qualified guide are provided free of charge to guests. Beach football, kiddie pool, watersports. This resort has abundant wildlife, some unique to the island.

Bon TonOne of the island's most stylish and intimate resorts. 8 individually styled antique Malay villas. Nam Restaurant at Bon Ton is regarded as one of the best on the island.

Casa del MarBoutique resort with 34 sea-facing rooms. Day spa, gymnasium, non-motorised watersports facilities. Restaurant & cocktail bar on the beach. Suitable for couples and adults.

Century Langkawi Beach Resort

phone: +60 4 9528000

address: Teluk Nibong

In 38 acres of spacious, lush tropical surroundings with private beach coves.

Century Suria Suites3-star apartment hotel just outside of Kuah, proudly proclaims itself as having the first glass elevator in Langkawi.

phone: +60 4 959 3288

address: Telaga Harbour Park, Pantai Kok

5-star resort of 125 rooms and suites, opened in December 2010. Constructed in British Colonial style. 5 levels with big, richly decorated rooms. Gymnasium, business centre, child care centre, billiards room and spa. Outside, a three tiered infinity pool overlooks a private beach, bordered by lounges.

phone: +60 4 950 8888

address: Jl Tanjung Rhu

Middle Eastern influenced resort set on the beautiful Tanjung Rhu beach. Probably the best place to spot a billionaire on the island.

Holiday Villa Beach Resort & Spa4-star 258-room picturesque resort covering 13 acres of land. Large swimming pool with open air jacuzzi, an indoor pool for ladies and the Amoras spa.

Meritus Pelangi Beach Resort & Spa350 rooms are spread over 51 clusters of elegant wooden chalets offering pool, sea or lake views. The Meritus offers seven F&B outlets including two pool bars and the excellent Niyom Thai Restaurant.

Rebak Island Resort - Vivanta by Taj Langkawi

phone: +60 4 9665566

94 rooms. Managed by India's Taj Group of Hotels, Resorts and Palaces. It consists of clusters of timber chalets. The hotel has the only fully equipped marina in Malaysia.

address: Jl Tasik Anak

A tastefully designed beach villa in a contemporary Asian style. Their breakfast is delicious but must be booked in advance. Near great restaurants, bars and cafes.

Tanjung Rhu ResortA resort on what most people consider to be the best beach on the island. It has been built to minimize any environmental damage and to blend in well with its surroundings. 60 m pool, abundant gardens, restaurants, very well maintained.

The Westin Langkawi Resort & Spa

phone: +60 4-960 8888

address: Jalan Pantai Dato Syed Omar, Kedah

202 rooms and 400 villas
Connect
Telephone

Mobile phone coverage is very good in all built up areas of Langkawi. Many affordable pre-paid phone and data plans are available. Recharge cards are readily available except for the very cheap TuneTalk which is harder to find and SIM cards almost non existent. It is best to buy this back in LLCT where no commission is charged on the SIM. Full reception and reasonable data speeds can be achieved on the beach and inside the resorts on Pantai Cenang and Pantai Tengah.

Post

The main post office in located in Kuah Town. Mini post offices can be found in Padang Mat Sirat. There is no post office in Pantai Cenang, but you can buy stamps and send postcards in T Shoppe on the main road. Courier service, Poslaju shop can be found at Taman Berlian, Kuah.

Internet

Broadband is available and some Internet cafés can be found along Pantai Tengah, Pantai Cenang and Kuah. In addition, many of the upscale hotels, resorts, and restaurants provide free WiFi.

Stay healthy
The biggest health risk on Langkawi is from jellyfish stings, especially during January - June season. Uninformed visitors are stung every day and the lifeguards on Pantai Cenang and the hospital treat more or less severe cases of jellyfish stings most days. There are several species of jellyfish in Langkawi's waters, while most will give you a nasty sting or a burn, there are some that will cause partial paralysis or even kill, in case of the lethal box jellyfish. If you have been stung badly, don't exert yourself physically as this will pump the toxins around the bloodstream and aggravate the symptoms. Vinegar is the only scientifically proven treatment for tropical jellyfish stings, apply it for 30 seconds to block toxin which has not yet been absorbed into the blood. To stay safe, swim only in stinger suit.
Langkawi can have a lot of
mosquitoes
depending on the time of year and location (i.e. Mangrove areas), so don't forget to use mosquito repellent. "Off" spray and various citronella or DEET based products are available in most supermarkets.
Average temperatures are hot or hotter; it's the tropics. Be sure to stay
hydrated
. You will need to drink about 3 litres a day and don't wait till you are thirsty to drink. Room temperature water preferably. De-hydration accounts for a large percentage of dodgy tummy holiday illnesses.
See also
Tropical diseases
.
Stay safe
Speedboats can often bounce off the waves at very high speeds and passengers can get quite strong jolts into the non-sprung seats, so persons with back or neck problems should not travel on the speedboats, but on the ferry. There have been reports of serious back injuries happening on the speedboats. They are also known as 'vomit comets' due to the number of people succumbing to sea sickness. Bring lots of water and be prepared for a bumpy ride! Also be very careful while swimming. At times, tides and currents can be very aggressive and not easy to spot.
Be careful driving around Langkawi at night. Although main roads are well-lit, some of the more minor roads are not very well lit and may pass through Kampungs (traditional Malay villages) or rural areas where the locals seem to take a very casual approach to road safety. Drive slow and watch out for erratically piloted motorbikes, pedestrians and livestock. Inside Kuah Town, watch out for errors in the road arrows - they may lead you into wrong lanes or into barricades. at night, watch out for water buffalo sleeping in the road.
Crime is generally not a problem on Langkawi, especially compared to the larger cities in Malaysia. In theory, you don't even have to lock your car, because it cannot get off the island without customs knowing about it!
Beware of smart wild monkeys. Those at Tengkorak beach attack humans who have food. If attacked, pick up stones (or just pretend to do so) and throw them at the monkeys, this will scare them away. Also, do not carry plastic bags as the monkeys associate these with food. Don't let them get too close to you or they will steal your glasses.
Please read up on rip tides before you go; learn to recognise and to avoid them.

Respect

Langkawi is a Geopark but still needs to improve its environmental friendliness. Don't participate in certain activities such as eagle feeding and monkey feeding as this harms the animals by encouraging them to become reliant on tourists and you may give them the wrong food.

Go next
Ko Lipe — Great diving and snorkeling at the only inhabited island in Tarutao National Marine Park, a short speedboat ride (1½ hr) away on the Thai side of the border.
Ko Tarutao — Another island in Tarutao National Marine Park, however does not suffer from the rapid development issues faced by Ko Lipe.