Lanzarote
Lanzarote
is in the
Canary Islands
, part of
Spain
.
Regions and cities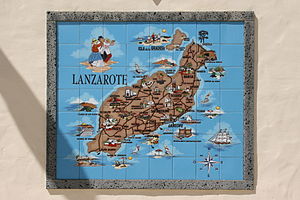 The resorts of Lanzarote are in the south and southeast of the island, most of them are only a few decades old. The traditional municipalities are in the middle of the island, and agriculture is still present. The north-west of the island is sparsely populated and is characterized by bizarre volcanic structures. To the north is the Chinijo Archipelago. It includes the smaller island of La Graciosa and four other islands, including Alegranza and Montana Clare, both uninhabited.
The island is divided into several regions around the biggest cities:
ArrecifeGreatest area, the island's capital. It's the nerve center of the island and almost obligatory entrance point of Lanzarote (unless you come via Playa Blanca). The city has no great attraction except for its coastal area: Playa del Reducto, a pretty calm beach, Fort San Gabriel on an islet accessible by La puente de los Bolas, and the Charco of San Gines, lagoon of sea water surrounded by a beautiful walk. The other center of interest of the city hides towards the merchandise port. It is the International Museum of Contemporary Art which took its quarters in the fort San José. Designed by Cesar Manrique, the museum also houses a gourmet restaurant at reasonable prices.

HariaIn the north, with famous volcanic caves and the most green area. After crossing a pass from Teguise, Haria appears like an oasis at the bottom of a valley. With a nickname "Ten thousand palm trees valley", Haria contains palms than a classic city. The major attraction of Haria is the house of César Manrique. Excentric, the artist's last home is an unfinished work. The center is quite small but nice. At the Leon y Castilla square, it is possible to take a break on the terrace of a café, in the shade of eucalyptus. On the same square, a craft market happens every Saturday morning, selling local products.

San BartoloméCentral city of the island. San Bartolomé is above all a large crossroads between the North (Tinajo), South (Arrecife,East (Geria Valley) and west (Teguise). A gigantic sculpture by Cesar Manrique The monument to the peasant is visible at the intersection of these roads. Beyond this symbolic work, Casa Museu, in the same place, allows to appreciate the local culture and its (peasant) history. Half way between a museum and a the craft shop, the creation "manriquienne" also houses a restaurant.

TeguiseFormer capital, with the holiday resort Costa Teguise. It naturally presents the most representative face of the traditional aristocratic architecture. Walking through ancient cobbled streets or around the church square, the visitor can admire numbers of facades, massive doors or other wooden balconies. The Spinola Palace, home to the Timple Museum (local musical instrument) and the piracy museum hosted at Santa Barbara Fort (outside the city, placed on a volcano) are the two unavoidable attractions of the city. Also here, a large weekly market occurs on Sunday, attracting crowds of tourists - though it's rather uninteresting, since mostly overpriced rubbish is sold here.

TíasThe city is not very interesting, the municipality is primarily known for Puerto del Carmen seaside resort - which is even bigger than the city. The vineyards of the Garia valley are also here.

TinajoAt the north of the island and the edge of the Parque Natural de Los Volcanes, it's the most authentic and secluded. The flow of tourists from the south and east of the island stops mostly in the Geria Valley or Timanfaya National Park. Two points are worth a visit: Mancha Blanca on one side (hermitage of Los Dolores and Sunday morning market) and the agricultural museum El Patio on the other. The Lanzaroteño identity is undoubtedly most present here.

YaziaA tourist center and ferry port Playa Blanca. The most spectacular scenery on the island. If the north of the island has been valued by the artistic work of Cesar Manrique, the landscapes of the south (and thus the municipality of Yaiza) are sufficient for themselves. Yaiza resides between Timanfaya, Papayago and el Golfo - a charming little sleepy village. There is little to see except maybe in the neighboring village of Uga, a smoked salmon smokehouse (you can buy one, too) and a dromedary (camel) breeding center. The latter organizes daily round trips to Timanfaya, performing a promenade for the coming tourists.
Lanzarote is in the same time zone as rest of the Canary Islands - Western European Time (
WET
). This means the time is synchronized e.g. with
Portugal
and
United Kingdom
.
Other destinations
Montaña Clara - The smallest island of the Canary Islands.
Alegranza - In the most northern part of the Canary Islands, Alegranza is another one of the smaller scaled islands. Its name comes from the Spanish word for 'Joy'. The terrain is mostly flat, home to only one small volcano. The island is part of a conservation act with (Chinijo Archipelago) Natural Park, so it has no active or documented inhabitants. The historic lighthouse of (Punta Delgada) can be found on the eastern part of the island. Built in 1865, it was declared a historical monument in December 2002.
La Graciosa - Derived from the Spanish word for 'graceful', this volcanic island was formed by the Canary hot spot.The entire island is composed of volcanic rock and sand. It is also apart of the Islands conservation groups Parque Natural del Archipiélago Chinijo, Reserve of the Biosphere, and "Marine Reserve of La Graciosa". Having only a population of approximately 700, there are only two inhabited areas on the Island. those areas are Caleta del Sebo and summer-friendly Casas de Pedro Barba. The island has a school, lyceum, post office, supermarkets, a bank, port, beaches, and — except bar-restaurants — a square where bicycles can be hired (plaza). The main industry of the island is tourism and fishing. The climate of the island is one of the most commonly reported pull factors for travelers. Streets and roads on La Graciosa are unpaved sand. The Gracioseras can often be seen early each morning sweeping the streets smooth of the previous night's footprints. Motor vehicles are strictly prohibited and limited to a handful of licensed vehicles for special purposes. Since the roads are bad, and cars have to be shipped to Lanzarote for repair, about 70% of the motor vehicles on the island are old Land Rovers which often can be repaired by a local serviceman. There are no natural water sources on the island. Desalinated water has to be piped directly from Lanzarote since 2001.
The North - The North of Lanzarote is rural, and unusually green when compared to the rest of the island. The main town is Haria, and there are three fishing villages, Punta Mujeres, Arrieta and Orzola. The area is also home to two attraction Jameos del Agua, and Cueva de los Verdes
Understand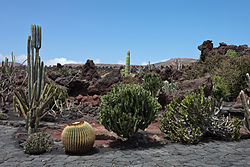 Not all that much is known about the island's early history, because most archaeological evidence has either been buried under lava or carried off by raiders. The Phoenecians were there, followed by the Romans. The Arabs then settled the island, the French explored it, and the Spanish conquered it.
The island thrived for a while by producing cochineal, an expensive, crimson dye taken from the carapace of a scale insect that lives on cactus. Cochineal is used for dying fabric, decorating china, in cosmetics, and as a food colouring.
The eruptions in 1730-1736 covered a quarter of the island's surface, destroying its most fertile farmland and eleven villages. Still, visitors marvel at how stone walls and semi-surrounds are used to capture moisture to grow crops elsewhere on this decidedly desert island.
The coherence and beauty of the island's cultural and tourist centres is largely the legacy of the local artist César Manrique (1919-1992). He also played a key role in having the island declared a World Biosphere Reserve by UNESCO in 1993.
Talk

Lanzarote islanders speak Spanish (Castilian) with a distinct Canary Island accent and some vocabulary not found on the Spanish mainland.
Lanzarote's principal economic activity is tourism, and a large proportion of tourists are from Ireland and the U.K. so most people working with tourists can speak at least some basic English.
Most restaurants offer menus in Spanish, English, and German. Although, do remember that this is a Spanish speaking island and try not to get too flustered if the local people cannot understand you. Many residents speak some English or German as a second language, but it helps immensely to speak slowly and using simple words and grammar when not being able to speak Spanish.

Get in
By plane
phone: +34 913211000

address: Apartado de Correos 86, 35500 Arrecife, Lanzarote

The island's only airport.
In addition to the charter flights that serve Lanzarote from Northern Europe, there are scheduled flights operated to some of the other Canary Islands, to the Spanish mainland and to a few international locations, most notably London (Gatwick).Live arrivals and departure information for the airport at Lanzarote is available here:
Lanzarote Airport Live Arrivals information
Some of the airlines serving Lanzarote (ACE) include: Iberia, Air Europa, Vueling, EasyJet, Thomsonfly, Jetair, Aer Lingus, Ryanair, and Jet2. Two local companies are Islas Airways and Binter Canarias, with mostly flights between the Canary Islands.
ATMs at the airport charge about €8 to get cash; wait until you get into the resorts where it will be €1.50.
By ship
ArrecifeTrasmediterranea, Naviera Armas

Playa BlancaFred Olsen, Naviera Armas, Lineas Maritimo Romero

There are several several smaller marinas that allow ship docking. One of the more interesting is Marina Rubicon at Playa Blanca because of its architecture and available services.
Get around

By car
The best way to travel on the island is by a rental car. The streets are good and the island is small, so you can see the main sights in two to three days. In all three holiday centers, Puerto del Carmen, Costa Teguise and Playa Blanca as well as in the capital Arrecife, a car can easily be rented. As a rule, the driver must be at least 21 years old and a deposit is usually required. In addition to regular cars, it is also possible to hire jeeps, which make it easier to drive the unpaved roads - but they also cost twice as much per day. In the off-season there are regularly special offers for several days.
Multiple car (with prices €30-50/day including taxes and insurance) companies are operating here. When choosing one of the cheapest companies (like Goldcar), make sure to understand the terms & conditions, since there may be hidden fees or tricks. Such as petrol refill fee at the time of return, or mandatory insurance to be paid at pickup.
It only takes about 40 minutes to cross the entire island from North to South by car, and about 25 minutes across.
Lanzarote tends to be a bit windy, and often a bit more in July, making motor scooters or bicycles a little difficult and risky.
By bus
The Airport is served only by a small bus that stops at both terminals to the city of Playa Honda and the Capital Arrecife, so it would be necessary to go there to connect to other destinations by BUS. Buses leave about twice per hour daily for most of the day, except for Sundays when there is a reduced schedule. Check
ARRECIFEBUS
for bus schedules (bus line 23). The bus fare from the airport to Arrecife is about €1 and from Arrecife to Puerto del Carmen about €1.5 (2016). A taxi ride from the Airport to Puerto del Carmen can range from €12 to €24, and around €30 to the resort of Playa Blanca at the south of the island.
There is also a hop-on, hop-off bus service which stops at all major attractions and the island's three resorts. The service is called Vision Bus.
By taxi
All taxis and drivers have a license and are generally friendly and honest. There are fixed prices for an overland trip, otherwise taximeters are used. There are four tariffs: tariff 1 applies to trips in cities, tariff 2 for round trips, tariff 3 for landings (which do not have fixed prices) and tariff 4, which applies to holidays. In all larger places there are taxis and parking, otherwise taxis can be stopped by handsignal when the green lamp of the roof light is on.
By ferry
The small neighboring island in the north, La Graciosa, as well as the larger island, Fuerteventura, can be visited by ferries. La Graciosa is car-free, thus the car must be left on Lanzarote. Not all car providers permit car transfer to Fuerteventura - get informed.
See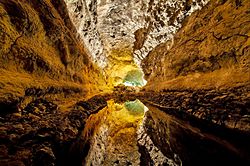 Centers of Art, Culture and Tourism
Sites managed by the island administration, designed by César Manrique (and with the participation of other local artists such as Jesus Soto). They are the entry points for the knowledge and discovery of the island. They can be visited separately but it is preferable to go bulk: 3 centers for €21, 4 centers for €28, or the best 6 centers for €32 (the entrance to the San Bartolomé is free).
Timanfaya National ParkA volcanic landscape created between 1730 and 1736 from the eruptions of over 100 volcanoes. It has barely changed since then and covers a quarter of the island's surface. The scenery here is stunning and unusual with an array of colours from the various minerals. Restaurant El Diablo offers excellent views of the national park which can be enjoyed while sampling typical Canarian food (all cooked by geothermal heat from the volcano). It is also possible to take a camel ride near the entrance to the national park, this costing €6 a person. For many, the highlight of their visit to Lanzarote.
Montañas del Fuego

phone: +34 928 84 00 57

Entrance is by bus or car leading to the Islote de Hilario, where a sloped car park leads up to a shop, bar and restaurant which were designed by César Manrique. The admission fee includes a bus tour around the interior of the park with a narrated history in Spanish, English and German. The restaurant has a panoramic view of the park, and the meat is roasted over the underground heat of the islote, which reaches hundreds of degrees at a depth of only a few metres.

Timanfaya National Park Visitors' CentreThe permanent display and audio-visual presentations explain the origins of the island, the recent volcanic activity that formed the park, and the flora and fauna of what appears at first glance to be a dead landscape.
Mirador del Rio

address: Calle Rambla Medular, 15, 35520 Haria

A lookout at the northernmost tip of the island. It has a comfortable bar and lounge offering a magnificent panoramic view of the small islands to the north of Lanzarote.
Jameos del AguaNeat dress (no shorts or t-shirts) and no flash or lit photography after 19:00. A jameo is a volcanic formation formed when the ceiling of an underground lava tunnel collapses, exposing a section of the tunnel to the sky. A bar, restaurant, swimming pool, and concert hall were all built within one such formation, near the coast, under the guidance of César Manrique, and opened to the public in 1966.
Cueva de los Verdes

phone: +34 928 84 84 84

A 45min guided tour takes you through a succession of caverns and tunnels formed by an underground river of lava. The melted rock and mineral formations are well lit, and the demonstration of their acoustical qualities is truly surprising.
Jardín de Cactus
phone: +34 928 52 93 97
address: Guatiza
San José Castle International Museum of Contemporary Art
phone: +34 928 81 23 21
Casa Monumento al Campesino
phone: +34 928 52 01 36
address: San Bartolomé
phone: +34 928 529 134

address: Echedey, 18 35558,Tiagua.

This is a great place to see what life used to be like on Lanzarote for the farmers and settlers. There are lots of exhibits covering everything from tools and implements to a typical household layout on this large and interesting site. Two flour mills, a winery, animals and a working farm are all on offer for visitors to see. Often missed by tourist buses this site is easy to find and well preserved.
Cesar Manrique
phone: +34 928 84 31 38, +34 928 84 30 70

address: Taro de Tahiche.

Visit César Manrique's superb house, built inside 5 volcanic bubbles, and now also a gallery of his personal art collection
Sculptures scattered on the island (Juguetes del viento in Arrieta, Energia of the piramide, Fobos and El triunfador in Tahiche, Monumento al Campesino in San Bartolomé, etc.)
Volcanic scenery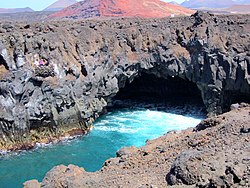 El Golfo

Los Hervideros

Salines de Janubio

Papagayo beaches

Beach Mujeres: the biggest beach, easily accessible by foot from Playa Blanca.
Beach Pozo
Beach Cera and Cerita
Beach Papagayo
Beach Caleta del Congrio
Beach Puerto Muelas

La Geria vineyard

Riscos de Famara

The north coast between Jameos del Agua and Orzola
Lanzaroteño identity
Rural market in Mancha Blanca
Itineraries
Drive from
Yaiza
along the LZ-704 to
El Golfo
on the west coast, where there are a couple of black sand beaches and a long row of restaurants along the shore. From there head south along the coast road LZ-703, stopping at the lookout, the
Charco Los Clicos
, and
Los Hervideros
. Continue past the salt pans at the
Laguna De Jaunubio
then return to
Yaiza
along the LZ-2.
Do

Beaches - One of the island's most enjoyable things to do is relax, lie at the beautiful beaches during the day and enjoy a nice meal in the evening.
Playa de Famara

Playa del RiscoA picturesque secluded beach - mostly because it's quite remote.

Playa de La Cantería
Scuba diving from Costa Teguise, Playa Blanca or Puerto del Carmen. Lanzarote offers some of the best diving in Europe. For surfing, head to Famara beach. There are many surf schools in Lanzarote and most will transport you to this beach for the lesson.
There are also water activities such as surfing, windsurfing, parasailing and canoeing. There is also a water park (with bus service from Puerto del Carmen), a Zoo Park (Guinate Park), an aquarium-type park and a wild-west themed animal park (Rancho Texas). You can also take submarine trips from Ports in Puerto del Carmen and Puerto Calero.
Cycling: Lanzarote being a flat island (about 600 m as the highest elevation), it is ideal for cycling. Almost all asphalted roads can be reached, the main axis between Arrecife and Tías, the LZ-2, can be used, since edge strips are present. Lanzarote is also suitable for the use of mountain bikes - keep in mind that it is not permissible to go off the slopes, roads and paths, as it distrubs growth of lichens.
Hiking: The island is certainly not a great paradise for hiking. There is too little vegetation and the landscape is too bare. Nevertheless, it is very worthwhile to hike the lanzarotes. There are guided hikes, for example in the national park Timanfaya (the guides provide a lot of information about the lava landscape). It is also possible to walk freely. A problem is the poor transfer situation, since you have to go always with the rental car or taxi to the starting point. Strong and durable shoemaking material is recommended, as the sharp-edged lava cuts through sneakers or sandals easily. It is also necessary to carry a lot of water, since there are very few water sources. Often the summer is too hot for extended hikes. The most suitable are early spring and spring itself, as the plants sprout. Beware of Weather Envelopes: It is useful to take a rain cover despite the cloudless sky.
Teguise Market is held every Sunday where the town comes alive with street entertainers and musicians. In addition to shops, it's possible to just sit outside one of the many bars enjoying some of the delicious tapas while watching the world go by.
There is an array of shops ranging from digital hardware shops to bazaars but be wary, you can get a good bargain if you can haggle a little with the shopkeepers. Don't worry, these guys are well used to people asking for a better deal than what they are offering.
Eat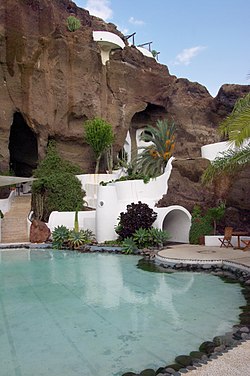 Traditional
The local cuisine is typical of the Canary Islands:
Mojo means sauce. The most common varieties are:
mojo picón (hot, spicy) made from red chillis,
mojo verde (green) made either from green pepper or coriander (cilantro),
mojo hervido (boiled) made from spices and lemon.
Papas arrugadas ("wrinkly potatoes") are cooked unpeeled in salt water then baked dry. Customarily served with a mojo sauce.
Gofio is a flour substitute milled from a variety of cereals like wheat, corn (maize), and barley, or a mixture of them. It is sometimes served by local restaurants in entreé dishes as a small patty of moist dough, and also forms the basis for local pastries and pie bases.
Restaurants noted for local cuisine:
La Era, Yaiza.
Casa Monumento al Campesino, San Bartolomé.
Restaurante Museo Internacional de Arte Contemporaneo, Castillo de San José, Arrecife (on the coast just to the north of Arrecife, inside a Castle turned museum).
However, in many of the resorts there are very few true Canarian restaurants. Most of them tend to focus on English food (English fried breakfast, roasts, etc.) If you are going on a package holiday it would be a huge saving to pay the extra for all-inclusive, especially if you're not likely to travel far from the resort.
Non-traditional
There are many non-traditional places to eat out in the main resort towns, serving a wide range of food such as Greek, Chinese, Indian, and Mexican.
The 'old town' area of
Puerto del Carmen
is home to
Blooming Cactus Vegetarian Restaurant
, but those with vegan or vegetarian dietary requirements will find limited choice outside of this eatery.
Drink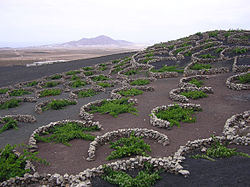 The tap water is treated sea water, brackish, and not recommended for drinking. Try to drink bottled water, which is affordable.
There are many bars in the tourist areas, in particular Irish bars in Puerto del Carmen.
Alcohol is very cheap in supermarkets. A 1 l bottle of San Miguel is around €1, and a can of beer as little as €0.50. However, in bars and clubs, the same beer would cost around €3.50. There is no duty on alcohol purchased in Lanzarote (other than VAT at 5%) so restaurants tend to make a lot of their money from the selling of alcohol at a significant - but to foreign visitors seemingly imperceptible - markup. Again, if a package exists which is all-inclusive, it might be a good idea to pay the little bit extra in the long run.
Supermarkets vary greatly in price the most expensive are Netto (about 25% more expensive), then Hiperdino supermarkets, these are the larger ones and tend to have good local produce at reasonable prices, lastly there are SPAR stores.
Watch out for the cost of fresh fruit and veg as this has to be transported refrigerated by ship from afar and can be expensive, a fresh pineapple can cost €8.
Some prices (supermarkets):
Can of coke: €0.60,
Can of beer: €0.50,
Litre of wine: €0.63,
Orange juice: €0.80
Some prices (restaurants):
Coke (200ml): €2,
Beer: €3.50,
Litre of wine €8,
Orange juice (fresh): €3.20
Sleep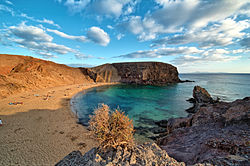 Lanzarote has a broad selection of hotels and other forms of holiday accommodation. Most hotels are clustered in and around the major resorts of Puerto del Carmen, Playa Blanca and Costa Teguise.
Stay safe
While a generally safe country, as always beware of pickpockets and keep hold of any personal belongings. There are local police stations in all major cities and somewhat frequent police patrols around the streets. Emergency service phone number is the European standard
112
. Always take a printout of all the
Important Numbers
and keep with you all the time.
Go next
{{IsPartOf|Canary Islands}}
{{outlineregion}}
{{geo|29.035|-13.633|zoom=11}}