Lappeenranta
The City of
Lappeenranta
(population 70,000) is the economic and cultural center of southeast Finland near the border of
Russia
and at the southern edge of the
Saimaa
, the largest lake (system) of
Finland
. Its culture and dialects are strongly part of
Eastern Finland
, although it administratively belongs to the Province of
Southern Finland
. Also known as
Villmanstrand
(its Swedish name and previous English name), Lappeenranta has a colourful, 360-year history influenced by its location in the border dividing western and eastern cultures.
Get in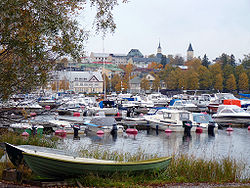 By car
Two highways, 6 and 13 pass through Lappeenranta. Bus companies operate frequently to
Helsinki
and other cities, even
Saint Petersburg
in Russia. Highway 13 extends to the Russian border, some 25 km from the city centre, where the Nuijamaa/Brusnichnoye (Нуйямаа-Брусничное) border station is the second busiest border crossing in Finland. Russian tourists usually use this pathway to come to the city either by bus or a car.
By train
The main railway station of Lappeenranta connects the city to the rest of Finland with fairly modern trains, operated by
VR
. The travel time to
Helsinki
is 2–2½ hours (€41.30 as of end-2011).
Trains to
Saint Petersburg
and
Moscow
stop at a smaller station in Vainikkala, near the Russian border, about 30 km from the city centre. There is a
shuttle taxi
connection (€10/5 per person, book at latest 1½ hr in advance from , €1.08/call+€1.01/min) between Lappeenranta and the station.
By bus
Lappeenranta travel centre offers connections to other parts of Finland and to Russia. There are direct connections by bus to Helsinki, Jyväskylä, Kouvola, Joensuu, Kotka, Mikkeli, Porvoo and Imatra. Foreign lines extend to
Saint Petersburg
and
Vyborg
. More information about bus connections from
Matkahuolto
.
By plane
The nearest international flight hubs are in
Helsinki
and
St. Petersburg
.
By water
Lappeenranta is a popular destination for boaters within the Saimaa lake area. Some cruise boats operate from Lappeenranta to other destinations within the lake area. Lappeenranta is connected to the Gulf of Finland through the Saimaa canal. Visa free (remember to always check the current situation) cruise boats operate from Lappeenranta to
Vyborg
, Russia through the canal. The canal is also popular among boaters, and private boats occasionally come from as far as Southern Europe. Check
Boating on the Baltic Sea#Saimaa Canal
for instructions on how.
Get around
By foot
Everything is within walking distance at the center. Even the airport is within walking range if you do not have much luggage, but taxi or local bus is probably preferable.
By bus
Getting further to the suburbs is easy by bus. City of Lappeenranta has
bus schedules
. There is a
graphical route planner
to find timetables.
See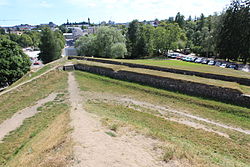 Visit the , the original city center which was established in mid-17th century. The old buildings include artist workshops, the , completed in 1785, as well as and .


SandcastleThe biggest one in Scandinavia. Each summer an ever larger sandcastle is built by artists on the northern end of the harbour area. Each year they have a different theme and make sculptures on the walls of the castle accordingly. There is a small theatre inside the castle playing acts intended mainly to children and families.



Do
Harbour areaThe harbour, the parks nearby, the fortress and Myllysaari beach are a perfect place to chill out in summertime, sitting on the terraces, drinking, eating and watching the boats and things that happen. Live music played on many summer days. Early in August there is a popular festival called "Linnoituksen yö" (Engl. The Night of the Fortress) in the harbour and fortress area.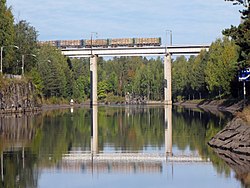 Lake Saimaa and the Saimaa CanalTake a cruise from Lappeenranta to the Saimaa, Saimaa canal or Vyborg, Russia through the canal! This canal was build to connect the Saimaa to the Baltic Sea at the dawn of industrialisation. The canal was modernized in the 1960s. The canal connects to the Bay of Finland, on Russian territory, close to Vyborg (Finn. Viipuri). The canal is mostly used by cargo ships, but there are also passenger boats operating from Lappeenranta to Vyborg. It is also used by private boats from Finland and abroad.

In winter, the city seems to quiet down a little. The main attractions during winter are the city theatre and major league ice hockey and basketball games. Also many possibilities exist for practising winter sports. There are tens of kilometres worth of cross-country skiing tracks (a popular stage circles around the airport), and also a small downhill skiing slope. Many outdoor and indoor ice-rinks are available for skating. The city bay becomes a skating track during winter.
Festivals
Buy
Situated close to the border, Lappeenranta is one of the most popular destinations for Russian shopping travellers. The two major shopping mall chains Prisma and Citymarket are located at the outskirts of the city.
address: Toikansuontie 4

address: Puhakankatu 9

Iso Kristiina

address: Brahenkatu 3–7

The largest mall in the city centre, Iso-Kristiina hosts an Anttila department store and a variety of smaller shops, mostly selling clothing.
Eat
Budget
Small coffee booths at the harbour and the (Kauppatori) offer traditional meat pies called vety (Eng. "hydrogen") and atomi (Eng. "atom"). Vety consists of a meat pie, ham, boiled egg and condiments. Atomi has either ham or egg, but not both. Also other snack food is offered by the booths. Just ask for 'vetyatomi' and you'll be understood in nearly all the grillikioskis in Finland.
Mid-range
Wolkoff

phone: +358 5 4150320

address: Kauppakatu 26

A nice, cozy 50-seat restaurant in a historical 150-year-old house. Non-smoking. In the summertime, seats also available on the courtyard.
Splurge
address: Ainonkatu 10

An old, classy restaurant. Has also a separate terrace docked on the water at the harbour.
Drink
Cafés
phone: +358 5 4530 554

address: Kristiinankatu 1

A romantic café in the historical old Fortress. Delicious homebaked cakes and tarts. Not necessarily for small children because of limited space and fragile décor.

Coffee House

phone: +358 5 678 6667

address: Kauppiaskatu 29-31

A nice, modern cafe.

Café Galleria

phone: +358 5 453 1644

address: Koulukatu 15

A small cafe.
Bars
Most of the popular bars are located in the city centre.
phone: +358 5 4513376

Harbour. 10:00–02:00 daily in summer (subject to weather). A popular hangout place in the summer, this restaurant is built on an old parked steamboat. Most people come here for drinks, although they also serve food. Another similar boat restaurant, S/S Suvi-Saimaa, is located next to Prinsessa Armaada.
Sleep
Some mid-range and budget hotels are present.
Budget
Local student housing foundation, LOAS, offers affordable accommodation during the summer months for tourists.

Pitotalo Miekkala

phone: +358 5 458 1882

address: Partalantie 136

A typical Bed and Breakfast hotel, 10 km from Lappeenranta towards Joensuu.

Matkustajakoti Turisti-Lappee

phone: +358 5 415 0800

address: Kauppakatu 52

Centrally located. The shower facilities are shared, the double rooms have private toilets but the single rooms do not. Prices include breakfast and the use of the sauna facilities.

Finnhostel Lappeenranta (Huhtiniemen matkailukeskus)

phone: +358 451 5555

address: Kuusimäenkatu 18

About 2 km west of the city center. The prices include breakfast and the use of the swimming pool.

Lahtelan maatilamatkailu

phone: +358 5-4578034

address: Lahtelantie 120

Bed and Breakfast in Ylämaa, south of Lappeenranta.
Mid-range
phone: +358 10 762 1000

address: Brahenkatu 1

A comfortable chain hotel in the middle of the city overlooking a desolate square with the town hall's blocky architecture and a fountain.

phone: +358 5 677 811

address: Valtakatu 31

95 rooms with TV, radio, pay-channel, hair dryer and free broadband connection."
Splurge
Stay safe

Lappeenranta is a safe city very accustomed to foreigners. Lappeenranta is the second most popular destination in Finland, mainly due to Russian shopping tourists, but also many other nationalities visit during summer months.

Go next