Laramie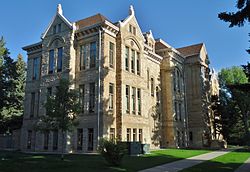 Laramie
is a city in
Southeast Wyoming
. It is home to the
University of Wyoming
.
Understand
Laramie is located at very high altitude (over 7,200 ft) and due to this has considerably milder summer summers and more fierce winters than other US cities of comparable latitude in the upper Midwest. Because it lies east of the Continental Divide, placing it in the rain shadow of the Rockies, the climate around Laramie is very dry most of the year so travelers here should take care to drink lots of fluid and not overexert themselves immediately upon arrival to mitigate potential altitude sickness risks.
phone: +1 307-745-4195

address: 210 Custer
Get in
By car
The primary access to Laramie is along Interstate 80, the main east-west corridor in the state; it's roughly an hour west of the junction with I-25 at
Cheyenne
. Because of the altitude and northern location, it is important to be aware of road conditions and road closures along all roads but especially I-80 as its closure can strand you. Road conditions are available on the internet at several sources including this one:
In the summer months the town is also easily accessible on a smaller road (US 287) that comes up from
Fort Collins
, Colorado. From Denver it makes for a shorter drive than I-25/I-80, but not noticeably faster.
By plane
Laramie Regional AirportDaily commercial flights to Denver on United Express. LAR is also a general aviation airport with rentable hangar space, aviation and jet fuel, and two courtesy cars.
Laramie is also accessible from
Denver International Airport
(
DEN
). From Denver, take Interstate 25 north to Cheyenne, where it intersects Interstate 80.

By bus
Greyhound

phone: +1 307 742-5188

address: 375 W Lyon St.
Get around
Taxi
phone: +1 307 343-2323

address: Mobile Business
Car rental
Hertz

phone: +1 307 745-0500

address: 555 General Brees Rd

Flights will be met after hours with 24 hours advance notice. After hours return is available in Hertz lot via drop-box.

Enterprise

phone: +1 307 721-9876

address: 2208 E. Grand Ave
See
Do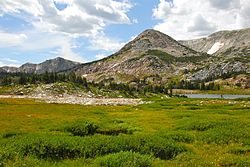 Snowy Range Scenic BywayA nationally designated scenic byway, Snowy Range Road is a 29-mile (46-km) drive from Laramie to Saratoga via Snowy Range Pass. There is fishing, picnicing, and hiking opportunities along the road, including a half-day hike to the top of the 12,013-ft (3,661-m) Medicine Bow Peak. The pass is closed in winter.

phone: +1 307 766-4850

address: 1911 E. Willett Drive (ticket office)

The city's and state's biggest sporting attractions are the University of Wyoming's teams, playing eight men's sports and nine women's sports mostly in the Mountain West Conference. All sports venues are on campus—even the golf course. The hot-button sports, as with most large universities, are typically football and men's basketball.
Buy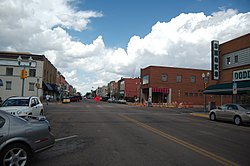 Eat
phone: +1 307-721-4031

address: 320 S. 2nd St.

Good typical brewpub American food. Can get busy, so plan for a wait if you don't have a reservation.

Anong's Thai Cuisine

phone: +1 307-745-6262

address: 101 E. Ivinson Ave.

Reliable, if heavily Americanized, Thai standbys.

address: 110 E. Grand St.

Coffee and pastries in a lovely old space downtown. A second location towards the eastern side of town at 2317 Grand Ave. (open daily 7AM-8PM) is closer to most hotels but lacks the charm.

phone: +1 307-745-3888

address: 307 S. 3rd St.

How they get fresh fish in Laramie remains a mystery, but the results are surprisingly good. Serves a variety of both Japanese and Vietnamese dishes in addition to sushi.

phone: +1 307-745-3741

address: 270 N. 9th St.

Popular cafe just off the western edge of the UW campus. Good place for lunchtime salads and sandwiches, particularly when the weather's nice enough to dine outside.
Sleep
University events are major draws relative to Laramie's modest population; expect limited availability and higher prices near the start of the academic year in late August and commencement in early May, as families of students descend on the town. Home football games, held on several Saturdays in the fall, can also fill hotels long in advance.
phone: +1 307 742-3721

address: 421 Boswell

King, queen & double rooms (smoking & non-smoking). Free continental breakfast, parking, and local calls. Cable TV with HBO. Outdoor pool, indoor hot tub.

phone: +1 307 745-5782

address: 1148 Highway 11

Rooms, suites, and cabins. Restaurant on site. ATV and snowmobile rentals.

Best Value Inn

phone: +1 307 721-8860

address: I-80/Snowy Range Rd.

phone: +1 307 721-8856

address: 3420 Grand Ave

Fitness center, indoor heated pool and hot tub. Free continental breakfast, local calls, weekday newspaper, and coffee.

address: 1368 McCue St

Guest rooms and suites with microwaves, cable television, and free high–speed wireless Internet access. Indoor pool, activity desk, fitness equipment, and business center. Free continental breakfast. Pet allowed in smoking rooms for additional fee.

phone: +1 307 745-8900

address: 1370 McCue St

Indoor heated pool and game room. Free continental breakfast and wireless high-speed Internet access.

Gas Lite Motel

address: 960 N. 3rd

Indoor pool. Continental breakfast. Pets allowed.

phone: +1 307 742-0125

address: 3715 E. Grand Ave

phone: +1 307 721-9000

address: 204 S 30th St

Opened in 2007, this hotel caters to the higher-end and business traveller with king, double queen, and suites. All rooms have a 32" (81 cm) flat screen TV with AM/FM clock radio and MP3 docking station, microwave, and fridge. The hotel also has a business center, indoor pool and whirlpool, fitness center, and wireless and hard wired internet.
Go next