Laredo
The twin cities of
Laredo
,
Texas
and
Nuevo Laredo
,
Mexico
, which celebrated their 250th anniversary in 2005, are situated on the banks of the Rio Grande. Laredo, which has a population of 207,787, has been governed under seven national flags. Nuevo Laredo has a burgeoning population of 355,827. The twin cities are collectively referred to as Los Dos Laredos. The weather is moderate in winter months around 68°F (20°C) but sizzling in mid-summer around 100°F (39°C).
This city is the commercial hub of the
South Texas Plains
, which is primarily an agricultural region. It offers entertainment, education, and cultural resources that fit well with its Hispanic heritage. Laredo is one of the fastest growing cities in the
United States
.
Non-U.S. citizens are recommended to carry their immigration documents with them even if they do not plan on crossing the border into Nuevo Laredo, Mexico. There are check points on your way back from Laredo where they might be asked to show your immigration documents.
Non-U.S. citizens having a valid U.S. visa who decide to cross the border and enter Mexico should be prepared for a long wait at the CBP detention center/check post to get back into U.S., even with all the necessary documentation. It might not be a pleasant one, but can be minimized by crossing at off hours or by using alternative crossings, such as the Colombia bridge.
Get in
By car
Laredo is accessible by car via Interstate 35, and US Highways 59 and 83. I-35 is the U.S. portion of the Pan American Highway that stretches from
Central America
to
Canada
.
By plane
By bus
Bus travel to Laredo is convenient, as it's a major stop on several routes between the US and Mexico.
Greyhound
has daily services from Houston, San Antonio,
Corpus Christi
,
Brownsville
and more, direct services are also available from
Monterrey
. More options for bus travel from Mexican cities can be found by crossing the border into
Nuevo Laredo
.
Get around
El Metro
is the city's municipal bus service, offering scheduled routes as well as paratransit services. Laredo is quite spread out, so car rental is an attractive local transportation alternative.
See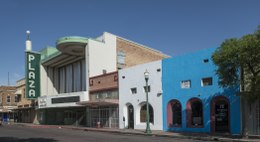 Plaza San AugustinWhere various dance, music and crafts festivals take place throughout the year.
Republic of the Rio Grande Museum

phone: +1 956-727-3480

address: 1005 Zaragoza St

The Republic of the Rio Grande Museum is dedicated to the year 1840, when Laredo was the capital city of the short-lived Republic of the Rio Grande. An unreocgnized state that declared independence from Mexico in January of that year, the republic would quickly be reintegrated into Mexico. The museum is the nation's former capital building and features preserved rooms and historic displays, plus a small gift shop.

Villa Antigua Border Heritage Museum

phone: +1 956 718-2727

address: 810 Zaragoza Street

El MercadoThe old city hall.
Do
Wildlife game abound in south Texas, so Laredo is a popular destination for hunters and fishermen. Birders can spot the Great Kiskadee, White-tipped Dove, Green Jay, Scrub Jay, Red-billed Pigeon, Audubon's Oriole and possibly the White-Collared Seedeater in the region.
Buy
Mexican souvenirs and crafts are plentiful in local marts, especially the myriad importers along San Bernardo.
Marti'sFor antiques, furnishings, folk art, jewelry, ceramics.

Thomas Grocery

phone: +1 956 729-7379

address: 206 Juarez Ave
Eat
Southwestern and Mexican cuisine restaurants abound in Laredo. Also, beef is a popular item on any menu in this area.
phone: +1 956 722-1701

address: 1000 Zaragoza St

Famous for its Sunday brunch.

phone: +1 956-725-8207

address: 207 Shiloh Dr

Specializes in Mexican seafood. Second location at 3919 San Dario, Tel: +1 956-724-8958.
Drink
The drinking age in Texas, as in the rest of the US, is 21, but the drinking age in the state of Tamaulipas, as in the rest of Mexico, is 18. Many Texan high school seniors and college students from San Antonio and Austin make their way to Nuevo Laredo to drink.

Sleep
Stay safe
As in all other border towns, always be aware of your surroundings.

Go next