Largs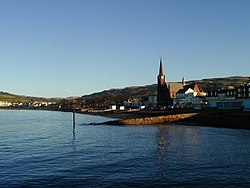 Largs
is a small seaside resort on the Clyde coast of North
Ayrshire
. It's where Viking power in Scotland was broken, at the Battle of Largs in 1263, and the Vikingar Exhibition is the town's main attraction. Largs is the ferry port for the short crossing to the Isle of Great Cumbrae, and a base for exploring Ayrshire.
The battle itself was probably a small and indecisive affair, but it spelt the failure of a Norwegian sea expedition to re-assert their control in this region. Subsequently they ceded Strathclyde, the Hebrides and the Isle of Man to Scotland, while retaining Orkney and Shetland. The Scots named the place
An Leargaidh
, "the slopes". Not much else happened in Largs for another 600 years, and then its fortunes rose as the city of Glasgow expanded, becoming a fashionable place for city merchants to have a country retreat. Lord Brisbane, governor of New South Wales, was born here in 1773, and the physicist Lord Kelvin lived here. In the 19 C Largs became part of the "Costa Clyde" or "Glasgow Riviera" – the string of small resorts such as Troon, Ayr, Girvan and Arran. It remains popular in summer with day-trippers from the city.
Get in

By train: Trains run hourly from Glasgow Central, taking one hour via Paisley, Kilwinning and Ardrossan. Change at Kilwinning for trains from Ayr, via Prestwick, Troon and Irvine.
By bus: Direct buses run to Largs every half hour or so from Greenock (45 mins), Ardrossan (30 mins), Irvine (50 mins) and Ayr (75 mins). From central Glasgow (Buchanan station), the quickest route is usually to change at Greenock.

Get around

Largs is relatively small and easily explored on foot. Taxis are also available.

See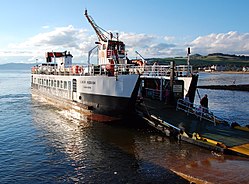 Stroll along the prom for grand views over the Firth of Clyde towards Arran, Cumbrae, Bute and Argyll.

address: Greenock Rd, Largs KA30 8QL

Exhibition tells the story of the Viking period of Scottish history. It's within a large leisure centre, open 09:00-21:00, with swimming pool, sauna and gym.
The grounds of the disused church contain two notable 17 century tombs, the and the Brisbane Aisle. The grounds are open May-Sept daily 14:00-17:00, free; if you find them locked, get the key from the adjacent museum. Skelmorlie Aisle is the ornate tomb of Sir Robert Montgomerie and his wife Dame Margaret Douglas (killed young in a riding accident). The Montgomeries lived at Skelmorlie Castle, some miles north of town, nowadays a private mansion which can't be visited. The Brisbane Aisle is the 17th century free-standing burial vault of the Shaws of Kelsoland.
: how come Disney never thought of doing up his castle like this? Or oddball Ludwig II at Neuschwanstein? It's a large house 2 miles south of Largs dating to 14th C but prettified into a chateau in 1700. The facade needed replacing in 2007 and its owner Lord Glasgow hired Brazilian graffiti artists who gave it a bold, jazzy makeover. Lips were pursed by heritage officialdom, but M'Lud won them over and the graffiti stays. The castle and grounds are open April-Oct, with tours daily mid-July to early Sept. The nearby Kel Burn is scenic, rushing down from the hills.
Do
Barrfields Pavilion is a 500-seat theatre just behind Vikingar, box office +44 1475 689777.

Inverclyde National Sports Training Centre

address: Burnside Rd KA30 8RW

This has gym, fitness suites and indoor sports hall; it doesn't have a pool. Clubs based here include archery, badminton, football, judo and tennis.
Amusement Arcades (as if, hypothetically, it would ever be wet and miserable on Largs prom) can be found at The Arcade and at Cullis's Amusements, both by the ferry pier. The amusement area 200 yards north is outdoors.
In summer the Paddle Steamer Waverley calls at Largs for sailings round the Firth of Clyde. However in 2019 she became unseaworthy and was taken out of service: it's not known if repair will be possible.
Events
Viking Festival is held over a week in early September. A Viking village pops-up on the promenade, plus a fairground. The next event is probably 29 Aug-6 Sept 2020 but tbc.
Largs Live is a music festival held on the last weekend in June. The next event is probably 27-28 June 2020 but tbc.
Scottish International Airshow is now held alternate years at nearby Prestwick Airport, with the next on 4-6 Sept 2020.
Eat
It's a beach resort, so there's lots of ice cream, fish & chips and other cheap eats, which the gulls will try to snatch off you.

phone: +44 1475 675000

address: 2 Greenock Rd KA30 8NF

A must-try when in Largs, a renowned Art Deco cafe & ice cream parlour plus "Tony Macaroni" Italian restaurant and shop. But not the cheapest, the famous name and setting adds to the price tag.
Nardini at the Moorings is their branch cafe at the ferry pier, open daily 08:30-17:00.

phone: +44 1475 672252

address: 28 Bath St KA30 8BL

Friendly slick bistro with good food and views towards Cumbrae. New owners in 2018, it's no longer part of Nardini's.

phone: +44 1475 675767

address: 50 Gallowgate St KA30 8LX

Family-friendly restaurant with bar.
Lounge at 33-43 Main St often has live music. It's open W-Su, till late at weekends.
The Catch at Fins is a seafood restaurant in Fairlie five miles south, see West Kilbride listing.
Drink
Drouthy Neebors (formerly McCabes) is a Belhaven pub next to the railway station, open M-Th 11:00-00:00 and F-Sun 11:00-01:00.
Ye Olde Anchor Inn is a friendly traditional pub with an open fire, just north of the ferry pier, open daily 11:00-01:00.
The Paddle Steamer is a JD Wetherspoon next to the pier, open Sun-W 08:00-00:00, Th-Sat 08:00-01:00.
Sleep
Largs is a popular tourist destination and has many hotels and B&Bs throughout the town. The bigger and more expensive hotels can be found on the beach front.
In the summer Largs can be rather busy and pre-booking hotels is recommended however there are many Bed and Breakfasts which offer rooms at an affordable price on a non-booking basis.
phone: +44 1475 687200

address: 14 Greenock Rd, Largs KA30 8NE

Decent hotel with grand views across the water. Beware that if you use their car-park, however briefly and even with a disabled sticker, you must promptly register the car at reception or you'll get a £100 fine. It would be sort of nice if they did a better job of warning their clients.

phone: +44 1475 673381

address: 2 Barr Cres, Largs KA30 2PX

Clean welcoming place, dog-friendly.
Stay safe

Take care at night especially round the pubs. Town centre is generally safe and well policed, but there's a few aggressive drunks, and neds who only come into town to pick fights.

Go next
Take the ferry to Great Cumbrae. The island is easily cyclable, and buses meet the ferry and run to Millport.
Little Cumbrae is a private yoga retreat, with a boat service from Largs for those booked on courses.
The Isle of Bute is reached by ferry from Wemyss Bay. It can be day-tripped, but it's worth a longer stay; Bute is also a stepping stone to Cowal and the Kintyre peninsula.
Ayr is the best base for the Burns Heritage Museum at Alloway; it's an easy day-trip by bus or train.
The Isle of Arran deserves a few days to explore. Frequent ferries from Ardrossan.