Larissa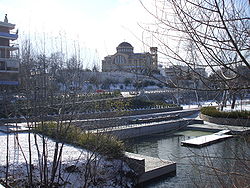 Larissa
(Greek: Λάρισα), has a population of 162.591 people (2011). It is the 4th largest city in
Greece
, and is in
Thessaly
, between
Athens
(355 km) and
Thessaloniki
(150 km). A lively agricultural and university town, it is visited by few tourists. Nevertheless, its sights and energetic cafe and bar scene make it worth a stop.
Understand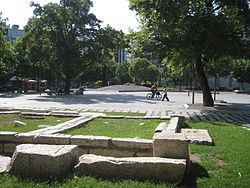 History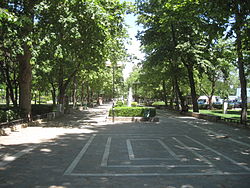 Larissa is one of the oldest settlements in Greece with artifacts uncovered dating at least the Neolithic period (6000 BC). The name means "stronghold" in ancient Greek. It was also the head of the Thessalian League during the Hellenistic and Roman era. Today, it's a modern city and is Thessaly's capital.
Get in
By plane
Volos AirportThis is the nearest airfield but only offers service during the warm-weather months.
TUIFly
operates every Saturday from 24/04/17 - 08/10/17 (Flights to/from
Munich
) and
Codor
operates every Saturday from 29/04/17 - 28/10/17 (Flights to/from
Munich
).
There is a bus connecting the airport and Volos bus station. Buses are scheduled based on flights. The cost from the airport to Volos Bus station is 3 €. Then you need to get another bus or train from Volos to Larissa. The bus station in Volos is about 1 km from the train station.
The nearest airport offering year-round international service is in
Thessaloniki
(
SKG
) about 2.5 hours away.

By international bus

There are buses connecting Larissa with some eastern European cities. FPtravel (Serbia, Hungary).

By regional bus
Interurban coaches (("KTEL" buses) in Greek) are by far the most convenient way to travel around Greece, as well as for intra-regional travelling. There is frequent bus service from Athens Liossion Station to Larissa about 15 times a day (cost is about €20), as well as from Thessaloniki bus terminal "Macedonia" to Larissa about 10 times a day (about €13.5). KTEL buses have free Wi-Fi and coffee.

Main bus station

phone: +30 2410 537777

Providing service to most cities.
By train

TrainOSE connect Larissa to other cities in Greece including Athens, Thessaloniki, and Volos. Travelling with ordinary trains can be cheaper, although a little bit slower, whereas choosing a fancy faster Intercity train will cost the same amount of money, or even more than a KTEL bus.
Larissa railway station

phone: +30 2410 590143
OSE office

phone: +30 2410 590239

address: Papakyriazi 35
Get around
By foot
The best way to get around the central district, since most of the streets in the commercial centre are pedestrianized.
This area is small enough so that most locations are just a few minutes apart.
By bicycle
Larissa is a flat city thus bicycle in a nice way to explore it. The city center has many pedestrian streets. there are also some streets with bicycle lanes in recent years. These are: Papanastasiou st., part of Kyprou st.
By car
Parking in the central district can be a challenge, especially on-street parking. There are parking lots scattered throughout town.
By bus
There is an efficient public transport system going around the city (ticket price about €1), detailed info in the regional bus terminal (called "Astiko KTEL") or
at its official website
.
By taxi
Taxis in Larissa, as everywhere in Greece are comparably cheap. You should not pay more than €4 if you hail a cab (silver colour) on the road to take you anywhere in the city. Note that taxi meters have two rates - rate 1 applies from 05:00 till 24:00, and rate 2, the double rate, from midnight to 05:00. Taxi fare fraud is not widespread but it still happens, so make sure the rate is correct. If you feel you have been overcharged, ask for a receipt (they are obliged to give one) and take the plate number, then phone the tourist police to report the driver on 171. Expect to pay €1 or €2 extra if you take a taxi from the bus station or the train station, and a surcharge if you call for a taxi service on demand.
See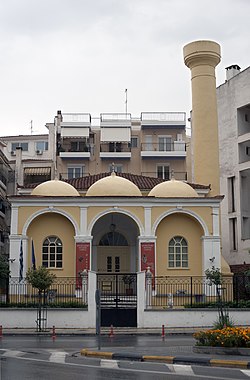 Do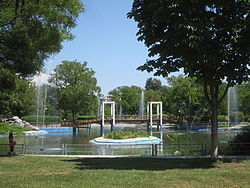 Cinemas
Films shown in original language with Greek subtitles. Cartoons are often translated to Greek.
Parks
Alkazar ParkJust across the river from the town center and along the Pinios River. A nice place to cool down and relax with a large fountain and a statue of Hippocrates who is supposed to have been buried in Larissa.
Football
address: AEL FC Arena

Plays in the Greek Football League. AEL's stadium holds over 16,000 seats.
Cycling
During the summer months you may have the chance to follow the weekly night ride. Bikers usually gather every Thursday night at the Central Square and form a large group that later rovers on a common route around the city.
Running
Various running events take place in the city during the year with the most notable ones being:
Imimarathonios Tyrnavos-LarisaA half-marathon from Tyrnavos to Larisa, it usually takes place in the first week of December.

Gyros tis Larisas5 km run in the streets of the city, usually in the last weeks of May.

Ippokratios Agonas DromouNewly established event where runners are required to cover about 10 km on unpaved roads that run through the fields in the west edge of the city. In June the weather conditions are extremely hot in Larisa but most people will forget the heat and enjoy the wide view of the Thessaly's lowland and the surrounding mountains.
Many locals enjoy training by the river which offers paths almost 1.5 km long on each side.
Drink
Winter bars, pubs and clubs, usually close down during summer. Most of them have a different facility for the summer. Dancing in clubs is common only during a party.
Winter
Tsipouro is a very famous beverage in Greece, but most of the areas in Thessaly are famous for making some of the purest and strongest tsipouro in the country. It's really good in cold weather, because of its high concentration in alcohol. Tyrnavos is known for its local production which is known and sold as Tsipouro Tyrnavou.
Clubs:
StageOften live music venue, mostly rock.
Summer
Tsipouro, Ouzo or Wine, as in the rest of Greece, are good choices. There are many bars downtown, so the visitor is not expected to have any problem finding a place to enjoy a drink. Youths buy drinks and sit around the Frourio square during the summer nights while the restaurants and pubs in that area thrive with people this season. Another popular place is Neapoli square where a big number of pubs is to be found around the square.
Buy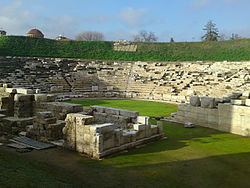 There many shops downtown. Be aware that shopping hours vary by the day of the week. Monday-Saturday shops are open from around 9am to 2pm. Monday, Wednesday and Friday they reopen around 6pm and stay open until 20:00-21:00. On Sundays about the only places open are cafes, restaurants, and kiosks.
Malls
Pantheon PlazaA big mall with a lot of shops. Among others: Mediamarkt, Fokas. Also many cafeterias and places to eat, e.g. Goody's. Cinema too.

Gaea Lifestyle Center

phone: +30 2410 610922

address: Αγίας Τριάδας 60

A mall with shops.
Farmers Market
Or more properly "People's Market" and locally known as "Laiki agora" is a weekly event in many Greek cities. Farmers sell their fresh products directly to the housekeepers for very affordable prices from morning to noon.
Peoples Market instances in Larissa include:
Every Saturday in the Neapoli region on the street "Dimitri Karaoli"
Every Wednesday on the street "Kalitheas" next to Pinios river.
Eat
There are plenty of options for eating out in Larissa.
Taverns, (Ταβέρνα), are where mostly meat dishes are served.
Restaurants, (Εστιατόριο), Greek dishes can be found at most of them, however there are Italian and Chinese restaurants options as well.
Psistaries, (Ψησταριά), these are grill houses. These serve mostly meat, salads and french fries. The meat usually is ordered by weight, and the price is per kilo also. One portion is 330 gr of grilled meat.
Fast Food, choices are local Souvlatzidika, (Οβελιστήριο or Σουβλατζίδικο) where souvlaki is served, and typical fast food chains such as Goody's, To-Eat, and Everest.
There is a large concentration of restaurants along Filellinon Street on the north side of the central district.
People in Greece usually eat late in the evening (21:00-24:00); during the day most taverns, psistaries and restaurants are closed. However, fast-food restaurants are open all day long.
Budget
Kimatothrafstis

phone: +30 2410 256722

address: Kentavron 2 (Κεντάυρων 2)
Mid range
Nikodimos

phone: +30 2410 535042

address: Karaiskaki 2 (Καραϊσκάκη 2)

Nice old tavern with a nice backyard.

Syndrivani

phone: +30 2410 535933

Open all day and known for its lamb and moussaka.
Splurge
Sleep
There are many hotels in Larissa. Most are in center. Car parking could be hard to find in the center of Larissa.
Budget
(1 and 2 Stars)
phone: +30 2410 537401

address: 10 Kentavron

In center of town

Avra hotel

GR Louis Larissa Hotel

phone: +30 2410 535024

address: 1 Skarlatou Soutsou

In center of city

Helena Hotel Larisa

phone: +30 2410 287461

address: 13 Oktovriou 28th

Inside ring road on southeast side.

Pantheon Hotel

phone: +30 2410 234810

address: Railway Square

Near the train station.
Mid-range
(3 and 4 Stars)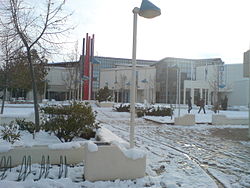 Splurge
phone: +30 2410 252791

address: 19 Papanastassiou

In center of city

phone: +30 2810 300330

address: 182 Farsalon

On south side of city
Nearby
Metaxochori
Archontiko Soulioti

phone: +30 24940 22040

Traditional settlement in a small village. Offers a great view of the valley and plains of Thessaly.
Stay safe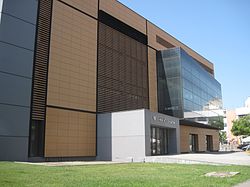 Larissa's football club known as AEL has a very aggressive fan club called Monsters. It is probable that you get attacked in the street if you are seen wearing cloths with logos of other football teams, especially Greek ones. Avoid wearing such clothing and do not come in conduct with anyone that seems like a sports fanatic.
Dial 112 in case of emergency.
phone: +30 24135 01000

address: Mezourlo

Larissa General Hospital

phone: +30 2410 230031

address: Tsakalof 1
Go next