Larnaca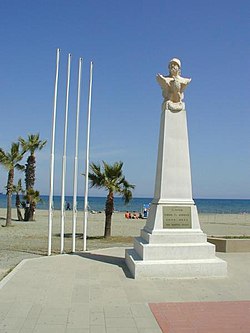 Larnaca
(
Greek
Λάρνακα
Larnaka
) is a city on the southern coast of
Cyprus
. With 85,000 citizens, metropolitan Larnaca is the island's third largest city.
Understand
Larnaca has a reasonable claim to being the oldest city in Cyprus, with evidence of habitation up to 6,000 years ago. Major landmarks are the Church of St. Lazarus, and the Hala Sultan Tekke.
Modern Larnaca, like other Cypriot coastal towns, is divided into an older city centre and a wide sprawl of hotels and restaurants along the beach.

Get in
By plane
Larnaca International AirportIs the largest airport on Cyprus. Taxis to the city take 15 minutes, and there are also scheduled city buses. There are no left luggage/baggage storage facilities at the airport.
Shared taxis (
dolmus
) connect Larnaca to
Nicosia
and
Limassol
.
Get around

Larnaca is a thin ribbon of a town and you can walk around most of it. The seaside Larnaca Promenade (Phinikoudes) is particularly pleasant for a stroll in the evening.
By law, taxis should charge by the meter, but many cabbies will refuse to use it. Metered fares should be 65 cent; to get in plus 22 cent/km, night surcharges apply after midnight.

See
address: Ayios Lazaros Sq

an Orthodox church dating to the 9th century, is reputedly built around the tomb of the biblical Lazarus, brother of Mary.

Larnaca Salt Lakeis to the west of town near the airport. In winter (November to March), flocks of pink flamingos can be seen here.

Hala Sultan TekkeThe mosque is perched by the side of the Salt Lake. The tomb of Umm Haram, the foster mother of Mohammed, is said to be here.

Faneromeni ChurchThis mashup of various architectural styles used to stand in the centre of the city – until 1974. There is a marble mausoleum next to it.

Archaeological Museum of the Larnaka District

address: Kalogreon Sq.

Small but interesting museum. It displays objects from Prehistoric times up to Roman times. There's also a replica of the Stele of King Sargon II (722-705 BC) of Assyria. The original is on display at Berlin Pergamon Museum
Do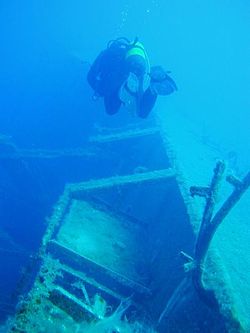 For divers the main reason to come to Larnaca is the
wreck of the Zenobia
(watch video ), a ro-ro ferry that sunk in 1980 on her maiden voyage only a few hundred meters from the harbor due to a fault in the ballast computer. Fully laded with trucks and their cargo, the ship now lies on its side at a depth of 42 meters, with the top of the wreck at 18m and thus easily accessible even to PADI Advanced Open Water divers. If your flight comes in right, you can even see the shadow of the wreck as you land at Larnaca airport!
@lpha Divers@lpha Divers Dive Centre (Dhekelia Rd), 2, Pyla Gardens, Dhekelia Road, Larnaca, 7081, Cyprus; Tel/; email: info@alpha-divers.com; , a PADI Five Star Gold Palm Instructor Development Centre and a British Sub-Aqua Club Premier & Technical Centre. Located adjacent to Lordos Beach Hotel and Mariandy Hotel.

Dive-In Cyprus (Blu View Residence, 132 Piale Pascha, Larnaca 6027; tel. +357 24-627469; email larnaca@dive-in.com.cy ) is a PADI 5-star dive center and Regional SDI/TDI office that specializes in dives to the Zenobia, it can also arrange nitrox and penetration dives for the technical diver. Full range of PADI, TDI, TecRec and SDI courses available.

Aquadream Scuba Diving Academy

phone: +357 99397287, +357 24103257

address: Adonidos 13

Aquadream Scuba Diving Academy is a safe and friendly dive center located in Larnaca center.Daily dives to the Larnaca wrecks and to the best dive sites on the island.
Buy
The nearby village of Lefkara is famous for its lace and silverware, and Larnaca being the nearest large town to the village, sells both in plentiful supply.
Independent jewellers and watchmakers are abundant, particularly among and just off the main Ermes/Ermou Street.
Oro Fino Jewellery

phone: +357 24-654666

address: Pavlou Valsamaki 26

Italian and Greek designs, diamonds to zircons, precious to semi-precious stones. The shop also features the latest jewel in fashion, NEWD SKIN JEWEL as well as brand watches like GUESS, D&G and DKNY.
Eat
Often, eating in Larnaca can be quite expensive. However, if you're travelling on a budget, there are a few bargains to be had. Possibly the cheapest way is by grabbing a hotdog at the 'Enjoy... Finikoudes' kiosk on, you guessed it, Phinikoudes Avenue. Hotdogs are just €1 and are rather enjoyable. If you prefer to sit down for a meal, try Ocean Basket (also on Phinikoudes Avenue) where a huge, tasty serving of Fish and Chips will set you back just €5.95, which is comparable to (if not less than) the price of a meal at the likes of Phinikoudes' McDonalds or KFC, which are also useful places for eating on a budget, even if they do lack that local touch.
The beaches of Larnaca are littered with identikit seafood restaurants catering to tourists. The easiest way to find a good place is to simply walk along until you find a restaurant packed not with tourists, but with Cypriots!
Militzis

phone: +357 24 655867

address: 42 Piale Pasha

A long-running favorite serving honest Cypriot fare washed down with their own wine. No points for presentation, but the food is good and the restaurant is often packed. Figure on € 15-20 for a meal.
Hobo's, Phinikoudes Promenade. A lively Cafe/Restaurant popular with many Cypriots, right on the main promenade. You can't miss it, and its often full but doesn't take telephone reservations. Food is varied from Cypriot to International Cuisine.
Kantara, Rendez-Vous, and Ganga restaurants on Dhekelia Road are probably the best restaurants in Larnaca. More expensive than the rest, but well worth it. Both Kantara and Rendez-Vous have a good selection of international wines (Cyprus wines are an acquired taste ... to say the least!)

Nippon

phone: +357 24657555

address: Grigoris Afxentiou Ave

Expensive, but renown Japanese restaurant serving sushi. Bookings are essential, as it is packed every night. Offers a wide range of delicious maki, California rolls, teppanyaki and more.

Viale

phone: +357 24664888

Easy-going café/bar/restaurant that has ample space and menu variety for both breakfast and dinner. Very good quality European-style dishes, with some more adventurous selections, eg prawns with ouzo sauce.

Vlachos Tavernaon the Dhekelia Rd, 400 metres past the Palm Beach Hotel on the same side is a fantastic place to eat local food. Sheftalia is just great and the salads are lovely.
Drink
In the city centre an area just off the main promenade called "Laiki Yeitonia" fulfils the need for most Bars and Small scale Nightclubs. is the most popular of these, along with
Times
.
Driving about 15–20 minutes away from the City Centre to the East in the direction of Ayia Napa is the Larnaca-Dhekelia Road. This is the main 'strip' for high quality hotels, nightclubs, bars, etc., and is where most British Tourists can be found.
phone: +357 24 646553

address: Louki Pieridi 3

near the American Academy has a huge selection of spirits (all real which is unusual for Cyprus) and has a real atmosphere. The decor is wood and dim lighting and lots of Jack Daniels and Blues music paraphernalia. Comes alive after 10PM. The Bar used to be located on Dhekelia Road but moved several years ago. By far the best bar in Laranaca for chilled music and spirits.

Caramel Club

address: 2 Agiou Spyridonos

Disco club. Music of all tastes from international Dj sets till morning and elegant dress code. Mixed Russian/Greek/Briton crowd
Sleep
There are countless hotels and hotel apartments of varying degrees of luxury by the seaside.
Frangiorgio Hotel ApartmentsA modern hotel 1-minute walk from the town's main beach and shopping areas. It has 24 furnished apartments with equipped kitchens, air-conditioning systems, heating, satellite TVs, double glazed windows, private balconies and telephones. Other facilities include: daily cleaning of rooms, laundry service, bar, fax service, internet facilities, 24 hour reception and a new in house 24 hour mini market. Rates range from £16 to £40 depending on the season.

phone: +357 24-655437

Piale Pascha. A fairly typical 2-star hotel, a bit of a hike from the city center, but not too far from the dive shops. Clean and generally acceptable. Rooms from £18.80 and up (with breakfast) in the low season, add in another £5 for the winter high season.

phone: +357 24645444

address: Dhekelia Rd

Part of the Lordos Golden Hotels in Cyprus. 5 star hotel located near the town of Pyla, 10 kilometers from central Larnaca.
Apartments
Go next