Las Cruces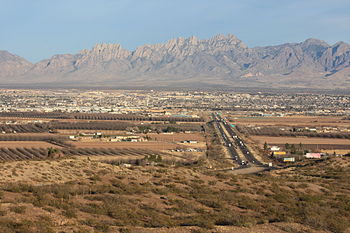 Las Cruces
is a city in
New Mexico
. The name means "the crosses" in Spanish. It is the state's second largest city, with a population of over 100,000, and is the site of
New Mexico State University
.
Get in
Las Cruces is located at the junction of Interstate Highways 10 and 25 and is the southern terminus of the latter. The nearest airport with commercial air service is in
El Paso
,
Texas
, about 50 miles away. Limited bus service is available between El Paso and
Albuquerque
with stops in Las Cruces.
Get around
Las Cruces has some degree of public transportation by the city bus line
RoadRUNNER Transit
. Service is limited to Monday through Saturday and ends by 7:30 in the evening. Buses can carry bicycles. Otherwise, just plan to drive, bike, or walk.
See
New Mexico State UniversityIs in Las Cruces, with an interesting museum or two, a large conference center, and a comfortable student union.
phone: +1 575 646-3739

In Kent Hall at NMSU. Emphasis on local archaeology and culture.

Zuhl CollectionIn the Alumni Center at NMSU. Fossils, minerals, and petrified wood.
Do
Organ Mountains Desert Peaks National Monument

phone: +1 575 522-1219

Just east of town offer good hiking and rock climbing. Follow University Avenue east from NMSU past the Farm and Ranch museum to one of the primary trailheads, in a small park (fee) with interpretive exhibit. Trails lead from here into the mountains. Some campground space is available (additional fee). The Organ Mountains Desert Peaks National Monument was established May 21, 2014.
Buy

The best place to buy Native American art or other characteristic types of durable mementos is in the nearby town of Mesilla. If you want something to remember your visit by, one idea is food, specifically chile peppers, which are grown in abundance in the Mesilla Valley. The long strings of red chiles that you see hanging from porches, gables, etc., are called ristras and are available for purchase at many locations. These are largely for ornamental purposes, but edible chiles are also widely available, with spiciness levels ranging from mild to downright inedible (New Mexico State University has a substantial chile research program that grows peppers so hot that they function as bug repellents).
If in town in late summer or fall, make a pilgrimage to the outlying town of Hatch on I-25 to the north. Hatch is the center of the chile-growing business and has several shops with chile paraphernalia. Better, it hosts a "Chile Festival" in early September, usually around Labor Day, that's fun to visit as well as a great source of chiles. (Hatch is a tiny town with little or no lodging, so you'll want to stay in Las Cruces and make a day trip to the Festival.) If you're getting your chiles for cooking rather than ornamentation, and can get them home/in a freezer quickly, get them roasted while you're there; roasting is a key step in preparation for the table, and doing it in a Hatch roaster will save you all manner of peculiar odors resulting from doing the roasting at home.
For more pedestrian, day-to-day purchases, Las Cruces has all of the usual shopping associated with a town of 80,000. Mesilla Valley Mall is convenient off I-25 just north of NMSU for this purpose.

Eat
phone: +1 575 524-2408

address: 1720 Avenida De Mesilla

Warm atmosphere, live music, great food and wine selection. French country menu includes interesting appetizers like European cheese plates that pair wonderfully with flights of wine. Entres include dinner salads, fish, steak, pastas, and more.
University Avenue, on the north side of NMSU, has the usual assortment of student-oriented eateries, with the usual properties for such places: lots of food, reasonable prices, less than haute cuisine. Some, by no means all, of the restaurants along University are:
Lorenzo's

phone: +1 575 521-3505

address: 1753 E. University

Italian; lunch and dinner. Also has a location in Mesilla and a new location in the shopping center on Lohman & Roadrunner.
Old MesillaTo the southwest of Las Cruces is on the El Camino Real traveled by Onate and Coronado and is the home of many restaurants.
Double EagleIn Mesilla, on the Plaza. More of an upscale restaurant. Standard New Mexican fare and locally-inspired dishes. One of the few places in town that serves aged steak. Supposedly haunted, local lore says star-crossed lovers perished here and continue to visit one of the dining rooms. Their bar has an extensive liquor selection, suitable for all tastes. The ambiance is almost unmatched in the area. The Sunday brunch is a popular choice.

Andele

address: 2184 Avenida de Mesilla

Mexican with a salsa bar. Breakfast, lunch and dinner. Check out the green chile pork enchiladas, tacos al cabon and roasted jalapenos.

Lorenzo's

address: 1750 Calle de Mercado #4

Italian; lunch and dinner.

El Paisano Cafe

address: 1740 Calle de Mercado

New Mexican food with a European flair; Seasonal dishes using fresh ingredients. Open breakfast, lunch and dinner.
Chope's Bar and Cafe

phone: +1 575 233-9976

address: 16145 S Hwy 28, La Mesa, NM 88044

offers the best rellenos in New Mexico. The restaurant is located approximately 12 scenic miles south of University Ave on Highway 28, which winds through the Stahmann's Pecan orchards.
International Delights Cafe

phone: +1 575 647-5956

address: 1245 El Paseo Rd

Mediterranean/Mideastern food, rather hard to find owing to its somewhat obscure location in a strip mall. 7 days, 7AM-midnight, to accommodate the student clientele. Wireless access. In the shopping center on El Paseo and Idaho, slightly behind the Rent-A-Center. Look for the Albertson's, then look in the corner of the "L" shape. Many of their dishes are halal.
High Desert Brewery

address: Hadley Avenue

Microbrew beer and excellent food. Try their seasonal brews (Hefeweizen in summer and Holiday Ale in winter are choice) and order their outstanding nachos. Beware, the portions (especially on the nachos!) tend to run large, ask your server for advice. Open for lunch, dinner, and a pre-bed beer. Live music many nights, but no cover, ever.
Nellie's

address: Hadley

A local favorite. Their hours are breakfast-lunch only, closing mid-afternoon. Expect a wait, and with good reason: this is some of the best New Mexican food in Las Cruces. Nellie still cooks, her son Danny Ray is the manager, and the rest of the family can be seen serving and cooking. Prices are all below $12, with most of the best plates in the $7 range. If you like your chile hot or your meals traditional, this is the place to go.
Chinese Phoenix

address: Madrid

Located in a strip mall, this is easy to miss, so stay sharp! Daily lunch special priced at $2.99, with a large menu of standard Chinese fare. Some of the best traditional Chinese food in town, everything on the menu is under $10. Portions are large and tasty.
Sweet Indulgence/SI Italian Bistro

address: Idaho

This restaurant has great ambiance to go with the food! All desserts are handmade or baked by the co-owner. An extensive menu of Italian and italian-inspired fare, along with coffee drinks, italian sodas, and beer & wine. Lunch menu varies from the dinner menu. A popular spot for business lunches, "date night" or parties (especially for weddings). Seems much more upscale than their prices admit! Lunch is $4-12 range, dinner $8-20. Daily soup changes and specials.
Si Señor

phone: +1 575-527-0817

address: 1551 E Amador Ave

Best chips & salsa in town (available to-go). You will NOT be hungry leaving Si Señor.
Thai Delight

phone: +1 575 373-3000

address: 16151 Hwy 70 E, Organ, NM

Great Thai food in Organ up the hill east of Las Cruces. Prices are moderate and servings are very large. A great addition and worth the drive. A second location is rumored to be opening in Mesilla sometime soon.
Drink
El Patio, Old Mesilla PlazaThe main bar in town. Live music. Unique smell.

Old MesillaTo the southwest of Las Cruces.

D.H. Lescombes Winery & Bistro Las Cruces

phone: +1 575-524-2408

address: 1720 Avenida de Mesilla

Azul Lounge

address: 750 South Telshor

An upscale cosmopolitan lounge serving creative cocktails, delicious appetizers and live entertainment.
Sleep
address: 618 S. Alameda Blvd.

Beautiful bed and breakfast housed in an art gallery.

Best Western Mission Inn

phone: +1 575 524-8591

address: 1765 S. Main St

Adequate if unexceptional lodging in a commercial area; not adjacent to NMSU, but still reasonably convenient for visitors to the university. Rooms from $55.

Comfort Suites

phone: +1 575 522-1300

address: 2101 S. Triviz

More adequate, unexceptional lodging. From $60.

phone: +1 575 522-4300

address: 705 South Telshor Blvd

A full-service pet friendly hotel near the convention center. Meeting & wedding facilities, swimming pool, restaurant & bar.

Ramada de Las Cruces

phone: +1 575 526-4411

address: 201 East University Ave

Newly remodeled, and rooms include breakfast.

phone: +1 575-541-8887

address: 1611 Hickory Loop

All-suite hotel.
Go next
White Sands National Monument is less than an hour's drive from Las Cruces.
Ski Apache is about 90 miles away. Decent skiing just past the town of Ruidoso.
White Sands Missile Range is a short detour on the way to White Sands National Monument and has a missile museum.
New Mexico Museum of Space History in Alamogordo is great for young space exploration enthusiasts - especially the shuttle flight simulator.
Cloudcroft is about 85 miles away with breathtaking views and mountains.
If you're in the vicinity in the latter part of August, consider driving 60 miles west on I-10 to the Great American Duck Race seriously -- in the small town of Deming.
Truth or Consequences, about 70 miles north of Las Cruces and commonly called "T or C," has traveler-friendly hot springs. The new Spaceport America -- again, seriously! -- will be constructed about 30 miles southeast of T or C, and should be easily accessible from Las Cruces.