Las Palmas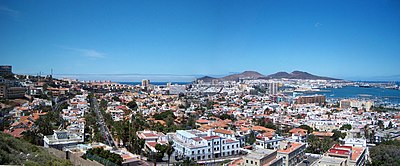 Las Palmas de Gran Canaria
is the capital of
Gran Canaria
, the largest city in in the
Canary Islands
, and one of the largest cities in
Spain
.
Understand
Climate
It is worth noting that Las Palmas has a much windier climate than the southern parts of Gran Canaria, which makes it feel cooler.
Climate data for Las Palmas de Gran Canaria, Spain
Month
Jan
Feb
Mar
Apr
May
Jun
Jul
Aug
Sep
Oct
Nov
Dec
Year
Average high °C (°F)
Daily mean °C (°F)
Average low °C (°F)
Average rainfall mm (inch)
Average rainy days
Mean daily daylight hours
Mean daily sunshine hours
Percent possible sunshine
Average sea temperature °C (°F)
Average UV index
Source: Weather Atlas - Las Palmas de Gran Canaria, Spain - Weather forecast and Climate data
20.8
(69.4)
21.2
(70.2)
22.3
(72.1)
22.6
(72.7)
23.6
(74.5)
25.3
(77.5)
26.9
(80.4)
27.5
(81.5)
27.2
(81.0)
26.2
(79.2)
24.2
(75.6)
22.2
(72.0)
24.2
(75.5)
-
18.1
(64.5)
18.4
(65.2)
19.2
(66.6)
19.4
(67.0)
20.5
(68.8)
22.3
(72.1)
23.9
(74.9)
24.6
(76.2)
24.3
(75.8)
23.2
(73.7)
21.2
(70.1)
19.4
(66.9)
21.2
(70.2)
-
15.3
(59.5)
15.6
(60.1)
16.1
(61.0)
16.2
(61.2)
17.3
(63.1)
19.2
(66.6)
20.8
(69.4)
21.6
(70.9)
21.4
(70.5)
20.1
(68.2)
18.1
(64.6)
16.5
(61.7)
18.2
(64.7)
-
25
(1.0)
24
(0.9)
13
(0.5)
6
(0.2)
1
(0.0)
0
(0.0)
0
(0.0)
0
(0.0)
9
(0.4)
16
(0.6)
22
(0.9)
31
(1.2)
147
(5.7)
-
3.0
3.0
2.0
1.0
0.0
0.0
0.0
0.0
1.0
2.0
4.0
5.0
21.0
-
11.0
11.0
12.0
13.0
14.0
14.0
14.0
13.0
12.0
11.0
11.0
10.0
12.2
-
5.9
6.8
7.4
7.6
8.8
9.5
9.9
9.7
8.0
7.1
6.2
5.8
7.7
-
54
62
62
58
63
68
71
75
67
65
56
58
63.5
-
20.0
(68.0)
19.1
(66.4)
19.1
(66.4)
19.3
(66.7)
20.0
(68.0)
21.0
(69.8)
21.8
(71.2)
22.5
(72.5)
23.4
(74.1)
23.4
(74.1)
22.1
(71.8)
20.5
(68.9)
21.0
(69.8)
-
4
6
8
9
10
11
11
11
9
7
5
4
7.9
-
Orientation
City comprises of several districts:
Vegueta - Historical enclave of the city.
Triana - One of the oldest districts in Las Palmas, and now the city's commercial center.
Isleta - The district bordering the northern art of the Las Canteras beach. Most hotels are here.
Get in
By plane
Gran Canaria Airport receives flights from
Madrid
(about 2 and a half hours), from
Barcelona
and
Bilbao
(about 3 hours),
UK
(4 or 4 and a half hours),
Europe
and northern Africa.
Gran Canaria International Airport
phone: +34 928 579 095
A modern international airport near the city of
Telde
, about 20km south of Las Palmas.
Getting there:
take the bus number 60 from the airport to either bus station in the city. The bus runs every 30 minutes from 6:15am to 8:50pm and costs €2.70 (as of 2018).
A pre-booked ride from
Isleta
to/from the airport should cost around 30 euros.
By boat
The Port of Las Palmas de Gran Canaria receives ships from all over the world. Because its strategic position it receives visitors every year from all over Europe, Africa and America. For business or for tourism the port remains as one of the most important ports today and there is a program of further expansion. There are numerous daily ferries from
Fuerteventura
,
Lanzarote
,
Tenerife
and smaller islands.
Naviera Armas
and
Fred Olsen
are the largest operators, but there are several smaller companies as well. It's worth to note that Fred Olsen ferries arrive to the nearby town of
Agaete
and not directly to Las Palmas. Most of the inter-island connections are run by fast ferries and residents of the Canary Islands receive discounted fares.
From mainland Spain, there is one weekly sailing every Saturday from
Cádiz
operated by
Transmediterránea
. The journey takes about 40 hours with prices from €200. As of 2018, there are no ferries from
Morocco
.
By bus
The only bus company operating interurban lines on Gran Canaria is
Global
, tel. 902 381 110. Most of the company's lines have Las Palmas as either their origin or their destination. There are two bus stations in the city:



By car

GC-1 cuts through the city, connecting it with the airport and other important municipalities as far as Tauro (80 km).
GC-2 connects the city with the North Zone, extending up to Agaete.
GC-3 circles the city and connects the other three highways
GC-4 connects Las Palmas with the communities in the center of the island.



Get around
By bus
Las Palmas has the best quality bus system in the archipelago and one of the best in
Spain
. The service is provided by
Guaguas Municipales
, tel. 928 446 500, and that's why the bright yellow buses are known simply as
guaguas
. The simple fare, paid directly to the driver, is €1.10. A ticket good for 10 rides is available for €5.80 at official shops in the city.
If you are over 70 and staying longer you can apply for a Senior Citizens Pass at the bus station in Telmo. This will give you a 50% discount on all bus trips over 11 km here. You will need passport photos for this and €5.
The most important bus lines have frequencies of between 3 and 15 minutes during the day and between 10 and 40 minutes at night. Most lines have service throughout the night. Among the most useful lines are:
Line 1 Teatro - Puerto
Line 12 Hoya de la Plata - Puerto
Line 30 Alameda de Colón - Santa Catalina
By car
Dense traffic on workdays and in certain commercial leisure zones mean that driving is really no fun here. The city street plan is not at all rectilinear, so the streets can confuse even experienced drivers.
Parking is also pretty expensive in most places. Some of the shopping malls can be used for parking for a limited time (e.g. up to three hours free) and if you need or intend to shop, receipts from the shops may be used to pay for the stay.
On the upside, the price of gasoline is significantly cheaper that the rest of Spain and Europe, there are no toll roads, and entrances, exits, main streets and important zones are all well-signposted.
See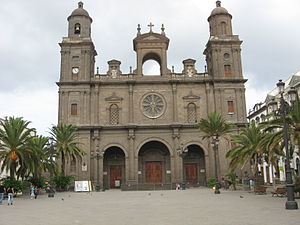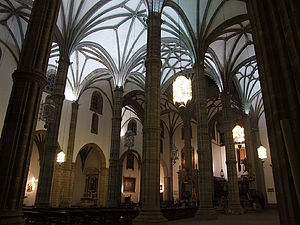 Playa de Las CanterasAlmost 4 kilometers in length, this beach is the very symbol of the city and its citizens.
sunbathing and swimming: the northern section has golden sand and is above water most of the time. It is good for swimming with low tide, when the barrier emerges, stopping the waves and creating a natural swimming pool.
snorkeling: the central area is a natural acquarium, where you can see and feed the local shoredwelling fish. At low tide, children can hunt for crabs in the rock pools.
very popular with surfers, the two main spots are "La Cicer" and "La Barra". Many schools and gear hiring shops, especially to the south, where the sand is black.
Catedral de Santa AnaEmbodying several centuries of history, the cathedral can be seen from almost any point in the city center.
Parque Santa CatalinaThis is where most of the hot nightlife spots can be found. It's also pretty during the day, although it consist of little more than a few palm trees.
Alfredo Kraus AuditoriumConcert and music hall with classical philharmonic performances and a building that's worth a visit on its own.
Elder Museum of Science and TechnologyMost exhibitions have information in both Spanish and English. When you're in, you can also use the internet computers there, so the entrance fee is pretty decent. Students and children have a lower entrance fee.
Poema del Mar. A brand new (2018) aquarium near Parque Santa Catalina and Las Canteras. Stiffly priced.
Do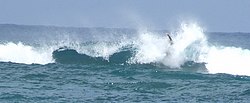 As a beach town, Las Palmas is especially popular for oceanside activities. Catch a wave, grab your snorkel, or just soak up some sun (after applying sunscreen, of course!). Or if you feel like exploring terra firma, do as the locals do and make use of the public tourism bus, known affectionately as the
guiriguagua
.
Events
Carnaval - Almost as famous as that of the neighboring island of Tenerife, yet different and perhaps even better. It is without a doubt quite spectacular.
WOMAD Music Festival - Celebrated in the Santa Catalina Park zone, this festival brings in thousands of spectators every year for quality music free of charge.
Romería de Vegueta - The catholic festival celebrated in the Vegueta area of the city.
Buy
Shop in the city center or in one of the department stores like "El Corte Ingles". There are cheap electronic products and souvenirs for sale everywhere.
For food items, Hiperdino is a chain of stores that has a good range of products and set prices. Some of these stores also have a decent selection of wine. Check out Mercadona too.
Buy the local rum: Arehucas or Artemi or Armiche (and check out the local Honey Rum "ron miel").

Eat
Many restaurants have menus in an abundance of languages, and waiters often will also often be able to converse in your own language.
Galia

phone: +34 928 223 219

address: Luis Morote, 49

Great French food, well worth the price. It's not cheap, but if you feel like a small splurge and a little luxury, give Galia a try.

Rias Bajas

phone: +34 928 271 316

address: Simon Bolivar, 3

Excellent Spanish food; very expensive, but well worth the cost.

Sakura I

phone: +34 928 248 221

address: Nestor de la Torre, 1

Good quality, well-priced Japanese cuisine. Great for a little something different.

Pomodoro

phone: +34 928 227 488

address: Ruiz de Alda, 24

Good quality, low-priced Italian cuisine; fast, attentive service in a comfortable atmosphere.

Samoa

phone: +34 928 241 471

address: Valencia, 46

A favorite of the locals, for good solid Spanish food with appropriate (not too high) prices.
Drink
Buy the local rum:
Arehucas
. Drink straight or with cola.
And the local beer:
Tropical
.
Tropical Muelle Deportivo

address: C.C. Sotavento - Muelle Deportivo de Las Palmas de Gran Canaria.

Sip your tropical drink on the roof deck, looking out over the city.

Las Ranas

address: C.C. Monopol (Plaza Hurtado de Mendoza ó Plaza Las Ranas)

A good spot for music and partying, but also a quiet place to have an afternoon drink. Outdoor seating available.

Bodegón Pachichi

phone: +34 646 62 18 42

address: Calle los Martínez de Escobar, 51

A classic for cheap drinks, and a favorite with locals.
Sleep
phone: +34 622 35 44 33

address: Calle Bernardo de la Torre, 50

Smaller, friendly hostel with great staff and a great vibe.

phone: +34 928 762336

address: C/Capricornio, No 2 - 35100 Maspalomas

Club Vista Serena is a hotel.

Residencia Ibiza

phone: +35 263123

address: Nicolás Estévanez, 31

Very basic, but clean and cheap.

address: Calle Luis Antúnez 22

A clean, safe place to sleep for not too much coin.

phone: +24 928230627

address: Calle Alfredo Calderón 25

Very clean, friendly and particularly cheap. Has wifi. The staff aren't always around so you may need to hang around a while before you're checked in.

phone: +34 92 8468854

Ferreras, 1. Centrally located on the Paseo de Las Canteras, close to the beach of the same name. A resort and business hotel overlooking the ocean. There is one other NH Hotel in Las Palmas.

phone: +34 928 290614

C/Néstor de la Torre, 21. Las Palmas city center.

phone: +34 928276254

address: Venezuela 34

Hotel Apartment 70 m from las Canteras Beach, near commercial hub Mesa y Lopez Avenue; 19 complete apartments.

address: Calle Gloria, 5

Opened in June 2019, clean, good value. Must register and book beds in advance through website. Same day booking available. No reception service nor do they accept walk-in guests. Comfortable common areas including large terrace with ocean, city and mountain views. Host staff friendly. Various shared dormitory rooms with comfortable bunk beds and private rooms.
Splurge
phone: +34 928 15 30 15

address: Calle Juan Díaz Rodríguez, 10

This 4 star hotel is located directly on the sea front in Puerto Rico, the sunniest area of Gran Canaria. It offers amazing panoramic views and superior service.
Connect

Sailor's Bar

address: Muelle Deportivo - Pantalán 10

It has free wifi.
Stay safe
If you have a veranda/patio on ground level - don't leave doors nor windows open unattended for any period of time.
Stay away from anyone that offers you anything for free -like lottery tickets or a free meal. These are often salespeople who want you to buy potentially worthless "holiday club" memberships or dodgy time-shares. They may seem pleasant at first, but may turn hostile and start threatening you.

Go next
Gáldar — it used to be the capital of Gran Canaria before the Spanish conquered the island. La Cueva Pintada (The painted cave) represent a piece of history of the guanche population.
Arucas — famous for its rum and its Cathedral. The distillery is open to the public and it can be visited for free. There are samples of different alcoholic beverages that can be tested.
Tejeda — go up to the mountains where you can enjoy an spectacular view of the island. You can walk to the "Roque Nublo" by foot through stoned pathways built centuries ago. El Roque Nublo is the symbol of Gran Canaria.