Las Piñas
Las Piñas
is a suburban city in southern
Metro Manila
.
Understand
Las Piñas, better known as
Las Piñas City
, lies on the southwestern corner of Metro Manila. It is surrounded by Manila Bay to the northwest,
Bacoor
in
Cavite
to the west,
Muntinlupa
to the east and southeast, and
Parañaque
to the north.
Las Piñas is in general, a large suburb dominated by large gated communities housing the rich population in southern Metro Manila and the perennially congested east-west road, Alabang-Zapote Road. Historically, Las Piñas is just a little town filled with rice paddies, then part of
Rizal
, before suburbanization made this part of Metro Manila's urban sprawl. Subdivisions dominate this city, except for the historic district to the west.
Alabang-Zapote Road
is Las Piñas's major thoroughfare, running from Aguinaldo Boulevard in Bacoor to National Road in Alabang. Historically part of
Calle Real
(Real Street), it onced overlooked agricultural land until Las Piñas became suburbanized. Most food, shopping, and accommodations lie along this road.
Las Piñas's historical district, the
Las Piñas Historical Corridor
, lies along
Father Diego Cera Avenue
(or Quirino Avenue), also part of Calle Real. This area still contains many heritage homes and buildings as well as the St. Joseph Parish Church, which houses the Bamboo Organ.
Ł
Get in
By bus
Las Piñas is served by buses from Alabang or Manila (Plaza Lawton), all plying the heavily travelled Alabang-Zapote Road. Reinalyn Transport, Igan Transport and Alabang Transport Service Cooperative operates services between Alabang and Lawton. TAS Trans. and Funride Transport provides service to SM Southmall.

By jeepney
Get around
By jeepney or bus
Jeepneys and buses are the main mode of transport in the city. Numerous jeepney routes ply its major thoroughfare, the notoriously jammed
Alabang-Zapote Road
. Buses, generally air-conditioned is the alternative for longer trips. Be prepared for the everyday traffic jams, though, regardless of what you ride.
By car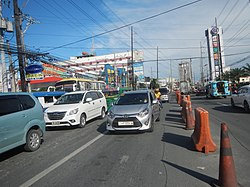 The only major thoroughfare through Las Piñas is the
Alabang-Zapote Road
, notably jammed throughout the day, being southern Metro Manila's version of EDSA. Other major roads are
Mariano Alvarez Drive
and
Padre Diego Cera Avenue
. Driving in Las Piñas is a nightmare as you must find your way in the daily congestion, and you might get stuck for hours.
There is a network of alternate routes available, called the
Las Piñas Friendship Route
, but expect to pay as most routes run through affluent subdivisions with gates and guards require you to pay toll fees if you are just passing through. A sticker is required if you don't want to pay tolls, but it can only be issued to your vehicle if you have a friend or relative in any of those major subdivisions, or you live in any of them.
See
Historical Corridor
Gabaldon Hall

address: Diego Cera Avenue, Ilaya (Poblacion)

Historical school building, constructed as one of the "Gabaldon Schools" during the American occupation in 1907. It is now part of Las Piñas Central Department of Education's Las Piñas school division office.

Lara House

address: 160 Diego Cera Avenue, Ilaya (Poblacion)

Ancestral house that once housed the Las Piñas General Hospital and Las Piñas's municipal hall. It now hosts a small barbershop below.

St. Joseph Parish Church

address: Diego Cera Avenue, Daniel Fajardo (Poblacion)

Founded in 1795, this church is built the Earthquake Baroque style. It houses the renowned Bamboo Organ, built in 1825 by Diego Cera, an Augustinian priest.
Outside the Historical Corridor
Mary Immaculate Parish Church

address: Apollo 11, Talon Singko

A nature-themed Roman Catholic parish church built by Filipino architect Francisco "Bobby" Mañosa. The current church is rebuilt in the original style from the original church destroyed by fire during a New Year's Day fire caused by a misfired firework.

Palazzo Verde

address: Daang Reyna,

Luxurious church used as a wedding venue by many personalities. The inside is off-limits, but you can take selfies with a carriage outside or you might shot the church from the outside. It has a small chapel, Notre Dame de Vie Chapel, just across Zapote River.
Do
Southlinks Golf Club

address: Ayala Southvale Sonera, Almanza Dos

A links golf course inside an affluent subdivision. Locker rooms are available, but there is no WiFi access. Golfing is rather difficult due to the surrounding area.

Car-Free Weekends

address: Daang Reyna (Vista Avenue), Almanza Dos

Bikers and joggers flood the tree-lined dual-carriageway avenue often named "Daang Reyna", which serves as an alternative route to San Pedro, every weekend morning. It's possible to bike the whole road in 16 minutes, from near Palazzo Verde into the roundabout outside the Amore subdivision and back. Bike rental is available for the activity. Biking and jogging continue till sunset, but there will be fewer bikers and joggers as more cars begin to use the road after 11AM.
Buy
Evia Lifestyle Center

address: Daang Hari, Almanza Dos

Small shopping mall with Italian-style architecture. While new (built in 2013 as part of the ongoing Vista City development), it has a variety of shops and restaurants, including its major anchor shops, H&M and Uniqlo.

SM Southmall

address: Alabang-Zapote Road

Major SM mall with a variety of food options. Opened in 1999, it is the first large SM mall in southern Metro Manila. Since 2012, it has been renovated and it retail space has been further expanded.

Robinsons Place Las Piñas

address: 345 Alabang-Zapote Road, Talon Dos
Sleep
Dream Hotel

address: Alabang-Zapote Road, Almanza Uno

A/C rooms with cable TV, telephone, hair dryer, and complete bathrooms. Has free WiFi and carports. Best option to sleep if you are visiting SM Southmall.

Eurotel Las PiñasA/C rooms with cable TV. Free WiFi. Slightly cheaper option over Dream Hotel if you are on budget.

phone: +63 2 800-6190

address: Admiral Street, Talon Tres

Mid-range option for overnight stays, but has a reputation as a "short-time" hotel hosting illicit sex. Rooms have modern designs, with cable TV, and a few has indoor hot tubs. Has free breakfast and WiFi. Filipino-Japanese fusion ramen dishes are served, starting at .
Go next