Las Vegas
Situated in the midst of the southern Nevada desert,
Las Vegas
is the largest city in the state of
Nevada
. Nicknamed
Sin City
, Las Vegas and its surrounding communities are famed for their mega-casino resorts, often lavishly decorated with names and themes meant to evoke romance, mystery, and exotic destinations. Along the brightly-lit Strip through the center of the city, visitors will find all manner of amusements and entertainment: circuses, stage shows, thrill rides, erotica, exotic animals, fine dining restaurants, nightclubs, shopping, and elaborate fountain displays, to say nothing of the age-old allure of gambling and drinking.
Districts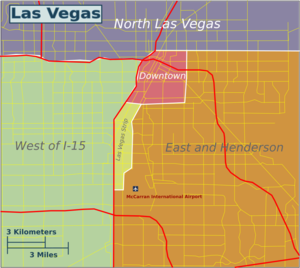 Understand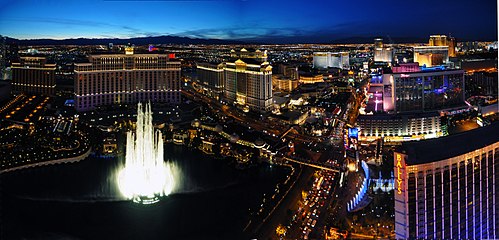 Compared with other American cities, even those in the western United States, Las Vegas is a relatively recent arrival. It was founded in 1905 and for many years was a fairly small settlement. However, several pivotal events in the early- to mid-20th century catapulted Las Vegas to prominence and set it on the path to grow into what it is today. First was the construction of nearby
Hoover Dam
from 1931 until 1936, which brought thousands of workers to the area. Second was the legalization of gambling by the state of Nevada in 1931, which led to the establishment of casinos and speakeasies that established Downtown Las Vegas as an entertainment center for the Hoover Dam workers.
Amidst rapid growth in the local gambling industry, the luxurious El Rancho Vegas resort opened in 1941 on what would later become the Las Vegas Strip. This was followed up by Benjamin "Bugsy" Siegel's Flamingo Hotel in 1946, starting the building boom and one-upmanship that continues today. This would also create a precedent of organized crime involvement in Nevada's gambling industry. While federal regulations and enforcement as well as investments by established corporations have virtually wiped out any mob involvement today, the building bonanza continues with ever-more elaborate resorts and attractions being constructed.
The city is laid out as follows: Main Street as well as the numbered streets run north-south, starting with Main Street in the west. The bus station is on Main Street. Downtown has several hotel-casinos, as well as the "Fremont Street Experience", a pedestrian mall lined with casinos, shops, and restaurants near the western end of Fremont Street. A couple miles south of downtown starts the "Strip" (Las Vegas Boulevard South), a north-south street lined with large casino-hotels, shopping malls, and many other attractions. The northern end of the Strip is marked by the tall Stratosphere Tower. Frequent city buses run up and down the Strip and connect the Strip to downtown. The Las Vegas monorail and the convention center sit just east of the Strip, and the University of Nevada at Las Vegas (UNLV) is located slightly more east of the Strip on Maryland Parkway. The airport is at the southern end of the Strip.
An interesting bit of trivia as concerns the administrative borders: for tax and other historic reasons, most casinos are not actually in Las Vegas itself. The Strip and most other Las Vegas attractions are instead in Paradise - an unincorporated place of some 250,000 inhabitants. Usually "unincorporated places", which lack municipal self governance are rural and have populations in the hundreds or thousands. The lobbying power of the casinos has ensured that Paradise remains unincorporated and that Las Vegas does not annex it.
Visitor information
Get in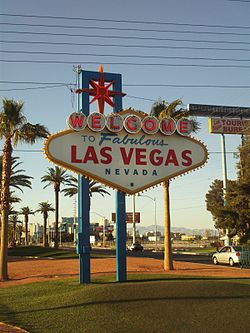 By car
Southern Californians crowd Interstate 15 every weekend going back and forth to Vegas. Expect this drive to be crowded and frustrating, unless you can come and go at off-peak hours. However, many find the 280 mile (450 km) drive along I-15 restful and scenic. Attractions along the I-15 include the
California
towns of
Barstow
and
Baker
; the
Mojave Desert
; and small hotel-casinos in Nevada at
Primm
(at the California border) and Jean, respectively. If you are traveling the I-15, you are crossing a desert, and should carry (and drink) ample amounts of water, especially on hot summer days where temperatures can reach 110°F (43°C).
From east of Las Vegas, travelers typically drive on I-40 through
Arizona
, and then head north toward Vegas on US 93 in
Kingman
, before US 93 turns into Interstate 11 on the Colorado River bridge just downstream from Hoover Dam. I-11 is now complete from the river to an interchange with I-215 and I-515 in Henderson, bypassing
Boulder City
. The completion of the I-11 bridge eliminated what was once the biggest traffic chokepoint of an otherwise sparsely populated desert area. The old road through this area still carries traffic to the
Lake Mead National Recreation Area
and directly through Boulder City. Even with long-haul through traffic now routed on the new bridge, the old road is still crowded with tourist traffic to Lake Mead and the dam.
From the North I-15 meets the Arizona border at the more relaxed town of
Mesquite, Nevada
and shortly goes into
Utah
. The junction of I-70 and I-15 is where most people driving from the east will take. Those from further north may meet I-15 from I-80 in
Salt Lake City
.
Those traveling from the north drive on US-95 from
Reno
and
Tonopah
. This is a two lane highway until it reaches the community of Mercury, where US-95 is a four lane highway. The route is sparsely populated and travelers should ensure that their fuel tank is full.
By bus
Intercity bus companies have their own separate bus stations and stops in downtown, in the neighborhoods surrounding downtown or in other parts of the city. See the below links:
phone: +1 702 657-6610

address: (Depot) 2055 N Las Vegas Blvd, North Las Vegas

Daily bus between Las Vegas and the Los Angeles area. They also have additional stops at the Stratosphere (2000 S Las Vegas Blvd); Riviera Hotel (2901 S Las Vegas Blvd); Bally's Hotel & Casino (3645 S Las Vegas Blvd) and Excalibur Hotel & Casino (3850 S Las Vegas Blvd).

phone: +1 702 384-9561

address: (Depot) 200 S Main St

Operates buses to/from Salt Lake City (UT); Kingman (AZ); Los Angeles, (CA), San Bernardino, Denver; and Phoenix, (AZ) on multiple routes.

address: (Bus stop) RTC South Strip Transfer Terminal @ 6675 Gilespie St

Offers service from Los Angeles and Riverside. The bus stop offers RTC local bus service to the Strip and Downtown Las Vegas.
El Paso-Los Angeles Limousines

phone: +1 702 369-3933

address: (Depot) 1100 S Main St

They go to Los Angeles via Colton & El Monte on one route and towards El Paso via Phoenix, Deming & Las Cruces on another. They also have another depot at 1410 N Eastern Ave in North Las Vegas.

address: (Bus stops) Harrah's @ 3475 Las Vegas Blvd and California Hotel @ 12 E Ogden Ave, both in downtown

Operates four daily trips to and from Los Angeles, Anaheim, and San Diego.

phone: +1 702 734-6900

address: depot at 2222 E Fremont St

Travels southeast towards El Paso and southwest towards Los Angeles on another route. Crosses into Mexico via El Paso/Cd Juarez.

phone: +1 702 254-6899

address: (Bus depot) 99 Martin Luther King Blvd

Offers bus service to Los Angeles, Salt Lake City and Hermosillo (via Kingman, Phoenix, Tucson & Nogales)

phone: +1 855 626-8585

address: (bus stop) S 1st St and E Bonneville Ave

Connects Las Vegas to Los Angeles, San Diego, Palm Springs & Sacramento.
By plane
McCarran International Airport
(
LAS
) is served by most major domestic and many international air carriers. Terminal 1 serves most domestic flights, including those of dominant carrier Southwest Airlines as well as budget airlines Spirit Airlines and Allegiant Air, all of which have large operations at the airport. Terminal 3 serves all international flights, with service to Canada, Mexico, the UK, Germany, China and South Korea among other places, as well as some domestic flights such as Frontier Airlines among others. (Terminal 2 closed in 2012 and has since been demolished.) The airport is one of the few in the world to have slot machines in it, meaning you can lose your entire vacation budget within minutes of stepping off the plane. The airport provides free Wi-Fi without registration. Drinking water fountains can be found throughout the airport.
For departing flights:
Allow plenty of time for security screening, especially on those days when major conventions end. Or schedule your flight at another day/time if you can.
Curbside check-in counters can save time, but will cost you $4 per bag + tip, and if flying an "open" ticket, you won't be allocated a seat number until boarding time...and likely to be an undesirable seat.

(HSH) is the corporate choice for aviation in Las Vegas. Located just minutes from the world famous Vegas strip, Henderson Airport is the ideal alternative to McCarran International Airport. Air taxi and air charter companies such as Jet Charter Vegas, Monarch Air Group, Mercury Jets, The Early Air Way and Jetset Charter fly a variety of private charter aircraft and jets, from charter luxury Gulfstream's down to economical piston twins for small groups and individuals.
North Las Vegas Airport (VGT) is a general aviation field located less than 6 miles NW of downtown. It's the primary choice for general aviation in Vegas with its own FBO offering full services for general aviation, crew, and passengers. Locally known as Northtown, North Las Vegas is area's second busiest airport, and the third busiest airport in Nevada. Several helicopters are based at KVGT, including the L.V. Metropolitan Police Department, scenic tour companies, and a handful of charter helicopters. North Las Vegas is also certificated under 14 CFR Part 139, serving as a base for local airsports.

By rail
Direct Amtrak service to Las Vegas was discontinued in 1997 due to budget problems. Since then there have been several proposals for renewed train service to Las Vegas ranging from an interstate Maglev (magnetic levitation) to simply restoring Amtrak service through a state subsidy. Thus far (2017) nothing has come of it but noise made by one private company that intends to build a high speed rail connection to Victorville, California. However, there are several bus services which connect with various Amtrak trains:
The Southwest Chief route, running from Chicago to Los Angeles, stops in Kingman, Arizona, from which passengers may transfer to a bus that travels to McCarran International Airport via Laughlin. The westbound train is scheduled to arrive in Kingman at approximately midnight local time, and the bus arrives at the airport around 3AM. If you prefer to arrive/depart at a more reasonable hour and don't mind a bit of backtracking, you can also take the train all the way to the end of the route in Los Angeles and connect with a Greyhound bus insteadthis will take longer, but arrives in Vegas in the late afternoon.
The San Joaquin route travels from Emeryville, California to Bakersfield, from which an Amtrak Thruway bus travels to Las Vegas once each day.
Get around
By foot
If traveling along the Strip, walking is a reasonable option as the hotel-casinos are close to each other. However, what may look to be a short walk of only a couple hotel-casinos away may be farther than you expected as the resorts often look closer than they are due to their large size. In most cases, hotels are connected to each other either by bridge or underground or in the case of Excalibur, Luxor, and Mandalay Bay, by a complimentary rail shuttle. During the summer, the
oppressive heat
during the daylight hours may make walking a very uncomfortable activity. Take extra precautions when imbibing alcohol and walking outside as heat-stroke and severe dehydration are common health risks.
By monorail
phone: +1 702 699-8200

Runs along the east side of the Strip with stops behind several of the hotels and at the Las Vegas Convention Center. It costs $5 one-way and $12 for a one-day pass, with 2-7 day passes also available. Do the math before boarding; it could be cheaper for a small group to take a taxi. Because the monorail stops at the back entrance of the hotels, it takes a long time to wind through the maze of casinos, often taking 20 minutes to an hour to get from one point to another on the Strip - if you're in a hurry, take a taxi. The monorail's carrying capacity of 4,000 people per hour is woefully insufficient to handle the evening exodus from the larger conventions which have as many as 150,000 attendees. If you are visiting with a friend from Nevada and want to ride the monorail, consider asking them to buy your fare because by showing a Nevada State ID or Clark County Work Permit Card (issued to all hotel employees) they qualify for the locals fare of $1. The discounted fare can be purchased from the customer service booths located at each station.
Due to high prices, inconvenient station locations, low passenger ridership, and the fact that it does not connect to downtown or the airport, the Monorail is widely regarded as a failure. It has been operating under the supervision of a federal bankruptcy court since January 2010 while it tries to reorganize its finances under the protection of Chapter 11 of the U.S. Bankruptcy Code.
By bus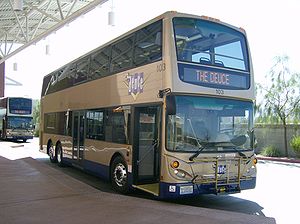 Buses can be an inexpensive and convenient option, especially if just traveling up-and-down the Strip, or to-and-from downtown. A bus ride is a good way to recuperate during those hot summer months after a long and tiring walk on the Strip since the buses are air-conditioned.
phone: +1 702 228-7433

The city bus system operates routes throughout the valley. Most routes operate 5:30AM-1:30AM daily, but some routes operate 24 hours per day. In addition to regular service, there is also the Deuce, a double-decker bus, and the futuristic-looking Strip & Downtown Express (SDX), both of which operate at 15-minute intervals along the Strip and connect to Downtown (the SDX also stops at the Convention Center). The Deuce runs 24 hours a day, while the SDX runs from 9AM to midnight and uses roughly the same stops as the Deuce, but skips three out of four Deuce stops, making for a faster service than the Deuce (but you might also need to walk a longer distance to and from the bus stops). On the Strip, Deuce buses often stop at short intervals and may be there for a couple of minutes as passengers board and disembark. If traveling longer distances, it is often worth it to wait and catch a SDX.
The fare is $2 for all RTC residential routes (transfers an extra $1), and $6 for Deuce and SDX service (includes transfer). The fare for residential routes and the Deuce may be paid in cash directly to the driver (no change given). On the SDX you can't buy the ticket on board the bus, but need to purchase in advance using the ticket vending machines at the SDX bus stops. Ticket vending machines give change and accept credit/debit cards. A day pass which includes fare for Deuce and SDX service costs $8, while a 3-day pass costs $20.
By taxi
One of the easiest ways to get around is by taxi. It is relatively cheap to go from hotel to hotel, but since traffic is often so congested on the strip, taking a taxi often isn't much faster than walking. Many taxis will cut off the strip to use a parallel road—this is often faster but can double your taxi fare. The taxi driver is required to use the meter and to take the shortest route to your destination. There is a surcharge for rides originating at the airport, but not for extra passengers. Taxi lines (queues) are typically found at the front of hotels.
All taxis require an address for pickup and drop off.
It is illegal in Las Vegas for taxis to pick up or drop off passengers on the street
, especially on the Strip. It is customary to tip the hotel taxi dispatcher $1 and tip the taxi driver 15% of the meter, and about $1 per piece of luggage.
If you are traveling with a large group, consider hiring a limousine, as you will often forgo a wait and the price per person may even be lower than that using a taxicab. Limousines usually queue in front of the taxicab line and can be approached directly.
Rideshare
Rideshare
companies have established legal operating status in Las Vegas, and operate throughout the Las Vegas Valley. The two most common rideshare services are operated by
Lyft
and
Uber
. These cars are typically Las Vegas locals who drive their personal vehicles full or part-time via the corresponding app. In order to utilize rideshare, you must have the Lyft or Uber app (or both) installed on your smartphone, a registered account, and a valid credit card.
Uber and Lyft drivers will take you anywhere in the valley for a fee calculated by a base-fare, duration, and distance traveled. This price is often much cheaper than a traditional taxi cab. Drivers can pick up or drop off at the airport, and even take you to Hoover Dam.
As with taxis, all rides must have an address for pickup and drop off. Again,
it is illegal in Las Vegas to pick up or drop off passengers on the street.
For every major hotel on The Strip, there is a designated pickup/drop off area for rideshare services. Drop off is usually done at the main valet or front entrance; however, pickup can be in the parking garage (e.g. MGM Grand), a tour bus lobby (Bellagio) or at a side entrance to the casino (Linq). Asking guest services at the hotel where the designated pickup area is will help a lot. It could take several minutes to walk to, or locate this pickup area. Ordering your ride before arriving at the pickup area is not recommended as many drivers stage at, or nearby the pickup area. You can be charged a "No-Show" fee if you do not arrive to the pickup area in as little as 2 minutes.
By car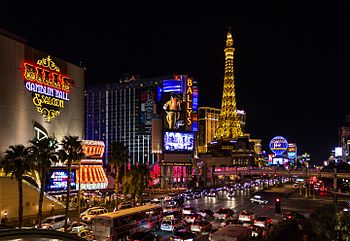 Driving Las Vegas Boulevard (the "Strip"), especially on weekends, is an exercise in frustration. Due to extremely severe gridlock, you could easily spend an hour (or more) sitting in traffic on the Strip just to travel a couple of miles. The Strip's most critically congested section is the 1.7-mile-long portion between Spring Mountain Road/Sands Avenue to the north and Tropicana Avenue to the south, which happens to be where almost all of the major hotel-casinos are located (the intersection of Tropicana Ave. and the Strip is one of the busiest in the world).
Do what the locals do and avoid driving long distances on the Strip altogether. Instead take I-15, which parallels the Strip, and get off at the exit nearest your hotel and park there. Frank Sinatra Drive (which dead ends into Industrial Road) lies just west of the Strip, runs behind the casinos, and provides another option. Koval Lane and Paradise Road provide similar access on the eastern side of the Strip. If you need to do an east or west traverse of the northern half of the Strip and I-15, consider using the Desert Inn Road superarterial, which was built specifically to provide a fast grade-separated route for east-west traffic.
Virtually no major casinos on the Strip or downtown offer free parking anymore, but many offer valet parking for a charge. On Friday and Saturday nights, the self-parking lots fill up fast; consider splurging on the valet to avoid cumbersome delays and endless circling around.
Some intersections in Nevada have an atypical traffic light signal: a flashing-yellow left arrow. This indicates that you may turn left after yielding the right-of-way to oncoming traffic and pedestrians. From flashing yellow, the arrow can either go to green for a traditional protected left turn or to solid yellow which indicates it is going to turn red.
Rental cars
If you mostly plan to hang around one casino and your time in Vegas is short, you might want to forego a rental car altogether and just take taxis. On the other hand, taxi fares add up quickly, and with car rental so cheap, anyone staying a few days or longer would be better suited with the flexibility of a car. Some of the best sights are located just
outside
of Las Vegas and require that you drive to those destinations. If you need to or might go farther (e.g., out of state), ensure your rental agreement allows it and sharing of driving duties.
The base rental price for a car
at
McCarran International Airport is quite competitive with other major cities. Unfortunately, agencies at the airport must levy very large fees (e.g., for airport improvements) and taxes on those base prices. These can increase the modest weekly cost of a compact or intermediate size car by nearly 60 percent.
All airport rental agencies share a single off-airport facility, the McCarran Rent-A-Car Center, served by frequent free shuttle buses. Add at least 30 minutes to your schedule to pick up and/or drop off your vehicle to ensure you won't be late for meetings or departure flights.
There are numerous car rental offices on the Strip making it very easy to rent a car from your hotel for a day trip. Rent ahead of time as it can be busy during weekends and during major conventions. Check to see if those off-airport sites must also charge the above fees and taxes.
See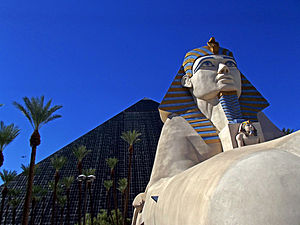 Set in the middle of the desert of Nevada, Las Vegas can seem unreal at first sight. The skyline of the Strip features many unusual buildings side by side, and once you've come closer and get to travel along the Strip you'll to see replicas of buildings from around the world like the Eiffel Tower, the Great Sphinx of Giza, the Statue of Liberty or St Mark's Campanile. The buildings that aren't copies also look striking, and there are things happening along the street like the dancing fountains of Bellagio and the exploding volcano of the Mirage, not to mention the colorful signs, of which there however are even more in the old town of Las Vegas; Downtown.
Inside hotels and casinos (the terms are interchangeable), expect to see myriads of slot machines, and gambling from card games to craps and roulette to sports betting. Hotel casinos often have a certain theme, and is decorated and sometimes features attractions to that theme, like the flamingo garden in Flamingo.
A combination pass, the
Las Vegas Power Pass
, gives holders free admission to many of the attractions listed in the districts, including the Stratosphere Tower Observation Deck, Madame Tussauds, Siegfried & Roy's Secret Garden and Dolphin Habitat, Springs Preserve, the National Atomic Testing Museum, and plenty of others, as well as numerous activities and tours.
Do
There's a great deal to do in Las Vegas; in addition to the gambling the city is most famous for, you can for instance see a show, ride amusement park rides, watch and do sports or try to escape from an escape room. For mountain activities such as hiking, climbing, and skiing close to Las Vegas, see
Go next
.
Shows
There are places on the Strip where you can buy half-price show tickets, but generally not for the really popular shows on the same day of the performance. Cash or credit card accepted. Shows include circus shows, musicals, production shows, comedy, magic, tribute shows, adult shows,
Las Vegas hosts 8 popular
Cirque du Soleil
shows. To secure the best seats, reservations well in advance are recommended.
Production shows
Reserve your tickets well in advance for the best available seating. The most popular shows are sold out on the weekends. Make sure to always book your seats directly from the official hotel website.
Comedy shows
There are always different comedians coming to Las Vegas. Always a great way to get a laugh and end the night.
Gamble
If you win...
Chances are that, if you win it big in Las Vegas and you are not a U.S. citizen your winnings will be subject to a
30% withholding tax
from the
IRS
. That
$10,000 slot winning
can dwindle quite quickly if that is taken off the top. Not to worry though you can reclaim your
gambling winnings tax
through a
1042-S form
. You should get this from the casino so don't lose it...it is your starting ticket to getting your gambling winnings back.
Opportunities to
gamble
are found in most places in the Las Vegas metro area, even at McCarran Airport and small supermarkets.
Age restrictions
It is state law that
all gamblers must be at least 21 years of age
and state law also prohibits anybody under the age of 21 from loitering in any area where gaming is present. Even if you are at least 21 years old, you are required to bring to the casino a valid, government-issued ID that shows your current age or complete date of birth (e.g. driver's licence, passport) as proof of your age. Photocopies of valid IDs are usually not considered valid and temporary paper documents (i.e. the documents issued while the actual ID is being mailed to you) are not generally accepted unless accompanied by the corresponding ID. Non-US drivers licenses and identification cards (aside from passports) can be accepted at the casino's discretion but do not count on it.
In-house security makes rounds of inspections to check compliance. If you are under-age or without a valid ID to prove your age and found in the gambling premises, hotel staff will ask you to leave, and could ask the metro police to issue you a citation. Moreover, under-age gamblers cannot collect any jackpot; such bets are void and the casino will at best return your wager before asking you to leave the premises.
There is a curfew for those under the age of 18 (unless accompanied by an adult) for Strip and Downtown areas of 9:00pm; for other areas in Las Vegas, the curfew is 10:00pm. During certain events (e.g. New Year's Eve) there are extended hours on the curfew.
The odds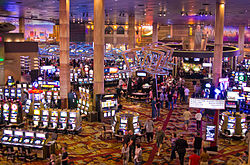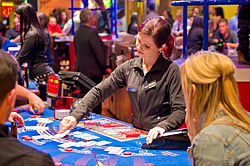 It is beneficial to understand the rules, strategies, and odds of each game before you arrive. The games with the lowest house advantage if you know how to play are
craps
(dice) with full odds and
blackjack
; however, tables where a 21-blackjack pays only 6:5 or even-money instead of the traditional 3:2 give the house a big advantage, and should be avoided. Games in which the casino has the best house advantage include slot machines, roulette, and some craps bets (hardways and propositions). If a game is unfamiliar to you, just ask the dealer for advice on how to play. If you are playing during the daytime at a table that is not crowded, most dealers will be happy to explain the game to you, and even slow down the dealing.
While
card counting
(the act of keeping track of played cards in an effort to boost your odds) is not illegal under federal law, some casinos' policies bar/ban people who count cards or may refuse winnings.
Pre-paid gambling cards
To facilitate gambling in machine-based games, you can use a pre-paid card to make wagers and collect winnings. Obtain one of these from the counter, insert the card into the gambling machine you choose to play and the machine will deduct your wagers as well as add your winnings to it. You can go to another cash dispensing machine to redeem your winnings as well as reload the value.
ATMs
Most casinos offer ATMs and over-the-counter cash facilities, but beware about the charges set by your bank and the machine operator or establishment. ATMs in casinos may charge exorbitant fees for withdrawals.
Comps
One reason to gamble, aside from the hope of winning money, is that by doing so, you could receive complimentary ("comp") rooms, meals, and even airfare depending on your play (this is because the casinos want to "win some of their money back" from the high rollers). Most casinos issue free "player cards." It is generally to your advantage to show or insert your player card every time you play a table game or slot machine. At the end of your trip, you can ask the hotel if you are eligible for any comps, you might be pleasantly surprised. And if you arrive at the casino prepared to lay out $1,000 or more, don't be bashful; ask the pit boss to be "rated" for comps before or while you begin playing. Separate from comps, many hotels offer discount packages for travelers who book a Sunday-Thursday night arrival. Most of these packages offer gambling coupons or a matching play—see the Sleep section for details.
Poker
Texas Hold'em, 7-card stud, and Omaha can be found at almost all Las Vegas poker rooms. However, not all casinos have a poker room, so call the casino or ask a gaming floor attendant. Smoke sensitive players should note that while all poker rooms on the Strip are non-smoking, smoke may drift in from the casino if the room is not fully enclosed.
During June and July, the
World Series of Poker
(WSOP) is held in Las Vegas. If you are interested in poker, this is a must see and all top poker players are present. And if you are a skilled player, you can play the side games taking place during the WSOP.
Spectator sports
phone: +1 702 645-4259

address: T-Mobile Arena, 3780 S Las Vegas Blvd

NHL (ice hockey) team that made it all the way to the Stanley Cup Final in its first season in 2017–18 (though losing). The city's first team in one of the "big four" professional sports of the US and Canada, although they'll soon be joined by the relocated Oakland Raiders of the NFL.

address: Mandalay Bay Events Center, 3950 S Las Vegas Blvd

WNBA (women's basketball) team that relocated from San Antonio to Vegas in 2018.

phone: +1 702 386-7200

Triple-A baseball club, the Aviators have been in Las Vegas longer than any other professional sports team. The Aviators began as the Las Vegas Stars in 1983, changed their name to the Las Vegas 51s, a reference to Area 51, in 2001, and became the Aviators for 2019 and beyond. They have won 2 Pacific Coast League crowns and 10 division titles. The team opened a new ballpark in Summerlin in 2019.

address: Las Vegas Motor Speedway

Las Vegas hosts NASCAR for a weekend every year, usually in March. The race draws about 150,000 race fans to the city. Many cheer for Kurt and Kyle Busch, natives of Las Vegas. Aside from NASCAR, the speedway hosts many other racing events throughout the year.

address: Thomas & Mack Center

Arguably the city's most prominent sporting event is the finals of the annual Professional Rodeo Cowboys Association circuit, held over 10 days in December just off the Strip at the Thomas & Mack Center on the UNLV campus.

Professional Bull Riders World Finals

address: T-Mobile Arena

Another major rodeo event is the finals of the Professional Bull Riders series, a separate circuit dedicated to bull riding. The PBR finals, held in late October/early November at the T-Mobile Arena, have more of an international flavor than the NFR—while the NFR is exclusive to the US and Canada, PBR runs national series in Brazil, Canada, Mexico, and Australia, and all of these countries, especially Brazil, are represented on the U.S. circuit. The event had been held at the Thomas & Mack Center through 2015, but has moved to the newly opened T-Mobile Arena.

phone: +1 702 739-FANS

The athletic teams of the University of Nevada, Las Vegas, better known as UNLV, are also popular in the area. The Rebels are members of the Mountain West Conference, which has 12 members in football and 11 members for other sports. The most famous UNLV team is the men's basketball team, known as the "Runnin' Rebels"; though not as strong as in their heyday from the late 1970s through the early 1990s, they remain solidly competitive and very popular. Most of the school's sports venues are on campus, but the football team plays at in the suburb of Whitney, well to the east of campus, until the Raiders' new stadium opens just west of I-15 in 2020. The central ticket office for all UNLV sports is at the Thomas & Mack Center.
Las Vegas is also a major regional center for college basketball tournaments every March. As of the upcoming 2019–20 season, four NCAA Division I conferences hold their annual men's and women's tournaments in the area; each of these tournaments sees the winner receive automatic entry to the NCAA tournament.
The Pac-12 Conference, one of the so-called "Power Five conferences" of Division I football, brings its men's tournament to T-Mobile Arena. The 2020 women's tournament will be at Mandalay Bay Events Center.
The Mountain West Conference, home to UNLV, holds its men's and women's tournaments at UNLV's Thomas & Mack Center.
The West Coast Conference, a league made up of private faith-based schools, holds its men's and women's tournaments at Orleans Arena, on the grounds of The Orleans, an off-Strip casino and hotel.
The Western Athletic Conference, a far-flung league with schools located everywhere from Seattle to Chicago, also holds its men's and women's tournaments at Orleans Arena.
By 2020, the
NFL
will arrive with the
Las Vegas Raiders
, following their move from
Oakland
. The UNLV Rebels football team will join the Raiders at their new stadium.
Finally, Las Vegas is one of the world's main centers for
combat sports
. For decades, many of the biggest championship events in
boxing
have been held at venues on or near the Strip. The Strip has also become an epicenter for
mixed martial arts
; the world's biggest promoter of MMA events,
UFC
, is based in Las Vegas.
Escape rooms
Escape rooms consist of themed rooms where a team of players work together to either escape from a locked room or complete a task (such as opening a safe or stopping a nuclear missile launch) by finding clues and objects or solving puzzles within a set time limit, usually one hour. Las Vegas has several escape rooms that vary in difficulty from easy for beginners to nearly impossible for the experienced player. Most escape rooms require advance booking and do not accept walk-ins. Some escape rooms will fill the number of players up to the maximum with other people so check with the location in advance if you don't want to play with strangers.
Get married
Las Vegas is the wedding capital of the world. To get married, first go to the
County Clerk's Office
and apply for a marriage license. Both parties must have valid ID, such as a driver's license or passport. The cost is $60 per couple. The Las Vegas Wedding Bureau is open from 9AM-midnight seven days a week, including holidays. No blood test or waiting period is required. The marriage license itself is valid for one year. The minimum age to marry is 18; a 16 or 17 year old may marry if one parent is present or has given notarized permission.
Once you have a marriage license, the wedding ceremony can be performed by any priest, minister, rabbi or Justice of the Peace authorized to perform weddings within the Las Vegas area. Numerous wedding chapels are located around the Wedding Bureau and on the Strip. You can choose an elaborate theme wedding, such as an Elvis impersonator as officiant, or a simple ceremony and reception celebration.
Most major hotels and Vegas wedding chapels offer wedding packages for those who wish to plan a larger wedding ceremony. But don't let a lack of planning stop your nuptials; all Vegas wedding chapels can perform immediate weddings with no prior appointment, although it is recommended to make a reservation for your wedding. If you make a reservation most chapels will provide courtesy limousine transportation from your hotel to the chapel and back. Making a reservation also decreases the likelihood of having to wait.
Finally, you can check with the Las Vegas Better Business Bureau before making any arrangements with any wedding chapel or service provider. You may check the local BBB reports
online
.
Events
Las Vegas continues to grow with annual events and festivals held throughout the city.



Tennis


Las Vegas is a great place for tennis fans. Not only do many of the hotels offer excellent courts but public courts abound as well. Vegas is also home to many amateur tournaments and UNLV tournaments.


Ice skating

Given the very high temperatures during the summer it may be a surprise that ice skating is popular, but at inside rinks!


phone: +1 702 320-7777

address: 9295 W Flamingo Rd

A twin-rink facility.

Seasonal rinks pop up at major Strip hotels like the Venetian and Cosmopolitan. Downtown Summerlin Mall also has one during winter.

Buy
Sales tax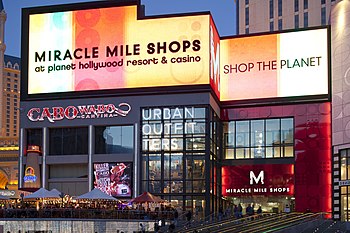 The combined state and local sales tax in all of Clark County (meaning the entire Las Vegas metro area) is 8.10%. Only groceries and prescription drugs are exempt.
Like most U.S. states, Nevada has not implemented a tax refund mechanism for international travelers. The only retailers that can sell tax-free items to international travelers are the duty-free shops at McCarran International Airport.
Basics
Most hotel/casino resort complexes in Las Vegas have a gift shop open 24/7 that offers basic traveler supplies and sundries. Hotel gift shops are outrageously expensive and should be avoided except for emergencies.
If you are planning to not rent a car and to simply go up and down the Strip on foot or bus, the pharmacies are your best bet for basic supplies. They are all open 24/7 and accustomed to dealing with tourists from all over the world.
Like most U.S. pharmacies, they carry a very large variety of products besides pharmaceuticals and dietary supplements, including snacks, soft drinks, bottled water, cosmetics, toiletries, hats, sunscreen, maps, postcards, and so on.
CVS Pharmacy
has two branches on the Strip, one located on South Strip between CityCenter and Park MGM, and the other located on North Strip between Circus Circus and Sahara Avenue.
Walgreens
has one branch on Central Strip at Palazzo and another on South Strip in front of Planet Hollywood.
There are also multiple 7-Eleven convenience stores open 24/7 throughout the Strip, but their prices tend to be higher than the pharmacies and their product selection is not as broad. Souvenirs, drinks and snacks are also available at small stores along the strip; there is a cluster of them between MGM and Planet Hollywood as well as north of the Wynn. These are usually the cheapest places to shop, even if the selection is quite limited.
Importantly, there are
no major supermarkets
on the Las Vegas Strip near the resorts. The closest one that sits on Las Vegas Boulevard is the Whole Foods Market at Town Square (see below). Other than that, one has to travel as far west as Valley View Boulevard or as far east as Maryland Parkway to find supermarkets such as Vons, Albertsons, Food4Less, and Smith's. There is even a Walmart at Tropicana Avenue, about 6 kilometres (3.7 miles) east of the Strip. These places are however accessible by car or bus, prices are lower than on the Strip, and if you're, say a European looking for some authentic American specialties to bring home these are certainly better places to find them than 7-Eleven.
Eat

Large casinos will invariably offer a variety of dining options, ranging from the omnipresent buffet to simple cafes to gourmet restaurants to Michelin-star winning restaurants.

Buffets

The most famous buffets in Las Vegas are at the Rio, Bellagio, Paris and Planet Hollywood, though the newly opened Wynn buffet is becoming more and more of a favorite with tourists and locals alike. The best buffets typically run about $30 a person for a weekend dinner. Lunch is your best value at most buffets when they are around half price, breakfasts are cheapest and often have a great spread too. Do not forget that tipping your buffet waiter 10-15% is customary. You can leave cash on the table at the end of your meal or tip the cashier at the counter on a credit card. Some buffets give "early bird" discounts, which means that if you arrive early the price is a few dollars lower.

Drink

In Las Vegas, free drinks are often offered to gamblers, even those playing 5-cent slot machines. You should tip the waitress at least $1 per drink; failure to do so will likely cost you free drink privileges.
Although it is officially NOT allowed per the lawbooks, drinking on public sidewalks and other areas on the Strip and Downtown is rarely if ever enforced. Thus it is entirely common to consume alcohol in public areas, including the public sidewalks within the Las Vegas city limits which includes all of Downtown, The Strip and close-by areas. Again, as previously mentioned, over-intoxication and disorderly conduct is frowned upon, so stay within your own limits. On special occasions (New Year's Eve and Independence Day for example) there may be bans on glass bottles and/or aluminum cans for the Strip and the Downtown area. Plastic cups and sports bottles are allowed at these times and either provided at purchase or often available at hotel/casino exit doors. When inside a casino or hotel there is seldom any restrictions on carrying drinks from one bar, restaurant or playing location to another with the exception of some showrooms and theaters where it will be clearly posted. Individual shops may also have rules about carrying in food and drink of any kind.
The towns of North Las Vegas, Henderson and other outlying areas have very different regulations forbidding removal of alcohol from bars, etc. so check with your host or doorman if in doubt. Many bars and liquor stores are open 24 hours a day. There are also posted laws for convenience stores, grocery stores and other retail liquor outlets restricting consumption in the immediate vicinity. Most of all, always drink responsibly and realize that the hot, dry desert air in the summer months can have very adverse health affects on people consuming alcohol such as rapid dehydration and deadly heat stroke, even after dark. Drink plenty of water as well!

Nightclubs/dancing
There is a club or lounge in nearly every hotel and casino. Most clubs remain open until 4AM, with various after-hour clubs available for the truly hard-core partiers. Drink prices can range anywhere from $4–8 for a domestic bottle of beer, $8–10 for well drinks made with cheap generic liquor, and $200 or more for a bottle of spirits. Clubs are always busy on weekends, and may also be packed during weekdays at places that have Service Industry Night (SIN), usually Tuesday to Thursday, when locals working in the service industry have their night off.
A good way to find out what places are hot in Vegas is to look up the "Vegas" or "LV" hashtag on social media services like Instagram or Twitter. The reason is that club and event promoters alike cleverly utilize the services as a way of reaching their audiences to announce specials, celebrity appearances, and guest list availability. They usually post a flyer of the event and include their cell number, so that you can text them and let them know the male-to-female ratio in your party. Groups with higher women-to-men ratios tend to have better offers for guest list entry, drinks, etc. Most promoters usually work for specific establishments, but generally connect you to other promoters in their networks who work for the establishment you ask for.
The top clubs will charge entry of $15 or more. Exceptions may include those who have reserved a table, those who get there early, ladies, and locals. Expect to wait in a line for 10 minutes to 2 hours, depending on the night. It is usually best to arrive before 10PM; while the club may be emptier, the line will be shorter and you may avoid paying a cover charge. Sitting at a table often requires a bottle purchase and if you stop making purchases, they will ask you to vacate the table so that someone else can occupy the table. The dress code varies by club. Most of the time women know what to wear when they are going out; the rule of thumb for men is to avoid wearing tennis shoes, tank tops, hats, t-shirts, and blue jeans.
Day clubs are usually open in the months between April and September.

Ultra lounge
An ultra lounge is a mix between a lounge and a night club, but the difference to "real" night clubs is tiny and vanishes completely when the DJ pulls out hard-core dance hits.

Sleep
Las Vegas is a very peculiar destination - and hotels in Las Vegas have a lot of peculiarities that you won't find in other cities.
The vast majority of visitors to Las Vegas arrive on Friday or Saturday nights and stay for the weekend. As such, room rates can seem ridiculously cheap from Sunday-Thursday night but zoom upwards on weekends. Travelers can plan a trip to their advantage: by staying, say, Sunday through to Thursday, one can not only save a bundle on hotel rates, but also take advantage of package deals that may include a show, meals, and gambling coupons—occasionally worth more than the cost of the hotel room itself.
A bad surprise at check in are so-called
"Resort Fees"
. Many hotels in Las Vegas collect this fee on top of the room charge (typically between $10 and $20 per night, but can sometimes be more like $40) when you check in. You won't get around paying it, even if you claim that your hotel booking website had indicated the total pricing as final. The resort fee is apparently an attempt at introducing low-cost airline-style pricing to hotels: splitting up the price into an attractively cheap basic fee, and charging the customer for almost everything separately. Thusly, in Las Vegas, the resort fee typically "covers" the usage of the swimming pool and of the fitness center. Some hotels do not collect resort fees. It may be worth it to ask the front desk to remove this fee; especially if you had a bad experience with your stay. However, keep your expectations low but be polite and reasonable.
In Las Vegas hotels, even the resort fee does not always cover hotel amenities that are included for free in hotels in the rest of the world: These charges may be quite expensive; most hotels charge for use of the fitness center with rates around $20 to $40 per visit, local calls are usually billed, and wireless internet is generally at least $12 per day. Unless the service is free; it is better to use your own cell phone or mobile router.
Due to the flamboyant and lively atmosphere of most casino hotels, you may not get a good night's sleep, especially on weekends or during busy tourist seasons. Drunken parties and associated recklessness are frequent occurrences in most of the motels and hotels on the Strip. Most hotels will send security personnel up to dispel loud parties or to warn drunk patrons to keep the noise down if you call the front desk, but their effectiveness may vary. Quiet alternatives include the Four Seasons Hotel, Mandarin Oriental, and Skylofts at MGM Grand.
In Las Vegas parlance, the words "hotel" and "casino" are interchangeable. There is a big difference between casino hotels and mainstream hotels without gambling. Casino hotels tend to be large (often with a long walk from the parking to your room and often via the gambling floor). The size of casino hotels means that they often have a wider range of services (restaurants, bars, shops, coffee shops, etc.) and many facilities have long opening hours or are open 24 hours.
Off the Strip
Along the main roads leading off the Strip are a wide variety of accommodations, ranging from basic budget motels to splashy, full-size resorts every bit as expensive as those on the Strip.
Downtown/Fremont Street
Most accommodations in Downtown tend to be of the budget variety, owing to the distance to the Strip. However, hotels in Downtown still put you within very close distance to the casinos of Fremont Street. The Downtown area is also where you'll find the few hostels Las Vegas has.
Further out
Many modest hotels, well-away from the Strip and downtown, cater to "locals"; many offer lower rates and (often) better games. These are complemented by plush, full-resort hotels/casinos in some locations. There are also a number of RV parks further out. Additionally, the suburbs of
Henderson
and
North Las Vegas
have plenty of cheap accommodations.
Stay safe

Be vigilant and do not leave any valuables visible in your car. If you are lucky enough to win a large jackpot, you can ask the casino to hold your winnings in its safe or to pay you with a check so that you are not walking out the door with a large amount of cash. If you insist on receiving all your winnings in cash, all casinos have security personnel available to escort you to your car or room upon request. Like most large tourism destinations, the Strip has its share of pickpockets, so keep your wallet in a front pocket or hold onto your purse.
Major casinos are generally very safe. Casinos take security very seriously and have cameras recording almost every square inch of their property, as well as uniformed and plainclothes security personnel patrolling at all times.
Make sure your hotel door is closed safely at night and use the deadbolt if one is provided. If there is knocking on the door at night, don't open it unless you are sure of the good intentions of the persons that knocked. If you are not expecting someone, do not open the door.
Street vendors selling water and other beverages do not have a permit to sell them and are frequently stopped by hotel casino. Try to make sure whatever you're buying is sealed.

Additional information

Despite the advertising slogan What happens here, stays here, Las Vegas has laws that are vigorously enforced. Contrary to popular belief, prostitution is illegal in Las Vegas and all of Clark County, although it is legal at licensed brothels in a few rural counties of Nevada outside of the Las Vegas area. Pedestrians may drink alcohol from an open container on the Strip, but not in automobiles (not even for passengers) and the alcohol must be in a plastic container.

Driving dangers

Remain vigilant while driving. Las Vegas Boulevard ("the Strip") is notorious for fender benders and other traffic collisions as a result of the heavy stop-and-go traffic and the numerous distractions (pirates, volcanoes, fountains) offered to drivers.
Interstate 15 is routinely under construction to relieve its perennial traffic jams. The construction zones tend to have inadequate signage and poor lane markings, which combined with the large number of tourists results in frequent last-minute lane changes and in turn, many multi-vehicle car accidents. Many people are also driving intoxicated as well; Nevada has an unusually high frequency of traffic deaths with alcohol involved, and most of them happen near the Strip.

Heat exhaustion and dehydration

Expect extremely low humidity and temperatures above 105°F (40°C) June to September. Bring sunscreen and wear loose, light-colored clothing that substantially reflects sunlight. Avoid dehydration by drinking plenty of water.

Connect
Internet

Most hotels charge a separate fee (typically $13/day) for WiFi usage. An alternative option for occasional WiFi users are Burger King dining rooms - WiFi is free for all customers and you don't even need a password.
Las Vegas Airport has free WiFi. On the Strip some internet cafes exist with prices from 20¢/minute.

Cope
Smoking
Inside all large casinos (generally those casinos exceeding 15 slot machines), strip clubs and standalone bars not serving food, smoking is permitted. In large casinos, there are areas which are smoke-free, but they may be very close to smoking areas. Poker rooms are typically smoke-free. Smoke-free table games and slot areas are also available. Restaurants inside casinos are non-smoking. Nightclubs and lounges may allow smoking if they do not serve food.
For all other standalone restaurants, bars, convenience stores, grocery stores and airport facilities smoking is banned in all establishments which sell food other than prepackaged snacks. This ban will be obvious in most places by the absence of ashtrays and the required clearly posted signs. In most cases, smoking areas may be provided outdoors, so always ask your server since various options are almost always available. The penalty can be a $100–$600 ticket if you are caught by authorities.
In practice, there is extremely lax official enforcement in most informal off-strip locations due to a lack of enforcement personnel, and some will even offer ashtrays "at your own risk" if you ask for one. Smoking is still permitted in any stand alone bar or club (with or without gambling machines) that do not serve food other than prepackaged snacks (such as chips, pretzels, candy bars). Although a gray area, some smoking-permitted bars which do not serve food will let you carry food in from adjacent/attached non-smoking restaurants so ask. Many stand alone restaurants now also provide a physically separated (separate entry doors and separate ventilatation) non-smoking dining area and a smoking bar or gaming area to accommodate both smokers and non-smokers.
ATM
Try to avoid ATMs inside casinos and nightclubs, as they will often charge high transaction fees. If you need cash, it's a good idea to get it before going inside a casino or club. Check ahead to see if your bank has locations in Las Vegas. On the Strip, the following ATMs are safer bets:
For Bank of America customers, there's an ATM inside the M&M's Store on the 4th floor, and a pair in the Caesars Palace Forum Shops in the long hallway between the atrium closer to the Mirage and the fork in the Forum Shops where Trevi is.
For Chase customers, there are ATMs in both of the CVS Pharmacies on the Strip (one near the Monte Carlo, and one by the Hilton Grand just north of Circus Circus).
Wells Fargo has plenty of ATMs at the airport.
For Citibank customers, there are ATMs inside the local 7-Eleven convenience stores.
If you're not a member of any of these banks, there is also a cheap ATM that charges a $1 fee located inside Casino Royale, next to the cage to the left of the bar.
Consulates
Go next
Rock climbing and hiking
Spring Mountains

address: North of Red Rock Canyon

Five peaks over 11,000' which is Bristlecone Pine County. At 11,918 ft (3,362 m), Mt. Charleston reaches the treeless alpine zone and is Nevada's fourth highest peak. The geology is mainly limestone which soaks up rainfall and snowmelt up high and releases it in lower canyons. Carry plenty of water for hikes along the crest. Expect snow at higher elevations October to May or June.
Lake Mead National Recreation Area - 80 min drive north-east by car. Hot springs.
Grand Canyon is about 4 hours by car, via the Hoover Dam. It's quite easy to make a day trip from Vegas to Grand Canyon as there are a lot of tour companies advertising their services at almost every corner on the Strip. A typical bus tour takes includes transport to and from your hotel as well as lunch and costs $100–300/person depending on the tour company. There are also helicopter tours which are more expensive.
Mount Whitney, highest U.S. peak outside Alaska. About two hours beyond Death Valley.
Zion National Park is about three hours northeast of Vegas and offers stunning scenery in a red-walled canyon.
Skiing
Bootleg Canyonprovides excellent technical cross-country and downhill trails. 30 minutes south of "the Strip".

Blue DiamondLess technical riding, but with amazing views.

White Mountains (California) includes the Ancient Bristlecone Pine Forest. To get there, take US-95 and S.R. 168 to Westgard Pass, then paved road as far as Shulman Grove at 10,000 ft, gravel to Patriarch grove just below treeline.
Other nature
Other cities
Los Angeles is about 4 hours by car.
Mesquite is a delightful little resort on the Nevada-Arizona border near Utah.