Laufenburg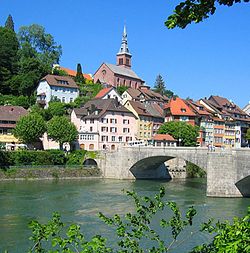 Laufenburg
is a town on the river
Rhine
. Because the
Rhine
is the border, part of the town is in
northwestern
Switzerland
and another part is in the
German
Black Forest
. The combined population of the
twin towns
is about 6200 people.
Understand

The two parts of the town are officially two different places; Laufenburg (Kanton Aargau) and Laufenburg (Baden), sometimes called Gross-Laufenburg and Klein-Laufenburg (Great Laufenburg and Little Laufenburg). This strange situation dates back to the Napoleonic wars. Before that, both sides of the Rhine were Austrian territory. The former Austrian province was divided in two along the Rhine, the north Bank going to the Duchy of Baden, and the south bank to the Kanton of Aargau. Ever since then there have been two Laufenburgs.

Get in

Laufenburg has two railway stations on opposite sides of the Rhine, one belonging to DB (German railways) and one to SBB (Swiss Railways). The Swiss station has hourly direct trains from Basel (Swiss Station). The German station has hourly direct trains from Basel (German Station) and from Waldshut (change here for Zürich). Some of the trains go through to Schaffhausen, Singen, Friedrichshafen and Ulm. If you arrive from Basel the Swiss train is usually somewhat cheaper but the view from the German side makes it the preferable choice. Post buses also connect Laufenburg with Aarau, Brugg and Frick. The roads leading to Laufenburg also go along the banks of the Rhine. Nearby airports are EuroAirport (Basel) and Zürich.

Get around

Laufenburg is small. You can walk all around it, including across the border.

See
Most attractions concentrate in the old town with its magnificent colourful houses along the Rhine and the small allies. Most of old Laufenburg is on the Swiss side, but you can also simply cross the bridge to Little Laufenburg on the German side. Usually there are no passport controls on the bridge.
Special buildings are both town halls, the Court of Justice, St. John Church with the panoramic hill near it, Church of the Holy Spirit and the miniature Codman Castle.
Museums:
phone: +41 62 874 22 43

address: Fluhgasse 156

New topic each year. The 2016/2017 exhibition is dedicated to the guest workers, who came to Laufenburg in the 1950ies and 60ies.

phone: +41 62 8744270

address: Schimelrych 12

Art museum dedicated mainly to the work of Swiss sculptor Erwin Rehmann.

StadenhausenThe village of Stadenhausen is only a short journey away. There a plenty of colourful trees especially in spring, therefore the place is called Laufenburg's Mainau alluding to the flower island Mainau in the Lake Constance.

Maria Gruen Museum
Eat
Many restaurants are spread throughout the old town. Do not miss Café Meyer near the Swiss railway station.
phone: +41 62 534 04 53

address: Marktplatz 158
Sleep
On the Swiss side:
phone: +41 62 874 12 24

address: Burgmattstrasse 1
On the German side:
phone: +49 7763 92170

address: Hauptstraße 28

phone: +49 7763 93990

address: Luttinger Str. 22
Go next