Launceston
Launceston
is the second largest city in
Tasmania
and is in the north of the state on the Tamar River. The city was settled in 1805 and has a population of around 85,000.
Get in
By plane
Launceston is approximately 50 minutes from
Melbourne
on the mainland. Daily flights fly from Launceston to Melbourne with
Virgin Australia
,
Qantas Link
,
Jetstar
and
Tigerair Australia
. Direct flights to Sydney are available daily and direct flights to Brisbane are available on selected days.
By car
Launceston is a hub of the highway system in Northern Tasmania. From
Hobart
,
Devonport
, or
Burnie
, stay on Highway 1, and make sure you are heading the right way.
Get around
The best way to get around Launceston is by car. Taxis are available, but may add up to be expensive; try to get a transfer when you are moving from the airport to your hotel. Car rentals are available for reasonable rates. There is also a
Metro bus service
which goes all through the town.
Bicycle is a reasonable way to get around Launceston and out the Gorge. Traffic is fairly quiet in town, and there is a good network of bike paths.
See
Launceston City Park - includes an enclosure housing a large number of Macaque monkeys
Historic houses and buildings including Macquarie House, Franklin House, Entally House, Clarendon House and the 'Old Umbrella Shop'.
Tamar Valley - wine-growing area
National Motor Museum

phone: +61 3 6396 6100

address: 1166 Ecclestone Rd, Riverside

100 species of animals.
Tamar Island
The Tamar Island Wetlands is a unique urban wetlands reserve 10 minutes' drive from the heart of Launceston in Tasmania's north.
Tamar Island has been Crown Land since settlement and up to the 1980s was leased to private and public operators. In the 1980s the Tasmanian Government purchased the wetlands area around Tamar Island, which was incorporated into the greater Tamar River Conservation Area.
An interpretation centre offers visitors the opportunity to learn about the value of the wetlands, along with a hikes that takes you through the wetlands,in bird hides and over to the historic Tamar Island.
Cataract Gorge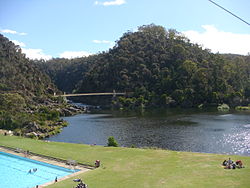 Cataract Gorge is 1 km from the centre of Launceston. There is paid parking at the entrance to the park, either all day or by the hour.
There are many walking tracks which skirt the side of the gorge, and cross it at a suspension bridge and a low level bridge.
You can swim in the gorge. The water can be quite cold, and there is a current, but with care you should be fine. There are constructed entrances to the water, and access is free. There is also an unheated swimming pool, and access to that is also free.
You can see the gardens and pergolas, and the peacocks walking around.
You can play on the playgrounds.
You can take a chairlift across the gorge, and walk back, or vice-versa, although going both ways on the chairlift is about the same price as a one way ticket.
There is a cafe on each side of the gorge, serving ice-creams, coffee, snacks, etc.
Do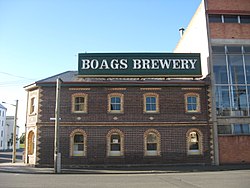 Cruise the Tamar River
Tour the surrounding wineries of the Tamar Valley

phone: +61 3 63326300

address: 39 William St

Tours leave weekdays (from 9AM; closed on public holidays) from the Boag's Centre for Beer Lovers located in the Tamar Hotel in the heart of Launceston. Bookings and fully enclosed footwear are essential.

phone: +61 421 819 373

address: 14 Brisbane St

Fun night walking around one of Australia's oldest cities. Unearth the eerie side of Launceston in the 19th century. Fascinating for history buffs. Bookings required.

phone: +61 3 6323 3383

address: 2 Invermay Rd, Invermay

Tasmania's largest sporting venue with a maximum capacity of 21,000. Watch a game of Aussie Rules or cricket.
Buy
Tasmanian Wool Products: Waverley Woolen Mills, The Sheep's Back (George St)
The Tasmanian Devil as soft toys, hand-puppets etc

phone: +61 3 6331 5506

address: Cnr Brisbane St and Tamar St, City Park

Australia's only museum collection of contemporary wood design, they run exhibitions and tours of crafts, design and art, nationally and internationally. A not-for-profit organisation with a mission to support and sustain design.
Eat
Budget
phone: +61 3 6331 5788

address: 25 Wellington St

Like a small food court with a good variety of dishes.

phone: +61 3 6331 4150

address: 272 Charles St

Good coffee and pastries in a quiet and relaxing area.
Fish and Chips at the end of the Wharf, past the end of the flood barrier when walking from town. Possibly the best fish and chips you'll ever have. Prices depending on fish and season.
Mid-range
Splurge
phone: +61 3 6331 4153

address: 2 Bridge Rd

Elegant and contemporary Tasmanian. Try the rye waffles.

phone: +61 3 6331 3330

address: 74 Gorge Rd

Indoor and outdoor dining in a beautiful setting. Peacocks roam about.
Quigley's.
Dockside.
Black Cow.
Drink
Launceston has several "olde worlde" UK style pubs, including The Cock and Bull and Irish Murphy's. In the city centre there are pubs on many of the street intersections.

Sleep
There are many motels, hotels and bed-and-breakfast establishments offering accommodation in the area.
The Old Bakery Inn

phone: +61 3 6331 7900

address: Corner of York & Margaret Streets

100-year-old converted bakery combined with the neighbouring townhouses from the same era. Rooms are simple but clean and well looked after. Plenty of parking on site.

phone: +61 3 6333 7555

address: Corner St John & William Streets

This Launceston hotel is within walking distance to the city centre, Launceston's seaport and Cataract Gorge.
Go next
Launceston provides a base to explore the northern part of Tasmania.
The historic town of
George Town
and Low Head lighthouse are a one-hour drive to the north along the Tamar River.