Laval
The city of
Laval
, conglomerated from 14 smaller municipalities in 2000, covers the island
Île Jésus
and some smaller islands to the northwest of
Montreal
. Largely rural, the city's main population centre is on the Autoroute 15 corridor and its southeast coast, which faces Montreal across the
Rivière des Prairies
.
Understand
Although a separately-administered city and a separate tourist region from Montreal, Laval is a suburb of the city of Montreal. Much of Laval consists of bedroom communities, shopping malls and big-box stores that need cheaper land than is available in downtown Montreal, making it car-friendly and of limited interest for tourists. There are hotels in Laval which are considerably cheaper than downtown Montreal, although if staying at one of these hotels, a car would be very useful.

History
Laval was named after the first owner of Île Jésus, François de Montmorency-Laval, the first Roman Catholic Bishop of Quebec.
The first European settlers in Laval were Jesuits who were granted a seigneury there in 1636. Agriculture began in Laval in 1670.
The only built-up area on the island, Sainte-Rose, was incorporated as a village in 1850, and remained as the main community for the remainder of the century. With the dawn of the 20th century came urbanization. Laval-des-Rapides became Laval's first city in 1912. Laval began to grow throughout the following years because its proximity to Montreal made it an ideal suburb.
The Quebec government amalgamated the whole island into a single city of Laval in 1965. At the time, Laval had a population of 170,000.

Get in
By car
From Montreal: Autoroute 15 (Autoroute des Laurentides) takes you directly into the centre of Laval. Autoroute 13 takes you to the western part of Laval, including the Chomedey area. Autoroute 25 takes you from the east end of Montreal into the eastern part of Laval via a toll bridge. You can also take a bridge to Laval via boulevard Curé-Labelle or avenue Papineau. The bridges to Laval can have very heavy traffic during evening rush hour.
From
Mont-Tremblant
or anywhere else in the
Laurentian mountains
: take Autoroute 15 southbound to Laval.
By subway
Laval is connected to Montreal by the orange line of the metro at 3 stations: Cartier, de la Concorde and Montmorency. Parking is available, but be sure to arrive early in the morning on weekdays.
By train
Train service from Montreal is provided by the
Agence Metropolitain de Transport (AMT)
, which operates two lines to Laval (one to the centre of the Laval, the other to the western tip.)
By bus
Although the metro system extends to Laval, it is still possible to get to Laval by getting off at Henri-Bourassa metro station in Montreal and taking the
Laval bus
across the bridge to Laval.
Get around
By car
The city is (more or less) laid out in a grid. Autoroute 440 splits Laval roughly in two, north and south sides. Autoroute 15 splits Laval roughly in two, east and west sides. An address with the suffix "O" or "W" (ouest or west) is west of Autoroute 15; the suffix "E" means east of Autoroute 15. If you are going north, address numbers increase; if you are going east or west, address numbers increase as you get farther from Autoroute 15.
The major north-south highways in Laval are Autoroute 13, Autoroute 15 (also known as the Laurentian Autoroute/Autoroute des Laurentides), Autoroute 19 and Autoroute 25. Other large north-south streets are Boulevard Cure-Labelle, Boulevard Chomedey, Boulevard des Laurentides, Boulevard le Corbusier, Boulevard Industriel. The major east-west thoroughfares are Boulevard de la Concorde/Boulevard Notre-Dame, Boulevard Levesque/Boulevard Cartier/Boulevard Samson, Boulevard Ste-Rose/Avenue Perron, Boulevard de Terrasses/Boulevard des Milles-Iles, Boulevard Saint-Martin, Autoroute 440, and Boulevard Dagenais/Boulevard Bellerose. (The "east-west" and "north-south" designations for these routes are not perfectly aligned with cardinal directions.)
By bus
The
Societe de transport de Laval
provides extensive service on the island of Laval and connects it with the Montreal metro system.
See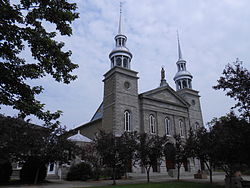 address: 2150, Autoroute des Laurentides

A space museum with a life-sized space shuttle cockpit. Also contains Space Camp Canada.
Do
Buy
Laval has many suburban shopping malls, such as Carrefour Laval (the largest), Centre Laval, and Centropolis. Prices are a little cheaper than downtown Montreal, although the cost of gas to travel there tends to negate the price advantage.
phone: +1 450 682-1440

address: 3535, autoroute Laval Ouest (Chomedey)

A collection of food stores under one roof, including three butcher shops, a fishmonger, and a delicatessen.
Eat
Sleep
Les Menus-Plaisirs, Restaurant-Auberge

phone: +1 450 625-0976

address: 244, boulevard Sainte-Rose (Sainte-Rose)

The inn has four rooms, four studio apartments, three apartments and a cottage.

phone: +1 450-902-3000

address: 1400 Maurice Gauvin St

phone: +1 450-681-9265

address: 1002 Boulevard Curé-Labelle

44 rooms in Chomedey, Laval, with air conditioning, fridge, Wi-Fi.
Go next