Lawrence (Kansas)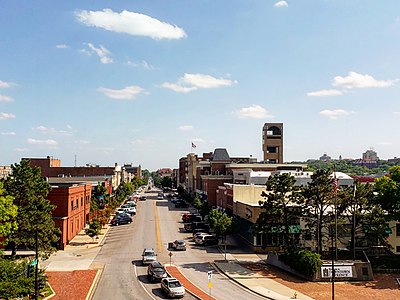 Lawrence
is a city in
Eastern Kansas
,
USA
along I-70, 35 miles (56 km) west of
Kansas City
, Kansas. It is home to the University of Kansas. Lawrence provides a mix of academics, bohemia, and small-town Kansas kitsch. It has been the setting of many movies and is a growing cultural hub in Kansas.
Understand
Lawrence is a college town with ideologically diverse residents. Two universities are located in the town - the older and more historic University of Kansas, with a campus spanning from downtown Lawrence to west Lawrence, and the federally funded Haskell University in southeast Lawrence. There are also many historic settings, as this city was among the first in Kansas and shaped the cultural and political landscape of Kansas for generations to come, at its founding. Today, it is a cultural hub in the state, with several theaters, restaurants, music venues, bars, clubs, churches, and landmarks. This town, and the surrounding county, is oozing with history from the pre-Civil War Bleeding Kansas era, and there is much to explore.
Watch
The Day AfterA 1980's movie about life in Lawrence before and after a hypothetical World War III.
Get in
By car
Interstate 70. On the north edge of town.
State Highway Kansas 10. Access from southwest metropolitan Kansas City on the south edge of town.
US 24 and US 40. East-west access from Topeka and Kansas City (24 immediately north of town and 40 through the center of town).
By bus
The K-10 Connector (RideKC Route 510). The K-10 Connector runs between Overland Park and Lawrence on weekdays. Services are limited during KU summer term and school breaks and holidays. $3 one-way.

Greyhound BusTwo buses run from Kansas City, Missouri to Lawrence before continuing to Topeka. The trip from Kansas City takes about an hour. Other buses run from Topeka and Wichita. After you arrive at the bus stop, you can catch the number 6 local bus to downtown Lawrence.
By train
Amtrak
provides one daily service via the
Southwest Chief
route. Westbound trains, from
Chicago
bound for
Los Angeles
stops just before midnight while eastbound trains rolls in to Lawrance early morning. The is at 413 E 7th St. There's no bus stop directly at the station, however 7th & New Hampshire station is just a few minutes walk away.
By plane
Kansas City International Airport (MCI

) 46 miles east-northeast. The closest airport to Lawrence with commercial airlines operating, and a major Southwest hub. Service also available on major airlines to large domestic hubs (Chicago, Atlanta, Dallas, Washington, Los Angeles, San Francisco, Minneapolis, Memphis, Detroit, Salt Lake City, Cincinnati, Cleveland, New York, Houston)

Lawrence Municipal AirportA small airfiled, no scheduled service, only corporate and private jets.
Get around
The central part of the city, consisting of the downtown, the KU campus, and the student-filled neighborhoods in between is easily walkable. The Lawrence Convention & Visitors Bureau's Visitor Information Center offers brochures for self-guided walking tours in the city. Outside of the central part of the city, cars are king. Cabs are cheap, though uncommon.
By bus
Lawrence has a fairly good and inexpensive bus system, known as the T. The fare is only $1 and will get you one transfer or you can pay $2.75 for a day pass. The website is on
Lawrencetransit
and there a bus to the overland park campus
k-10-connector
. The transit stops are on Google transit and searchable there, except for the k-10 connector.
By taxi
Jayhawk Taxi, 850 E 13th St, +1 785 843-8294, M-Sa Hotline Open at 8AM.
Ground Transportation Inc. 301 Maple St, +1 785 838-4500. $9 anywhere in town, 24/7 hours open.
Lawrence Taxi +1 785 304-6748. Th-Sa Part-time.
Uber is also available in Lawrence, as far as the south border of Douglas County, and up to Lecompton, Kansas.
By bike
The city is relatively bike-friendly, and has had a good reputation among the biking community.
See
The University of KansasBuilt on Mount Oread. Campus is simply beautiful and has been called "one of the most picturesque campuses in all of America." Walk around and enjoy a picnic next to Potter Lake, or visit historic Allen Fieldhouse on Naismith Drive, or Kansas Memorial Stadium on Fambrough Drive. Several of the buildings on campus are on the National Register of Historic Places.

University of Kansas Natural History Museum

phone: +1 785-864-4450

address: 1345 Jayhawk Blvd

See the Panorama of North American Mammals and Comanche, the famous horse.
There's an interesting rock mural on North Side of the river which was created by local artist Stan Herd. It is visible from the Massachusetts Street Bridge.

Liberty HallSee a film, theatre production, live concert, art show, wedding or any number of other things at the multifunctional Liberty Hall. (Serves Free State Beer on tap, including during films)

address: 1204 Oread Ave

community-run library of over 4,000 rare & radical books and zines).

Allen FieldhouseHistoric Allen Fieldhouse was built in 1955, named after Dr. Forrest C. "Phog" Allen, the most successful coach in Kansas basketball history, and recognized nationally as the "father of basketball coaching". The court is named after James Naismith, the inventor of the game of basketball, who was also the first basketball coach at the University of Kansas.

David Booth Kansas Memorial StadiumHome of the Kansas football team, Memorial Stadium is situated just north of Potter Lake, at the base of Campanile Hill, in the heart of Lawrence. Along with football games, the stadium also hosts summer movie nights, free of charge, open to the public.

phone: +1 785-841-4109

address: 1047 Massachusetts St

A history museum focusing on the history of Kansas and Lawrence, ran by the Douglas County Historical Society. The museum features permanent exhibits about Kansas history such as Bleeding Kansas and various changing exhibits. Its public spaces are fully accessible.

phone: +1 785 864-4710

address: 1301 Mississippi St
Do

Kansas Men's BasketballIf you haven't seen the Jayhawks play in the heart of basketball season, you're missing out on one of the best events in the area, even if you're not a huge basketball fan. People from all over Kansas come to Allen Fieldhouse to cheer on this nationally acclaimed team that has been to countless Final Fours and Sweet Sixteens in its long history. Make sure you buy tickets well in advance, since they sell out fast. During any Kansas Men's basketball game, home or away, Massachusetts Street will be alive with people.

Kansas Football. The Jayhawks play their home games in Memorial Stadium. In recent years, the football program has seen troubled times from coaching changes, but Memorial Stadium is regarded locally as one of the most underrated Division I stadiums in the country.
Kansas Soccer. The Jayhawks play women's college soccer at Rock Chalk Park in west Lawrence. They compete in the Big 12 conference.
Kansas Baseball. The Jayhawks play their baseball games in the heart of Lawrence, in Hoglund Ballpark, just south of Allen Fieldhouse.

Historic driving tourVisits many of the sites involved Quantrill's Raid (The Lawrence Massacre) in 1863. You can also see many of these sites on the Quantrill's Raid

phone: +1 785-842-8562

address: 798 North 1415 Rd

The park is located just outside of town and provides opportunities for boating, fishing, hiking, hunting, and camping.
Learn
University of Kansas, home of the Spencer Museum of Art, the Museum of Natural History (Dyche Hall), the "Lone Survivor" of the Battle of Little Bighorn, and the Dole Institute of Politics at 2350 Petefish Drive. The flagship university of the state of Kansas, and regarded as one of the most beautiful university campuses in the Heartland.

Haskell Indian Nations UniversityHaskell has served as an institution of learning for Native Americans since 1884.
Buy
Massachusetts Street is the downtown shopping district. One can find anything from incense burners to sporting goods. Allergy sufferers, take note: several local merchants (the Dusty Bookshelf, Love Garden Sounds, and Sunflower Outdoor) have resident cats. The 23rd Street in the south has many shopping places and Iowa/31th Street is home to Walmart, Target, Home Depot, Lowe's, Chick-fil-A, Hobby Lobby, Best Buy, and other big box stores.

Eat
phone: +1 785 856-2825

address: 814 Massachusetts

Delicious, locally sourced, minimally processed & hand-crafted pizza.

Pizza Shuttle

phone: +1 785-842-1212

Dirt cheap, open late. Everybody's top choice for post-bar dining.

Pyramid Pizza

phone: +1 785 842-3232

address: 701 W 9th St

Great pizza. Open Late. City-wide Delivery. Everyday walk-in special.

Bigg's on Mass

address: 719 Massachusetts

Barbecue.

India Palace

phone: +1 785 331-4300

address: 124 E. 10th St

Authentic Indian food. Lunch buffet every day.

Jade Garden

phone: +1 785 843-8650

address: 1410 Kasold Dr

Chinese and Vietnamese food. Delivery available for orders over $10.

Johnny's Tavern West

address: 721 Wakarusa Dr

Pizza, sandwiches and other bar food. Great place to watch a game or play pool.

Kokoro

phone: +1 785 838-4134

address: 601 Kasold Dr

Japanese grill and sushi.

Rudy's Pizzeria

phone: +1 785 749-0055

address: 704 Massachusetts

Unassuming location with great pizza. Free delivery.

Sylas and Maddy's

phone: +1 785 832-8323

address: 1014 Massachusetts

Sells Ice Cream

Tortas Jalisco

phone: +1 785 865-1515

address: 534 Frontier

Authentic Mexican food.

Thai Siam

phone: +1 785 331-2525

address: 601 S. Kasold Dr

Thai and Chinese food in what used to be a Subway (really).

Yello Sub

phone: +1 785 843-6000

address: 1814 W. 23rd St

Locally owned sandwich shop with a number of vegetarian options. Delivery available.

phone: +1 785 832-0001

address: 811 Massachusetts

Thai, Nepalese, and Japanese noodle shop. Prices are low, and the atmosphere is casual.

phone: +1 785-856-3682

address: 1007 Massachusetts St

Specializes in Asian-American food, as well as bubble tea. Karaoke rooms available.

phone: +1 785 832-2000

address: 743 Massachusetts St

Classic burgers, great fried chicken baskets, crinkle cut fries, oysters, and fried pickles

phone: +1 785 856-0543

address: 803 Massachusetts Street

Gourmet burgers, average price around $9.00 for a meal. $5.00 classic American burger basket 10PM to closing time.
Drink
Lawrence has a varied nightlife with a number of opportunities to see live music. For a calendar of upcoming shows, visit
Lawrence.com
phone: +1 785 841-LIVE

address: 737 New Hampshire

Live music venue featuring a range of local and national rock music.

phone: +1 785 843-4555

address: 636 Massachusetts

This microbrewery and eatery claims to be the 'First Legal Brewery in Kansas'. Monday nights offer $1.50 pints of tasty microbrew.

Fatso's

phone: +1 785 865-4055

address: 1016 Massachusetts A Pl

To have a beer and enjoy some live music most nights of the week. Wednesday nights are the busiest here and usually have the best drink specials.

Louise's

phone: +1 785-843-9032

address: 1009 Mass

One of the few Lawrence bars frequented by both locals and students, featuring pool tables, foosball, and a double-decker heated outdoor smoking deck.

The WheelCollege bar

phone: +1 785 749-7676

address: 946 Massachusetts St

Lawrence's home for local and national punk and indie rock. It's also has a collection of pinball machines and a large heated smoking porch to keep you from shivering while you smoke and swill your PBR.
Sleep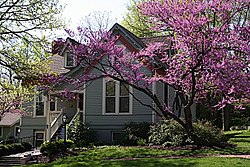 Mid-range
phone: +1 785-749-5011

address: 701 Massachusetts St

The Eldridge Hotel is on the National Register of Historic Places - as one of the buildings that Quantrill burned during his raid of the city in 1863. It was renovated in the spring of 2005. Room rates climb higher the weekend of KU graduation.

phone: +1 785-841-0314

address: 1000 Ohio St

A lovely bed and breakfast with rooms to suit most budgets. Within walking distance to the city center (and all the shopping and eateries on Massachusetts St.) and the University of Kansas. Delicious homemade breakfast that will give you a good start to the day. Helpful tourist information is provided by the owners upon request.

phone: +1 785-842-1200

address: 1200 Oread Ave

The Oread is a unique center for lodging, hospitality, business and social leisure activities.
Splurge
phone: +1 (785) 842-8800

address: 900 New Hampshire St

Great views overlooking the Kansas River

phone: +1 785 841-2700

address: 1 Riverfront Plaza
Connect
phone: +1-785-843-3833

address: 707 Vermont St

home to thousands upon thousands of books and media, as well as a free, growing video game collection.

Lawrence Post Office
Go next