León (Spain)
León
is a city in
Spain
, and capital of the province of the same name. It has a city population of about 140,000 inhabitants and a metropolitan area of 200,000.
Understand
The city of León is in the northwest of Spain. It is on the
Way of St. James
and has a vast cultural, historical and architectural heritage. León was founded in the 1st century BC by the
Roman
legion Legio VI Victrix, which served under Caesar Augustus during the Cantabrian Wars (29-19 BC), the final stage of the Roman conquest of Hispania. In the year 74 AD, the Legio VII Gemina —recruited from the Hispanics by Galba in 69 AD— settled in a permanent military camp that was the origin of the city. Its modern name is derived from the city's Latin name
Legio
. The Kingdom of León (established in 910 CE) was an ancient territory with a great Dynasty of Kings that would become kings of Spain after the union with the Kingdom of Aragon. The counties of Portugal and Castile were born as divisions of the ancient kingdom of León that remained independent until the union with Castile again.
Get in
By bus
ALSA
(+34 902-44-22-42) runs buses from
Madrid
several times a day (3.5 hr). Buses leave from
Estación Sur de Autobuses
at the metro station
Méndez Álvaro
, a round trip costs between €20-40 per person. There are also some direct bus connections from
Madrid Barajas International Airport
.
By train
Renfe
,
+34
902-240-202, operates train service to/from Madrid (2h 50 min). Trains leave from
Chamartin
(Madrid north station) to León several times a day.
There are also direct train connections to
Valladolid
(1h 40min),
Barcelona
(8h), and other Spanish cities.
By plane
León Airportdaily connections with Madrid and Barcelona. Flights are operated by (Iberia) with connections to main Spanish and European cities.
Taxi to the city centre costs between €20-25. There is also a public bus which costs €3, for the schedule, contact +34 987 219 656.
Nearby airports are
Valladolid Airport
(
VLL
) (125 km) and Asturias Airport (OVD) (170 km). ALSA operates daily direct services from Valladolid airport to León.

Get around

The city is not too big to see on foot, especially the main attractions, which are all quite close to one another.

See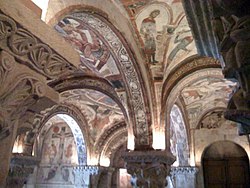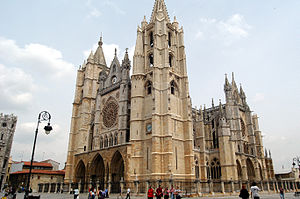 The city of León was founded by the Romans. Its name originates from the name Romans gave to the city, "Legio VII". Tourists who come to León can enjoy many monuments such as the
city walls
, the
gothic cathedral
or Roman monuments such as the
Church of San Marcelo
.
Santa María de León CathedralThe premier architectural attraction, completed in the late 16th century. Superb stained glass - one of the oldest and largest in the world. Try to be there when the sun is streaming through.

Church of San IsodoroBuilt in the 11th century, with the adjoining Pantheon of the Kings of León. The ceiling paintings in the latter are breathtaking. There is a small library packed with 10th, 11th and 12th century hand-written manuscripts, and the sarcophagus of King Ferdinand I (not the Ferdinand of Ferdinand and Isabella.)

Casa BotinesOne of the few buildings by Gaudi to be found outside of Barcelona.

(There's another one - Palacio Episcopal - in Astorga.)
Palacio de los Guzmanes, a 15th century palace.
Palacio de los Condes de Luna. It's under restoration.
Roman Walls near Plaza San Isidoro

MUSACThe new Museum of Contemporary Art.

Museo de LeónIn Edificio Pallarés, a 20th century building in Santo Domingo circus.

Fundación Vela ZanettiThe museum about Zanetti's paintings.

Astorga VillageAstorga sits on a spur of rock, with mountains to the north and west. It has extant city walls to the south, east, and west. You can walk along the walls to the south and gaze up in awe from one of the more scenic car parks to the north. Most camera crews doing Gaudi do not get as far as Astorga. The Bishop's Palace is a fantastic piece of non-functional design. Balconies open over halls, walls curve and the whole flows. More conservative than others of his design, but still too much for the bishops, who never lived in it. It also has a museum dedicated to the Pilgrim's Way, which is not worth seeing.
Buy
From the cathedral, to the Bernesga River, there are two main streets, Calle Ancha, and Ordoño II, full of shops. In the middle of Ordoño II there's Alcázar de Toledo Street with shops.

Eat
Within the wide range of
Leonese cuisine
the following dishes are the most representative:
Cecina
(cured, smoked beef),
morcilla
(a superb variant of blood sausage),
botillo
(a dish of meat-stuffed pork intestine), garlic soup, el
cocido leonés
(a mix of meat with vegetables and chickpeas, served after a vegetable-vermicelli soup) and
mantecadas
(a sweet).
Another very important part of the gastronomy of León are the
tapas
that you can get in most of the many bars in the city. The most important thing about these tapas is that they are free unlike in most cities in Spain. It is a very common thing to do to go "de tapas" or "tapear" i.e. to go for a few drinks ("un corto", which is a very small beer, "una caña", which is roughly half a pint of beer or "un vino," a glass of wine) just before lunch, but more normally as a light form of dinner.
Any tourist visiting León will enjoy
the ancient streets of "Barrio Húmedo"
. There it is possible to visit many bars in which tapas (for free) are served along with nice wines from "Tierras de Leon", "Ribera de Duero", or "Vino del Bierzo".
You can also visit some villages near Leon with vineyards such as
Valdevimbre
. There you will find
caves that are as old as 300 years
. Originally they were dug for wine cellars since they maintain nearly the same temperature year round. Today they are still used to make wine. Some of them have become restaurants or pubs.
The oldest cave-restaurant was opened in 1979 and it is called
La Cueva del Tunel
. It has a typical decoration with an Indian touch.
In
Los Poinos
you can find a mix between new cuisine and typical food from Leon.
In any of the
Cuevas restaurants
you will be able to enjoy the typical food from Leon such as
cecina
,
callos
,
morcilla
(blood pudding), etc. all those traditional place will be accompanied by local wines as
Pardevalles
, Tampesta, Barcillo or Los Palomares (inside the new D.O. Tierras de Leon).
Valdevimbre
is 23 km from Leon and you can drive there or get a taxi for approximately €25 from Leon.
Drink
Tierra de León is a Spanish Denominación de Origen (DO) for wines from the south of the province of León. This wines are usually done with the unique grape variety typical from Leon, the Prieto Picudo, although Mencía type of grapes are also used. The Tierra de Léon wine region consists of 36 vineyards (Bodegas), which produce 1.5 million litres of wine annually.
Go bar-hopping and/or clubbing in the barrio húmedo, a charming old neighborhood with narrow streets, with a concentration of pubs, discos, and restaurants. This area isn't usually very active during the day and can get fairly rowdy at night. However, despite how many people may be stumbling around drunkenly at 03:00, this neighborhood is very safe, even for single females late at night.

Sleep
Budget
Mid-range
Hotel Paris, Calle Ancha. 100 m to cathedral.
Hotel NH Plaza Mayor. Set in the middle of Barrio Humedo. 300 m to cathedral.
Splurge
Hostal de San MarcosA great deluxe hotel set in a gorgeous 15th century building.

Hotel Alfonso V Santo Domingo circus, town centre.
Go next
In León Province:
Outside León Province: