Le Claire
Le Claire
is part of the greater
Quad Cities
area, in
Eastern Iowa
.
Understand
Le Claire is a Mississippi River town of 3,765 (2010). It is named for Antoine LeClaire, who developed a large part of the Iowa Quad Cities on property that was given him by the tribes who originally laid claim to it. The town was the head of the Rock Island Rapids, a notorious section of the river that extended as far south as what is now downtown Davenport. River pilots were required to guide river traffic through the rapids, which impacted the early economic life of the town. The rapids were tamed by the development of the lock and dams on the upper river. The town is also the boyhood home of frontiersman Buffalo Bill Cody.

Get in
By car
Le Claire is a small town with interstate access. There is no mass transit or any other easy way to access the town. Most of the town lies north of the interchange of Interstate 80 and US Route 67. The exit is right after the Mississippi River Bridge. From the Iowa Quad Cities it is, for the most part, easier to access the town via US 67, which has great views of the
Mississippi River
. From the north side of the Quad Cities it is easier to use Interstate 80.
Get around
By car
Because Le Claire is a small town it is easy to navigate. Cody Road (US Route 67) is the town's main street and all establishments that a visitor would patronize is either on the street or just off of it. Caution should be excised when driving through the downtown area on summer weekends when many people visit. Traffic will be heavier, although manageable, and there will be many pedestrians. There is also railroad tracks that separate the downtown businesses from a large surface parking lot along the Mississippi River. Even though there are not a large number of daily freight trains on the tracks, caution should be exercised.

See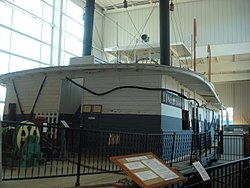 phone: +1 563 289-5580

address: 200 N Cody Rd.

The museum commemorates frontiersman Buffalo Bill Cody and contains memorabilia from his Wild West Show as well as antiques and other items of historic interest. It also houses the tugboat Lone Star, which is a National Historic Landmark.

Mississippi River Distilling Company

phone: +1 563 484-4342

address: 303 N. Cody Rd.

The tour includes viewing the entire distilling process, from the cleaning, milling and cooking of the grain, to the fermentation, distillation, blending, aging and bottling of spirits. The tour ends in the tasting room for free samples for patrons over 21 years of age.
Do
phone: +1 563 332-5072

address: 3851 Forest Grove Drive

18 hole golf course and restaurant
Buy
Downtown Le Claire is home to a variety of small, locally owned shops.
phone: +1 563 265-3939

address: 115 1/2 Davenport St.

A former fabrication shop now houses antiques and collectables, a new merchandise store, and serves as the home base for the American Pickers television show featured on the History Channel.

phone: +1 563 289-3316

address: 221 N. Cody Rd.

Features fine art, pottery, clothing, and jewelry.

Aunt Hattie's Fanciful Emporium

phone: +1 563 289-2228

address: 110 N. Cody Rd.

Features nostalgia items and gifts.

phone: +1 563 729-1002

address: 423 N. Cody Rd.

A multi-dealer antique shop, also offering expert appraisals and related services.

Dwellings

phone: +1 563 289-5038

address: 101 S. Cody Rd.

Features a mix of home decor, antiques, and artwork.

phone: +1 563 289-1348

address: 414 N. Cody Rd.

Handcrafted furniture and gifts.

Grasshoppers and the Vintage Vine Wine Cellar

phone: +1 563 289-4652

address: 208 N. Cody Rd.

Gifts displayed among antiques and painted furniture. The basement features a variety of wines along with wine accessory items.

phone: +1 563 289-9954

address: 123 S. Cody Rd.

Antiques, books, records, plants, linens, tools, etc.

LeClaire Antiques and Appraisals

phone: +1 563 289-2525

address: 118 N. Cody Road

Vintage Chic with a French Twist. Secret Garden open seasonally on side and rear of building with vintage garden decor.

phone: +1 563 265-5226

address: 114 N. Cody Rd.

Salsas, Sauces, Spices

phone: +1 563 289-1515

address: 606 N. Cody Rd.

Unique antiques, fine arts, and crafts all housed in a 1800s river home.

Penny Waters Studio

phone: +1 563 289-2504

address: 103 S. Cody Road

Home decor, unique gifts, interior design.

phone: +1 563 289-4663

address: 217 N. Cody Rd.

Upscale home furnishings and gifts.

Primitive Cottage

phone: +1 563 289-3332

address: 127 N. Cody Rd.

A gift shop with country furnishings and decor.

phone: +1 563 289-2502

address: 227 N. Cody Rd.

Purses, bags, jewelry, unique clothing and more.

Vignettes

phone: +1 563 289-3428

address: 102 S. Cody Rd.

A gift boutique with home decor and gifts.
Eat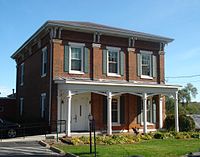 Drink
129 Coffee, Martini and Wine Bar

phone: +1 563 729-1035

address: 129 N. Cody Road

phone: +1 563 370-0546

address: 101 N. Cody Rd.

General store, coffee, tea & sodas

Riverview Roadhouse Bar & Grill

phone: +1 563 289-9969

address: 701 N. Cody Rd.

Bar & Grill

phone: +1 563 289-2509

address: 102 N. Cody Rd.

Le Claire Tasting Room where you can sample local award winning wines and keep the souvenir wine glass.
Sleep
Comfort Inn & Suites Riverview

phone: +1 563 289-4747

address: 902 Mississippi View Court

Hotel features free hot breakfast, free wireless high-speed Internet access, indoor pool, exercise room.

Holiday Inn Express Le Claire Riverfront-Davenport

phone: +1 563 289-9978

address: 1201 Canal Shore Dr SW

Hotel features Express Start Breakfast Bar, high-speed Internet access, business center, and indoor pool.

Latimer Bed & Breakfast

phone: +1 563 289-5747

address: 127 N. 2nd St.

phone: +1 563 289-5888

address: 1552 Welcome Center Drive

Hotel features SuperStart breakfast and high-speed Internet access.
Go next
Bettendorf and Davenport to the south offer more in the way of night life and bigger city amenities.