Leavenworth (Washington)
Leavenworth
is a resort town located within the
North Cascades
region of
Washington State
. In the summer, tourists roam the adjacent mountains and the Wenatchee River for recreation, while the town culminates into festivity in winter with dazzling lights and snow. Throughout the year, the faux Bavarian portion of the town entices everyone to an exquisite dining, drinking, shopping and cultural experience.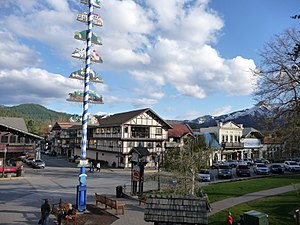 Understand
History
At the confluence of the Icicle Creek and Wenatchee River, the meeting point was a settlement for the Native Yakima, Chinook, and Wenatchi tribes where they hunt salmon in the river and game in the mountains, in an area stretching as far west as Lake Wenatchee.
The first railway route was built through Stevens Pass in 1892 and Leavenworth became a hub for the timber industry because of its perfect location, which is right after the steep slopes of the Cascades. The city housed the headquarters of then Great Northern Railway, whose railroad network spans from
Seattle
, Washington to
Saint Paul
, Minnesota. The city was in the decline in the 1920s however, as the main railroad activity shifted to Wenatchee.
The city founded its future in 1962 when Owen and Pauline Watson, owners of a business on Front Street, kicked off Project LIFE (Leavenworth Improvement For Everyone) to transform the city into a
mock Bavarian village
after their visit to the Danish-themed town
Solvang
, California four years earlier, inspired by the European Alps which is a fitting backdrop for Leavenworth. Since then, this Bavarian theme has been the main selling point for travelers across the U.S. to visit the area, either just to experience the culture, or as a transit point for recreation in the North Cascades.
Climate
Leavenworth has a typical climate of Eastern Washington — hot in summer and cold in winter — though slightly on the wetter side because of its close proximity to the Cascades that typically shields the town from the heaviest precipitations. Snow and chill is always expected in the winter, but it is mostly dry and crisp in all other seasons.
While driving in town may still be manageable with the snowy conditions, driving in and out of the city can be harsh, especially if you are going to the other side of the Cascades. See
§ Stay Safe
for more information.
Plan
Most of the shops are open roughly 10AM-6PM, and it would be a shame to miss all the window shopping. If you arrive in the morning, the town is pretty quiet before 10AM (without even many options for breakfast; consider eating at your hotel instead) but gets busy quickly. Meanwhile, most restaurants open at 11AM and close between 9PM and 11PM. Arriving in the evening, you'll likewise find there's not much to do other than eat and drink, and your options for those may be limited if you arrive too late.
Get in
By plane
The nearest airport from Leavenworth is
Pangborn Memorial
EAT
, 40 minutes east in Wenatchee, at which only Alaska Airlines offers flights from Seattle three times daily. General aviation make up the rest of the traffic. Seattle-Tacoma International Airport is three hours away on the other side of the Cascades where it has much more domestic & international connections.

By car
Leavenworth is located along the US Highway 2, to the west of the junction with US Highway 97, approximately 120 miles east from Seattle and 180 miles west of Spokane. If you are coming from Seattle, this will be the first major town you will pass after driving through the Cascade Mountains.
The nearest Interstate to the town is Interstate 90, from which you may exit at the US Highway 97 junction and turn left at its junction with Highway 2.

By train
address: 11645 North Road

Amtrak's Empire Builder, which runs from Seattle in the west to Chicago in the east, maintains a stop at this station, 2 miles to the northeast of downtown Leavenworth. Trains are scheduled to arrive and depart at 8PM eastbound and 6AM westbound. Shuttles by hotels can be arranged to pick you up from the train station.
By bus
Chelan County's Link Transit route 22

address: first and last stop at Icicle Rd & Hwy 2

The bus serves Leavenworth from Wenatchee on Mondays through Saturdays. See schedules and route maps for stop locations.

phone: +1 800 366-3830

address: (Bus stop) Icicle Kwik Stop at 585 W Hwy 2

Northwestern Trailways has one trip a day from Seattle (via Everett, Monroe, Stevens Pass, Skykomish, etc) and from Spokane (via Wenatchee, Quincy, Moses Lake, Ritzville) to Leavenworth. Tickets can also be booked on Greyhound.com
Get around
The downtown area of Leavenworth is along Front Street to the Wenatchee River, which also acts as the tourist portion of the city. While it takes a 15 min walk from one side to the other on foot, you may have to get there by car if your place of stay is outside the downtown area. Be aware that the parking slots, which are all free, can be outrageously hard to find by lunchtime on weekends and holiday periods when day-trippers arrive on wheels.
By taxi
phone: +1 509-548-RIDE

Taxis within the Leavenworth and provides shuttle service for pickup from Stevens Pass, Icicle Amtrak station, and trailheads around town.
See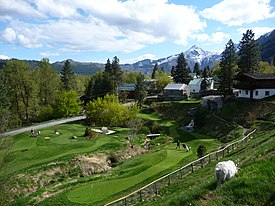 The obvious thing you'll want to do in Leavenworth is to just wander around the
Bavarian-themed village
. Between the buildings constructed in authentic Old World Bavarian architectural styles and the towering mountains in every direction, it really does feel like a German village in the Alps. The city's famous
Christmas lights
are up from Thanksgiving to around Valentine's Day (late November to mid-February), making it a spectacular sight at night.
Do
Leavenworth is usually a transit point for those who wished to explore the eastern slope of the Cascades, such as Lakes Wenatchee and Chelan and of course, hiking trails. That being said, there are still huge opportunities to have fun outdoors within the town proper.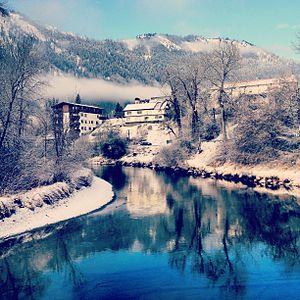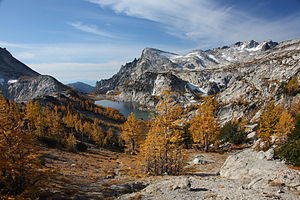 Hiking
The nearby Cascades offers hiking options for all levels, whether it is up the mountain or down the stream.
phone: +1 509 664-9200

address: 9101 Icicle Creek Road

The Enchantments is a basin of glacier lakes amidst the Cascade peaks, an extremely popular hiking and backpacking destination during the summer months. Hiking the trail is gruesome due to its elevation gain of at least 4000 feet and spanning 18 miles round trip! An overnight stay is highly recommended, but permits must be reserved in advance and are extremely difficult to get; the rare on the spot overnight camp permits are quickly snagged by late morning and not issued on Sundays while day hike permits are easily obtained. No dogs allowed. There are two ways to access the area: The Snow Lakes trailhead (4 miles out of Leavenworth) or the Lake Stuart trailhead (pass the Snow Lakes Trailhead, turn left at the direction to Bridge Creek Campground, keep right, and follow the road all the way to the end.).

Icicle GorgeA relatively easy 5-mile hike that takes you along (and crossing) the gushing Icicle Creek. Road turns to gravel (a National Forest road) on the way up.

Tumwater Pipeline TrailA relatively short and easy trail along the mighty Wenatchee River just off US-2 on what was once a water pipeline to power trains in the Cascade tunnel.
Festivals
address: Festhalle (Front St & 10th Ave)

Similar to the German culture it adopted, it is the largest festival in the area, with residents and tourists alike celebrating by drinking pints of beer, savor the German delights, and celebrate Bavarian culture.
Christmas is also popular with tourists, where the city is bright with colorful lights and snow often covers the ground.
Most festivals, big or small, from music to parades, are held in the summer.
Buy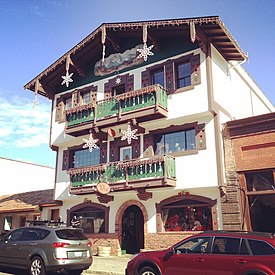 Virtually all the shopping options can be found on the Front Street strip. The following lists the shops that are worth both your pocket and an experience:
Grocery shopping
If you need that last minute grocery shopping trips for a cookout, the following stores should provide what you need:
phone: +1 509 548-5611

address: 1329 US-2

phone: +1 509 548-5435

address: 116 Riverbend Drive
Eat
Bavarian fares are meant to be hearty and filling, and thus contains mainly meat (especially sausages) with sauerkraut as a side dish. While people will most likely be looking for this option in Leavenworth, those who wish to have something else should not be running out of choices.
Budget
phone: +1 509-548-6592

address: 828 Commercial St

A cafe that looks like the fairy tale. Have a warm cup of coffee with assorted gingerbread and other flavor cookies to-go, or a wrap & salad as something more filling.

phone: +1 509-423-7788

address: 285 US-2

American pita, pastry, and light meal cafe. One of the most gluten-free and vegetarian friendly establishments in town. Breakfast served until 11.

phone: +1 509-888-4959

address: 636 Front St

Bavarian sausages made by their neighbor "Cured by Visconti" complimented with a selection of beers. Outdoor seating (with shades) and live music. Less crowded than Munchen Haus.

phone: +1 509-548-1158

address: 709 Front St

Affordable traditional Bavarian food (an extensive menu of delicious sausages in hot dog buns) and craft beers with outdoor seating. All the sauerkraut you can handle from an ample fixings bar that is mostly made up of big squeeze bottles of mustard and more. The menu includes a vegetarian (field roast) sausage option. The outdoor seating includes heating lamps.

Heidleburger Drive In

phone: +1 509-548-5471

address: 12708 US-2

Quaint drive-in burger barn with outdoor patio seating. Look for its curly fries or onion rings.
Mid-range
Splurge
Drink
Leavenworth's fortunate location at Washington state's wine and beer country gives you easy access to local produce at its many cellars and distilleries.
phone: +1 509-548-BREW

address: 935 Front St

Small local brew pub with both indoor and outdoor seating. Flights, growlers, and some small plates available. 21+ after 6PM. The Boot Jack IPA is a solid option after a long day of shopping or hiking.

Uncle Uli's Pub

phone: +1 509-548-7262

address: 902 Front St

Pub with BBQ food.

phone: +1 509-888-8809

address: 911 Commercial Street

The brewery offers classic wheat beer or infused with fruits. May be combined with hard cider for a sampler of five. Serves salads, pizzas, and ice cream as an accompaniment. They also have 32oz cans which may be filled with your personal favorite beer, for months of safekeeping. There are separate sides for families with children and those of legal age.
Sleep
Although hotels are abundant across the US-2 strip, families and large groups tend to rent cabins just outside the downtown area. For those that are
really
on a budget, there are B&Bs throughout town, in which many of them are some distances from downtown, in the area where the locals live. If your purpose is hiking the Cascades or the Enchantments, there are campgrounds down the road after Icicle St inside the Wenatchee National Forest, which requires a permit and are extremely popular (given by lottery system).
A couple non-chain hotels quote different rates depending on the season, with January-April and October-November being mostly considered as low season. During high season - which is usually December and May through September - expect prices to hike up by at least a third.
Budget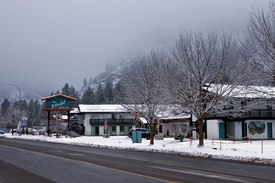 Mid-range
Splurge
Connect
Leavenworth shares the 509 area code with the entire area of the Washington state east of the Cascade Mountains.
Phone signals are generally trustworthy once one gets off the mountains. In the mountains, spotty reception can be found on the junction between US2 and entrance to Lake Wenatchee and right at Stevens Pass. Once one is off the downtown area however, expect rudimentary to non-existent cell services, even in the populated areas! Set your GPS or navigation on your phone before driving. Do not hold or use your phone while driving, even while stopped in a red light, as it is a punishable offence in the state.

Stay safe
Winter driving conditions, especially if you are coming from or to Western Washington, can be dangerous and slippery as snow can often fall in feet, though the main highway is often cleared quite quickly because of frequent patrons to the Stevens Pass ski resort. Snoqualmie Pass usually closes less frequently due to its lower elevation, though getting here would involve an hour-long detour along the Blewett Pass; Blewett lies at a slightly lower altitude than Stevens Pass but gets cleared less frequently. Apply the usual winter driving safety precautions and drive extra careful, or better yet check the weather forecast for expected road conditions and best times to travel. For the latest information about driving conditions on the mountain passes, please check the Washington State Department of Transportation (WSDOT) for Stevens Pass, Snoqualmie Pass, and Blewett Pass.
Watch out for foot traffic while driving on Front Street, especially on weekends and during peak season where there are more of it. Even though there are marked crossings, jaywalking is still common here. Pack some patience as you search for parking as it will be frustratingly hard to find during those times.
Go next
There are a number of locations for outdoor activities such as the massive Lake Wenatchee in the west via US Highway 2 and the state's largest lake, Lake Chelan to the north.
The small nearby town of Cashmere and its larger counterpart has a small distillery as well as a few bars and other attractions. Wenatchee is a large town to the east of Cashmere.
A drive along US 2 can take you to Seattle in the west (though the highway actually terminates at Everett) or Spokane in the east.
A drive down US97 will take you to Ellensburg and Interstate 90.
The nearest ski resorts are Stevens Pass on US2 to the west (mountain bound) and Mission Ridge south of Wenatchee.