Lebanon (Missouri)
Lebanon
is a city in
Central Missouri
.
Understand
Lebanon (pop 14500) was founded in 1849 and named after
Lebanon (Tennessee)
, the home of many of its original settlers. I-44 bypassed
Route 66
in this area in 1957.
During the heyday of the Mother Road, Lebanon had many independent
motels
and roadside businesses – some of which are now gone. The owners of a now-defunct Munger-Moss Sandwich Shop moved their business from
Devil's Elbow
to Lebanon at the end of
World War II
and added a motel in 1946 as their old location was to be completely bypassed by the new road. Oddly, their former location survived as the Elbow Inn (which is rebuilding after 2017 flooding) but the sandwich shop in Lebanon is now gone.
Get in
From I-44, exit on Millcreek Road to return to Route 66.

See
phone: +1 417 532-4338

address: 26250 Hwy 64A

Dining lodge, campgrounds, cabins, hiking trails and a spring branch stocked daily with rainbow trout for fishing.

phone: +1 417 588-2441

address: 262 N Adams

The Laclede County Historical Society operates the historic jail (built in 1876, with living quarters for the sheriff added in 1913) as a museum.

Route 66 Museum

address: 915 S. Jefferson
Do
address: 24649 Snowberry Dr.

Bowl A Rena

address: 620 W Commercial

High Prairie Bird Hunts

address: 15742 English Rd.

In addition to trap, skeet and clays and bird hunting, there is also a catfish lake and archery ranges.

address: 22304 HWY B

Races and a swap meet.

address: 925 S. Jefferson

Starlite Lanes

address: 1331 E Route 66
Eat
phone: +1 417 532-3201

address: 135 Wrinkle Ave

Small independent grocer who made sandwiches while you wait. Near the US66/Millcreek Road and I-44 crossroads. Established by Glen Wrinkle in 1950, it operated until his death (age 82) in 2005. His son re-opened it in 2007, but closed in 2009 during the Great Recession. For nostalgia's sake, his granddaughter re-opened it again in 2017 because some Route 66 traditions stubbornly refuse to die.
Sleep
Independents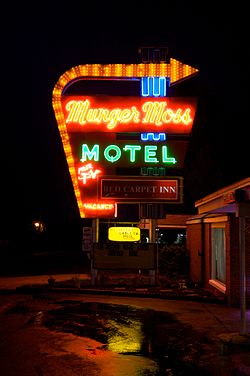 address: 11525 Highway 64

Brentwood Motel

address: 1320 S Jefferson Ave

Historic Route 66 Inn

address: 1710 W Elm St

phone: +1 417 532-3111

address: 1336 East Route 66

Vintage auto court with patio, outdoor pool, established 1946 in the heyday of US Route 66. Some individual rooms are decorated with photos on specific Route 66 themes; the huge illuminated sign was installed in the 1950s to compete with major chains then entering the market. Wi-fi, coffee. Office and Route 66 souvenir shop open 6:30AM-10PM.

Sand Spring Resort

address: 1996 State Highway 64
National chains
Best Western Wyota Inn

address: 1225 Millcreek Rd

Days Inn

address: 2071 W. Elm St

address: 2125 W. Elm St

Super 8

address: 1831 W. Elm St
Go next