Lecco
Lecco
is a large town on the southeastern end of
Lake Como
in
Lombardy
, a region in
Northwest Italy
.
Understand
Surrounded by tall mountains, Lecco is very picturesque and makes for a perfect start for mountaineering expeditions, but is not as popular as
Como
at the other end of the lake - which makes it quieter. It is in Lecco that the river Adda flows out of the lake Como, flowing further south through Lombardy, including
Lodi
, to join the river Po near
Cremona
.
Many of the artifacts in the city belonged once to the affluent Lombardian Manzoni family. Its most famous son, Alessandro Manzoni, immortalized the town in his novel
The Betrothed
. Despite its picturesque location, Lecco's economy for centuries been dependent on industry, not tourism. In particular, Lecco has been a major ironworking centre, with various companies owned by the Badoni family leading the way, manufacturing railway locomotives and constructing bridges around the world.
phone: +39 0341 295720

address: Piazza XX Settembre, 23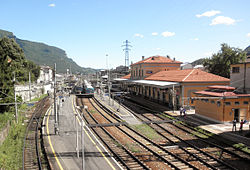 Get in
By train
Lecco is a railway hub within the Trenord network, so getting in by train is quite a natural choice. There are five railway lines that radiate out of Lecco.
One-way tickets on all of the connections operated by regional trains are between €3.50 and €5, except for services to Lombardian Alps, which are €6.50 to €9.
By plane
The closest airports to Lecco are those of
Bergamo Orio al Serio
and
Milano Linate
, both around 40-50 minutes from Lecco by road or rail (travelling by rail requires changing from local transportation from the airport to the main train station). The former is served by low-fare and holiday carriers from destinations all over Europe, while the latter has business-oriented connections from major European hubs served mostly by flag carriers.
Intercontinental flights to Lombardy, and more low-fare and full-service flights from Europe, arrive at
Milano Malpensa Airport
. Travelling from Malpensa on public transportation, you need to travel to Milan first (at least 30 minutes by express rail) and then continue to Lecco from there. By car, the journey is around 1 hr in theory, but in practice you need to go through the busy A8 and A4
autostradas
that are frequently clogged and require tolls.
Get around

The city center is situated at walking distance from the main railway station and it's also a pedestrian zone, so walking is the best option.
The lakefront walk, which runs approx from the city center to the hamlet of Pescarenico, is also a pedestrian zone.

By boat
See
Basilica di San NicolòStanding 96 metres tall near the lakeshore, it is by far the most characteristic landmark in town, and can be seen from far away. It was erected in the 8th century, and has undergone numerous reconstructions.

phone: +39 0341 481248

address: Corso Matteotti 32

It has thr Museum of Natural History, the Archaeological Museum and the Civic Planetarium.

Palazzo delle Paure

phone: +39 0341 286729

address: Piazza XX Settembre 22

Built in 1905 in eclectic neo-medieval style. It hosts a collection of modern art and temporary exhibitions.

Torre Viscontea

phone: +39 0341 282396

address: Piazza XX Settembre

This big tower is the only remnant of former fortifications.

Ponte di Azzone ViscontiA bridge built by Azzone Visconti between 1336 and 1338 on the river Adda.

Santuario di Nostra Signora della Vittoria

address: Via Azzone Visconti

A massive church built in 1932 in memory of the fallen of the Great War.

phone: +39 0341 481247, +39 0341 481249

address: Via Guanella 1

Dedicated to Alessandro Manzoni, an Italian poet and novelist. The villa hosts Museo Manzoniano and Galleria Comunale d'Arte.
Do
Hiking is a popular sport in Lecco, as the city is literally surrounded by mountains. You can choose one of the many mountains that surround the city, like the Resegone (which means Big Saw, for its jagged shape) or the Grigna for a beautiful trip.
Lecco mountains offer well maintained paths and many mountain huts to provide a base for your journeys. Usually at mountain huts you can find food, beverages, restrooms and accommodations if you plan an overnight journey. As there are many path to choose from and they can vary from easiest ones to the most strenuous, it's better to get a map and plan your trip in advance. The tourist office can help you to plan your trip.
Unfortunately, there are not many places which can be reached by a public transport, here is one of them:
Cableway Lecco - Piani d'ErnaPiani D'Erna is a locality up the mountain above the city. If you don't like to walk you can enjoy the stunning view of the lake and the surrounding peaks, rest on the grass or just stroll around relaxing. If you are a hiker, from Piani d'Erna you can find many beautiful paths to the Resegone, to Piani di Bobbio and other destinations. Schedule and prices for the cable car can be found here and bus timetable for bus number 5 are here. The bus tickets must be bought in advance: there is a newspaper kiosk in the train station that sells them (€1.30 each, buy the return ticket there as well).
Drink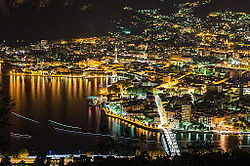 Sleep
phone: +39 0341 840125 840583

address: a Provinciale 1, Crandola Valsassina

Hotel Sassi Rossi is outside of Lecco, in Valsassina near Lake Como.

phone: +39 0341 238000

address: Via A. Visconti, 84

Overlooking Lake Como. Rooms are comfortable and many amenities are provided.

Bed And Breakfast Partenza Funivia

phone: +39 0341 499244

address: 34 Prealpi Street

A beautiful bed and breakfast near the valley station of the Piani d'Erna cableway.