Leeds/Central
Central
district of
Leeds
. It contains the following notable areas:
Civic quarter - north of the railway station, focussed on Millennium Square. Many museums and galleries can be found in this area as can two major educational institutions.
Central shopping district - north and north east of the railway station.
Exchange quarter - east of the railway station, centred on the Corn Exchange. Home to many quirky independents, bars and cafes.
Gay Village - east of the railway station around Lower Briggate.
Financial district - north west of the railway station. The attractive Georgian-era Park Square is at the centre.
Riverside - south of the railway station. The converted granaries are now home to shops and restaurants, while new developments bring upmarket shopping to Leeds. The Royal Armouries museum can be found at Clarence Dock.
Holbeck - south of the railway station. Once the industrial heart of Leeds, this district has been regenerated into a creative industries quarter with trendy bars spilling into cosy public spaces.
See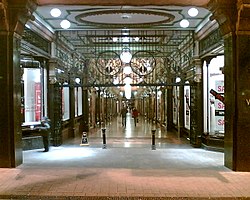 Victoria Quarter including County Arcade

address: Briggate

When the Victorian civic authorities sought to improve the sights and foul smells of Briggate and the city centre, they demolished some of the city's dirtiest yards, alleyways, shambles and lanes and built covered shopping arcades filled with fine establishments. These catered for the refined tastes of the growing moneyed classes of Leeds. This rebuilding continued into Edwardian times and the legacy is some of Europe's finest, most elegant shopping locations. Today these arcades are home to some of the most exclusive designer shops in Great Britain (Vivienne Westwood, Hugo Boss, Luis Vuitton and Harvey Nichols to name a few).

address: Vicar Lane

This traditional British market is largest in Europe. Housed in an opulent late Victorian palace to commerce, it has both indoor and outdoor stalls. Marks and Spencer had their first establishment here called, 'Marks Penny Bazaar'.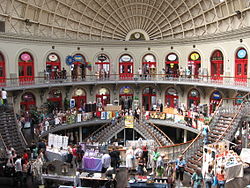 address: Call Lane

Shopping in surroundings to rival any of Leeds' fine arcades. Located just to the south of Kirkgate markets on Vicar Lane. Designed by Cuthbert Broderick and architecturally based on the Paris corn exchange. A largely elliptical building, crowned with a great glass dome roof, that allows light to stream in even on the greyest Yorkshire winter mornings - necessary because grain traders required good lighting to determine the quality of the grain. (Broderick was also architect of Leeds town hall and the Leeds Mechanics' Institute, Millennium Square, Two shops designed by Broderick still survive opposite the Mechanics Institute on Cookridge Street, now converted into a cocktail bar.)

St Pauls HouseA stunning building built in an ornate Middle Eastern style, with minarets, complex stone carvings, and colored tiles on the facade.

Park SquareA lovely Georgian square reminiscent of Dublin, and is often an overlooked haven of tranquility in the city centre. (Hard to find without a map)

City SquareWith old Post Office and imposing Queens Hotel.
Churches
address: Cookridge Street

Small, but an extremely interesting example of an Arts and Crafts, 19th-century Catholic cathedral - unique within the UK.

address: New Briggate

Hidden away within peaceful gardens lies this true gem, built just before the English Civil War, it has beautiful ornate woodwork in its charming interior, and architecturally it is an extremely rare example of a 17th-century double nave design.

Oxford Place Chapel

address: Oxford Place

Lovely 19th-century, red-brick baroque church.

address: Kirkgate

An attractive and fairly large neo-gothic church with a renowned choir and concerts from time to time. During the rebuilding of the Parish church in Victorian times, the original Saxon crosses where Leeds folk would have worshipped in the 8/9th centuries (well before the first church of Leeds had been founded) were unearthed in the medieval tower and is permanently on display inside.

address: Boar Lane

An unassuming location and exterior hide an elegant baroque interior, built for the merchant class by subscription and donation so they could worship well away from the lower working classes of the city. The Iconic spire of Holy Trinity has dominated the skyline of the city for hundreds of years and was restored in 2006/7.
Do
Theatre & comedy
phone: +44 113 376 0318

address: 3 Millennium Square

Home to the city's impressive range of amateur dramatic and musical groups, including the acclaimed Leeds Youth Opera

phone: +44 113 243 0808

address: Swan St

World famous and has even had Charlie Chaplin tread the boards. Home to a mix of shows.

phone: +44 844 848 2700

address: 46 New Briggate

Major shows (often straight from the West End); also this is the home of the world famous (and extraordinarily good) Opera North who perform a wide repertoire of operas and operettas.

phone: +44 113 213 7700

address: Playhouse Square, Quarry Hill

More adventurous and often performs world premiers and encourages local talent - well worth a visit. Lucky travellers may arrive in time for one of the themed, almost festival-style programmes.
Cinemas
address: The Light Plaza, The Headrow, city centre

Modern 13-screen multiplex cinema with huge screens.

address: Trinity, Briggate, city centre

Cinema complex in the Trinity shopping centre.
Eat
phone: +44 113 245 5667

address: St Peter's Square, Quarry Hill, city centre

An expanding Bradford-based chain of quality curry houses. Traditional Indian and Pakistani cuisines available

phone: +44 113 245 6566

address: 15 Eastgate, city centre

A chain of excellent curry houses. Try the masala fish!

phone: +44 113 243 8243

address: 42 Call Lane, exchange quarter

One of the oldest establishments in the Exchange Quarter, with a friendly-relaxed vibe and food to die for at very reasonable prices (the desserts are especially delicious).

phone: +44 113 243 0905

address: Criterion Place, Sovereign Street,city centre

Wonderful Italian food served in a fantastic Art-Deco restaurant - packed with local regulars who know a good thing when they eat it!

Little Tokyo

phone: +44 113 243 9090

address: 24 Central Rd, Exchange Quarter

Multi-award winning Japanese place.

phone: +44 113 242 9688

address: Electric Press,6 Great George Street, City Centre

Highly recommended Chinese restaurant.

phone: +44 113 244 0400

address: The Light, 44-48 The Light The Headrow, City Square, city centre

All-you-can-eat buffet restaurant on Headrow.

phone: +44 113 244 4496

address: 81 Kirkgate, City Centre

Fantastic authentic Iranian cuisine.
Splurge
phone: +44 113 220 6060

address: Victoria Mill, Sovereign St

Owned by world famous chef Raymond Blanc.

Fourth Floor at Harvey Nichols

phone: +44 113 204 8888

address: Victoria Quarter, 107-111 Briggate

Renowned Leeds branch restaurant has been going strong for years with an innovative menu tailored to the seasons. Despite the swanky location, it is surprisingly unpretentious and not ridiculously pricey.

phone: +44 113 244 0108

address: The Basement, Quebec House, 9 Quebec St, financial quarter

Fantastic dining experience below street level in this exclusive-but-well-worth-it restaurant. Does a very good value early bird menu, but you need to book in advance at the weekend.
Cafés, coffees and light meals
As well as a plethora of fine restaurants, Leeds also has a huge range of cafés and places for a drink or light bite. Of course there are countless Starbucks, Caffe Neros, Costa Coffees, etc. but there is also a strong showing from independent places. Many of the above restaurants will do smaller meals and lunch menus during the day but here are a pick of some Leeds cafés:
address: City Square; The Light Plaza, The Headrow and Swan Street, all city centre

Rapidly expanding Leeds bagel chain, with a massive range of bagels and fillings, all extremely tasty.

address: The Light Plaza and Call Lane

An espresso bar that is open until 10 or 11PM most nights. Excellent coffee and good food.

address: Briggate, City Centre

High quality treats that won't break the bank.

address: 41 St Paul's Street, financial quarter

Top quality sandwich deli and juice bar.

phone: +44 113 242 8313

address: 10 Grand Arcade, City Centre

Quality vegetarian café with a relaxed atmosphere.

Tiled Hall Café

address: The Headrow, City Centre

A magnificent tiled hall linking the city library and city art gallery next to the Town Hall. A must for any visitor, and pop in the gallery and library for a free look round.
Drink
Pubs and bars
phone: +44 113 245 5432

address: 43 Kirkgate

A 'locals' pub.

phone: +44 113 242 9977

address: Electric Press, 12 Great George Street, City Centre

High-quality champagne bar.

Fab CaféGreat place to visit if you like your music away from the mainstream, and they have what seems to be an original 'Star Wars: The Trilogy' arcade cabinet!

phone: +44 113 243 1110

address: 29 Call Lane, City Centre

Thought of by many as having the best drinks in the city, and is on one of the city's busiest bar strips.

phone: +44 330 111 0010

address: 36 Call Lane, City Centre

Sexy and stylish, has bucket-loads of atmosphere and great drinks.

Milo

address: 10 Call Lane, City Centre

Bohemian, has bucket-loads of atmosphere and great drinks. DJs and often a bit of dancing too.

phone: +44 845 611 8643

address: Northern Quarter, 18 Merrion St

Old favourite still going strong with a wonderful, friendly atmosphere and drinks to die for.

phone: +44 113 242 4540

address: 24 New Briggate, City Centre

Unrivalled beer selection! Was named best place to drink in Britain by The Observer.

The Palace

phone: +44 113 244 5882

address: Kirkgate

phone: +44 113 243 4590

address: Bishopsgate Street

Real ales.

Victoria Family and Commercial Hotel

phone: +44 113 245 1386

address: 28 Great George St

A refurbished Victorian gem.

phone: +44 113 245 3950

address: 4 Turk's Head Yard

A great 18th-century historic pub, one of the most impressive (and oldest) in Leeds.
phone: +44 113 383 8800

address: 6 St. Peter's Square, Quarry Hill

Famed for its diverse range of quality live music, including a strong jazz offer. With bar and food.
phone: +44 113 295 6060

address: 76-78 North St

Laid back, loungy bar, also does great food.
Clubs
phone: +44 113 242 7353

address: 2 Central Rd

Regularly voted the best club in the city, it has a range of quality nights out playing excellent music in easy-going yet chic surroundings... expect everything from jazz to reggae to hip hop. Featuring live Comedy every Saturday evening and live music at The Sunday Joint every Sunday, HiFi is the truly diverse venue that every city deserves!

phone: +44 870 122 0114

address: 8 Heaton's Ct,

Very trendy. Ranging nights, from Glasshouse to Purrfect Electro this has it. It also has some gay nights.

My House

address: Brick St

Home of one of the UK's biggest club nights: Back to Basics (Sa).

phone: +44 113 246 1030

address: 11 Hirst's Yard,

Great Thursday nights (Habit) and great weekends sometimes too! Although Fridays and Saturdays are to be avoided unless you know it will be busy, it's not really a Friday or Saturday night place.

phone: +44 113 234 0980

address: 2-8 Call Lane

Wire pushes quality underground music in a personal setting. The club is powered by a full Funktion One Sound system, fuelled by an eclectic range of spirits and beer from around the globe, and is a favourite home to world class DJs.
Sleep
Budget
Hotel ibis budget Leeds Centre

address: 2 The Gateway North, Crown Point Road

phone: +44 113 345 3363

address: 83 Kirkgate, LS2 7DJ

A hostel with a twist. Each room exhibits works by local artists, which understandably makes this more expensive than your average hostel, but not bank-breakingly so.

phone: +44 1132 459046

address: 1 Lisbon St, LS1 4LY

Perhaps Leeds' only true backpacker hostel.
Splurge
Self-catering
A useful alternative to hotels can be to stay in self-catering accommodation. There are a number of serviced apartment providers in Leeds, with many apartments in the city centre.
address: Whitehall Road

Over 30 apartments available, in 9 apartment blocks. All apartments are in city centre locations, and all are en-suite.
Go next
Other districts of Leeds: