Leh
Leh
is the capital of the
Ladakh
division of the state of
Jammu and Kashmir
in
India
.
Understand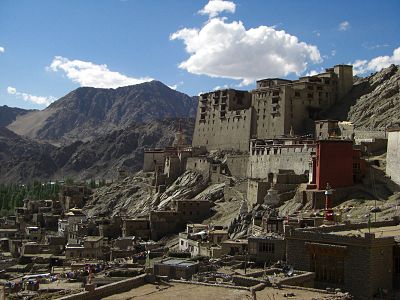 Leh is in the Indus river valley, at a crossroads of the old trading routes from
Xinjiang
,
Tibet
and
Kashmir
. There is a pass that links it directly to
Khotan
. The city's importance as a trading town slowed down with the partition of
British India
, and ended with the closure of the border in 1962 during the Sino-Indian war. Since opening to tourists in 1974, it has become a bustling tourist town, with many Kashmiri traders. Since 2000, Indian tourists have been visiting Ladakh, with a dramatic increase in 2010 after the film
Three Idiots
.
It's a small town, so it's easy to get most places by foot. The old town is a compact area of mud brick houses and narrow lanes directly to the east of Main Bazaar. Changspa is the agricultural "suburb" northwest of the centre, with many guesthouses.
The main Bazaar's elevation is approximately 3,555 m (11,490 feet) and Changspa is higher, so take it easy on your first few days there or risk possible
altitude sickness
. Even those experienced with high altitude might have some trouble.
Winters are very cold and due to the drop in tourism, many shops, hotels and trekking companies will be closed. If you plan to visit during the winter and are an independent traveller, double check all arrangements (call your hotel instead of booking online).
Get in
There are two roads into Leh: one from
Manali
in
Himachal Pradesh
in the south and one from
Srinagar
in the west. Both routes are equally spectacular in different ways, and both are time-consuming with winding, narrow roads and numerous military checkpoints.
The main advantage of taking the road from Srinagar, covering a distance of 434 km (270 mi), is that it runs at a lower altitude, and thereby reduces the risk and severity of
altitude sickness
. It is also open longer - normally from the beginning of June to October - and follows the traditional trade route between Ladakh and Kashmir, which passes through many picturesque villages and farmlands. The disadvantage is that it passes through areas of higher risk of militant troubles. It takes two long days, with an overnight stop in
Kargil
. Tickets cost ₹370/₹470 on ordinary/deluxe buses.
The route from Manali to Leh, covering a distance of 473 km (294 mi), is the one more commonly taken by tourists. It takes two days, normally with an overnight stop either in Keylong (alt. 3,096 m) or in tent accommodation in Sarchu (4,253 m) or Pang (4,500 m). Making the first stop in Keylong drastically reduces the risk of altitude sickness (AMS). It traverses one of the highest road passes in the world and is surrounded by wild, rugged mountains. The scenery is fantastic, though it is definitely not for the fainthearted. This historical trade route was linked to
Yarkhand
in China, severed by the India-China war in 1962, and later was transformed into a military supply road. Reliable access is limited from mid-June to the end of September, as it is blocked by snow for the rest of the year.
Clearing of snow on both these roads starts some time in early April. Once the whole road is cleared of snow and has been opened for public transport, this is announced at the
official website of Leh
.
By bus
State buses run from Srinagar and also privately operated deluxe buses. The HRTC bus from Srinagar to Leh cost ₹952 (August 2017). From Manali, Himachal Pradesh Tourist Development Corporation (HPTDC) operate Deluxe buses that stop overnight in Keylong, between July and September. Costs ₹2,700 (August 2017). Himachal Road Transport Corporation (HRTC), the state run buses, ply the road during the officially open period, allowing you to stop in a number of places along the way. Total cost ₹173 (Manali-Keylong) + ₹539 (Keylong-Leh) (August 2017). Private buses stop in Keylong, Darcha or Sarchu - the last alternative (800 m higher than Leh) involving a high incidence of altitude sickness.
It is possible to book tickets direct Delhi-Leh, but the best option is to break off the journey in Manali and at the lower end of Lahaul: Sissu, Keylong (main population centre) or Jispa; all around 3,100 m altitude.
The Leh bus station is chaotic and poorly organised. There are two sections, one for local transportation within Ladakh, and one for the state run buses.
The local buses get exceptionally crowded, times of departure fluctuate greatly, and there is no ticket office (just board the bus, and pay to the conductor). When planing a trip to a destination in Ladakh ask around to find when the departure time roughly is, and show up at the station half an hour early; ask people there what bus to take, don't trust the destinations marked on the buses; take a seat and wait for the bus to depart. Then expect to spend at least an hour at the bus station.
The state buses run to Srinagar, Manali, and even a direct service to Delhi (3 days away), there is a ticket office, and bookings are taken days in advance. The process here is more straight forward and less time consuming.
By jeep
The fastest way to get to Leh from Manali is by 'jeep'. Shared jeeps do the trip in one long day (of about 20-24 hours) as opposed to two short ones on the bus. Keep in mind that all single day rides comes with a risk of being stranded near five thousand metres without being acclimatised, with severe altitude sickness as a result. The journey costs up to ₹, for a seat on a shared jeep. During the high season tickets for the jeep rides must be bought in advance of the day of departure and the main street in old Manali is full of ticket touts, you won't have to find them for yourself.
Leaving Manali before dawn, arrival in Leh is sometime after sunset. Although this is the longest and most uncomfortable car journey you will ever take, it's an experience unparalleled in India. Crossing over the five thousand metre passes affords views of stunning and the bizarre territory. It is advised to take a front seat in the jeep and do not allow yourself to be seated in the boot. These seats (in the boot) are inward facing and 24 hours sitting on one of those will take all the pleasure out of the trip.
Privately hired jeep allows the luxury of stopping wherever you like, and allow you to decide on how many people you will travel in your group.
If you are coming from Srinagar, go to #1 taxi stand in town. You can either book direct to Leh or book your seat on sumo taxi jeep to
Kargil
for ₹500, Stay overnight then book your seat for Leh from Kargil and pay ₹400 upon arrival in Leh but this is a lot of messing around and accommodation in kargil is often of poor value. Get them to drop you at Fort Road which is the heart of the tourist area and accommodation is close by. Ask for middle seat in the taxi as it's too crowded in the front and too uncomfortable in the back.
If you are coming from Leh, you can buy tickets either from various agencies in the town, or directly from office located in bus station which is in the first floor of the northern (uphill) building, doors facing away from the buses. Price was ₹1,500 for front seat in September 2009, and the ride down to Manali took 23 hours starting at midnight.
By truck
It is also possible to travel between Leh and Manali by truck. These trucks ply the route when it opens in summer and they will be no new sight for anyone who has been in India for even a few days. Making the 490 km (304 mi) journey in the cab of one of these trucks is an experience; they are not as comfortable as the jeeps, nor do they give as good visibility as either jeeps or buses, and take anywhere up to 3 days to complete; but sleeping in the cab and eating the same food as the locals is worth it. You can pre-arrange truck drivers in Manali by going to the main truck stop in the new town. Here the drivers stop on their way from Delhi to Leh and will be more than happy to give you a ride for ₹500. Make sure you do not pay before you travel. In Leh there is a similar truck park. Try to pick a truck with the fewest passengers already otherwise your trip will be even less comfortable. Those staying longer in Ladakh are likely to find themselves traveling by truck at some point, and probably don't need to go out of their way to take one.
Note for hitchhikers: because of scarce public transport trucks commonly take paying passengers- and most truck drivers will see no reason you should not pay either; some will ask even more than the comparable bus price so hitchhiking can be a dispiriting experience
By motorcycle
The road from Manali to Leh is popular with bikers. Motorcycles are available for rent at Manali. A popular place is Hardev Motors, behind the Private Bus Parking Ground. Also Into Himalayas, near Manali Mall Road is a good place for bikes, especially Royal Enfields.
Bike Rentals Manali
in Vashisht rent out Pulsars and Royal Enfield.
When biking to Leh it is advisable to travel at a slow pace to allow acclimatization. A suggested itinerary is: Day 1 Manali - Jispa (110 km; 68 mi), Day 2 Jispa - Pang (130 km; 81 mi), and Day 3 Pang -Leh (130 km; 81 mi). Essential supplies include: puncture repair kit, spare clutch cables and some good carriers (to hold luggage). The next bike workshop after Manali is Keylong (110 km; 68 mi) and then at Leh (400 km; 249 mi).
By plane
Kushok Bakula Rimpochee AirportPlanes fly year round and are the only option in the winter. Book early and allow at least a few days of flexibility as flights are often delayed due to weather conditions. Air India, Go Air, SpiceJet and Vistara have daily flights from Delhi. Air India flights are also available from Srinagar, Jammu and Chandigarh. Go Air serves Mumbai and Srinagar.
Those arriving by air are strongly advised to rest for at least one day in order to adjust to the high altitude. (See article on
altitude sickness
)
Only prepaid taxis run from the airport, charging ₹400 to the city centre. Taxi drivers will insist a prepaid taxi is the only way to get to there, but upon exiting the airport gate, buses running to the centre cost ₹10.
By train
The closest train stations are
Pathankot
or
Chandigarh
, both at least three days away by bus. A new station added recently is
Udhampur
which is linked by rail to Jammu. Please check the Train schedule as trains may not operate daily.
Jammu is another nearest railway station, which is around 734 km from Leh. As the city doesn't have any railway station, train travel is impossible. Tourists should take hire cab or take a bus both of which require 2 days to reach at Leh.
Get around
Leh is so small that you can cover enough places with the town by just walking. Another notable exception being the airport, for which it's advisable to take a prepaid taxi for around ₹400, although a bus can be easily taken to and from the airport from the city centre. Minimise physical exertion on first few days so as to lower the risk of becoming sick.
By bus: Long distance and local public buses leave from main bus station of Leh. Village buses generally leave from Leh during afternoon while return during the early morning.
By bike: Various places on main Bazaar and Changsp Rd rent motorcycles. But Leh, Phyang and Choglamsar are the only places with petrol stations. Make sure you are adequately insured with third party claims before renting any private vehicle.
By taxi: They have fixed prices (updated every 2 years) and can be arranged from the taxi stand along Fort Rd. When available, you may also purchase a copy of the fare-booklet for ₹20.
See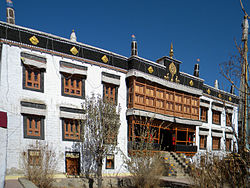 For such a historic site and popular tourist destination, Leh has surprisingly few tourist sights (though a great number more are accessible as day trips):
Donkey SanctuaryIs just off the road leading to Khardungla Pass. The public is encouraged to visit the sanctuary and friendly signs will direct you to the sanctuary from the centre of Leh. It is no more than a pleasant 5 to 10 minute stroll from the main road to the Sanctuary and the artistic surprise awaiting you is well worth the effort. It is open to the public throughout the day and donations and juicy carrots are most welcome and used exclusively for improving the lives and welfare of these wonderful animals.

Khardung-LaCommonly but falsely claimed to be the world's highest motorable road (approx. 42 km or 26 miles from Leh town), on the road going to Nubra valley. The romance of the Silk Route still hangs in the air as you cross the formidable Khardung La (pass): the highest 'motorable' pass on the planet that connects Leh to the Nubra Valley. The road from Leh rises steeply to meet Khardung La and then dramatically plunges into a whirlpool of bends and turns to gradually unfold itself along the rushing Shyok and the Nubra Rivers.

Palace of the King of LadakhThe most noticeable building in Leh, the palace was built in the 17th century, and now undergoing restoration. There's not much to see inside, but there are good views outside.

Pangong TsoA beautiful high altitude lake at 4,350 m with deep blue waters, surrounded by tall mountain peaks. It lies on the Indo-China boundary, with only one fourth of the lake being in India. The road to the lake passes through Chang-la pass, claimed to be at 5,425 m. It's a five hour drive (149 km) from Leh. There is a small camp on the way where you can do a yak safari. The passage is very tough to cross by car, so a four-wheel drive car is recommended. Experienced bikers should not have any problem. Day return trips from Leh avoid the AMS issue, but you won't be able to see much during your 60 minutes stay there. Overnight trips directly from Leh are outside safety guidelines. The safe and comfortable option is to do this trip at the end of your stay in Leh, and with an overnight stop at Tangtse (altitude 3,950 m). If one is staying in Leh best leave around 04:00. The problem in reaching Pangong Lake is that around 5 km before the lake, water from melting snow blocks the passage by 13:00 and it doesn't clear until 20:00. So, leave early unless you want to get stuck until late.

Shanti StupaBuilt by a Japanese Buddhist group. This modern stupa is somewhat kitschy, but still worth a visit.

Small mosque

War MuseumFascinating place run by the Indian Army showcasing the history, glory and the equipment related to army operations in some of the most hostile terrain in the world. It also has a fascinating display on the Siachen battlefield, the highest and one of the more arduous battlefield in the world.
Monasteries and temples
Many use Leh as a base to visit the numerous gompas, the Buddhist monasteries of Ladakh.
The Hemis MonasteryThe largest monastery of Ladakh with at least 150 lamas. Also notable for a huge painting of the Buddha, which is displayed to the public only once every 11 years.

Karma Dupgyud ChoelingMonastery in the Karma Kagyu tradition

Namgyal Tsemo GompaAbove the Palace, built 1430, is only open from 07:00-09:00 during the morning puja.

Soma GompaJust around the corner from Main Bazaar, it's a large modern gompa. It's also the location of the Ladakhi Buddhist Association, a conservative political organisation, with ties to Hindutva groups.

Tak Tok GompaUp a quiet side valley, it's a small Ningma Monastery built around a cave that Padmasambhava is said to have meditated in.

Thiksey Gompa17 km from Leh, is excellent place to visit, well maintained, active and interesting Geluk (the sect headed by the Dali Lama) Monastery. The two storey tall Matreya statue is stunning.
Villages
ChoglamsarA village with a large Tibetan community, almost close enough to Leh to be a suburb. Is an important Tibetan refugee community, and centre for Buddhist studies with both the Central Institute of Buddhist Studies and the Mahabodhi Meditation Centre.

StokA pleasant village across the Indus and a few km up a side road. Stok Monastery and a former royal palace are worth visiting.
Do
Prepare for a trekking in Ladakh, which offers a huge number of trekking routes.
White-water rafting: on the Zaskar and Indus rivers is also organised from Leh. The Indus rafting route from Nimmu towards the Pakistani border has rapids of increasing severity of grades of 4, 4+, and 5; the latter two grades being not for the faint of heart.
Confluence of the Zanskar and Indus rivers: this is easy to determine as the water of Zanskar is brown, whilst that of the Indus is a little pink. Also available are sports activities such as water drafting
River rafting in the steep gorges of Zanskar River.
Yak and Camel safari to explore the town.
Skiing and Biking on routes such as Panikhar to Kanji.
Besides trekking, mountaineering and cycling.
Learn
Buddhism
There are several places in and around Leh where visitors are welcome to study the Buddha Dharma, either privately or in a class environment. The Mahabodi Society on Changspa Lane is one of the most active.
Work
There are many NGOs in Ladakh who are based in Leh doing important work, many of them take on volunteers for a few months.
Since Ladakh was featured in the 3 Idiots film in 2010, the popularity of the city has increased with tourists. As a result employment in tourism sector have increased drastically.

Buy
The Main Bazaar and the surrounding streets have numerous shops selling souvenirs, mostly Tibetan antiques or replicas. The Tibetan market is a good place to buy jewellery, souvenirs, and various other items such as Pashmina shawls (about ₹4,500-7,000).
be extremely wary when buying pashmina as half the shops in the city will falsely claim their products are pasmina.
There are half a dozen good book shops with an excellent range of books on the Himalayas, including novels, guidebooks, phrase-books, books on history and on Buddhism.
People needing some warm clothing should consider the second hand clothing bazaar near the jeep stand. Good used clothing from first world countries is cheap, which is handy if you are only in the cooler climate for a little while.
Leh also has the best selection in the area of food for trekking albeit not all that different from normal instant noodles, biscuits, powdered milk and chocolate that's available in any village with a shop, but with the addition of fresh and dry fruit and vegetables and a few other luxury foods.

Eat
Budget
Cheap food can be hard to find in Leh because everything has to be brought by truck on the winding ladakh roads and the population of the region far exceeds it's ability to produce food- a problem only worsened by building on farmland in the valleys.
Main Bazaar has a few sweet shops selling samosas, chana dhal with puri, and other Indian food in addition to the sweets. The shopping areas of the old town and the area around the bus station are good for Tibetan styled restaurants, although few offer more than thukpa (noodle soup) and momos (dumplings). Vegetarian dishes are difficult to find in these places.
there are several punjabi thali shops in the "old city bazar" on the corner of the main bazar where you can get thali for 70-90 rupee.
German bakeryFresh baked breads with honey and cheese in the main market.

Lamayuru Restaurant
Mid-range
Main Bazar has a decent selection of mid range Tibetan-style restaurants, popular with tourists and locals. In the summer numerous garden restaurants spring up in Changspa serving Tibetan, Western and Indian dishes.
OpenHand Shop and Cafe, around the Old Fort Road, has good South African and Continental cuisine. Decent Western-style coffee, and some good Indian textiles.
Happy World Restaurant

address: Zangsti Rd

All types of food. A good restaurant.
Drink
There is little in the way of nightlife in Leh. You can have a beer at many of the restaurants, but they close fairly early. For a more adventurous alternative, ask around the old town (or your guest house owner) for Chang the local home brewed beer, which costs about ₹15 for a litre; bring your own bottle.
There are a few springs scattered around Leh that provide a natural and plastic free alternative to using bottled water.
Clean filtered and boiled water is available from shops, such as the organic food shop and guest houses.

Sleep
Leh has a large selection of mid-range accommodation, with some offering decent value. If you're coming from Manali you might find the selection somewhat limited, with attached bathrooms offering hot water somewhat hard to find. There are very few, if any, touts that are so common elsewhere in India, so looking around for accommodation is much easier and less stressful as a result.
Most of the guest houses are located in Leh's northern suburbs in Changspa, Karzoo and surrounding areas, a 5- to 30-minute walk from the centre. Many of the houses in Changspa have been converted to guest houses, which, surrounded by farmers' fields and often with excellent views, make wonderful places to stay.
Budget
Eagle Guest House

phone: +91 1982 253-074

address: Changspa

A very friendly atmosphere.

Himalayan Retreat Guesthouse

phone: +91 1982 251-130

address: Changspa

Home stay in beautiful surroundings.

phone: +91-1982-253403

A big hotel situated by the stream in the lush and green village of Changspa. Five minutes walk away from the city centre, peaceful place surrounded by nature. All the rooms in all three blocks have spectacular view of the green surrounding and the snow covered mountains.

Hotel Naro

phone: +91 1982 252481,+91 1982 255138

address: Upper Karzoo

Family run. Lovely views, quiet place.

phone: +91 1982 253-344, +91 1982 251-182

address: Old Rd

A category hotel. Family run.

phone: +91 1982-252506

address: Chuloong Old Road 194-101

Cosy hotel run by a friendly young couple who are direct relatives of Tenzing Norgay. 5 mins walk from the main bazaar, Kang-La is a peaceful place with free wifi access and customizable treks/tours available on demand. You can sit down with the couple and have really interesting talks on not just Ladakh, but India at large.

Khan Manzil Guest HouseFriendly family, clean rooms.

Norbulinga guest house

phone: +91 1982252-941

address: Chubi

Family run, with fantastic location, quiet place.

Odzer Guest House

phone: +91 1982 252-652

address: Karzoo

Run by Tibetan family. Friendly with quiet atmosphere.

Old Ladakh Guest HouseOften full. Singles from ₹150.

phone: +91 1982 250-516, +91 1982 253-153

address: Changspa

Run by a very hospitable Ladakhi family. Quiet place with a nice courtyard. Food is made of fresh vegetables, grown in the courtyard garden.

Shanti Guest house

phone: +91 1982 253-084

address: Changspa

Family owned. The husband is a trekking guide and a fountain of information.

Solpon Guest House

phone: +91 1982 253-067

address: Upper Changspa

A little ahead of Zeepata Guest House, Most rooms have a great view either of the Shanti Stupa or of the Leh Palace and Namgyal Tsemo Gompa. 24 hrs hot water, Good value for money.

Tak guesthouseRooms far from spotless, but probably the cheapest place in Leh, and an alternative when the Old Ladakh Guesthouse is full.

Zeepata Guest House

phone: +91 1982 250-747

address: Upper Changspa

Run by a very friendly Ladakhi family, some rooms with good views of Shanti Stupa and offers tasty homemade food and desserts. 24 hrs hot water, Good value for money.
Mid-range
Hotel Tso Kar

phone: +91 9419178663

address: Fort Rd

One of the few hotels which remain open during winter.

Hotel Tsomo-Ri

phone: +91 9419178031

address: Fort Rd

In the heart of the city. Spacious rooms, log cabins and hospitable staff.

The Pangong Hotel

phone: +91 9419003769, +91 9858394401

address: near Fort Rd

Nice accommodation with a good view. Great facilities and in the heart of the city. They might ask for some advance amount if you try to make a reservation by phone.

Royal Heritage Resort

phone: +91 9697857450

address: Fort Rd

All facilities are available.
Splurge
Hotel Golden DragonOne of the few hotels open during winter. Has reliable, satellite backed wifi even when snowfall brings down the 3G and overland connections.

Tsemarang Eco CampIn the midst of nature near Leh.
Connect
Leh is still in the early days of the communications revolution, and some Internet cafes use long distance, poor quality phone lines for dial-up. These are not only expensive, but also unreliable. There are numerous satellite run internet cafes and also mobile services (BSNL, Airtel) in Leh.
The numerous centres for international calls are fairly reasonably priced.

Stay safe
Leh is one of the safest places in India.
Carry a torch at night, as there is next to no street lighting, and there are some very deep drainage ditches. Beware of the stray dogs which rule streets during the night, especially in the inner alleys and around eateries.
If you feel breathlessness after some exercise, scared of height or any heart problem then avoid visiting Leh. But if you are still desperate to be in Leh then drink lots of water or eat in frequent times while in this beautiful place. Be extra careful while visiting Leh in winter. It is stunningly beautiful but extreme cold weather means a little discomfort for visitors.
Be cautious if you are driving on your own. Though roads are fine, the constant melting of snow tends to damage the road conditions. There are always a chances of landslides, so don't venture at the edge of the road.

Cope
Floods
Ladakh was struck with serious floods and mud slides in August 2010. The airport was operational within days, and the major roads and bridges after a few weeks, and Manali-Leh was re-routed temporarily, until October after Rumtse, making it more than a hundred kilometres longer. The road was fully operational in October 2010.
Acclimatisation
It is vital have your first acclimatisation nights after arriving at altitudes over 3,000 m before venturing to higher altitudes. This means not going for the tent camps at Sarchu (4,300 m) or Pang (4,500 m) directly from Manali, i.e. no longer than Darcha the first night. All overnight stays are not planned, in September 2008 the Air Force had to evacuate those with altitude sickness from Sarchu in after massive snowfall, and landslides are not uncommon. Not allowing your body to acclimatise can result in
altitude sickness
, which has only one cure: turning back. Stay a minimum of two nights after flying in before going higher, so as both to give your body time to acclimatise and to explore the city.
If you are travelling from Delhi to Leh by road, the route which enables better acclimatisation is via
Shimla
, and then towards
Kinnaur
and Spiti, which gives several acclimatisation nights between 2,000 to 3,000 m:
Sarahan
(2,134 m),
Kalpa
(2,800 m), Tabo (3,265 m). After Kaza (3,600 m) and the Kunzum La (4,550 m) the road connects with the Manali-Leh highway just north of the Rothang pass.
If arriving by flight, rest at least over the first night before starting sightseeing, consider visiting Alchi first since it is lower than Leh.
Diamox is available over the counter in India which can help, with varying success, to speed up acclimatisation. Those that are allergic to sulfa medication can not use Diamox, and it can have side effects: this needs to be discussed with a doctor beforehand.
Newspapers
Kargil Number is a widely available local newspaper.
Go next
Shey – a small rural village that was once the ancient capital of Ladakh, 15 km away
Lamayuru – small village with a Buddhist gompa, beyond Alchi and still on the way to Kargil
Manali via Keylong, a long and trecherous road that is closed in late september/october depending on snowfall/rain. Note if the road is closed police may not let you visit towns south of Upshi
Choglamsar- A predominantly tibetan town imediately south of Leh. Take the bus from the Leh public bus station or the adjoining main road. (around 10 rupees).