Leicester
Leicester
is the largest city in the
East Midlands
region of
England
, the capital of the traditional county of
Leicestershire
, with a population of some 330,000 in the city area and nearly 500,000 in the metropolitan area.
Understand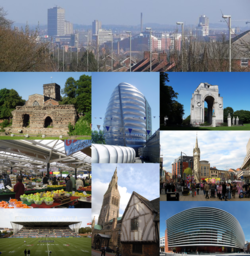 Leicester (pronounced
Less_ter
) is one of the oldest English towns, having been founded by the Romans as
Ratae Corieltauvorum
in 50 CE. Its role as a Saxon town is less certain, but the medieval town walls and street plan retain exactly those of the Romans. It was rarely centre stage through the middle ages, so lacked political impetus nationally. While other such towns acquired cathedrals and grand civic functions, Leicester gradually built up a small scale industrial prosperity based around framework knitting. This used semi-automated, leased machines, operated in people's own homes, to make stockings. Automation and factory building in the 19th century enabled Leicester to grow in population, land area and prosperity, with knitwear and machine manufacturing providing the bedrock of its economy. In the 1920s, its size and significance was reflected in being granted city status.
It is one of the most ethnically diverse cities in the United Kingdom. It is also Britain's first environment city. Leicester continued to grow rapidly throughout the 20th century. From the 1960s arrivals from the West Indies and Asians from east Africa and the Indian subcontinent added to that growth and more recently Somalia, west and southern Africa, and Poland have been some of the larger of many different national communities. The two universities also both have very high overseas student intakes, and Leicester now sees itself as a cosmopolitan city with friendly people from all races, backgrounds and cultures creating a culturally diverse city.
Get in
By road
Leicester is adjacent to the M1 Motorway, allowing speedy road access south to London and north to many other major English cities.
The M69 motorway provides good access from the south of the city at M1 junction 21 towards Birmingham, Coventry, Nuneaton and Hinckley.
As noted below, for non-motorised road users, there is good access to the city for cyclists, from all points of the compass.
First-time visitors to the city coming by car may find the inner ring road and associated one-way systems confusing and somewhat daunting. Plan your journey well in advance, be patient, and look for signposts for the many car-parks close to the city centre; or use the Park & Ride services (see below under 'Bus').
The city is served by Park and Ride services from Meynells Gorse in Braunstone to the west, Birstall to the north, and Enderby to the south.
By train
Leicester station
is on the main
London
to
Leeds
rail route operated by
East Midlands Trains
from
London St Pancras International
station. There are up to four trains to and from the capital every hour. The journey takes up to 1½ hr on slower trains. As with all British trains, an open return valid for one month bought on the day of travel is just marginally more expensive than a single ticket. Tickets bought in advance are often significantly cheaper.
Often cheaper, but also significantly longer time-wise travel from
London
can be done via
Nuneaton
, Warwickshire, with London
Midland trains
. In Nuneaton, change for a
Stagecoach bus 48
or
Arriva bus 158
going to Leicester directly (very limited service in the evening and at the weekends). A bus station in Nuneaton is ten minutes walk from the railway station, buses to Leicester depart from platform C; the journey takes just over one hour and costs just over £3.00 single (Dec 2012). Also, there is a train from Nuneaton station to Leicester which costs about £10 single. Tickets specific to the London Midland services are cheapest (London to Nuneaton off-peak return £21.00, Dec 2012).
Leicester also offers direct rail access to
Stansted Airport
,
East Midlands Airport
,
Luton Airport
,
Sheffield
,
Nottingham
,
Derby
,
Peterborough
,
Cambridge
and
Birmingham
.
Cross-country services (
Cambridge
, Stansted,
Nuneaton
,
Coventry
and
Birmingham
) are operated by
Cross Country Trains
.
The suburban services to Sileby, Barrow-on-Soar, and Loughborough are operated by East Midlands Trains; and towards Wigston and Narborough - Cross Country Trains.
Leicester station
is five minutes walk from the very centre of the city and another five minutes to the coach station (St Margaret).
Train passengers are entitled to
discounts for local bus travel
in many British cities, also in Leicester (£3.50 for a day ticket, Jan 2013); student railcards give access to even greater savings. A
PlusBus
ticket can be purchased simultaneously with the train ticket online or at the station, incl. many vending ticket machines.
By plane
The city is close to East Midlands Airport in the county of Leicestershire and a drive should take around 35 minutes depending on the traffic situation. The airport is served by a 24/7 SkyLink bus from St Margaret's Bus Station in Leicester (£6.10 single, December 2012). Taxi is about £30 one way.
Birmingham Airport is within a 45-minute to 1 hour drive from Leicester. It can be reached by train - a ticket to Birmingham is valid for the Birmingham airport as well - or coach
There are also a limited number of flights available from Coventry Airport about a 45-minute drive away.
London Stansted Airport and Luton airports are linked directly to Leicester by regular train services (see links to CrossCountry and East Midlands Trains above).
Manchester Airport can be reached by train, changing at Sheffield.
Gatwick Airport can be reached by train changing at Luton, Bedford or London.
Heathrow Airport, Gatwick, Luton, Stansted and Birmingham airports can also be reached by direct 24/7 National Express coach services
There is a small airfield for private planes at Stoughton to the east of the city.
By bus
National Express couches arrive to St Margaret's Bus station, a short walk to the city centre. There are regular services to and from London, Birmingham and Nottingham where connections are available to most of the UK
Eurolines services to continental Europe.
Megabus connects Leicester with London and from there - other British cities, as well as Paris, Brussels and Amsterdam.
There are also services operated by local companies which serve the Asian communities in West London (Southall), Bradford, and other areas. These services are not generally well advertised, they may be short-lived, but can be cheap, and get you to out-of-the-way areas.
Get around
All city centre locations are easily reachable within walking distance.
The city supports an extensive bus network. Services are operated mainly by First Leicester and Arriva. First Leicester services cover the more local (city) destinations, those operated by Arriva can also be useful for reaching areas just outside Leicester, as well as city destinations. First Services leave from a variety of points in the city centre; most Arriva services depart from St Margaret's Bus Station.
Stagecoach run a regular service (Route 48) from St Margaret's to Hinckley and Coventry
There are services operated by other companies: some are one-route-only operators; you may find that a different company will run the same service on a Sunday (or during evenings) to the day-time operator.
Advice on bus travel can be obtained from travel shops within St Margaret's Bus Station (Arriva) and at the Haymarket Bus Station in Charles Street (First Leicester). You should be able to get a map of local bus routes from the Tourist Information Centre in Town Hall Square.
You will find stops for most services in the City Centre streets. These stops can be confusing, even for locals!
Tickets are not interchangeable between different companies; However, there is a day ticket for all buses in the Leicester area called the Flexi Day. These can be bought on any bus in central Leicestershire for £5.00. Day tickets can offer significant savings over single, and even return, tickets: ask the driver for advice. Fares are expensive for very short journeys, but can be remarkable value if travelling to the suburbs or further.
There is a Park & Ride service that runs Monday-Saturday from Meynells Gorse that is, at Braunstone Cross Roads, just off the A47 Every 12 minutes and is run by Paul James Coaches. This service is well-signposted on the A47 and the M1 (leave at junction 21A). This serves the city centre with a reliable, regular, fast service from a large car park. Newer park & ride services run from Enderby to the South of the city and Birstall to the North. You MUST be a car user to use the Park & Ride services, but as prices are generally per car, this can be a cost-effective way of travelling.
Cycling in and around Leicester is generally pleasant with there being a good road network and generally well-mannered car and bus drivers. Previous city council policies led to the development of well signposted, well designed cycle-tracks: some of these are now in need of repair and upkeep, but the network remains. Sustrans Route 6 bisects the city North/South, with Route 63 going north-west toward Charnwood Forest.
The city centre Bike Park provides a handy place to park your bike with complete security during the week, daytime. The Bike Park is situated in one corner of the Town Hall (in Town Hall Square) right in the city centre. The friendly staff can help with repairs and local knowledge. There are changing facilities here if you require them.
Remember that Leicester is effectively in a 'bowl', so whichever way you enter the city (except along the river/canal) you are likely to have to climb to leave it! As a cyclist you may wish to avoid routes leading directly to the local M1 junctions (21, 21A, and 22) as these carry heavy and fast motor traffic.
There is free signposted motorcycle parking in the city centre: Abbey Street and behind the Town Hall.
See
Do
phone: +44 116 242-3595

address: Rutland Street, LE1 1SB

Theatre facility for touring and local productions.

phone: +44 116 242-3595

address: 4 Midland Street, LE1 1TG

Independant cinema with art exhibition programme. Two modern cinema screens show micro-budget independent films through to Hollywood mainstream, plus festivals and events.

phone: +44 1509 632323

address: The Sidings, LE4 3BR

A preserved steam mainline railway running on the line of the Great Central Railway from Leicester North to Loughborough.

Abbey parkA public park owned and managed by Leicester City Council. It contains the remains of the 12th-century Leicester Abbey and the ruins of Cavendish House. It has formal gardens, a sensory garden, a boating lake and model boat lake, a miniature railway, visitor centre, cafe, children's play area with paddling pool, pets corner, tennis courts, sports fields, a bowling green, and a bandstand.

Bradgate ParkEncompassing 850 acres of land, it's s good place to take a walk or a picnic. There is also a visitor's centre on site, the ruins of the former home of Lady Jane Grey (Queen for 9 days) Bradgate House, are within the park as is Old John, a hilltop folly in the shape of a beer tankard built in 1784. Both structures were built by the Grey family (Lady Jane's family) of Groby from the 15th-century onwards. The park is also a protective zone for many bird, deer and plant species.

phone: 0300 300 0900 (non-geographic number)

address: 4A St. Martin's

Encompassing 850 acres of land, this is a good place to take a walk or a picnic. There is also a visitors' centre on site, the ruins of Bradgate House, the former home of Lady Jane Grey (the "Nine Days' Queen"), are within the park as is Old John, a hilltop folly in the shape of a beer tankard built in 1784. Both structures were built by the Grey family of Groby from the 15th century onwards. The park is also a protective zone for many bird, deer and plant species.
Sport
Ticket prices shown are those for one adult ticket and are subject to change.
Nearby
Rutland Water, a reservoir 20 miles east of Leicester is a popular location for birdwatching, fishing, picnics and watersports such as sailing and jetskiing.
As noted above, Bradgate Park is close to the city, and very popular with locals for a breath of country air - it can, however get crowded on Bank Holidays. Despite its popularity, it is poorly served by public transport.
The canal/River Soar is a popular green artery running both north and south of the city. North through Abbey Park towards Birstall is a pleasant walk and leads to Watermead Park, and return by bus from Birstall is possible; going south through the Aylestone Country Park, to Aylestone, Blaby and beyond will quickly get you into open country, with the option of returning either by bus or walking back along the Great Central Way (part of the Sustrans National Cycleroute).
Buy
The city centre of Leicester has a vibrant and friendly atmosphere along with many department stores and a large shopping centre called
Highcross
(formerly 'The Shires'), off High Street. Shoppers can expect to find the majority of items and services offered within a main city in the UK. Highcross features many shops including John Lewis, Topman, Next, Hugo Boss, and an Apple store amongst others.
The
Haymarket centre
is another shopping centre.
Leicester also has some interesting independent shops around the 'Lanes' area leading from Loseby Lane.
The St Martin's area also has interesting small boutiques, delicatessens and specialist shops, although St Martin's Square has several empty units.
address: 4 St Martins, Leicester LE1 5DB

A delicatessen established in Nottingham has opened a branch in Leicester. It is a good place for regional and original products, sweets to alcohol, as well as a light meal and coffee.
Eat
Leicester is a fantastic place for Indian food.
Laguna
has existed since the late 70s and operates a traditional tandoor oven, on Narborough Road and the Good Food Guide listed
The Rise of the Raj
is on Evington Road.
Leicester's large Gujarati community - centred in the Belgrave area - has led to the opening of many excellent Indian vegetarian restaurants in that part of the city.
Sharmilee
,
Sayonara
and
Phulnath
, come highly recommended by local residents.
The Chaat House
is also a great places for Masala Dosas and other light meals.
The choice of fine restaurants in Leicester is limited and sadly there has been a recent closure of two fine restaurants, namely Entropy and the Opera House, however the City is in the grip of major renovation and regeneration which is likely to spur on a greater choice and profusion of fine dining experiences. However excellent food can be had at
Watsons Restaurant
which is a refined and tasty experience (near the Phoenix Theatre) and
The Case
near St. Martins, the lunch menu is excellent as are the wait staff, a distinctly French feel is on offer and The Case has the joy of being connected to the delightful
Champagne Bar
on its ground floor.
Dinos
on Garrick Walk, Haymarket has an excellent reputation and a very Italianate, exciting menu. A more recent addition with an excellent menu is
The Quarter
, housed in the former wholesale vegetable market building on Halford Street and close to the
Curve
theatre, Leicester's new theatre which opened in 2008. This restaurant/bar is a beautiful open space with a great menu and superb cocktails!
Some good, mid-range restaurants/bars with menus can be found near the City on
Braunstone Gate
, the best of these being the ever popular
Left Bank
, which is cheap, spirited and tasty. Across the road,
Mobius
is interesting with a lively bar to the ground floor and restaurant upstairs. The Sultan, one of a number of Turkish restaurants along the Narborough Road, has very good value authentic Turkish meals: donor, shewarma, pide and meze.
Mid-priced food can also be found easily at decent chains such as Ask, Zizzi, Las Iguanas, La Tasca and three Pizza Express restaurants around the city.
For those with even tighter budgets, Leicester offers a wide array of different takeaways. Leicester takeaways range from Indian food to Italian, American, Turkish, Chinese, Thai and other types of food. Generally, a takeaway meal for two can be purchased between £10 and £15.
Tea rooms and coffee shops abound, most notable are
Mrs Bridges
on Loseby Lane and
Bossa
close to the City Gallery, if you want to avoid the usual Starbuck and Costa chains,
Fenwicks
also houses a pleasant old-school cafe, steeped in the 1960s/70s, on its top floor, with excellent food on offer at reasonable prices.
Gelato bars offer a range of non-alcoholic drinks and puddings: Madisons Cafe Bar & Gelateria on London Road, Gelato Village on St Martin's Square, Whipee Gelato and Bru, both on Granby Street, offer daytime and evening opening, as do similar places further out from the centre, such as Narborough Road.
Places in the City Centre:
Wakaze

address: 74 High Street, Leicester LE1 5YP

A Japanese restaurant on the main Leicester street popular for good inexpensive bento meals.

phone: +44 116 251-5959

address: 11 Halford Street, Leicester LE1 1JA

Pizza, pasta and other Italian food, family-run café/restaurant since 1996

The Case Restaurant and Champagne Bar

phone: +44 116 251-7675

address: 4-6 Hotel St
Drink
With two universities, Leicester boasts a good number of bars, pubs, and clubs offering a wide variety of alcoholic drinking experiences, offering everything from traditional pubs to champagne and vodka bars.
Leicester also has a small number of bars and a nightclub catering for the lesbian/gay communities.
For those that prefer their drink without alcohol there are also a good number of coffee shops in the city centre, but these usually tend to only open during shopping hours.

Sleep
There is no shortage of overnight accommodation in Leicester at almost all budget ranges: the tourist information people can help.
There is also available house sitting at
Leicester House Sitter
Go next