Leipzig
Leipzig
is the largest city in the
German
federal state of
Saxony
, with a population of approximately 600,000 (Oct. 2019). It is the economic center of the region, known as Germany's "Boomtown" and a major cultural center, offering interesting sights, shopping and lively nightlife. The Gewandhausorchester is the biggest and one of the most prominent classical orchestras in Germany, and Leipzig Zoological Garden is one of the most modern zoos in Europe. The Neuseenland outside of Leipzig is a huge lake district.
Understand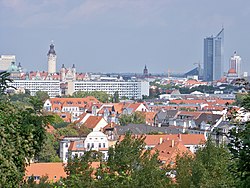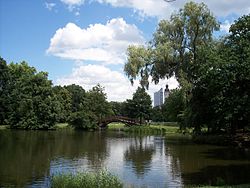 First documented in 1015, and endowed with city and market privileges in 1165, the city of Leipzig has fundamentally shaped the history of Saxony and of Germany. It was founded at the crossing of two ancient trade routes, Via Regia and Via Imperii. Leipzig has always been known as a place of commerce and still has large trade fairgrounds and exhibition halls known as the Leipzig Messe and located north of the city. Before it became common to dedicate a specific area to trade fairs, they took place in the city itself. Which is why many of the historical buildings were constructed by merchants, as well as Leipzig's unique system of arcades and courtyards.
Other forms of exchange soon followed the trade of goods. The University of Leipzig (Latin:
Alma mater lipsiensis
) was founded in 1409, which makes it the second-oldest university in Germany. University facilities are scattered throughout the city, and you cannot miss the central campus at Augustusplatz. Leipzig acquired the nickname Klein Paris ("Little Paris") in the 18th century, when it became a center of a classical literary movement largely lead by the German scholar and writer Johann Christoph Gottsched.
The city is also the home of the Nikolaikirche (Church of St. Nicholas) – the starting point of peaceful demonstrations against the East German regime which led to German Reunification. The collapse of the Socialist Unity Party of Germany (SED) regime hit Leipzig's economy very heavily (as did communism itself), but after being on the mend for over twenty years, it has emerged as one of the success stories of the "New German States".
Traces of Leipzig's history are everywhere: the ring of streets around the city center marking the former course of the city wall, the city trade houses, abandoned and repurposed industrial buildings in Plagwitz, small town structures in the outskirts where surrounding towns were incorporated during phases of rapid growth, and the battlefields of the Napoleonic wars in the south and southeast of the city.
Today it competes with long time rival Dresden for the title of "biggest city in Saxony" - in the 2011 Census Dresden overtook Leipzig, but according to 2016 estimates, Leipzig has an edge once more. Leipzig's trendy districts are rapidly gentryfying, especially the
Südvorstadt
neighborhood and it has thus gained the nickname "Hypezig" which is both used derisively and somewhat appreciatively.
Tourist Information
phone: +49 341 71 04-260

address: Katharinenstraße 8

You can download some leaflets from their website.
Get in
Leipzig is a transportation hub in Saxony and offers fast connections by rail, road and air throughout Germany. Important east-west and north-south routes have crossed here for a long time and they still do today.
By car
Leipzig can easily be reached by car, as it is very well connected with the Autobahn system. The nearest Autobahns are A14 (North, Northeast), A9 (West) and A38 (South).
By bus
Long distance buses connect Leipzig with several major German cities. Buses stop at Goethestraße, off the southeastern corner of the Central Station (between Central Station and Opera house) and/or at the airport railway station. Bus operators include
Flixbus
and the DB run IC Bus (BahnCard discounts apply; bookable through bahn.de). Once a day there is an IC Bus connection between Leipzig and
Prague
, taking about 3 hours and costing €59 (€20 if booked in advance).
A new bus station opened in March 2018
By train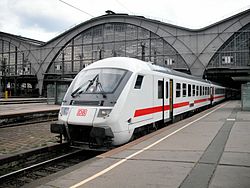 Leipzig HauptbahnhofLeipzig was one of the most important rail travel hubs in Germany as early as the 1830s when the first long distance railway in continental Europe linking it to Dresden was built and it has regained this position after German reunification. Since December 2017, Leipzig has been one of the most important hubs for German high speed rail with the main North-South trunk line linking Munich and Berlin (via Erfurt and Nuremberg) passing through town. Due to the station being a terminus station, some trains are routed via Halle instead, but a quick S-Bahn ride gets you to Leipzig from there. Along the West-East spine from Frankfurt to Dresden high speeds are limited to the Erfurt-Leipzig section, but construction is underway to upgrade the other parts of this route and flights from the airport to Frankfurt are already becoming rarer due to better travel times.
Leipzig's Hauptbahnhof is the largest terminal railway station in Europe with 26 platforms (18 plus two tunnel platforms still operating), and also includes a large shopping mall, a good way to waste an hour or two between connections.
Deutsche Bahn
operates regular train service between Leipzig and nearby cities such as
Halle
(€7.60, 25 minutes),
Dessau
(€14, 45 minutes),
Chemnitz
(€19, 65 minutes),
Dresden
(€30, 65 minutes),
Magdeburg
(€31, 75 minutes),
Weimar
(€22, 75 minutes), and
Jena
(€21, 85 minutes).
High speed trains
are available to major cities in
Germany
including
Lutherstadt Wittenberg
(€21, 30 minutes),
Erfurt
(€28, 42 minutes),
Berlin
(€49, 75 minutes),
Nuremberg
(€87, 2 hours),
Frankfurt
(€88, 3 hours),
Hamburg
(€106, 3 hours) and
Munich
(€117, 3:15 hours).
Prague
(€59, 4 hours) can be reached with a transfer in
Dresden
, but directed busses between Leipzig and Prague are faster.
If you book well in advance reduced-fare (limited refunding, set date and train) tickets are available starting at €29 (€21.75 with Bahn card 25, no Bahn card 50 discount). Your best chance on reduced fares are off-peak hours on weekdays. Even if you buy your ticket one day prior to departure on an ICE, you have a good chance of finding a reduced fare that is cheaper than the full prices (called "Normalpreis" in German) quoted above. However unlike with the Normalpreis you will have to use the train you booked and can't change it. If you aren't traveling alone, it might make sense to see whether there is a discount for the second person traveling the same route or for groups. For more on the price system of German trains see
rail travel in Germany
By plane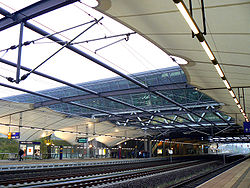 Leipzig/Halle AirportThe airport is the biggest airport in Eastern Germany not serving Berlin, but it's still not all that busy. The airport is one of the busiest in terms of freight though which has attracted Amazon and DHL among others. Trains run between the airport and the city every 30 minutes; the trip takes 14 or 18 minutes and costs €4.20. When arriving at the main station from the airport you have to go up the stairs for connecting services. The tram network is also directly reachable from the City-Tunnel with departure times clearly marked on displays at the exit to the trams.
Berlin
's airports (
TXL
,SXF) are just two hours away by train and offer more options. As an intercontinental flyer you should also consider Frankfurt Airport (FRA). During daytime, hourly direct trains take you from the airport station Frankfurt Flughafen Fernbahnhof to Leipzig Hauptbahnhof in about 4 hours for €74 (book in advance and you can get tickets for as little as €29). Many (but not all) airlines flying to/from German airports offer rail&fly. For more see rail air alliances

Get around
Public transport
The primary means of public transport is the tram.
LVB
operates trams and buses in Leipzig. Most lines run every 10 minutes during the day and at least hourly at night. A single-trip ticket costs €2.40. A full day bus & tram ticket, valid until 04:00 the next morning, costs €6.00; a day ticket for 2-5 people traveling together costs €8.90-17.60. A weekly pass costs €21.10. After 20:00, you must enter buses through the driver's door and show/purchase your ticket.
The tram network is structured like a star with a circle in the center. Tram lines generally lead from the outskirts into the city, which they half-circle on the ring, and continue to someplace else in the outskirts. Bus lines provide additional direct connections that often do not touch the center.
Trains ("S-Bahn") are crossing the city center in north-south direction though the city tunnel, connecting Hauptbahnhof and Bayerischer Bahnhof via underground stations at Markt and at Wilhelm-Leuschner Platz. From both ends of the tunnel lines branch off into several directions towards Leipzig suburbs like Connewitz, Stötteritz, Thekla, fair area and Miltitzer Allee and beyond. The city tunnel provides fast connections north - south, but is not of great help in the east - west direction.
Tickets
LVB is part of the regional integrated transport network
MDV
. Tickets to nearby towns and cities (e.g.
Halle
) are available at LVB ticket offices and vending machines. They are valid for all participating means of transportation. The fares quoted above are for MDV fare zone 110, which is more or less identical with the city. A single-trip ticket includes transfers to other lines. You have to complete your trip within one hour. Buy tickets from:
Vending machines at some stops and at all train stations, payable with coins or (small) bills
Vending machines inside the trams. Coins only
Bus drivers
One of the LVB service offices
Some tobacco, stationery, or press shops
Stamp your ticket after boarding the first bus or tram on your itinerary, or on the platform when using a train. Week tickets are issued for 7 days from set date, month tickets for calendar months. Day and week tickets are valid until 4am the next day after their validity has ended; month tickets until noon the day after their validity has ended.
Ticket and service offices:
LVB-Mobilitätszentrum

address: Willi-Brand-Platz

LVB service and ticket office

LVB-Servicezentrum

address: Petersstraße/Markgrafenstraße

LVB service and ticket office

LVB online shopLVB service and ticket office
Leipzig Card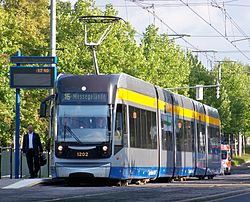 A ticket with benefits is the
Leipzig Card
. You can buy it at the LVB ticket offices listed above, at tourist information, or online. At a price moderately higher than the corresponding LVB tickets, in addition to unlimited rides, the Leipzig Card offers discounts at a number of tourist attractions. The Leipzig Card is available in three versions:
Day ticket (valid for one person): €12.40
3-day ticket (valid for one person): €24.40
3-day group ticket (valid for two adults and up to 3 children under 14): €44.90
A leaflet listing all the benefits is available
online
.
Night Bus Network
Regular services operate until around midnight. A network of Nightliner bus lines (N1...N10) takes you around at night. All Nightliner buses start from Hauptbahnhof at 01:11, 02:22, and 03:33. They service most parts of the main tram network, but on different routes. Each line makes a loop, returning to Hauptbahnhof at the end. Check the blue network plans at stops or inside trams.
By taxi
Plenty of taxis are available. They wait for customers in various designated locations around the city. You can also wave a taxi on the street if its sign is lit up. To order a taxi to your current location call
4884
. Pubs, restaurants and hotels will be happy to do that for you if you are their customer. Expect a fare of €15–20 for a trip from the outskirts to the center or vice versa.
By car
Leipzig suffers from the same traffic problems as all cities of its size. Access to the city center is restricted, so don't plan to go anywhere inside the inner ring of main streets.
If you still like to use a car within the city, be prepared to pay a fee for parking around the center. Car parks are available at Hauptbahnhof, Augustusplatz, Burgplatz, and several other locations. A parking guidance system is installed on the main streets. Around the inner ring, signs point you to the different car parks and display the current number of unused parking spots. Signs are color-coded, each color representing a car park location. Since the city center is pretty compact, for most purposes it won't matter much where you leave your car. When you visit the Gewandhaus or the opera, the car park underneath Augustusplatz is the most convenient option with exits to both buildings.
Watch for the trams when making turns. They are stronger than your car and sometimes come from behind beside the street. At marked tram stops, if the driving lane is to the right of the track, you have to wait behind a stopping tram and let passengers get on and off. After everyone is off the street, you may pass slowly.
Most of the city of Leipzig is a designated
low-emission zone
(
Umweltzone
). Cars operating within city limits must comply with strict emission standards and have a special green sticker (
Feinstaubplakette
). If you enter the city without the sticker, or with a yellow or red sticker, you risk being fined.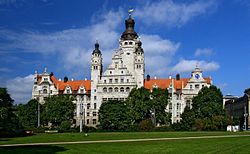 See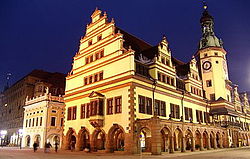 phone: +49 341 9651320

address: Markt 1

Built in 1556 in the Renaissance style and remains one of Germany's largest. The position of the tower follows the ancient ideal of "golden mean". Located on the pretty main square of the city, it is a good orientation point. The Old City Hall was built 1556 by Hieronymus Lotter on basements of two Patrician houses. It is a beautiful Renaissance style building, 90 meters long with arcades (1906–09), six gables and a tower. In the 18th century the tower was enlarged and it received a Baroque spire. Until 1904 the Old City Hall was home of the city administration. Then it became home of the city museum. Most impressive is the huge Banquetting Hall with Renaissance interior (open fireplaces). Many fine works of medieval religious art: altars, paintings, wood-carved sculptures etc. Most of them were saved from churches which were deconstructed in Leipzig's surrounding. Very impressive are the rooms with interior from old Patrician houses. Also interesting: the treasure chamber (steep and narrow staircase!). This Renaissance building was erected in just nine months in 1556–57 under the direction of the architect Hieronymus Lotter. The municipal government moved into the New Town Hall in 1909. If you have a bit of luck you are allowed to visit the cellar of the building. Here you find the chamber of torture and the jail. Leipzig's Renaissance City hall contains a museum of city history which possesses the original of the only confirmed painting of Bach produced in his lifetime. It contains interesting information regarding the public executions that previously took place in the market in front of the city hall. The most famous execution was that of Woyzeck later made famous by the Büchner play and the opera of Alban Berg. The interior of the Old City Hall (built in 1556) is far more interesting than the outside view. Inside there's an interesting museum covering the history of Leipzig since its beginning in the 12th century. It is one of the most touristy places of the whole city.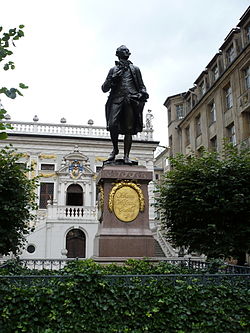 Churches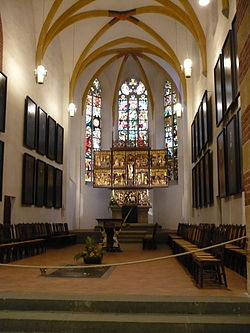 phone: +49 341 22224-0

The church where Johann Sebastian Bach worked as a cantor from 1723 until his death in 1750. His remains are buried under a bronze epitaph near the altar. The Bach Museum is right next to the church. Regular concerts are given by the St. Thomas Boys Choir Fridays and Saturdays (see do section for details).

address: Nikolaikirchhof 3

Leipzig's largest church. Starting point for the peaceful revolution on October 9, 1989, when 600 Socialist Unity Party members, who were sent to break up the protest, joined the protesters. Every Monday at 17:00 since 1982, the church holds peace prayers.

address: Philipp-Rosenthal-Straße 51a

One of the many traces of the Napoleonic wars in and around Leipzig: a memorial church to the honours of Russian soldiers who died during the Napoleonic wars.

Propsteikirche St. Trinitatis

phone: +49 341 355 7280

address: Nonnenmühlgasse 2

Modern architecture in the style of New Objectivity, covered with a traditional red porphyr stone. Easily to be confused with a modern office building, this church dedicated in 2015 is the largest newly built church building in Eastern Germany since unification. The location is almost on historical ground, as the neighbouring New City Hall is on the spot of the medieval Pleissenburg, where Martin Luther defended his theses in the "Leipzig Debate" of 1519. The steeple, 50 m high goes into contrast to the (still much higher) tower of the New City Hall. During construction the official entrance had to be switched to the back side of the church, as otherwise the postal address would have been "Martin-Luther-Ring", which the Roman Church considered not appropriate and after an attempt to rename the street failed to the opposition of the city administration.
Museums
phone: +49 341 2220-0

address: Grimmaische Straße 6

Opened in 1999, this is a museum about East Germany (the GDR). There is one permanent exhibition about the life in the GDR and the fall of the GDR; the other exhibition changes about every two months and has similar topics.

phone: +49 341 961-2443

address: Dittrichring 24

Housed in the former Stasi headquarters, this is an interesting museum documenting the Stasi (GDR secret police) and its methods of controlling and manipulating the people. Displays are in German – there is not much English inside. English audio guides are available for €4.

phone: +49 341 9137-202

address: Thomaskirchof 15/16

phone: +49 341 21699-0

address: Katharinenstr. 10

Housed in a glass cube, this museum features paintings from the 15th century through today. Highlights include paintings by local artists Max Beckman and Max Klinger, as well as Caspar David Friedrich, Lucas Cranach the Younger, and Claude Monet.

phone: +49 341 2229100

address: Johannisplatz 5

Includes the Museum of Applied Arts, the Museum of Musical Instruments, and Museum of Ethnology.

address: Lortzingstraße 3

The museum of natural history, filled with all kinds of taxidermy creatures. As of January 2011, city officials are pondering plans of closing the museum soon and reopening it in a different location later with a redesigned exhibition. In 2016 it's still open, a little old fashioned, but entrance is cheap.

address: Helenenstraße 24, 04279

Exhibition of pewter figures in historically themed dioramas. The location, the gatehouse and only remainder of an old manor, was one of the hotspots in the battles of the Napoleonic wars.

address: Aachener Str. 7, 04109

Universitätsbibliothek Bibliotheca Albertina

address: Beethovenstr.6, 04107

The university's library.

address: Mainzer Straße 7

History of psychiatry.

Sächsisches Apothekenmuseum

address: Thomaskirchhof 12, 04109

Pharmacy museum.

address: Goerdelerring 20, 04109

History of schooling.

address: Kleine Fleischergasse 4

A museum about coffee and coffee culture in Europe's oldest continuously operating coffee house.

Galerie für Zeitgenössische Kunst

phone: +49 341 140 81 0

address: Karl-Tauchnitz-Straße 9-11

Changing exhibitions of contemporary art.

address: Apelstraße 1

Dozens of historic trolleys that once ran on Leipzig's tram network.
Famous houses
phone: +49 341 962882-0

address: Goldschmidtstraße 12

Former home of composer Felix Mendelssohn Bartholdy. Regular concerts are held every Sunday at 11:00.

phone: +49 341 5662170

address: Menckestraße 42

Former home of the poet Friedrich Schiller. This is the (purported) place where he authored the "Ode to Joy".

phone: +49 341 3939620

address: Inselstraße 18

Former house of musicians and composers Clara and Robert Schumann.
Fair-houses and passages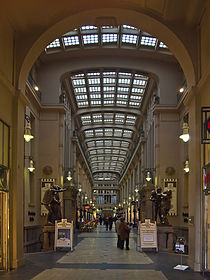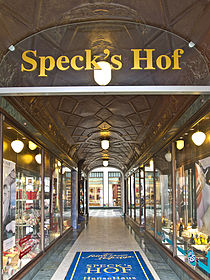 Unique to Leipzig is its number of passages in the city center. Some have big entrances, while others may look from the street just like a gate left open. Some belong to historical buildings, some have appeared only a few years ago.
address: Grimmaische Straße/Neumarkt

Upscale shops and bars. The entrance to Auerbachs Keller is inside. Forms a bigger system with Königshauspassage and Messehofpassage.

Barthels Hof

address: Hainstraße/Barfußgäßchen

address: Nikolaistraße/Reichsstraße/Grimmaische Straße

The oldest passage in Leipzig.

Jägerhofpassage

address: Hainstraße/Große Fleischergasse

Calm atmosphere in the middle of the city. Inside you'll find the arthouse cinema Passage Kinos.

Städtisches Kaufhaus

address: Neumarkt/Universitätsstraße/Kupfergasse/Gewandgäßchen
Architecture
Romanushaus and Fregehaus

address: Katharinenstraße 23

Baroque architecture.

Rundling

address: Siegfriedplatz, Siegfriedstraße

Apartment houses in concentric circles, built in the late 1920s/early 1930s. Streets are named after characters from the "Song of the Nibelungs".

Stalin era architecture

address: Roßplatz

Curved to follow the street, huge like a castle Leipzig's most prominent relic of the Stalin era sits at the Ring next to the Gewandhaus.

WaldstraßenviertelEurope's largest uninterrupted Gründerzeit district.

PlagwitzAn industrial district whose time of glory has passed. Many of its factories died a slow death during the GDR years, which suddenly became visible with the reunification of Germany. Today it is a mixture of old industrial buildings, some in ruins and others repurposed; fallow land; and new developments. Walk around Karl-Heine Straße between Felsenkeller and the railway station Bahnhof Plagwitz, Weißenfelser Straße and Gießerstraße to get a feeling for the place, or walk the path alongside the Karl-Heine Kanal. May appear a bit spooky at night.

address: Several locations: Herrmann-Meyer-Straße in Kleinzschocher; between Erich-Köhn Straße and Demmeringstraße in Lindenau; Hofer Straße in Reudnitz; between Bernburger Straße and Theresienstraße, Hamburger Straße and Schönfelder Straße in Eutritzsch

Herrmann Julius Meyer, owner of a publishing company, initiated in the late 19th century several development projects to provide adequate but cheap housing to factory workers and their families.

Early highrise buildings

address: Augustusplatz

You can see two early highrise buildings (by the standards of their time) around Augustusplatz. One is the Krochhochaus on the western side of the square. The other is the Europahaus in the southeastern corner of the square, across the street from the Gewandhaus.
Krochhochhaus

address: Goethestraße 2

Europahaus

address: Augustusplatz 7
Modern highrise buildings

address: Augustusplatz, Wintergartenstraße and Nordstraße

Besides the tower of the new townhall and the Völkerschlachtenkmal, three highrise buildings shape the skyline of Leipzig. The City-Hochhaus (Augustusplatz) was built as part of the university campus but sold to private investors in the 1990s. The Wintergartenhochhaus next to the Hauptbahnhof (Wintergartenstraße) is an apartment building. The Westin hotel was erected in the late 1970s and opened in 1981 as Hotel Merkur.
phone: +49 341-7100590

address: Augustusplatz

Leipzig's highest building has a restaurant and an observation platform at its top with a great view over the town.

Wintergartenhochhaus
Other sights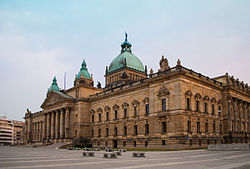 VölkerschlachtdenkmalAt 91m tall, this is the biggest monument in Europe, commemorating the Battle of Leipzig in the Napoleonic Wars, in which the combined Prussian, Austrian, and Russian forces defeated Napoleon at a cost of 100,000 lives. The top platform can be visited (steep, narrow stairs). Every summer, the 'bath tub' race is held in the reflecting pool below. The monument itself was built for the first centennial of the battle and its design reflects the spirit of these times as well as numerous Masonic symbols given that the architect was a Freemason.

University of Leipzig Botanical Garden

phone: +49 341 - 9736850

address: Linnéstraße 1

It's the oldest one in Germany and one of the first in the world.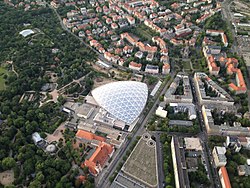 address: Pfaffendorfer Straße 29

Although pricey, this is one of the largest and best known zoos in Germany. In a survey of zoos by Anthony Sheridan, it was ranked first in Germany and second in Europe. New elephants' enclosure has a swimming pool where you can watch the elephants bathing from under the water level. Visit the Gondwanaland tropical species exhibit, where animals and visitors are not separated by either fence or pane, and the monkey house.

address: Deutscher Platz 1

The national library of Germany collects works published in Germany or in the German language. It consists of three buildings from different epochs: the original main building opened in 1916 with two later extensions integrated, a windowless depot tower from the late 1970s/early 1980s, and book-shaped fourth extension. The center of the main building is a large reading room worth a visit just for its atmosphere. If you wish to use the library or just move around freely you will have to pay a fee and provide government-issued photo ID. If you ask the security guards nicely, they may accompany you to the entrance of the reading room and let you glimpse into it. No photography.

address: Spinnereistraße 7

A converted cotton mill in the Plagwitz industrial district, today providing work and exhibition rooms to artists.

Bayerischer Bahnhof

address: Bayrischer Platz

Germany's oldest preserved railway station, built in 1842, only 7 years after the first train line of Germany had been opened. The station is no longer in use but one can still view the portal. In the course of the construction of the city tunnel the entire portal was moved away and later relocated to its original place. A new underground station is used by all S-Bahn-trains.

address: Simsonplatz 1

Located across the ring southwest of the New Town Hall (Neues Rathaus), the appearance of this building resembles the original look of the Reichstag in Berlin. It was built from 1888 to 1895 for the Court of the German Empire (Reichsgericht), the highest court of the Reich. During the GDR years the building served a variety of uses and hosted the Museum der Bildenden Künste. After refurbishment, the Federal Administrative Court (Bundesverwaltungsgericht) moved into the Reichsgericht building in 2002. You can visit the entrance hall, the large courtroom, and the Reichsgerichtsmuseum with an exhibition on the history of the building. Visitor access may get restricted without prior notice if the work of the court requires it.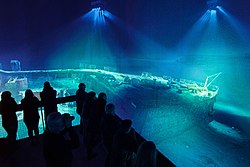 address: Richard-Lehmann Straße 114, 04275

Huge panoramic picture surrounding the viewer. The theme changes from time to time. It was built as a gas storage tank.

address: Messe-Allee 1

Leipzig has a long tradition of trade fairs, once having hosted the first and biggest sample fair in Central Europe. The modern exhibition centre was one of the major business investments and architectural innovations of the 1990s post-reunification period ("Aufbau Ost", i.e. "developing the East"). It consists of the distinctive glass hall (a landmark when entering Leipzig from the north), five exhibition halls and a conference centre. In addition to numerous exhibitions and conferences that are only of interest to businesspeople and experts, there is a number of popular fairs geared to the general public, namely the Leipzig book fair (March; cf. #Festivals), House–Garden–Leisure (February), Model–Hobby–Games (late-September/early-October), and Tourism & Caravaning (November).
Do
If you understand some German, get a copy of the monthly city magazine
Kreuzer
or use the event calendar on their website to get information on upcoming events. You can buy the
Kreuzer
for €2.50 in press shops and bookstores throughout the city.
Sightseeing tours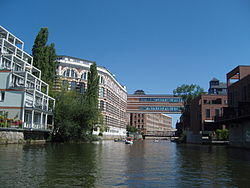 address: Katharinenstaße 8

The tour lasts 2½ hours, comprising a 1-hour guided walk through the city center and a bus tour of 1½ hours to sights elsewhere. You can also book each part of the tour individually. Buy your ticket at tourist information, where the tour starts.

phone: +49 341-19449

address: Kurt-Schumacher Straße

Every weekend, LVB offers sightseeing tours in a modified tram called "Gläserner Leipziger". Buy your ticket in advance from any of the LVB service offices listed above; it includes a day ticket for zone 110 (Leipzig) of the MDV network. The tour takes about 2 hours.

phone: +49 341-902 902 89

address: Lützowstr. 19

In addition to the comments of a live guide in English or other languages, on-screen historic film footage and photographs give you a deeper insight into Leipzigs history and life today. The standard length of the tour is 2 hours. You can also combine it with a walking tour through the historic center.
Concerts
phone: +49 341 1270 280 (Tickets)

address: Augustusplatz

Mendelssohn's orchestra still exists, but the concert hall is new. Inside is a huge painting by Sighard Gille, visible through the windows from Augustusplatz.

address: Thomaskirche, Thomaskirchhof

Listen to the St. Thomas Boys Choir performing Bach's music in its original environment. Be aware that a guest choir may sing instead at any time as the St Thomas Choir travels a lot. Since the motet is primarily a musical form of devotion and not a musical performance for tourists, applause is uncommon and frowned upon.

phone: +49 341 1261261 (Tickets)

address: Augustusplatz

The opera house of Leipzig. Though the building was opened in 1960, the company looks back at more than 300 years of history.
Festivals
Outdoors
Riverside woods and parks
Leipzig Riverside ForestWith an area of 2500 hectares (6180 acres), it is one of the largest riparian forests in Central Europe and one of the largest urban forests in Germany. Having an extensive forest—not on the outskirts, but in the middle of the city—is a defining feature of Leipzig. It stretches along the rivers Pleiße, Weiße Elster, and their tributaries, for more than 30 km in length and 2 to 5 km in width. Some parts are designed as landscape gardens while others are left in a near-natural state and protected as conservation areas. This "green belt" may be discovered on a walk, by bicycle, on horseback or during a canoe ride. From the Cospudener See in the south through the Clara-Zetkin-Park, west of the city center along the Elsterflutbecken, and to the northwest between Leutzsch and Möckern you'll find a landscape that sometimes makes you forget you are in a city.

Clara-Zetkin ParkReally a collection of several parks that locals may still know and refer to by their original names: Johannapark, Albertpark, Volkspark Scheibenholz, and Palmengarten. Walk westwards from the new city hall to find the Johannapark, starting at the crossing of Karl-Tauchnitz Straße and Friedrich-Ebert Straße

RosentalThe second largest park of Leipzig, located northwest of the city center. From the Rosental you can get a glimpse into the zoo without having to pay the entrance fee (Zooschaufenster near the large meadow). Crossing Waldstraße and continuing in northwestern direction you will find a small hill with a watchtower on top.

Aussichtsturm RosentalhügelObservation tower. See the city from above. Admission is free. You'll have to climb up stairs in the open and stand on a platform that may shake a bit in the wind.

FockebergThis hill was built as a landfill for World War II debris. It is now a park and the location for several recurrent events: the Fockeberglauf in March and November (a running competition), the Fockebergzeitfahren (an uphill bicycle race), and the Prix de Tacot (a soapbox car race).

address: Koburger Straße

Watch wild animals in the woods. If you feel like hiking, after passing through the Wildpark you can turn northwards and walk to Clara-Zetkin Park, or walk south/southeast to Cospudener See. Both are about 2.5 km away.
Leipzig by boat
Leipzig is not located on any major river, instead there are several smaller rivers, their distributaries, and canals from the industrial era, creating a network of waterways that is grandiloquently touted as a "little Venice". Currents are weak to non-existent and motorboat traffic is rare. Thus, Leipzig's rivers and canals are perfect for amateur canoe paddlers and rowers, even for complete rookies in this field. Urban districts like Plagwitz or Schleußig and even the western parts of the city centre as well as the extensive riverside forest and parks may be discovered from the waterside, providing a completely different perspective of the city. There are several boat rentals, typically charging €7–8 per hour for a two-seater kayak or Canadian canoe.
phone: +49 341 480112

address: Antonienstraße 2

Boat rental offering skiffs (up to 4 persons), kayaks (for 1, 2 or 2+child) and Canadian canoes (for 2, 3, 4 or 5 persons); as well as guided motorboat tours (advance booking required).

address: Klingerweg 2

Boat rental offering skiffs (up to 4 persons), kayaks (for 1, 2 or 2+child) and Canadian canoes (for 3 or 4), large Canadian for 10 (requires a professional cox, advance booking); guided motorboat tours.
Lakes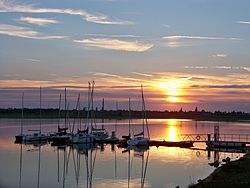 Leipzig is surrounded by
several lakes
, resulting from former open-cast lignite mining and now developed into places for various outdoor activities. You can spend a day on the beach, ride a canoe, or go fishing or scuba diving 10 km from the city center. Be warned that, due to their origins as open-cast mines, the lakes are very deep and have steep sides: don't enter the water unless you are a strong swimmer. The closest lakes are:
address: Grünau/Miltitz

Beach; camping; fishing, water sports. This one is the oldest of the close lakes. Converted from a mine in the 1960s, the city grew towards it in the 1980s with the Grünau development.

Cospudener See

address: Markkleeberg-West/Knautkleeberg

Named after Cospuden, a village that fell victim to opencast mining, this lake was the first lignite mine conversion in the region after the end of the GDR. Locals instantly and enthusiastically adopted their new "Costa Cospuda". The northern Beach (Nordstrand) is broad and sandy, the perfect place to spend a hot summer day.

address: Markkleeberg-Ost

The youngest of the nearby lakes and perhaps a bit quieter than the other two. It has rather small beaches but a long promenade.

Kayaking and Rafting at Markkleeberger See

phone: +49 - 34 297 - 14 12 91

address: Wildwasserkehre 1, 04416 Markkleeberg - Auenhain

This site was planned for staging the Olympic Games 2012, and was built even though the games were awarded to London. This is one of the two most advanced whitewater kayak parks in Europe.
Other activities
Buy
There are lots of shops in the inner city (city center), mostly frequented by pedestrians. Leipzig and Germany souvenirs can be found at shops around the Old City Hall. Many independent retailers unique to Leipzig can be found in Südvorstadt; with many interesting clothing stores, food places, and cinemas.
Christmas MarketAs in many other German cities, Leipzig hosts the Leipziger Weinachtsmarkt, or Leipzig Christmas Market, which opens in the last week of November, first week of December and continues until a few days before Christmas Day. The Leipzig Christmas Market is a major event in the city and is essentially a large winter-themed carnival, complete with a giant Ferris Wheel on Augustusplatz in between the Opera House and the Gewandhaus, carrousels and other small rides in addition to the usual market stalls and food vendors. The festivities take place throughout the inner city of Leipzig, with a majority of the market stalls stationed on Market Square in front of the Old Town Hall, but also on Petersstraße, Grimmaische Straße and Nikolaistraße next to Nikolai Church. The market stalls sell a variety of gifts unique to the Ore Mountain region south of Leipzig, as well as various traditional market foods such as fried potato pancakes (Kartoffelpuffer), Heurigen (roasted roll with cheese and meat) and Glühwein (a mulled wine). There are also carolers and Christmas-themed events.

address: Paunsdorfer Allee 1

Large shopping mall that includes C&A, H&M, Esprit.

address: Willy-Brandt-Platz 7

The Hauptbahnhof is not only one of the biggest train stations in Europe, it's a great shopping mall as well (on three floors boutiques and restaurants are located next to drug stores and supermarkets)

Fresh Food Marketlocal vegetables and all kinds of fruits and flowers.

Fresh Food Marketmay be a bit cheaper (mostly lower-grade goods at a lower price and some disount offers) but the atmosphere is not so nice. Sometimes there are market criers around.

Antik- und Trödelmarkt

address: Agra Messepark, Bornaische Straße

address: Karl-Heine-Straße

a nice alternative fleamarket with approx. 100 booths of locals selling handmade stuff, some antiques and second hand clothes on the pavements. there is also some musics groups and food.

address: Günthersdorf

One of the largest shopping malls in Germany.
Eat
Specialities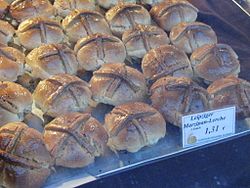 Try specialities of Leipzig:
Lerchen, a sweet dough-wicker filled with marzipan, sold in bakeries.
Quarkkeulchen, served in traditional restaurants as a dessert
Leipziger Allerlei, a vegetables dish
Reformationsbrötchen, a pastry, sold in bakeries in October prior to Reformation Day
Budget
For breakfast or for a snack during the day, turn to one of the many bakery shops you'll find all over the city. Most are open 7 days a week, typically from 06:00 to 18:00 (or from 07:00 to 06:00 on Sundays). €5 buys you a sandwich, a pastry or a piece of cake, and a cup of coffee.
address: Gottschedstraße 15

Safran

address: Karl-Liebknecht-Straße

Indian food.

phone: +49 341 9615721

address: Gottschedstraße 4

Ambient place with vegetarian options
Mid-range
address: Kolonnadenstraße 2

Saxon cuisine.

Barthel's Hof

address: Hainstraße 1

Exotic Saxon dishes.

address: Nikolaistraße 10

Features a scale model of the Taj Mahal.

address: Riemannstraße 52

Korean food.

phone: +49 341 2319126

address: Bornaische Straße 54

Vegetarian/vegan restaurant. Try the strawberry basil smoothie.

address: Barfußgäßchen 9

Saxon food. Large portions. Outdoor terrace, rustic cellar, or tunnel courtyard.
Splurge
Medici

address: Nikolaikirchhof 5

Classy Italian restaurant

address: Augustusplatz 8
Drink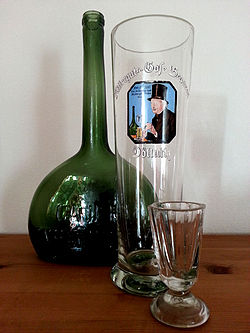 A local beer specialty is
Leipziger Gose
, a top-fermented brew with a characteristic, slightly sour flavour, that originated from
Goslar
but was immensely popular in Leipzig during past centuries. It has however become rather rare and is only served in a few specialised breweries and pubs nowadays. Today, most Leipzigers prefer more mainstream
Pils
beers and if you just order "a beer" you will most probably get a
Pils
by default.
Ur-Krostitzer
, for example, is brewed just a few kilometers north of Leipzig and was purportedly favoured by the Swedish king Gustavus Adolphus during his stay in the region. Leipzig's
Sternburg Export
is one of the cheapest among German beer brands (c. 50 cents a bottle in most supermarkets) and is prefered by the young and poor who want to get lit for little money, while only a few enthusiasts actually appreciate its taste.
A local liquor specialty is
Leipziger Allasch
, a
kümmel
(caraway-flavoured liquor), and a variety of liquors of
Horn's
destillery.
You can find a lot of pubs, bars, cafés and restaurants and also some smaller dance clubs along the multicultural
Karl-Liebknecht-Straße
("Karli"). The street starts in the south of the inner city and leads you to Südvorstadt and Connewitz (student and alternative quarters). Many pubs, bars and cafés can also be found on
Barfußgässchen
, a narrow lane in the old town.
Cafés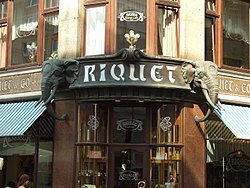 Leipzig has a long and lively coffee house tradition. Although many of the old cafés have disappeared, this tradition lives on. Besides
Zum Arabischen Coffee Baum
(listed under Museums above) a number of cafés give you a place to relax and have a cup of coffee during the day.
phone: +0341 9 61 00 00

address: Schuhmachergäßchen 1

Built in 1908-09. Two copper elephant heads guard the entrance. The interior is put under preservation and has been restored to its original glory in the 1990s. Wide selection of cakes and gateaux.

address: August-Bebel-Straße 2

Art-deco style. Opened in 1919, refurbished in 1998–2000. Outside the city center.
Bars and pubs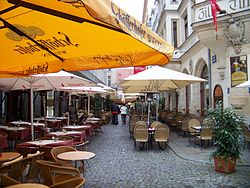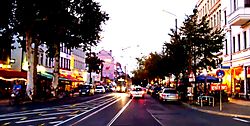 Clubs
Sleep
Leipzig is a major trade fair location: occupancy and rates at hotels may starkly rise during fair periods. Consult the
calendar at the website of Leipziger Messe
for their dates.
Budget
Camping
address: Gustav-Esche-Straße 5

address: Prager Straße 200
Hostels
Hotels
address: Gießerstraße 28

Cheap, but service is lacking.

address: Auguste-Schmidt Straße 20

Humble accommodations but close to the centre. Owner is very friendly but speaks only German.
Mid-range
ACHAT Comfort Hotel Messe-Leipzig

address: Salzhandelsstraße 2

Balance Hotel Leipzig-Alte Messe

address: Breslauer Straße 33

B&B Hotel Leipzig - Hotel an der Messe

address: Torgauer Straße 277 A

address: Permoserstraße 50

4-star hotel. Great value.

Grand City Hotel Leipzig Zentrum

address: Gerichtsweg 12

3-star hotel.

address: Meusdorfer Straße 47

address: Körnerstraße 36

address: Paul-Gruner-Straße 44

address: Windscheidstraße 21

address: Hans-Driesch-Straße 27

One of the best values in Leipzig.

address: Eutritzscher Straße 15, 04105 Leipzig

This Mercure is more about modern comforts than art, but unless you are looking for striking new frontiers in hotel room design, you should be very fine with its reasonably-appointed rooms and free WiFi.

Mercure Hotel Leipzig Am Johannisplatz

address: Stephanstraße 6

address: Fuggerstraße 2

address: Nikolaistraße 23

Park Hotel Seaside Leipzig

address: Richard-Wagner-Straße 7

address: Grosser Brockhaus 3

phone: +49 341 1293

address: Gutenbergplatz 1

Breakfast included.

address: Schongauer Straße 39

address: Wittenberger Straße 87
Splurge
Cope
Consulate Generals and other foreign authorities in LeipzigOnline list maintained by tourist information.

Ludwig Press ShopBroad selection of international newspapers

address: Ritterstraße 17-21

Police station city center

Polizeirevier Mitte

address: Dimitroffstr. 1

Police station for central districts around the immediate center

Bundespolizei Hauptbahnhof

address: Willy-Brandt-Platz 2c

phone: +49 341-123-8400

address: Technisches Rathaus, Prager Straße 130

phone: +49 341-9683255

address: Willi-Brandt-Platz 7

If you lost something on a train or in a station.
Go next