Leipzig Lowlands-Central Hills
Leipzig Lowlands
is a plain in
Saxony
,
Germany
. It is bordered in the south and east by the
Central Saxon Hills
. The latter is known as Saxony's "land of castles", including several (mostly medieval and Renaissance) mansions, fortresses, churches and monasteries as well as neat old towns.
Cities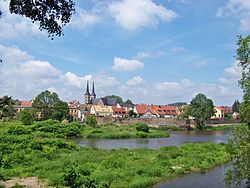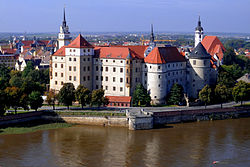 – biggest city in Saxony, transportation hub, major trade and industrial site with a mulfifaceted cultural life
– known for its castle that was used as a prisoners-of-war camp during World War II
– beautiful renovated old town core
– old town on the Mulde river with many historical buildings (Renaissance townhall, Baroque bridge, abbey and long-standing boarding school)
– medieval castle
– temporary residence of Saxony with the world's first newly constructed Lutheran church after Reformation
Understand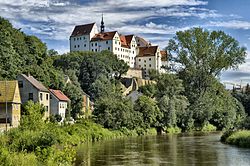 Get in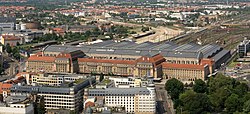 The region's transportation hub is Leipzig with its airport (
LEJ
) and major train station that is served by ICE high-speed (lines Hamburg–Berlin–Munich and Frankfurt–Dresden) and intercity trains (from Hanover, Cologne).
The region is crossed or passed by Autobahnen A4 (Frankfurt–Dresden), A9 (Berlin–Munich), A14 (Magdeburg–Dresden), A38 (Göttingen–Leipzig) and A72 (Leipzig–Chemnitz–Hof).

Get around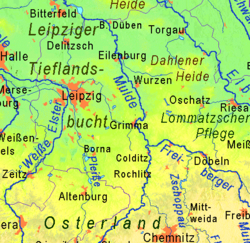 Most of the region belongs to the
MDV
transport system. Their tickets are valid for all local and regional trains, trams and buses in the respective zone, no matter which company operates the particular means of transportation. You may switch from one vehicle to another using the same ticket, the fare only depends on the number of
zones
lying between start and destination of the trip. A similar system exists with the
VMS
in the southern part of the region (area around Hainichen, Mittweida, Rochlitz) that are closer to Chemnitz than to Leipzig. Both systems overlap in the Döbeln area where tickets of both networks are valid.
The surroundings of Leipzig are served by the
S-Bahn Mitteldeutschland
network of suburban
trains
(e.g. S2 Leipzig–Delitzsch, S3 Leipzig–Markkleeberg–Böhlen–Borna–Geithain, S4 Eilenburg–Leipzig–Wurzen) with trains running every half hour. Parts of the region that are more distant from Leipzig are served by hourly regional trains (Leipzig–Grimma–Leisnig–Döbeln, Riesa–Döbeln–Mittweida–Chemnitz) or regional express trains that skip over some minor stations and are therefore a little faster (Leipzig–Wurzen–Oschatz–Riesa–Dresden, Leipzig–Bad Lausick–Geithain–Burgstädt–Chemnitz, Leipzig–Eilenburg–Torgau–Falkenburg–Cottbus, the latter only two-hourly).
Some unprofitable rail routes have been closed and replaced by so-called "Plus bus", i.e. hourly regional
bus
lines (e.g. Leipzig–Bad Düben, Grimma–Colditz, Grimma–Wermsdorf, Grimma–Wurzen, Torgau–Dahlen). Smaller places can only be reached by local buses that in many cases only run a few times a day.
The region offers a well-developed network of
cycle paths
, in particular several scenic routes along the course of rivers, e.g. Pleiße cycle trail (Leipzig–Böhlen–Altenburg), Leipzig–Elbe route (Leipzig–Wurzen–link with the
Elbe Radweg
), Parthe–Mulde route (Leipzig–Naunhof–Grimma), Muldental cycle path (Penig–Rochlitz–Colditz– or Nossen–Döbeln–Leisnig– Grimma–Wurzen–Eilenburg–Bad Düben–Dessau) as well as the Berlin–Leipzig cycle trail (Leipzig–Bad Düben–Wittenberg–Berlin)
See
Old town of Leipzig with many historical merchant houses, trading courts and shopping arcades
Monument to the Battle of Nations 1813 (Völkerschlachtdenkmal) in Leipzig – 91 metres high, one of the biggest monuments in Europe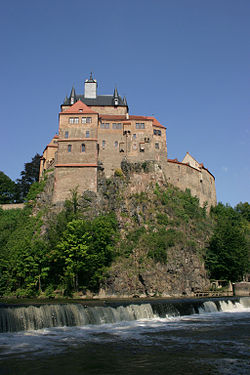 ;Castles, mansions, châteaux
Gnandstein castle, Kohren-Sahlis: well-preserved Romanesque hilltop castle from the early 13th century (13 km east of Altenburg)
Kriebstein castle: late-14th century fairytale castle, used as the set of several films (12 km north of Mittweida, 15 km southwest of Döbeln, on the Zschopautal cycle/hiking trail)
Late-Gothic to early-Renaissance castle of Wurzen
Hartenfels castle in Torgau and Schlosskirche (palace church)
Colditz Castle, 1000-year-old hilltop castle transformed into a Renaissance château, used as a prisoners-of-war camp for Allied officers during World War II, made known in the United Kingdom by a post-war film and a 1970s BBC series
Renaissance mansion of Machern with English-style landscape garden (9 km west of Wurzen)
Altranstädt castle in Markranstädt, during the Great Northern War 1706/07 residence of the Swedish king Charles XII and site of an important peace treaty
Baroque château (former castle) of Delitzsch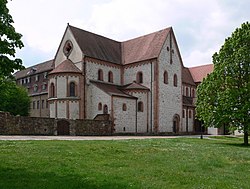 ;Churches, monasteries
Benedictine monastery of Wechselburg with late-Romanesque basilica (17 km west of Mittweida)
St Laurentius Church in Pegau with the Romanesque cenotaph of Margrave Wiprecht (16 km southeast of Lützen)
;Other
Kriebstein dam (10 km north of Mittweida)
Stasi bunker in Machern: now a museum (9 km west of Wurzen)
Do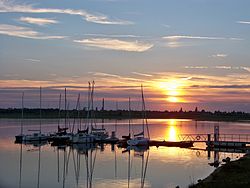 Water sports (swimming, sailing, surfing) on the lakes of Central German lake district south of Leipzig (Neuseenland, literally meaning "new lake district", but also a pun on New Zealand)
Canoeing or zodiac tours on the many rivers in and around Leipzig or the Mulde
Cycling (Mulde cycle trail, Pleiße cycle trail, Parthe-Mulde route, Leipzig-Elbe route, Berlin-Leipzig cycle path)
Diverse cultural life in Leipzig (music, theatre etc.)
Belantis amusement park near Leipzig
August: Highfield festival (indie rock) in Großpösna