Lemery
Lemery
is a major municipality in
Batangas
. It is a commercial center for the eastern portion of
western Batangas
. The town lies next to and to the west of the heritage town of
Taal
; together they form a single urban area. The boundary runs along the Pansipit River; the river area was part of the sea until it was buried by tephra deposits from the 1755 eruption of
Taal Volcano
.
Understand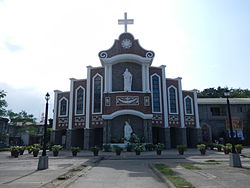 Lemery is largely a commercial center, with most shopping options found here. It also has more available accommodation than Taal, with a few sights around. Along with Taal, Lemery forms a minor metropolitan area, constituting the eastern commercial center for western Batangas (the others are Balayan and Nasugbu).
The town is named after the Spanish Governor-General Jose Lemery e Ibarrola Ney.
Orientation
Lemery is a large municipality, including rural areas to the north, at the foot of Mount Batulao. Commercial activity is found in the
Poblacion
(downtown), which is divided into smaller barangays for administrative purposes, and approximately bordered by the Palanas and Pansipit rivers. Resorts and accommodations are found to the west of Poblacion. The rural area to the north houses Leisure Farms and Fantasy World.
The Taal-Lemery Bypass or Diversion Road runs along the hypoteneuse of an approximately right triangle whose short side goes through downtown Taal and long side through downtown Lemery. It is a developing area, with hotels and residential subdivisions. It also has a large new hospital; Lemery has others but Taal does not.
Get in
Getting to Lemery is easy, though for any mode of transport traffic jams in the suburbs of Batangas City often make the journey quite slow.
Lemery is served by
buses
from
Manila
,
Batangas City
, or
Nasugbu
.
DLTBHourly departures from their Manila terminals.

JamDeparts every 30 minutes from their Manila terminals, with a major stopover at Lipa.

Batman StarexpressHas trips between Batangas City and Nasugbu via Lemery, with departures every hour.
Fares from Manila for either DLTB or Jam are at around from Buendia or from Cubao. Trips take about 3 hours, depending on traffic conditions.
Jeepney
can also be used to reach Lemery or Taal from Batangas City, but service is infrequent and sometimes slow. Unless your budget is very tight, take the more comfortable bus instead.
For cars coming from
Batangas City
, Palico-Balayan-Batangas Road (Route 436) is the main route.
Get around
Most travel within Lemery or Taal, and between the two, is by
tricycle
. Fares range from up to around 100.
See
Fantasy World

address: Km 78 Diokno Highway, Masayang

theme park, though incomplete and closed to the public. It has been once used in some local fantasy-themed television dramas in the 2000s. This is, however, a common stopover for picture-taking by tourists travelling from Tagaytay to Taal.

Casa Corazon Motorcycle Museum

address: National Highway, Sinisian

A private collection with many bikes and some classic cars. There is also a hotel.
Lemery Church
Holy Cross Parish, Bucal-Matingain
Do
Sigpawan Festival -Celebrated during Easter Sunday, the festival's highlight is the Fluvial procession along coastal areas of the town. The festival showcases the rich culture and natural resources of Lemery, with booths displaying a variety of the town's agricultural products, native delicacies and its well-known sinaing na tulingan. Sigpaw is a small net with a handle that is used by fishermen to scoop fish and catch shrimps and small fry along the towns shorelines. Farmers also use it to pick fruits from trees.

Leisure Farms

address: Diokno Highway, Payapa Ibaba

The first hobby farming community and agro-tourism site in the Philippines.
Buy
Xentro Mall Lemery

phone: +63 907 053-2594

address: National Highway, Malinis

First major mall in town. Has a Robinsons supermarket, and hotel beside it (see #Sleep).

phone: +63 42 741-5303

address: Ilustre Street

Opened in 2017. Has a SM Hypermarket, Watson's and fast food chains.

Lemery Public Market

address: Lakandula Street

Crowded and noisy central market, selling cheap produce and dry goods.

Citimart

address: Diokno II Street

Opens early and closes late. Cheaper buys than the major chains SM Hypermarket and Robinsons.
Eat
All the malls have restaurants, there are fast food places both in malls and along the main street, and cheap Filipino-style
candelaria
in various areas, especially near the market.
address: Ilustre Street, Malinis

Cheap Korean dining with BBQ grill.
Drink
Jamocha Cafe & BistroMostly Filipino food, decent quality and prices. Live music some nights.
Sleep
There were few hotels in town a few years back, except perhaps for beach resorts, but the economic boom in Lemery resulted in increasing number of hotels spawning around. The town has become a major stopover for travellers to western Batangas. Hotels around Lemery are generally mid-range, whereas in Taal almost all available accommodation is expensive by local standards (₱2,000 and above).
Apollo Hotel

address: National Highway, Matingain

New mid-range drive-in hotel, with A/C rooms.

Dreamwave Hotel Lemery

address: National Highway, Malinis

A/C rooms with cable TV, gym and heated shower rooms.
Outside downtown, Casa Corazon has a hotel, as well as a motorcycle museum listed under
#See
.
Go next
Lemery is the hub location for trips to western Batangas from the east. Car travellers who went to
Tagaytay
first will stop at Lemery before proceeding to the rest of western Batangas or to the south to
Mabini
or
Batangas City
.
Lemery has no interesting beaches, but several beach destinations are within about 50 km (30 miles). The best-known is
Mabini
to the south. North of town a highway runs along the bay to the towns of Calaca and Balayan, both of which have some beach resorts. There are also some resorts along this route only a few km from Lemery.
Next to Lemery is the heritage town of
Taal
, whose old downtown is designated a National Historical Landmark.