Lemmenjoki National Park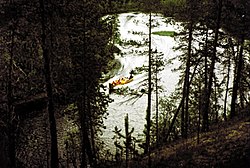 Lemmenjoki National Park
is the biggest national park in
Finland
, covering some in
Inari
and
Kittilä
in
Finnish Lapland
. The park features the valley of the river Lemmenjoki (Sami:
Leammi
) and the surrounding wilderness, with old pine forest, fell birch forests, mires and treeless fell tops. Metsähallitus describes it as "one of the whole Europe's most extensive uninhabited and roadless backwoods". It is also known for the gold rush in the 1940s.
Understand
Besides nature conservation, the area is important for reindeer husbandry and popular for trekking. It is not only the biggest national park in Finland, but also borders
Øvre Anárjohka National Park
in
Norway
,
Pulju Wilderness Area
to the west and
Hammastunturi Wilderness Area
to the south. Not far away in the north is
Muotkatunturit Wilderness Area
.
The river valley and its nearest surroundings make up the "recreational zone" with a nature trail, hiking trails, many huts and some service. Also the surroundings of the trail to the Sallivaara reindeer round-up site belong to the recreational zone. Farther away is the "remote zone", still with some open wilderness huts, but with much less hikers. Areas around cultural sights are categorized as "cultural zones", with special considerations.
The microclimate in the river valley is somewhat warmer than what might be expected and the vegetation lush for the latitude, thus the Sami name Leammi, "warm (river)". Transformed into Finnish it became Lemmenjoki, "river of love".
The main sources for livelihood of the locals are reindeer husbandry and tourism. Most reindeer are half-wild, the reindeer husbandry cooperative caring for them as needed, giving extra food in severe winters, maintaining fences and so on. Two times annually the reindeer are rounded up, calves marked and some taken to slaughter.
History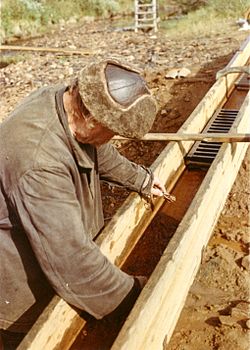 River valleys have always been favoured places to live. There are many remains of pitfalls in the park, e.g. by the nature trail, used for hunting wild reindeer until the 1800s, when reindeer herders and permanent settlers arrived.
Gold was found at the nearby Ivalojoki in the 19th century, with a peak of gold digging 1871–1872, with some 500–600 people engaged. Soon after the crown station at Ivalonjoki was closed at the turn of century, gold diggers came also to Lemmenjoki, with some 70 claims in 1902. The real gold rush to Lemmenjoki happened in the 1940s, continuing into the 1950s.
There are still gold diggers panning gold at the river banks, about a hundred people are at the claims in summertime (not that many having decent income from it, but rather a reason to spend their vacation here). There are some 20 kg of gold produced annually by automated gold digging, and one kilogram by hand. The gold of Lapland is very pure, and much of it is used directly for jewellery, rather than melt.
The ways of digging gold have changed over the years and claims of different ages can be compared. At times there have been heated conflicts between modern machine digging and nature conservation concerns (it seems machine digging will end 2020), but most of the park is untouched by the activity.
The park was founded in 1956 and has since been expanded twice. The gold digging area is nowadays included. The main aim of the park is to maintain the wilderness-like character of the area.
Landscape
The river valleys surrounded by fells make for majestic sceneries. The slopes of the Lemmenjoki valley are covered by old-growth pine, short and wide due to the northern climate. Above the valleys the forest mostly consists of fell birch.
The treeless fell tops offer views of tens of kilometres, given suitable weather.
In addition to fells and forests, the large mires are an essential feature, including open
aapa
mires and
palsa
mires, where permafrost has created turf covered mounds.
Flora and fauna
The northern limit for spruce forest goes through the southern part of the park. The fell birch forest, typical for Lapland, is quite different from any forest farther south.
Fell tops, which may seem barren, do have an interesting flora and are home for many birds, among them the rock ptarmigan (
Lagopus mutus
).
There is a strong golden eagle population in the park, a population of brown bear, possibly wolverines and occasionally wolves. There is also a strong moose population. And you will see reindeer.
Climate
The park is in Finnish Lapland, clearly north of the Arctic circle. Weather can be harsh and temperatures can be extreme in midwinter. In the winter, good equipment and experience is needed at least in the remote zone – and winter can come early.
Waters are high in spring and early summer.
The best time to visit is early spring (for cross-country skiing), mid or late summer and early autumn. More demanding winter hikes can be arranged with local guides. The
ruska
time in September, with leaves turning yellow and red in different nuances, is the most popular season. For canoeing, different considerations may apply.
Get in
You may enter the park anywhere you want. If you cross the border from Norway you need to clear with customs beforehand in some cases.
The main entrance to the park is in the village Njurkulahti (Sámi: Njurggoluokta) at the east edge of the park, by the river, some 45 km south-west from Inari. This is the starting point of hiking and nature trails and for a motor boat service along the river.
There is a also a trail to the Sallivaara reindeer round-up site (Sámi: Sállevárri/Sallâvääri) from Repojoki at the southern edge of the park.
There is a road to the village Lisma (Sámi: Lismá) in the southern part of the park.
If you intend to do a longer hike, there are many other possible starting points.
The local visitor centre seems to have been closed. You can get information (and maps, etc.) from the visitor centre in Inari or the customer service in Ivalo. These are not nearby, but en route for some visitors. Keys to reservation huts and rental cabins are handled by a local business.
Siida

phone: +358 20-564-7740

address: Inarintie 46

Official visitor centre, although far away. Co-located with the Sámi museum. Very worthwhile exhibitions. Different opening hours for different parts.

phone: +358 205 64 7701

address: Ivalontie 10

Metsähallitus customer service point in Ivalo. Information, permits, maps and books.
By bus and taxi
The coaches from
Rovaniemi
to
Utsjoki
and
Karigasniemi
, some of them continuing to Norway, pass by
Ivalo
airport and
Inari
. From Inari you take a taxi to Njurkulahti, Repojoki or Lisma. Or have a long bike ride.
There is a weekly taxi connection at more or less the price of a coach ride from Inari to Lisma (Njurkulahti on request) on Friday afternoons, to be ordered at latest Thursday 18:00 (phone ), check about return transport. There are taxi entrepreneurs in Inari and Njurkulahti; taxi rides are possible at any time (normal taxi fare Inari–Njurkulahti would be €70–100).
By car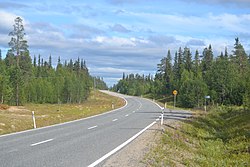 Take either national road 4 (E75) to Inari or road 79 towards
Muonio
and
Kittilä
.
From Inari you follow regional road 955 35 km to the south-west, to Menesjärvi, after which you turn right to local road 9551 (Lemmenjoentie), which you follow 10 km to Njurkulahti at the end of the road. You could also continue to Repojoki or to Lisma.
From road 79 you drive some 15 km from Kittilä towards Muonio, then turn north-east to regional road 955 towards Inari. Turn to Lisma, stop at Repojoki or continue to Njurkulahti (with the turn near Menesjärvi).
There are parking lots at Repojoki and Njurkulahti. If you want to leave your car in Lisma, check with locals.
By snowmobile
There is a network of snowmobile routes and tracks through most of Lapland. You could drive via Menesjärvi to Njurkulahti from e.g. Inari (55 km), Kittilä (175 km) or
Saariselkä
(140 km). You need a permission for using the snowmobile track, probably available where you rent the vehicle. In the park snowmobiling is prohibited (there may be exceptions for locals).
Fees and permits
There are no entrance or hiking fees.
There are rental huts in the park, but there are also free open wilderness huts. In the park proper camping is free where allowed.
For fishing you need a general fishing permit and a permit for the waters. See
Hiking in the Nordic countries
or
Finland
, but also check local restrictions. The permits can be bought at Siida, the Ivalo Customer Service or local businesses. There are separate permits for Lemmenjoki valley, Kietsimäjoki and Inarijoki (belonging to the Tana river system) and the other parts of the remote zone (check!). Fishing gear and boots should be treated before contact to water to prevent spreading of the salmon parasite
Gyrodactylus salaris
. Hunting is allowed only for locals.
You can get motor boat rides from Njurkulahti (€13/person to Ravadas/Rovâdâs, €16/person to Kultalan Hamina, children under 12 years half price; private return trip with coffee and pastry €21/person, min €105) or arrange your hike with local businesses. Local enterprises in Lemmenjoki rent canoes. Njurkulahti tourism businesses have saunas.
The exhibitions at Siida are probably worth a visit, entrance fee €10/8/5.
Gold diggers' claims are considered equal to private yards: do not enter without permission.
Dogs must be kept on a leash. They are allowed in open wilderness huts if people sharing the hut agree.
Get around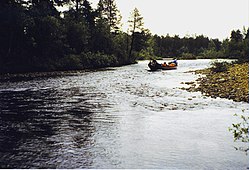 There are no roads in the park.
There is a motor boat service from Njurkulahti to Lake Ravadasjärvi and to Kultahamina (1½ hours, check or book in advance). A boat trip is a nice adventure in itself and provides access to much of the landscape. A short boat trip is possible even for the disabled (with assistance).
Walking, skiing, rowing and canoeing is allowed according to
Everyman's right
, except in the restricted areas. In Ravadanköngäs the marked trail can be used.
Cycling is allowed along the marked trails, but they are not well-suited for bikes.
There is a nature path (4.5 km) near Njurkulahti and hiking trails in the recreational zone in the river valley and from Repojoki to Sallivaara reindeer round-up site. Otherwise you follow your own paths (with some consideration of
leave-no-trace camping
).
You will need a compass, good maps and the skill to use them (the nature trail is probably marked well enough to be safe without them). You can either buy the Lemmenjoki outdoor map (Lemmenjoen ulkoilukartta), 1:100 000 with information on huts, trails and the park, or ordinary topographic maps W431, W433, W434 and V442, There are also Lemmenjoki geological outdoor map , Lemmenjoki Guidebook and Forest map 15–16, Maps can be bought at Siida or at well-equipped book or outdoor stores.
Especially in the spring and early summer fording may require some expertise. In mid and late summer minor streams should be unproblematic. The marked hiking trails avoid river crossings and probably allow safe crossing where needed, but asking at the information centres or those you meet will not hurt. If waters are high, for example because of heavy rain, do not take undue risks.
See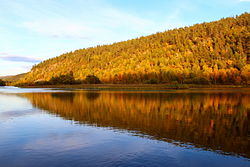 The exhibition at Lemmenjoki Nature Information Hut
Lemmenjoki River Valley
Ravadasköngäs Waterfall
Joenkielinen Fell
Sallivaara Reindeer Round-up Site
The Grounds of Kaapin Jouni, traditional landscape
The Gold Area
Do
Boating
Motorboat trip: either a shorter trip suitable also for small children and disabled, or a longer, including a walk past the Searitniva rapids. You can use the regular service (a return trip in the evening, also in the morning in season) or book your own, including guiding, coffee etcetera. Several businesses offer private motorboat trips, most arranging also gold panning or fishing if requested.
Rowing. Rowing boat included with some of the cabins for rent.
Canoeing
Canoeing Njurkulahti–Kultasatama, about 20 km one way, along Lemmenjoki, the same route as the motorboat service. The route is part of the 70 km Solojärvi–Muddusjärvi–Njurkulahti canoe route.
Canoeing Korsajärvi–Ivalon Matti along Ivalojoki in early summer, when waters still are high. Requires your getting the canoe to the lake, 12 km from the nearest road.
Trails, hiking and cross-country skiing
Walk the nature trail: 4.5 km, with information boards and campfire place.
Walk the Joenkielinen Fell circle route: 18 km, start from Njurkulahti, fire places and a lapp pole tent along the trail.
Walk the Ravadasjärvi–Morgamoja Kultala circle route: 26.5 km, start from Ravadasjärvi (use the motorboat service or walk also the 15 km Njurkulahti–Ravadasjärvi trail), campfire and camping sites and three open wilderness huts along the trail, a rental hut at Morgamoja Kultala.
Walk the Njurkulahti–Ravadasjärvi trail along the Lemmenjoki river: 15 km, cable boats for crossing the river at Searikniva and Härkäkoski, the motorboat service can be used for returning. You could also walk via Joenkielinen Fell, which adds about 6 km. The Ravadasköngäs waterfall is 1 km farther from Ravadasjärvi, along the Morgamoja trail. Campfire places, open wilderness hut, rental hut with sauna.
Walk the Repojoki–Sallivaara trail: 12 km one way. Information board at the starting point, reindeer round-up site and open wilderness hut at Sallivaara. The duckboards at some parts of the trail were in bad condition already 2013.
Hiking your own paths.
Cross-country skiing. In wintertime there are cross-country tracks (classic style) from Njurkulahti to Morgamoja Kultala (on Lemmenjoki and along Morgamoja, 25 km one way) and to Joenkielinen fell (8 km one way). For longer skiing you make your own tracks.
Other
Fishing. Either just buy the permits and go fishing or arrange with a local guide.
Berry picking. Edible wild berries may be picked according to Every man's rights.
Swimming. There are no official beaches, but swimming is allowed anywhere except in the restricted areas
Gold digging. You need a claim or mining patent, so realistically you have to talk to a local business arranging gold digging trips. Some claims are open also to an occasional hiker, ask at the information centres.
Buy
There is some food and gear available in Njurkulahti, but most things have to be bought at the latest in Inari.
Maps can be bought at the visitor centres.
Souvenirs:
phone: +358 400-287-544

address: Lemmenjoen kylätie 100, 99885 Lemmenjoki

Handicraft from reindeer leather and felt. Also reindeer meat and fishing licences.
Eat
There are two restaurant-cafés at Njurkulahti, which also have some food for sale. The restaurant at hotel Korpikartano is open at request (a few days in advance). There are shops and real restaurants in Inari.
Some businesses arrange catering and meals in the wilderness (check to where you can order them). For any meals locally, it is wise to order in advance.
phone: +358 16 673 435

address: Njurkulahti, 99885 Lemmenjoki

Sami family firm with café-restaurant, also arranging meals in the wilderness, boat trips, gold panning, fishing and hiking trips etc. Cabins for rent. Service available also in Swedish, English, French and German.
You may pick edible mushrooms and berries in the park. Fishing is allowed, subject to some restrictions, given you have bought the permits.
There are stoves in the wilderness huts, in some huts there is a separate gas stove for cooking. Read the instructions and check the condition of the stove before using it.
There are designated fireplaces in the recreational zone, which can be used for cooking, unless a wildfire warning is in effect. They are marked on the outdoor map. Firewood is provided, use sparingly and do not cut trees.
In the remote zone you may make fire at any suitable place, given no wildfire warning is in effect, using small branches and sticks from the ground. Use old fireplaces if possible.
Usually you should have a portable stove to use for most cooking. Denatured alcohol is the fuel most commonly used by local hikers (and thus easily available in shops and at petrol stations, ask for "sinoli" or "marinoli").
Drink

You should be able to get your drinking water from streams and lakes in the park. Running water is to be preferred. Use your judgement, boiling the water is recommended in hot periods in the summer.

Sleep
You can choose to sleep in reserved cabins and thus avoid having a tent. If you plan using open wilderness huts, there is less of a guarantee to be able to sleep in a bed, but mostly people try their best to make room for all. In the remote zone there is a severe risk of your not making it to the hut before having to camp (orienteering mistakes, surprisingly high waters, a hurt leg, snow....)
Lodging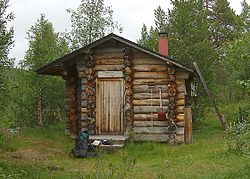 There are no hotels or hostels in the park. There are cabins for rent in the Njurkulahti area and at Holiday Village Valkeaporo. Hotels are found in Menesjärvi 10 km south from Njurkulahti (near the place where you turn towards Njurkulahti) and in Inari.
phone: +358 40-777-4339

address: Meneskartanontie 71, 99870 Inari

phone: +358 40-756-9075

address: Lemmenjoen kylätie 100, 99885 Lemmenjoki

Cabins by the river, Njurkulahti. Also boat trips, with gold panning if desired.
There are three rental huts and ten
open wilderness huts
in the park. For at least the open wilderness huts you need hiking mattresses, sleeping bags etcetera.
The rental huts in the park can be reserved through Ahkun tupa (Lemmenjoen lomamökit, see above), where you also get the key. They have saunas.
Latecomers have an absolute right to the facilities of open wilderness huts. If you come early, you are a big party or there seems to be a lot people around, you should consider going to sleep in your tent to avoid hassle.
Camping
There are no developed campsites within the park. Holiday Village Valkeaporo is by Lemmenjoentie some 10 km from Njurkulahti.
phone: +358 400 394682

address: Lemmenjoentie 134, 99800 Ivalo

Camping. Also cabins, boat trips, canoes for rent, gold panning, programme services, etc. Caravan or family tent €20/night, cabins (4–8 persons) €50–120/night.
Backcountry
In the recreation zone camping is limited to designated areas (including grounds of the open wilderness huts). In the restricted zone camping is prohibited. In the remote zone you are free to camp anywhere you want (with due consideration).
Stay safe
You should be properly equipped and have enough experience of hiking (or book a guided tour), especially if venturing off the marked trails or going in wintertime. Experience is also needed for canoeing.
Advice for
cold weather
apply in winter. There may be snowfall already in September. Even in summer, temperatures may be quite low, so adequate clothing, raingear, hiking mattresses and sleeping bags are required.
Mobile phone coverage is limited, there are areas without signal and with interference. Higher grounds are usually better covered than valleys.
There are brown bears in the park, but they should not pose any risk, unless you provoke them or manage to get between a mother and her cubs.
Let somebody outside the park know about your planned route and timetables, including alternative routes, and instruct them to call for rescue unless you return on time. You can use Siida or your hotel for this, but remember to tell them when you do return. The emergency number 112 can be used also to tell about your being safe, although delayed.
Go next
By canoe by Lemmenjoki to Solojärvi, Riutula or Muddusjärvi near Inari. Experts could continue by Juutuanjoki to the centre of Inari, carrying canoes past the Jäniskoski rapids.
By canoe by Ivalojoki from Ivalon Matti to Kuttura (easy, but wilderness and stony rapids at low waters) and onwards to Lappispola (difficult, through a mighty canyon landscape and gold digging grounds), farther to Ivalo or all the way to lake Inari.
Tankavaara gold village in the municipality of Sodankylä, by E75 and Urho Kekkonen National Park.