Les Baux-de-Provence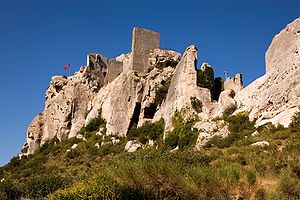 Les Baux de Provence
is a beautiful medieval town in
Provence
, whose hillsides are brushed with lavender.
Understand
Les Baux is now given over entirely to the tourist trade, relying on a reputation as one of the most picturesque villages in France. Its population of 22 in the old village is a fraction of its peak population of over 4,000, and many of its buildings (in particular the castle) are picturesque ruins.

See
Visitors to the Château des Baux can see three full scale replicas of huge siege warfare machines and watch demonstrations of huge catapults (the biggest trebuchet in Europe, a
couillard
also called
biffa
and a
bricole
) performing real shootings every day from April to September. The trebuchet, the largest medieval siege warfare machine, could hurl 100 kg rock projectiles at walls 200 yards (180 m) away.
Chapelle Saint-Blaise des Baux-de-Provence
Église Saint-Vincent des Baux
Eat
address: 13520 Les Baux De Provence

Moderately expensive. How to describe it? A bucket-list restaurant. A place that's worth the effort if you're within 200km of Les Baux.
Sleep
phone: +33 4 90 54 32 54

address: Vallon de l'Arcoule, D78, 13520

Just outside Les Baux de Provence.

phone: +33 4 90 54 39 57

address: Rue de Lorme F -13520

The only bed and breakfast in the historical centre.