Leshan
Leshan
(乐山;
Lèshān
) is a city near in
Sichuan
Province. Sitting on the confluence of the
Dadu
,
Mín
and
Qingyi
rivers it is most famous for its huge riverside cliff-carving of Buddha and nearby
Mount Emei
; which together are a
World Heritage Site
.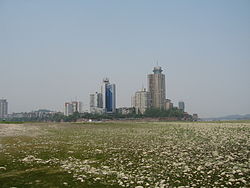 Get in
By train
The Chengdu - Leshan - Emeishan Intercity High Speed Railway provides service from Chengdu East Railway Station, Chengdu South Station, and Shuangliu Airport Station to Leshan Station (and at the end of the line Emeishan Station). Depending on train, it takes between 52 minutes to about 1 hour, 20 minutes to get between Chengdu East to Leshan (RMB 54).
Leshan Railway Station

address: Baolian Road, Shizhong District (市中区宝莲路)

From Leshan Station the trip by bus K1 via Leshan City to the Giant Buddha (RMB 2) with stops along the way in the city takes 30 minutes. Departure for the bus K1 is in the bus station building, across the street to the right side of the train station on exiting. The bus K1 can be taken back to Leshan Station before 18:00 but afterwards bus 3 is available to go back, taking 45 minutes.
By bus
Arrivals from
Chengdu
,
Chongqing
,
Emei
,
Jiajiang
,
Kangding
,
Ya'an
,
Yibin
,
Zigong
and most other surrounding towns and cities.
Leshan Central Bus Station

phone: +86 833 2450710

address: Zhile Road, Shizhong District (市中区至乐路)

Buses are available to/from Chengdu, Emei, Jiajiang, Kangding, Meishan, Pengshan, Shawan, Ya'an, Yibin, and Zigong. Also long-distance buses to/from Dujiangyan, Guanghan, Jiuzhaigou, Mianyang, Nanchong, Shanghai and Shenzhen.

Leshan Lianyun Bus Station

phone: +86 833 2447114

address: 526 Longyou Road East Section, Shizhong District (市中区龙游路东段526号)

Has buses to/from Emei, Qianwei, and Wutongqiao.

Xiaoba Tourist Bus Station

phone: +86 833 5016669

address: 451 Xiaoba Road, Shizhong District (市中区肖坝路451号)

Buses are available to/from Mount Emei (Baoguo Si), Chengdu (Xinnanmen), and Emei.
Understand
History

Leshan city has a history of over 3000 years.

Get around
Navigation
Maps of the city are: available for ¥4 from street kiosks, printed on every bus stop and online.
Public transport
Pedicab - Leshan has many pedicabs that are cheap and convenient for short journeys.
Public bus - Buses are regular and uncrowded in Leshan. Most are fairly modern and charge ¥1 per journey which you normally pay to the conductor. You may have to request your stop.
Taxi - During the day the first 2 km are charged at ¥3, and after at the rate of ¥0.70/km. A fuel surcharge of ¥0.50 is added at the end of the journey and is explained by a white sticker in front of the front passenger seat.
See
Central Leshan
phone: +86 833 2568598

address: 768 Le'e Road West Section, Suji Town, Shizhong District (市中区苏稽镇乐峨路西段768号)

This is well worth a visit if you are not familiar with ebony and the amazing carvings that can be made from it. Some of the displays are a bit tacky but there are some spectacular carvings of famous Chinese literary and legendary scenes.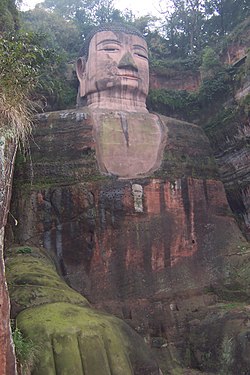 phone: +86 833 2302121

address: 2435 Lingyun Road Central Section, Shizhong District (市中区凌云路中段2435号)

One of the main attraction to see is the Leshan Giant Buddha. The Giant Buddha is a 71 m (230 feet) high sculpture carved into one of the large cliffs by the river. In addition to the Giant Buddha, there are also numerous smaller carvings of various Buddhas on the Grand Buddha Cliff Road. Other than carvings, there are also various temples and shrines scattered about, the beautiful Haoshang bridge, and some wonderful small waterfalls. The Buddha was carved into the mountain face to watch over a part of the river that while very busy for transport was claiming the lives and stock of many boats. Upon completion of the now largest Buddha in the world the river became safe, and thus Buddha saved "us all". Modern scientists will point out the rock displacement to the river bed would have changed the currents, and killed off the eddies that were pulling boats down. If you go late in the day, you will not have to compete with many Chinese tour groups who seem to go in the morning. There are two ways to see the giant Buddha: on foot and by river ferry. To see the giant Buddha Statue by ferry you can take one of the ferries from the dock for ¥70. The ferry will cross the river and stop in front of the statue for 10 minutes for everyone to go to the top deck and take pictures and then return to the dock. Ferry fare does not include admission to the park. Taking the ferry allows you to view the two guards carved into the cliff face which are not visible by foot. The total trip will take around 40 minutes. The view from the ferry is not much different from the view at the base of the statue, which would make it unnecessary unless you're dead set on having a photo taken of yourself with the Buddha. An alternative is take a taxi or bus (#13 from downtown) to the statue and climb up and down on the cliff surrounding the Buddha. There is a staircase next to the Buddha to take you down to its feet. In the mornings, long lines develop to walk down the cliff to the base of the Buddha and you can expect to wait for around 2 hours. Arrive very early or in the late afternoon to avoid the lines. There are several other (newer) things to see on site, so perhaps seeing them first and saving the Buddha for last is a smart strategy. In winter, when the water level of the 3 rivers is low, there appears a rubble island on which you can walk towards the Buddha. The island ends maybe 200 m in front of the statue, but it's a nice panorama from there. You can get to the island with a ferry from the south bank of the city (¥1 per passage) and walk about 2 km from there. Student or Seniors discounts are available, though a quick grasp of Chinese is useful. Food in this locality is very expensive and is best avoided unless you are very hungry in which case any of the cafes nearby will do. Given that you will pay through the nose anyway, it's best to choose the one with air con if you are visiting in the summer. For more information see: UNESCO .

phone: +86 833 2302809

address: 2345 Lingyun Road, Shizhong District (市中区凌云路2435号)

Old City WallsLeshan's old city walls were originally built during the Northern Zhou Dynasty and rebuilt during the Ming and Qing dynasties. The surviving remnants of the wall can be found in and around the city centre.
Tieniu Gate

address: 148 Binhe Road, 滨河路148号

One of eleven city gates that still survive. Tieniu Gate was originally built during the Song Dynasty and rebuilt in 1394. It was historically known as Lizheng Gate (丽正门).
phone: +86 833 2301801

address: 362 Lingyun Road, Shizhong District (市中区凌云路362号)

A Buddhist theme park.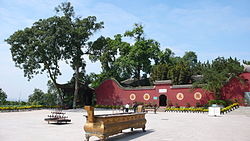 Wuyou Temple

phone: +86 833 2302048

address: Shizhong District (市中区)
Shawan District
phone: +86 833 5201222, +86 833 5030622

address: 353 Wenhao Road Central Section, Shawan District (沙湾区文豪路中段353号)

Guo Moruo (1892-1978) was a famous writer, historian and archaeologist who was born in Shawan. He lived here during his youth and some of his family members lived here until their deaths, including his estranged wife Zhang Jinghua. The building dates from the reign of the Jiaqing Emperor (1796-1820) and is built in a classical Chinese style. A museum built next to the residence tells the story of Guo's life.

Meinü Peak National Forest Park

phone: +86 833 3566299

address: Shawan District (沙湾区)

Meinü Peak (or Beauty Peak) is a 2027-metre high peak that derives its name from its shape, which is said to resemble a woman lying on her back. The famous writer Guo Morou, who wrote poems about the peak, referred to it as 'the sleeping beauty'. Other notable features of the park include Shawan Stone Forest (沙湾石林), a geological formation somewhat similar to the stone forest at Shilin and Lancanggou (澜仓沟), a valley filled with Alsophila spinulosa trees.
Qianwei County
phone: +86 833 4238874 (tourism enquiries)

address: Qianwei County (犍为县)

Founded in the Ming Dynasty,the town is fairly well-known in China, having been the setting for several Chinese films and TV series. The town preserves many old buildings that date from the Ming and Qing dynasties. Its best known feature is its boat-shaped main street known as Liangting Street.

Qianwei County Confucian Temple

phone: +86 833 4266183

address: 297 South Street, Yujin Town, Qianwei County (犍为县玉津镇南街297号)

This temple, which is on China's national heritage list, was originally founded during the Northern Song Dynasty and rebuilt during the Ming Dynasty. It is the fourth largest Confucian temple in China and the largest one in Sichuan Province.
Other outlying districts and counties
Dafo Lake

address: Jingyan County (井研县)

Dafo Lake is a manmade lake. It features a 531-metre long dam, which is the longest dam in Sichuan Province. The lake is also a haven for water birds. 13 species of water birds are believed to live on the lake, including several protected species.

Jinkouhe Grand Canyon

address: Binhe Road Section Three, Jinkouhe District (金口河区滨河路三段)

Foreigners require special permission to visit the area. Check with the Leshan Public Security Bureau for details.

Pingqiang Little Three Gorges

address: Shizhong District (市中区) and Qingshen County (青神县)

The gorges may be seen along a 12-kilometre stretch of the Minjiang River (岷江) north of the city.
Do
Browse the markets at wùyān jiē (婺嫣街) and xīngfā jiē (兴发街).

Haitang Park

address: Shizhong District (市中区)

Laoxiaoding

address: Shizhong District (市中区)

The tallest hill within Leshan's old city limits. Now it is a pleasant park with pavilions and tea houses.
Eat
Leshan is well-known for its bean-curd and sweet rice cake (洒琪玛
sǎqímǎ
).
Zhanggongqiao Jie - A fun and busy place to eat and drink at night.
You Tang ya - tasted, sweet duck
Tou Fu Nao - Beancurd
Tianpi Ya - Sweet skin duck
Drink
There are hundreds of
teahouses
in Leshan. The best are those
outdoors
; especially those along the banks of the
Dadu
and
Min
rivers and in Leshan's parks. All great places to play Majiang or Leshan's unique
erqishi
card game.
杨家老宅茶馆 (yángjiā lǎozhái cháguǎn) - 52 gǔlóu jiē (鼓楼街52号). 0833-2115000. Open Monday to Sunday. An atmospheric teahouse set within a cluster of old buildings and decorated with old photographs of Leshan and the Grand Buddha.

Banana ClubDon't expect much, 1 of 2 night clubs in Leshan. Busy on Saturdays, but will die down by 11PM on weekdays. Try Zero Beer (brewed for a good time). ~¥30/bottle
Sleep
Budget
Jintaoyuan Hotel

phone: +86 833 5026600

address: 136 Binjiang Road South, Shizhong District (市中区滨江南路136号)

Probably the most convenient hotel for most travellers especially since it's across the street from where the Leshan Buddha tourist boats start their 30-min cruise.
Mid-range
Splurge
phone: +86 833-2128888

address: 512 Haitang Road (海棠路512号)

Leshan's only four-star hotel.
Go next
Possible destinations after Leshan include the following.
Chengdu(成都) - Travel north on the ChengLe Expressway to the capital of Sichuan making stops at Meishan and Huanglongxi.
Chongqing(重庆)
Dafengding - Dafengding is a China National Nature Preservation Zone.
Emei(峨眉) - Make the short journey west to see the famous Emei Shan and then take the train south towards Kunming or north towards Chengdu.
Jiajiang - Visit the Thousand Buddha Cliff and then take the train south towards Kunming or north towards Chengdu.
Kangding - Start your visit to western Sichuan from its capital.
Shawan - Former Residence of Guo Morou and Meinufeng Stone Forest.
Yibin(宜宾) - Famous for its distilleries.
Zigong (自贡)- Salt mines and a dinosaur museum.