Letterkenny
Letterkenny
is the largest town in Donegal, with a population of about 18,000. With adequate road infrastructure, the city boasts a good nightlife with plenty of third-level college students to create a lively atmosphere. It has plenty of decent pubs, and more than enough places to eat, to suit all ages. It is popular with hen and stag parties. Letterkenny is a major shopping destination of the North-west, though
Derry
in
Northern Ireland
is larger.
It is the ideal place to base yourself if you want to explore regions like
the Rosses
,
Glenveagh National Park
and the
Fanad Peninsula
. It is a fast expanding town, with many housing developments being built. This has spoiled much of the scenic environment close to the town.
Understand
Poised at the mouth of the
Lough Swilly
, the town grew in the 17th century from a small market village to a prosperous town in Donegal and was the Ecclesiastical Seat for the
Diocese of Raphoe
. The town was an important shipping port in the past with goods such as coal and grain landing here (the Swilly river has silted up, which makes it difficult to conceive that ships came as far as the "Oldtown Bridge"). A railway service also thrived in the town. There is evidence of these long-past activities still, with place names such as
Station Road
and
Port Bridge
. Some monuments also commemorate Letterkenny's proud shipping and rail past.
Letterkenny's name come from the Irish
Leitir Ceannain
meaning Hillside of the O'Canainn clan, the earliest recorded overlords of this Swilly region. Letterkenny is now a busy working town but with all the major amenities needed to cater for tourists and visitors.
The Main Street, which was once the commercial centre of the town, has now given way to the newer shopping centres that are located on the town's boundaries. This makes the
Main Street
a pleasant, quieter place to stroll about, with more traditional shops in evidence. The Upper Main Street starts at the traffic lights near the town's courthouse and runs to the
Market Square
, where the
Courtyard Shopping Center
(mall) is located. Lower Main Street, which has fewer shops or businesses, runs downhill from the Market Square to the roundabout, known locally as the "Dunne's Stores Roundabout".
Letterkenny was voted as Ireland's tidiest large urban area in the Tidy Towns competition 2007.
History
Although the O'Cannons were the last chieftains of Tir Conaill, no evidence of forts or castles belonging to the clan exists in or around the Letterkenny district.
Rory O'Cannon, the last chieftain of the O'Cannon clan, was killed in 1248. Godfrey O'Donnell succeeded Rory O'Cannon as King of Tir Conaill. He engaged Maurice Fitzgerald, the Norman Lord, in battle at Credan in North
Sligo
in 1257 in which both received serious wounds. Godfrey retired to a crannóg (a man-made island) in
Gartan
Lake. O'Neill of Tyrone, taking advantage of Godfrey's fatal illness demanded submission, from the Cenel Conail since they lacked a strong chieftain. Godfrey summoned his forces and led them himself although he had to be carried on a litter (stretcher). O'Neill and his men were defeated here by the Swilly in 1258. Godfrey died after the battle as he was being carried down Letterkenny's Main Street. He was buried in Conwal Cemetery, located just outside the town on the
Glenties
/
Churchill
road. A coffin-shaped cross slab marks his grave.
The receding of the waters of the Atlantic eastwards enabled progress - the building of bridges etc.- and the town of Letterkenny as we know it today developed. It began in the wake of the Ulster Plantation 1610-1611 when 1000 acres were granted to a Scotsman Patrick Crawford who then formed a compact community. The honour of formally launching the town is supposed to go to Sir George Marbury, who married Patrick Crawford's widow, - Crawford died suddenly while on a return visit to his native Scotland.
Get in
You can get to Letterkenny by car, bicycle or bus. The town has no rail link.
By car
There are three main road arteries into Letterkenny. One is via
Derry
if you are travelling from
Northern Ireland
. This is the best route if you are coming from
Great Britain
by air or sea.
Another is the N13 from
Sligo
via
Bundoran
,
Ballyshannon
and
Donegal
town, all of which are bypassed.
The third route from
Dublin
is the N2 via
Monaghan
,
Strabane
and
Lifford
. This journey takes about 4 hours. Use the M1 motorway from
Dublin
Airport, leave the motorway at
Ardee
exit to join the N2 and travel via Monaghan towards Derry, crossing the border into
Northern Ireland
at
Aughnacloy
. Turn off at
Strabane
for
Lifford
and then onto "Letterkenny". Many of the towns along this route are now by-passed by good roads, making the journey more pleasant than it has been in the past.
By Bus
The national bus company, Bus Éireann runs nine trips per day to and from
Dublin
to Letterkenny. An adult single fare costs €17.50 and a return costs €27.00. Bus Eireann offers services during the night and early morning runs via the airport.
There are also private bus companies who run similar type services: McGinley from Dublin, Gallagher from Belfast and O'Donnell from Galway, who also offer services into rural west Donegal.
By plane
Visitors can fly to
Donegal International Airport
or City of Derry Airport.
Loganair operate a daily return service from
Dublin
and
Glasgow
to Donegal, while Ryanair serves Derry Airport from London.
Car hire services are available at the airport.
Avis Car Rental

phone: +353 74 954-8232

address: Donegal Airport, Co. Donegal

Enterprise Car Rental

phone: +353 74 910-3202

address: Donegal Airport
Get around
By taxi

There is a plentiful taxi service with fares governed by national regulations. There is a call-out charge of €2.00. The standard fare is €3.80 (€4.10 after 20:00), plus €1.00 for each additional passenger. Thereafter, the rate is approx. €1.00 per kilometer.
The best place to get a taxi is at the Market Square, which is in the town centre. There is also a rank near the bus station, at the Port Road roundabout. Cab companies can be called and most public phone boxes have numbers displayed.

By bus

There is also a bus service in the town which covers most areas of interest. Information on timetables, routes and fares can be found locally.

By foot

Letterkenny has a long main street and walking is a good option within the town limits, as you can get around most of the places of interest by foot.

By bicycle

Renting a bike is a pleasant way to explore the town and surrounding environs. Be warned though, Letterkenny is a very hilly town and you will rarely be travelling on the flat! Also, like many other Irish towns, it lacks dedicated cycle paths and drivers tend to ignore cyclists' rights on the road.

See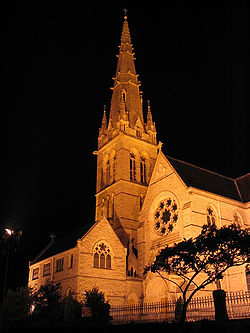 Market Square
has a nice monument commemorating the times when "Hiring Fairs" were held there, called "The Rabble Children". These fairs were held so that farmers could hire people, including young children, to live and work on their farms, for periods of six months or more.
Letterkenny Town Park
at the Hospital Roundabout is a nice place for a relaxing stroll away from the hubbub of the town. The park has a herb garden, flower beds, new and mature trees, an orchard area, playing areas, bowling green, walks, playgrounds and a Garden of Remembrance.
St. Eunan's Cathedral
, the only cathedral in the county, dominates the skyline and is well worth a visit. Also at Cathedral Square you can see the
Celtic Cross
, which is the largest in Europe.
There is also a designated signposted walk-way (
Slí na Sláinte
) which takes you out along the
Swilly River
, which runs through the town. It starts at the Station Roundabout near the bus depot and continues out the
Derry
road, looping around to come back into the town by Ramelton road.
If you are entering Letterkenny via the Derry Road, you cannot miss a sculpture called
Polestar
, erected in the centre of the Port Roundabout, near the
Tourist Centre
.This monument commemorates the fact that Letterkenny was once an important sea port and railway depot.
Glebe House
is a Regency house decorated by William Morris, now a gallery for 20th C arts & crafts. Visit by guided tour only. It's 2 km east of town towards the golf course.
Newmills Corn & Flax Mill
are restored industrial buildings powered by the River Swilly, open daily late May - Sept. It's 10 km east of town along R250.
Do
Call to the
Tourist Centre
to get up-to-date information on what's on in the town when you're there. There is a touchscreen information booth available here. The tourist centre is located outside the town (about 1-2 km) just off the
Port Roundabout
on the Derry Road. It is a stone-fronted building, fairly visible on the right hand side as you come towards the town from Sligo (N13) or Derry.
address: Port Road

Plays and musical shows.

address: Ramelton Road

Ten-pin bowling.

address: Neil T. Blaney Road

Go to the movies.

phone: +353 74 910 6422

address: O'Donnell Park

Gym and swimming pool. Adult swims cost €6.75, child €4.00, with Family Swim (2 adults, 2 children) priced at €20.00.

address: Churchill

Outdoor pursuits.

address: High Road

Local history and exhibitions.

address: Oliver Plunkett Rd

Newmills Corn and Flax Mill

phone: +353 74 912-5115

A restored mill on the outskirts of the town. Take the road towards Glenties for about 5 km and it's on the left hand side.

Grianan of AileachAn ancient fort site located twenty miles from Letterkenny on the Derry road.

Glenveagh National ParkWill take at least one pleasurable day, with tours of the house and grounds available all year round. It's advisable to bring insect repellent on cloudy days due to the large number of midges.

phone: +353 74 910-4900

address: Main Street

Letterkenny's premier niteclub, Milan is open on Wednesdays and Saturdays with two clubs in one. Special drinks and admission deals every week.

phone: +353 74 912-2238

address: Port Road

Letterkenny's largest pub with basement niteclub. Free admission and is very popular with hen nights, etc.
Golfing in the locality
Donegal has many beautiful golf courses, some beside these beaches, and Letterkenny is the ideal base for visiting golfers. The town's own golf course, the Letterkenny Golf Club at Barnhill is about 3 km on the road to Ramelton. Green fees are €25.00 per person on weekdays. There is a driving range just outside the town on the same road and a nine-hole golf course at Otway, near
Rathmullen
. In the nearby town of Ballybofey/Stranorlar is the Ballybofey Golf Club on the northwest part of town. It is open to the public, and reasonably priced. Another nearby club worth the visit is the Northwest Golf Club Near Buncrana. It is a friendly links course that is playable in all weather conditions.
Further afield, you can play the Ballyliffen course designed
by Nick Faldo (follow the road to Derry, go through Buncrana and Clonmany to get to Ballyliffen), in the
Inishowen Peninsula
. Or experience Portsalon Golfcourse (Follow the Ramelton road, through Milford and Kerrykeel village to get to Portsalon) on the
Fanad Peninsula
, another coastal gem for serious golfers. Portsalon is a 'must' when playing a course in the Letterkenny areas. These courses are about an hour's drive from Letterkenny.
Go-karting
There is a go-kart track near the
Silver Tassie
hotel, bar and restaurant, about 10 km from Letterkenny on the Ramelton road.
Casinos
There are two casinos in the town. One is part of the
Ocean Restaurant
, off the Port Road, and the other is in Glencar.
Buy
Letterkenny has three shopping centres with a variety of stores.
The Courtyard is in the Market Square.
Letterkenny Shopping Centre is beside the bus station, on the Station Roundabout.
The Forte Shopping Centre is opposite the Radisson Hotel, on the link road.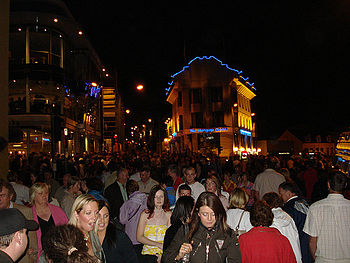 Many well-known high street chain stores have opened branches in the town and Letterkenny has a growing reputation as a good place to visit for a day's serious shopping.
Supermarkets in the town include Dunnes Stores, Tesco, Marks And Spencer, Aldi, Lidl, Costcutter, Centra, Spar and Vivo. Other outlets include Homebase, Atlantic Homecare, Heatons, Harry Corrys, Right Price Tiles, Clarks Shoes, Tempest Clothing, Menarys Clothing, the Jean Scene, Jack & Jones, TK Maxx, New Look, Penneys, Next, Bennetton, Paco, Lifestyle Sports, Elvery Sports, Superdrug, Boots, Eason, Argos, Toymaster, Gamestop and Xtravision.
Local shops
For gifts and souvenirs,
Victor's Giftshop
on the Main Street should be visited and stroll along the Main Street to check the stalls and other craft shops, such as the
Donegal Sweater Shop
. Inspired by the fantastic scenery that surrounds them, artists abound in Donegal and their work can be purchased in several Letterkenny galleries and craftshops. Watch out for the uniquely sculpted "Bog-oak" (preserved wood retrieved from the bogs and crafted into artistic shapes and forms before a polished finish is applied). For flowers and gifts, visit
Aimee's Flower Shop
on the Main Street.
The
Cristeph Gallery
, located on the Port Road beside the Oaktree Restaurant, has local artists' work for sale. Opposite this, there is an antiques shop, worth a browse too.
On Saturday mornings, there is a "Car-Boot" sale held in the grounds of the
Community Centre
on the Port Road, where all sorts of unusual odds and ends can be bought as souvenirs.
Eat
Restaurants
There are numerous good restaurants in the town. Most of the hotels also offer restaurant facilities to non-residents. The
Ramada
hotel is worth mentioning in this respect as it offers a somewhat different menu, with crocodile meat and kangeroo meat incorporated into some dishes!
The Brewery Bar and Restaurant

phone: +353 74 912-7330

address: Market Square

A great ambience with excellent food and wines. Very popular carvery lunches also.

The Lemon Tree

address: Lower Main Street

A pleasant, mid-priced place to eat. Main courses €15-20.

The Oak TreeOn the Port Road, is a sister restaurant which also has a nice atmosphere and decent service, with similar prices. They have an "early bird" menu form 17:00 to 22:00 hours.

The Yellow Pepper

address: Lower Main Street

Well worth a visit, with consistently good service.

Che's CafeOffers all-day breakfasts, carvery lunch and a deli bar.

Mountain Top Bar & RestaurantA good place to stop when touring from Letterkenny.

Primavera Restaurant

address: Port Road

Italian restaurant. Open 7 days a week.

Pat's Pizzas

address: Market Square

One of Letterkenny's longest running eateries, which serves excellent pizzas.
Booking is advisable for most of these restaurants if you are visiting at high season or holiday weekends. Most, if not all, hotels have restaurants too which are not restricted to guests.
Cafés and snackbars
There are many other cheaper cafés that serve food and snacks all day at reasonable (€5-10) prices:
The Quiet Moment2 outlets, one at Upper Main St.; the other at Lower Main St.

The Bagel Bar

address: Main St

Mr. Chippie

address: Station Roundabout

Cafe LK

address: Pearse Road

Subway2 outlets, Upper Main St. & Neil Blaney Road (near roundabout)

Timepiece

address: Dunnes Stores, Forte Shopping Centre

The Sandwich Company

address: Forte Shopping Centre

The Streat

address: Forte Shopping Centre

Mac's Deli

address: High Road

Really good, but small.

The Bakehouse

address: Church St

Excellent fresh bread and cakes. Freshly baked locally, with small cafe attached.

Charlie's Café

address: Pearse Road

An old-fashioned 'chipper-style' cafe.

Cod's Kitchen

address: Pearse Road

Café Blend

address: High Road.

Very child-friendly, with a special menu available.
Pub food
Ard Ri Bar & RestaurantGreat 'pub grub' and Sunday lunches.

Gallaghers HotelBar food served daily from 16:00 in the Ard Na Caipri Bar. Full restaurant in the hotel also. Live acoustic music on grand piano each Saturday evening.

The Old Orchard Inn

address: High Road

Serves bar food all day, with a buffet lunch at €9.50 on weekdays.
Fast food
Fast food lovers are spoiled for choice in Letterkenny.
McDonald's

Kentucky Fried ChickenDrive-thru, not really suitable for walkers as it's outside the town on the Derry road.

Abrakebabra

Pat's PizzasTwo outlets, one on the Main St. (called Pat's Two) and the other on the Market Square. Very good pizzas.

Four LanternsThe Donegal version of KFC and McDonald's in the Market Square and on Port Road.

Domino's PizzasThe worldwide franchise has a branch on the Pearse Road, mainly take-away with outdoor seating only.

The Friar's RestIrish breakfasts are very good value here, served up to 12:30.

Charley's CafeOne of the oldest established fish and chip style cafe's in the town, excellent for homemade chips.
Ethnic restaurants
ShaplaAn Indian restaurant located on the Derry road. It has a growing reputation for good food with locals.

Tin TaiThe oldest and best known Chinese restaurant. It has a very busy take-away and less busy restaurant.

Chinatower

address: Port Road

Also has a takeaway service.

The Money Tree

address: Main Street

Chinese restaurant.
Drink
Bars
Remember, as with the rest of Ireland, there is no smoking allowed by law in the bars in Letterkenny. Some bars have a heated outside smoking area.
Sister Sara's

address: Port R.

3 floors with new smoking area and nightclub. Free admission with DJs W-Su. Renowned for its Saturday nights.

Josie's Bar

phone: +353 74 912-0800

address: Lower Main St

Caters for the over 40 years of age customers with music at weekends.

Glencar Inn

phone: +353 74 912-9151

address: Circular Rd

More locals than tourists drink here. No smoking area.

Tír Na nÓg

phone: +353 74 916-8883

Ballymacool. Out of the main stream in a residential area.

phone: +353 74 912-8853

Ballyraine Retail Park, Ramelton Rd. Noisy and family orientated. Small smoking area at the rear.

The Drum Bar

phone: +353 74 912-1961

Lower Main St. Locals only, very quiet, quaint pub.

The Cavern

phone: +353 74 912-6733

Lower Main St. pub that caters for sport-lovers, big screens abound when games are on. Good smoking area, heated, with tables.

Tonic

address: Upper Main St

Central Bar

phone: +353 74 912-4088

Main St. Has a lovely, whitewashed courtyard, resurrected to cater for smokers, worth a visit.

Dillons

phone: +353 74 912-2977

Main St, (part of the Letterkenny Court Hotel). Lots of stag parties and noisy hens on weekends!

The Brewery Bar

phone: +353 74 912-7330

Market Sq. Good atmosphere and worth a visit, but bands can drown out conversations at times.

Blake's Bar

address: Main St

A quaint bar with plenty of character, and characters!

The Cottage Bar

address: Main St

Traditional bar, built to look like an old Irish cottage, with an open turf fire. Excellent Guinness, well worth the visit.

McGinleys Bar

address: Lower Main St

Old-style pub with open turf fire and live music Wednesday-Saturday night, including traditional music on a Wednesday evening. Fantastic place for quiet drinks during the week or lively entertainment at the weekend. You are expected to contribute to the band at the weekends by way of donation to a hat brought around.

The Hideout Bar

address: Old Town

Pub with lounge and pool table.

Bar SevenA student bar adjacent to the Pulse Nite Club.

RougeA cocktail bar and forms part of the Grill complex.

The Mill View

address: Newmills

Next to the Newmill Corn and Flax mills about 10 km from the town and serves food in the diner attached.
Price for the traditional pint of stout are about €3.70-4.00. Most pubs have no cover charge for music, and these sessions range from the mediocre singalong type of bands, to rock outfits and traditional Irish music sessions.
Nightclubs
Milan

address: Upper Main St

A late-night disco as well, usually playing Dance and R&B, open until 3AM. Wednesdays and Saturdays. Retro Room each Saturday with Oldies and party tracks. Admission €5 Wednesdays and drinks €3. Special offers each Saturday night also.

The Grill

address: Port Rd

One of the longest established music venues, incorporating Bellas and Rouge. Quiet except on a Sunday night when it's popular with 18-20 years olds.

Pulse

address: Port Rd

Popular with over 25s.

The Central

address: Upper Main St

The Orchard

address: High Rd
Entry prices for nightclubs range from €5-10, depending on the night you go there. Midweek special admission prices of €5 can be available at certain times. Drink is much more expensive in the nightclubs than in the ordinary bars, especially for spirits, although some clubs do offer €3 drinks. Best prices on Wednesday nights in
Milan
where all drinks are €3.
Sleep
There are plenty of top class hotels to stay in, as well as numerous Bed and Breakfasts and guesthouses.
Booking is advisable at peak times such as when the
Donegal International Rally
is in town (June every year).
Gallagher's Hotel

address: Upper Main St

Very central with secure parking.

Clanree Hotel

Ramada Encore HotelFrom €99 per "designer room" with modern furniture and internet in the rooms.

Gleneany HouseDoes not look too glamorous from the outside, probably because it has a tin roof and basic rooms. However, it has good standard rooms and food and is reasonably priced at about €60 per room. No gym or swim facilities though.

Radisson Blu Hotel Letterkenny

address: Paddy Harte Rd

5 minute walk from the town centre

Letterkenny Court HotelIn town centre and can be noisy at night as lots of stag parties stay there. Also, be prepared to pay a overnight parking fee in their carpark. From €79 per night, probably the cheapest in the town.

Mount Errigal Hotel

address: Ramelton/Rathmullen Rd

Some of the older rooms in this hotel are not up the same standard as the newer extension. Ask for one of these newer rooms when you are booking in. Bar food is just OK.
Self-catering
phone: +353 74 912-2145

address: 1 Laurel Hill, Glencar

Rose Holiday Home is a modern holiday home which sleeps up to 10 people. 5 bedrooms, 1 en-suite.

phone: +353 74 912-2145

address: 67 Lisnenan Court

5 bedrooms, 1 en-suite, sleeps 10.
Bed and breakfasts
The ubiquitous Irish "Bed and Breakfast" houses abound on every road into Letterkenny and you can expect to pay €25-45 for a single room, with full Irish breakfast.
phone: +353 74 912-6808

address: Curraghlea

Purpose-built B&B with panoramic views and private parking. Spacious rooms, all with SkyTv, hairdryers, curling irons, room safes, DD phones, free WiFi, arm chairs and central heating. Smoke free home with ground floor rooms, Special diets catered to with advance notice and home baking.

phone: +353 74 912-3002
Hostels
Backpackers can avail of two hostels, both within the town (Port Hostel and Rosemount Hostel), at cheaper rates (around €15.00 per night).
Stay safe

Letterkenny is relatively safe to walk around. However, like all major towns it is best to take care in the early hours of the morning, particularly when nightclubs are emptying.

Go next
If the weather is good, take advantage and visit the surrounding countryside, including the Famine Village at Gartan, the Derek Hill studio, as well as the Gartan Outdoor Pursuits Centre and maybe even climb Mount Errigal, Donegal's highest peak. A visit to nearby
Glenveagh National Park
is a must if you have transport.
Award-winning beaches are plentiful in the locality.
Marble Hill
is about half an hour's drive from Letterkenny,
Portsalon
is about a 40-minute drive and
Portnoo
beach is less then an hour's drive from Letterkenny.