Leverkusen
Leverkusen
is an industrial city in the
Cologne Lowland
region of Western Germany.
Understand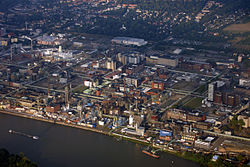 Leverkusen is a relatively young city; its history is strongly linked to the growth of the Bayer chemical and pharmaceutical plants. Until the mid-19th century, there were some smaller settlements, including today's boroughs Opladen or Schlebusch, but no city of Leverkusen as such.
In 1861, the chemist Carl Leverkus (1804–1889) founded his synthetic ultramarine factory near the village of Wiesdorf. His workers' settlement was named
Leverkusen
after its founder. In 1891, the paint and pharmaceutical company
Bayer AG
, which was founded in
Wuppertal
-Barmen, moved their production to Leverkusen. In the 20th-century, there was a constant influx of workers and their families to Leverkusen and the surrounding settlements to work at the ever-growing Bayer plants.
In 1920, Wiesdorf was granted a city charter. Only in 1930, Schlebusch and other neighbouring settlements were incorporated into the city which now took the name of Leverkusen. The neighbouring towns Opladen and Bergisch Neukirchen were incorporated in 1975, pushing the number of inhabitants over 167,000. The city's dominant and connecting element have always been Bayer's huge chemical and pharmaceutical plants; the Bayer AG is to date the city's prime employer and corporate tax payer.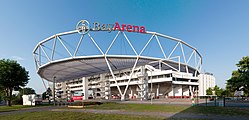 Internationally, Leverkusen is mainly known for its successful football (soccer) club, Bayer 04 Leverkusen, which was founded as a team of Bayer factory workers and is a fully-owned subsidiary of the chemical company. It has finished second-place in several national and international competitions, but never won the German championship, therefore being jokingly dubbed
Vize-Kusen
("runner-up-Kusen") by fans of other clubs.
Get in
The closest international airports are
Cologne-Bonn
(
CGN
; 22 km south of Leverkusen, 32 minutes by train) and Düsseldorf (DUS; 40 km north of Leverkusen; 35 minutes by train).
The closest stations with high-speed and intercity service are in Cologne, Düsseldorf and Solingen. From there, frequently running regional trains and urban rail (S-Bahn) take you to Leverkusen (15 minutes from either Cologne or Düsseldorf, half an hour from Solingen).

See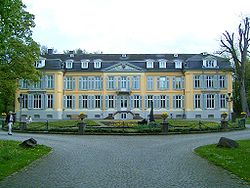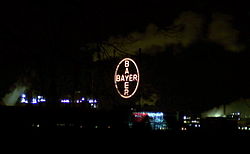 Morsbroich MuseumFormer water castle, later transformed into a Rococo chateau, now a municipal museum of modern and contemporary art; surrounded by a sculpture park.

address: Friedrich-Ebert-Straße/Willy-Brandt-Ring

51-metre-high logo of the Bayer chemical and pharmaceutical company; illuminated at night.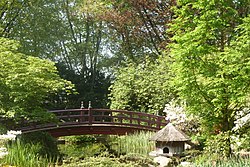 address: Otto-Bayer-Straße

Beautiful, 3.7-acre Japanese-style garden, incepted in the 1920s by a Bayer chairman who returned from a trip to Japan, impressed by its garden culture.
Do
Watch football ie soccer at Bayer 04 Leverkusen, who play in Bundesliga, the top tier of German football. Their home ground is BayArena, capacity 30,000; it's 500 m northeast of Leverkusen Mitte railway station.
Buy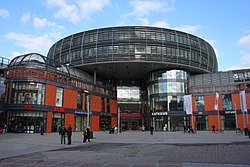 Sleep
Ibis Budget Köln Leverkusen City

phone: +49 214 401062

address: Manforter Straße 29

phone: +49 214 83029-0

address: Lichstraße 72

phone: +49 214 83008-0

address: Lichstraße 43

phone: +49 214 8663-0

Hotel Leverkusen

phone: +49 214 3830

address: Am Buchelter Hof 11
Go next