Lewes (Delaware)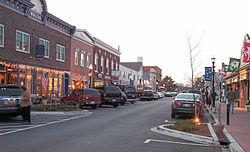 Lewes
is a city in
Delaware
. Lewes is located along the Delaware Bay in Sussex County near the Atlantic Ocean.
Get in
By car
From northern Delaware, follow Delaware Route 1 south to Five Points and turn left to follow U.S. Route 9 Business (Savannah Road) east into Lewes. From the Chesapeake Bay Bridge, follow U.S. Route 50 east and turn left onto Maryland Route 404 east in Wye Mills. Continue along Maryland Route 404 east to the Delaware border, where the road becomes Delaware Route 404. Follow Delaware Route 404 east through Georgetown to Five Points and continue straight onto U.S. Route 9 Business (Savannah Road) east into Lewes.
By plane
The closest airport with commercial air service to Lewes is the Salisbury-Ocean City-Wicomico Regional Airport (
SBY
) near Salisbury, Maryland about 40 miles to the southwest. This airport is served by American Eagle flights from American Airlines hubs in Charlotte and Philadelphia. Rental car service is available at this airport. Visitors may also fly into Baltimore-Washington International Airport (BWI) near Baltimore or Philadelphia International Airport (PHL) in Philadelphia, which are served by a wider selection of airlines. From here, you can rent a car and drive to Lewes.

By train

The closest train station to Lewes is in Wilmington, about 90 miles to the north. Wilmington Station is served by Amtrak trains operating on the Northeast Corridor between Washington, D.C. and Boston along with some long-distance trains, and SEPTA Regional Rail commuter trains running along the Wilmington/Newark Line from Center City Philadelphia. Rental car services are available at the station. From Wilmington Station, rent a car or take DART First State buses to Lewes.

By bus
There is also the option of traveling by bus. There are several different services to choose from in and around Lewes:
Dawson Bus Service- Camden, DE
Lehane's Bus Service- Claymont, DE
Buses Unlimited- Dover, DE
Chaney's Charter Bus Services- Harrington , DE
Five Pointe Group Travel- Lewes, DE
Mill's Charter Bus Service- Milford, DE
Lehane's Bus Service- New Castle, DE
T & D Bus Service- Newark, DE
Trailways Bus Terminal- Rehoboth Beach, DE
Seaford Bus Terminal- Seaford, DE
Gregg's Bus Service- Yorklyn , DE
Van-Go Transportation Lines- Yorklyn, DE
By boat
You can also visit Lewes by boat from Cape May by traveling on the Cape May-Lewes Ferry on a seventy minute ride across the Delaware Bay.

Get around
Since Lewes is small town, traveling by foot is a popular option for locals and visitors. You can easily walk to the beach and through town to go shopping or site seeing. Many people also choose to bike and rollerblade to and from their destinations.
In Lewes, parking meters are in effect on streets in the downtown business district, the 1812 Municipal Parking Lot, the Canalfront Park Parking Lot, and the 3rd Street Parking Lot from May 1 to October 14 from 9AM to 6PM. The rates for these meters are $1.00 per hour. Between October 15 and April 30, parking in the downtown business district is limited to a maximum of 3 hours. In the 1812 Municipal Parking Lot, parking is limited to a maximum of 3 hours from May 1 to October 14 and to a maximum of 3 hours on the canal side from October 15 to April 30. Parking meters are in effect at the Lewes Beach #1 and Lewes Beach #2 lots from May 1 to September 30 from 9AM to 6PM. The rates for these meters are $2.00 per hour. Parking at metered spots in Lewes can be paid with change or the Parkmobile app, with the 1812 Municipal Parking Lot, the Canalfront Park Parking Lot, the 3rd Street Parking Lot, and the Lewes Beach #1 and Lewes Beach #2 lots also accepting credit cards. Change machines are available at Mary Vessels Park and the Lewes Beach #1 and Lewes Beach #2 lots. Free parking is available at a lot at Schley Avenue and Franklin Avenue and at Otis Smith Park on Savannah Road.
If you are planning to travel on Route 1 to the outlets, grocery store, movies, or head towards the other beaches, your car or public transportation is the best way to go. Route 1 is three lanes on each side and gets extremely busy during the summer months.
There are a few different options of public transportation you can choose from while traveling in Lewes:
DART- a public bus service which covers areas from Wilmington, Dover, Rehoboth Beach, and makes its way around Lewes, Georgetown, Long Neck, Ocean City, and Dewey Beach.
Park "N" Ride Transit System- this transportation system is run by the state of Delaware and operates between Memorial Day and Labor Day. It commutes on Route 1 between Lewes and Dewey beaches and also makes some stops in Rehoboth beach.
Seaport Transportation- a 24-hour taxi and shuttle service.
Jolly Trolley of Rehoboth- a shuttle service traveling between Rehoboth and Dewey beaches with stops about every half hour.
ASA Transportation- another shuttle service geared for visitors who are experiencing the nightlife at the beach, also for trips to and from the beach resorts, and the airports, bus and train stations.
Cape May-Lewes Ferry Trolley- if you are a foot passenger traveling to Lewes, there is the option of the trolley that the ferry provides. Buses and trolleys run from June 14 to Labor Day and make their way from the Lewes Terminal, through Lewes, Rehoboth Beach, and to the outlets on Route 1.
See
Although Lewes is a small town, there is always something to see and do! The beaches to visit in and around Lewes are, Lewes Beach, Lewes Bay, Cape Henlopen Beach, Rehoboth Beach, Dewey Beach, and Ocean City Maryland.
If you are a history buff, here are some places that offer tours that will interest you:
Delaware River & Bay Lighthouse Foundation- this tour takes you out on the Bay to look at the beautiful and historic lighthouse of Lewes; the Harbor of Refuge Lighthouse and Delaware Breakwater East End Lighthouse. The Harbor of Refuge Lighthouse was built in 1926 to replace a lighthouse that was previously damaged by a storm. It is also one of the most popular lighthouses on the Atlantic. The Delaware Breakwater East End Lighthouse housed keepers from 1885 to 1950 when it was lit automatically and was only less than a mile from the beach.
Fort Miles Historical Association- located in Cape Henlopen State Park in Lewes and focuses on World War II history in Delaware.
Lewes Historical Society Complex at Shipcarpenter St. and West Third. Restored buildings and country store. Marine Museum next to Post Office. Walking tour of historic homes. Call Lewes Chamber of Commerce at +1 302-645-8073.
Lightship Overfalls- built in 1938 and located on the canal in downtown Lewes since 1973. This was the final lightship that was constructed by the United States Lighthouse Service.
Zwaanendael Museum- honors the first European colony in Delaware and houses pieces from Lewes military and social history.
Art studios and galleries
Cape Artists Gallery- 110 West 3rd Street, +1 302-644-7733
Denise Dumont Painting Studio- 114 Third Street, 2nd Floor, +1 302-245-6258
Thistles Fine Art- 203 Second Street, +1 302-644-2323
Peninsula Gallery of Fine Original Art & Framing- 520 Savannah Road, +1 302-645-0551
Market Street Studio- Steve Rogers and Pat Staby, +1 302-645-9030
Do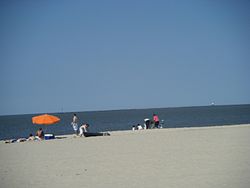 Cape Henlopen State Park +1 302-645-8983, several camp grounds, trails for walking, biking, and skating, nature trails, tennis and basketball courts, large fields to run around, hosts the annual Great Delaware Kite Festival which is held on Easter weekend every year, the Great Dune, a World War II observation tower overlooks the beach, 3,000-acre park (1,200-ha), nature center, and areas for surf fishing.
Winswept Stables- a great place to visit for people who wish to learn how to ride horses.+1 302-645-1651
Cape May-Lewes Ferry- a seventy-minute cruise traveling on the Delaware Bay to Cape May, New Jersey, you can travel as a foot passenger or bring your car or truck across with you. +1 302-644-6030
Lewes Harbour Marina- charters boat trips and a shop for boating supplies. +1 302-645-6227
Heritage Golf Club- a larger, more developed golf course, with a waterfall and eleven sand traps.
Nassau Valley Vineyards & Winery- picnic tables are available for people packing lunch, also hosts weddings.
Anglers Fishing Center- offers cruise that talks about the history of Lewes including the popular lighthouses, charters boats for fishing groups, and also offers kid-friendly cruises.
Great Delaware Kite Festival- held on Easter weekend every year, kite raffles, local food, stunt demonstrations.
Rocks, Rims and Rapids- offers many activities such as rock climbing, kayaking, and cycling, all led by instructors that are certified in these sports, you can train indoors or outdoors, and one on one training sessions are available.
Overfalls Lightship Opening Party- this party is held the Friday before Memorial Day every year and commemorates the beginning of summer and offers live music, food, and a cash bar.
Buy
Downtown Lewes offers Second Street shopping which has many small specialty stores where you can shop for clothes, books, antiques, art, homemade candy and ice cream, children's toys, crafts, flowers, furniture, jewelry, and sporting goods. A few minutes outside of Lewes on Route 1 is Tanger Outlets, which houses over 130 name-brand outlet stores.
phone: +1 302 645-9119

address: 123 C Second St

Art studio offering seascape and landscape paintings and prints by artist Abraxas.

phone: +1 302 644-4550

address: 114 Second St

Boutique selling clothing and accessories.

Blooming BoutiqueBoutique selling accessories, jewelry, Trollbeads, handbags, shoes, and clothes, with two locations in Lewes.
phone: +1 302 644-4052

address: 107 Second St

phone: +1 302 645-7479

address: 102 Savannah Rd
Eat
There are many different types of restaurants to choose from when dining in Lewes. There are local favorites and chain restaurants. There are also chain fast food restaurants on the Route 1 highway.
Gilligan's Waterfront Restaurant- offers seafood cuisine, outdoor dining, overlooks the canal, and is right down the street from the Inn at Canal Square.
Buttery- located in downtown Lewes, American and International cuisine, formal bar, full wine list, Sunday brunch.
Striper Bites- American style, specializes in seafood. Located in downtown Lewes
Agave Mexican Restaurant- Mexican food, located in downtown Lewes, reasonable pricing, locals rave about the guacamole and margaritas.
Mr. P Pizza and Pasta- local favorite for homemade pizza and fresh bread.
The Wheelhouse- overlooks the historic Lewes harbor, seafood, offers lunch, and dinner.
Lemon Tree Restaurant- local favorite, diner food, offers breakfast, lunch, and dinner, home of the famous "Bubba" size.
Tokyo Stakehouse- Japanese cuisine, popular for sushi and sashimi, hibachi grilles.
Capriotti's Sandwich Shop- fine quality sandwiches since 1976, wide variety of specialty sandwiches.
Drink
Nassau Vineyards, 36 Nassau Commons, +1 302-645-9463. Orchards, Winery, Picnic Tables. Bring your lunch and have a glass of wine. Open Tu-Sa 11AM-5PM, Su Noon-5PM, Closed Mo.
Irish Eyes Pub and Restaurant- there are two locations in Lewes and Rehoboth, offers large beer list and menu. 213 Anglers Road, Lewes and 52-b Rehoboth Avenue.
Vine Wine Bar- large selection of red, white, and sparkling wine. 211 Rehoboth Avenue.
The Greene Turtle Sports Bar and Grille- there are flat screens in every booth to watch games. 17388 North Village Main Unit 21, Lewes.
The Frogg Pond- specials almost every night, deejays on the weekend, NFL Sundays and college football Saturdays. 3 South First Street, Rehoboth.
Dogfish Head Brewings & Eats- this brewery and restaurant in Rehoboth offers vintage beers and brew new beers regularly. 320 Rehoboth Avenue.
Grayhare Tavern- over forty beers, happy hour daily, pool, darts and big screen tv's. 18766 John J. William Highway, Rehoboth.
Buttery- formal bar and full wine list. Second and Savannah Road, Lewes.
Agave Mexican Grill- casual atmosphere, happy hour daily, over 70 different kinds of tequila. 137 Second Street, Lewes.
Bottle and Cork- nightclub and hosts live music. 1807 Highway One, Rehoboth.
Sleep
Lazy L at Willow Creek- bed and breakfast, pets are welcome. 16061 Willow Creek Road, +1 302-644-7220
Inn at Canal Square- waterfront, within walking distance to Lewes Bay and within a mile of the ocean beach of Cape Henlopen State Park. 122 West Market Street, +1 302-644-3377
Cape Henlopen State Park- camp grounds that offers over 150 sites, available March 1- November 30. +1 302-645-8983
Zwaanendael Inn- also is known as Hotel Rodney, historic inn built in 1926 located in downtown Lewes near Second Street shopping, about a mile down the road from Lewes beach. 142 Second Street, +1 302-645-6466
The John Penrose Virdin House- bed and breakfast, 19th century Victorian home, located near Second Street shopping and restaurants, half-mile walk to bay beach, mile and a half drive to Atlantic ocean beaches. 217 Second Street, +1 302-644-4481
Beacon Motel- located in downtown Lewes, near second Street shopping, restaurants nearby, near Lewes-Rehoboth Canal. 514 East Savannah Road, +1 302-645-4888
Blue Water House- bed and breakfast, hosts special events. 407 East Market Street, +1 302 645-7832
Steamboat Landing RV Park- located near the Broadkill River, within 20 minutes to Delaware Beaches, numerous grass lots for your cars and campers.+1 302-645-6500
Vesuvio Motel- within walking distance to Lewes Beach. Savannah Road & Canal St., +1 302-645-2224
Angler's Motel- Anglers Road & Market St., +1 302-645-2831
Cape Henlopen Motel- Savannah & Anglers Rds., +1 302-645-2828
Wild Swan- 525 Kings Highway, +1 302-645-8550
Captain's Quarters Motel- 406 Savannah Road, +1 302-645-7924
Bay Moon Inn- 128 Kings Highway, +1 302 644-1802
Country Lane Bed & Breakfast- 7 Country Lane, +1 302-945-1586
There are also some chain hotels such as Sleep Inn & Suites, Heritage Inn, and Red Mill Inn available to vacationers.
Driftwood Motel Efficiency Apartments

address: 18282 Coastal Highway

One-bedroom efficiency apartments available for short and long term, event weekends, seasonal and off-seasonal rentals. Furnished or unfurnished. Half-mile to Tanger outlet shopping, two miles to Lewes Beach, four miles to Rehoboth Beach.
Go next
There are different options available for vacationers looking to take day trips from Lewes: