Lexington (Kentucky)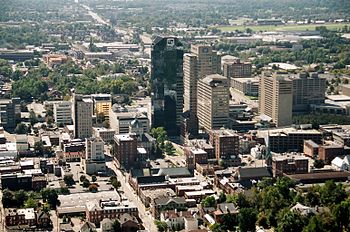 Lexington
is the second largest city in
Kentucky
, located in the
Bluegrass Region
. Known as the
Horse Capital of the World
, Lexington has traditionally been dominated by the horse industry and is also heavily influenced by the University of Kentucky, the state's flagship university and the largest employer in the city. The horse industry has greatly influenced Lexington's culture and scenic beauty; the University of Kentucky and Transylvania University contribute to a college town atmosphere with a richer and more diverse culture than some might expect from its size and location. Lexington's compact central downtown district is surrounded by historic neighborhoods. Lexington is in the heart of the Bluegrass region of Kentucky and is still home to hundreds of horse farms.
Understand
History
Founded in 1775, 17 years before Kentucky became a state, the fledgling campsite was named Lexington when settlers received news of the Battles of Lexington and Concord which had opened the Revolutionary War just a few months prior. (Many people today assume it to be the other way around, since Lexington, Kentucky, is much larger and more well-known than the eponymous
Lexington, Massachusetts
.)
Climate
Film and literature
Tourist information
phone: +1 859 266-8581

address: 401 W Main St, suite 104
Get in
By plane
phone: +1 859 425-3114

address: 4000 Terminal Drive

A medium sized regional airport which has service from Allegiant, American, Delta, and United, with daily non-stop service to more than a dozen cities. It deposits passengers directly adjacent to Keeneland Race Course and just a few miles from downtown. There is express bus service by Lextran, once per hour 6AM-6PM. All major brands of car rental agencies have service here, and taxis and hotel shuttles are plentiful. International facilities including customs are available, but no carriers operate scheduled international flights; most passengers will go through customs in a connecting airport.
Louisville (Standiford Field SDF) and Cincinnati/Northern Kentucky (CVG

) are larger airports, each about 1.5 hours drive from Lexington.
By train
The nearest passenger train service is Amtrak's Cardinal, with stations in
Maysville
, and in
Cincinnati
,
Ohio
(both about 1.5 hours drive); however, there is only service every other day and both trains arrive and depart at night.
By car
Travellers usually access Lexington via one of the two major interstates that arc around the northern and eastern borders of the city.
I-64
runs from east to west, connecting Lexington with the largest city in Kentucky,
Louisville
, to the west.
I-75
runs north-south, connecting Lexington with
Cincinnati
and
Knoxville
respectively. Neither interstate penetrates into the city. For access to the far side of the city, use New Circle Road (State Route 4), a loop road of which 3/4 is highway-grade, or during non-peak hours you can just take an arterial road through downtown.
The Lexington area is also served by the Martha Layne Collins
Bluegrass Parkway
, starting near
Versailles
and ending at I-65 in
Elizabethtown
, and the Bert T. Combs
Mountain Parkway
, which starts just east of Lexington and provides access to the
Appalachian region
.
By bus
The Greyhound station is on New Circle Road on the north side of town, ten minutes from downtown.
Get around
Lexington is a relatively spread out city, though not large. Unless you are mainly visiting the downtown and/or the University campus (which are within walking distance of each other), you will find that getting around by car is the most convenient method.
Downtown, Main Street divides cross-streets North and South, and Limestone marks East versus West. Addresses downtown usually specify a cardinal direction, which provides a clue to what area of the city it's in.
By bus
Bus service is provided by
Lextran
, which provides service from the downtown Transit Center to many parts of town and the airport. Most mainlines run every 35 minutes during business hours; others run every 35 minutes only during rush hours, every 60 minutes all other times. The newest overhaul of routes and schedules has increased on-time performance of most routes. Buses run M-F 5AM-midnight, Sa 7AM-midnight, Su 7AM-9PM. Fare costs $1. If you need to transfer between routes transfers are free and can be attained when paying fare, transfers are good for an hour and a half but cannot be used for round trips on the same route. Buses can be tracked in realtime on Lextran's
MyStop
website or from Google Maps.
Downtown
Downtown Lexington is compact and easily navigated by foot or bicycle, but the most typical way to get around is by car. Cars can be rented at the airport or at several locations in the city. Taxis should be called in advance as they are not easily hailed on the street. There is a taxi stand in front of the airport. From 6PM to 6AM a taxi stand operates at the corner of Main and Upper Streets, next to the old courthouse.
By car
Lexington's roads form a
wheel-and-spokes pattern
. Arterial roads radiate from downtown, and
New Circle Road
(KY-4, sometimes called "Circle 4") forms a circle around the inner city. New Circle Road, an early experiment in urban circumferential expressways, was first built before current zoning rules, so that about 1/4 of it is developed with commercial usage, while the rest is 55-mph freeway with on/off ramps. The radial roads are mostly named after the neighboring towns they lead to (e.g. Nicholasville, Richmond, Winchester, etc.), although as you approach downtown they take on a different name (e.g. Limestone, Main, etc.). Directions in Lexington will frequently start with "Take New Circle to ____ Road (one of the arterials), then turn north/south...."
Man o' War Boulevard
forms a half-circle further outside from New Circle Road; however its lower speed limit and abundance of traffic lights make it less ideal for circling the city.
Like any city, Lexington's traffic can be challenging during rush hours. Nicholasville Road has
reversible lanes
to help the flow. Be careful and aware of the lights as they change throughout the day to accommodate traffic and rush hour. A green
arrow
indicates appropriate lanes for driving; white
turn only
arrows indicate a center turning lane; a red
X
indicates lanes in use by oncoming traffic. If possible, try to avoid traveling north on Nicholasville Road during the evening rush hour, as most lanes switch to southbound traffic to allow people to exit downtown. Be aware of driving near the University of Kentucky on basketball or football days. Downtown can be quite congested when UK plays at Rupp Arena, and Tates Creek Road and Nicholasville Road both move very slowly when UK plays at Kroger Field.
Most of the major arterial streets have
multiple names
, especially as you approach downtown (Nicholasville Road becomes Limestone; Harrodsburg Road becomes Broadway; etc.). This is also true of many smaller city streets (Winslow Avenue becomes Avenue of Champions, which becomes Euclid Avenue, which becomes Fontaine Road). When you ask for directions, many locals may not know exactly what the street is called where you're going, just remember that the same road may be called any of those at your destination.
Almost all of the arterials, and many smaller roads, are also numbered U.S. Highways or Kentucky State Roads, but no one refers to them by number. The sole exception is New Circle Road, which is KY-4 and sometimes called "Circle 4", but more often called "New Circle".
See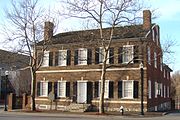 phone: +1 859 233-9999

address: 578 W Main St

The two-story girlhood home of Abraham Lincoln's wife, and the nation's first shrine to a First Lady. The 14-room house contains period furniture, furnishings from the Todds and Lincolns, and family portraits.

address: 400 W Main St

Enjoy slipping off your shoes or sandals in the summertime and wandering in the step-like fountains that ring the backbone of this park. Get plenty of pictures of the illuminated fountains against the Lexington Convention Center. Events throughout the year include summer movies on alternate Friday nights, a winter ice skating rink, and occasional concerts. Cross the street and talk to the concierge at the Hilton Hotel to book a horse-drawn carriage tour of downtown.

phone: +1 859 272-3611

address: 225 Waveland Museum Ln

Built in 1848 by Joseph Bryan, a grand-nephew of Daniel Boone, the Greek revival home preserves 19th century plantation life in Kentucky with acres of hemp and grain. The smokehouse, icehouse and slave quarters still stand as outbuildings.
Do
Despite the relatively small size of this South-North straddling city, Lexington offers a surprisingly delightful palette of interesting activities. Whether you choose to explore some of the world-class and stunning horse farms ringing the city, hit up some of the surprisingly upscale shopping venues, take in a play at the Downtown Arts Center or the Lexington Opera House, tour the oldest university west of the Allegheny Mountains (Transylvania University), catch an insanely popular UK basketball game (Rupp Arena) or sample one of the myriad great restaurants that have sprung up all over town, you can be sure your experience here will not be a bland one.
For more things to do in the "Horse Capital of the World," see
visitlex.com
.
Local indie magazine
ACE Weekly
(published weekly) is full of write-ups and advertisements for local events; it is free and available throughout the city.
phone: +1 859 233-1271

address: 2348 Innovation Dr

Manufacturer of large industrial ceiling fans (up to in diameter) and a range of residential fans and lighting products. Founded as HVLS Fan Co., many customers called asking for the company that makes "those big-ass fans". The owner decided to change the name to Big Ass Fans, which stirred up a bit of controversy when he painted the company's name along with a giant donkey's rear end (named "Fanny") on the side of the building. Local residents protested at first, and the airport refused to accept advertising from the company. But eventually people warmed to the new name, and the airport now has a Big Ass Fan installed near the security checkpoint. You can tour their headquarters, R&D facility, and production facility.
Bourbon
Kentucky is the proud home of
bourbon whiskey
, and Lexington is an ideal home base for exploring the
Kentucky bourbon trail
. Four of the distilleries on the bourbon trails are in town:
Five others distilleries on the bourbon trail are with 20–25 miles, or about 30–45 minutes' drive, listed below under
§ Go next
.
Festivals
Woodland Art FairSee 200 juried artists offering every type of folk art and craft you can think of, including painting, woodworking, and stuffed animals. Enjoy live music and entertainment. Your children can work on their own crafts in the Kid Zone.

Festival of the BluegrassAnyone wishing to experience all that Kentucky has to offer should make their way to this great outdoor music festival held every year at the beautiful Kentucky Horse Park. Great live music from bluegrass legends to newgrass pickers, fun shopping, and great activities highlight this family friendly event
Horses
Lexington isn't called the
"Horse Capital of the World"
for nothing. The horse industry is Lexington's traditional and most famous trade, and many beautiful old farms are worth a look.
address: 4089 Iron Works Pkwy

The Park is basically a tourist-oriented horse farm and offers a museum, nice walks, views of famous racehorses, and lots of bluegrass (the plant, not the music). There are various horse shows throughout the day, as well as extra activities including horseback and pony rides. The Park is also the host of some very large horse events. Probably the most high profile annual event is the Rolex Kentucky Three Day, a major eventing competition which takes place every spring. The park also hosted the 2010 FEI World Equestrian Games. These horse trials are also used as Olympic selection trials so you can expect to see some world class horses and riders.
There are many horse farms clustered north and west of Lexington. Several companies do daily van tours of private farms, either on guided or customized tours (get referrals from the Lexington Visitor's Bureau). Tour itineraries vary daily and seasonally, but a typical tour might include a stop at one or more farms where you can get close enough to touch some horses (if the conditions are right: no petting young horses that aren't calm enough, or ones that are being taken for training or other duties), a stop at Keeneland race track and/or the Kentucky Horse park, and a scenic drive past many other famous and ritzy farms like Calumet. You can also book your own visits directly. However, these are all working farms, so if you're visiting independently, call in advance to check availability and make arrangements.
phone: +1 859 254-3412

address: 4201 Versailles Rd

Enjoy horse racing in a "days-gone-by" setting. Recent movies Seabiscuit (2003), Dreamer (2005) and Secretariat (2010) have been filmed at Keeneland, which prides itself on maintaining racing traditions in a facility that has changed little over the decades: for example, it didn't install public address speakers until 1997. Keeneland hosts live thoroughbred races only twice a year, with the Spring meet in April and Fall meet in October, but they welcome visitors year round (you can use online or print maps to explore the grounds for free, or book a tour). During races you can choose your level of comfort near the track (general admission, grandstands, or nicer indoor rooms), or tailgate in the free parking lot while watching races on a jumbo TV and wagering. The feature race of the Spring meet is the Toyota Blue Grass Stakes, a prep race for the Kentucky Derby. When its live races are not in session, entry is free; you can explore the stadium and walk right up to the race track, watch other races broadcast from around the world, or attend events like the yearling horse sales, where many young stallions command price tags in the millions. Buyers include local horse farms and bidders from Europe, Saudi Arabia, and Dubai.
phone: +1 859 254-3412

A reference library full of books, photo negatives, and newspaper articles about the Thoroughbred horse and horse racing. There's a small museum area at the front as well as various art inside the library.
phone: +1 859 255-0752

address: 1200 Red Mile Rd

The Red Mile hosts harness racing, where horses pull a two-wheeled cart. The one-mile track is made of red clay, whence the name.
Outdoors
phone: +1 859 425-2255

When ultimately completed, this walking and biking trail will extend 12 miles from the east end of downtown to the Kentucky Horse Park. The majority of the trail is complete and begins at the North Lexington YMCA (381 West Loudon Ave). Other trail heads are located at Coldstream Park off of McGrathiana Ave, and the North trail head on Old Ironworks Pike across from the campground at the Kentucky Horse Park.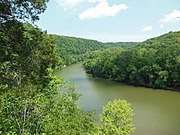 phone: +1 859 272-6105

address: 3990 Raven Run Way

A 734-acre park along the Kentucky River Palisades in Fayette County. Great wildflower viewing in the spring.

phone: +1 859 257-6955

address: 500 Alumni Dr

A 100-acre botanical garden located next to the University of Kentucky. This park is jointly owned by the city and university. Two miles of walking paths meander through representations of different areas of the state.
University of Kentucky sports
Alumni pride
2=Film actress
Ashley Judd
is a UK alumna, and a fierce Wildcats fan. She regularly attends basketball games every season, often sitting in the student section.
She also helped start a series of posters for UK's ice hockey club team. Designed as a fundraiser, the poster had the team's 1998-1999 schedule over
a photo of Judd wearing nothing but a hockey jersey
. (Judd, who had a cousin on the team at the time, provided the photo for free.) The posters sold like hotcakes, the "coolcats"' raucous midnight games became even more popular, and the poster became an annual tradition, each year featuring a different good-looking celebrity Kentuckian.
The UK Wildcats are immensely popular throughout the state (with the partial exception of the immediate Louisville area, where loyalties are divided between UK and its rival University of Louisville) and even more so in Lexington itself. Even if you're not a sports fan, you'll know when it's gameday as the entire town will be dressed to support Big Blue.
address: Rupp Arena, 430 W Vine St

The Kentucky men's basketball team, one of the most storied programs in all of college sports, boasts eight NCAA championships (most recently in 2012), an undefeated regular season in 2014-15, and leads the NCAA with more than 2,000 all time wins. The team coach (John Calipari since 2009) inevitably enjoys celebrity status around town.

address: Kroger Field, 1540 University Dr

The football program has enjoyed something of a renaissance in recent years, although it continues to struggle to establish itself in arguably the country's most competitive football conference. Nonetheless, the team frequently sells out the on-campus Kroger Field (recently renamed from Commonwealth Stadium), at least for SEC home games and the major rivalry game with University of Louisville (hosted by UK in odd-numbered years).
Buy
Keep an eye out for merchandise marked "
Kentucky Proud
", which marks it as a participant in Kentucky's buy-local initiative.
Liquor BarnThe supermarket-sized stores of this local chain make it a good stop for travellers, with gourmet bakery, cheese, and deli items, and a large case of Kentucky Proud foods. Of course, the many aisles of liquor, wine, and beer are also great if you want to take home a special bottle of bourbon or some hard-to-find beers.
There are several major shopping areas in Lexington.
Nicholasville Road, particularly between Man o' War Boulevard and New Circle Road, is a major center for shopping, with several malls and many smaller stores.
Fayette MallThe largest mall in the state, anchored by Macy's, JCPenney, Dillard's, H&M, and Dick's Sporting Goods.

Adjacent Lexington Green strip mall features

phone: +1 859 273-2911

address: 161 Lexington Green Cir #B

An independent bookstore with an impressive selection of books in their cavernous, sunlit interior. Authors on book-signing tours are practically guaranteed to stop at Jo-Beth, and they often have extra copies of recently signed books available.

phone: +1 859 272-8802

address: 161 Lexington Green Cir #B24

Award-winning craft art pieces from artists across America. Whether fashionable or functional, thousands of unique creations of wood, glass, metal, jewelry, and more are waiting for you to discover them.
Hamburg PavilionHamburg is a "power center", an open-air, auto-oriented shopping district with several "big box" anchor stores and many smaller shops like Victoria's Secret and the Black Market. An accompanying residential area sprang up with the shopping complex just at the turn of the millennium. The area continues growing daily; expect plenty of traffic.
The SquareA block of renovated Victorian buildings that was re-purposed as an entertainment area. Located in the heart of downtown, it is connected to the adjacent hotels and business complexes by raised pedways. Containing primarily upscale clothing, jewelry, and art boutiques, it is worth a visit as much for the interior design as the shopping opportunities. It also houses the Lexington Visitors Center.
The Square also connects via pedway to the Lexington Shops in the belly of the Lexington Convention Center, with the Kentucky Proud Market, a UK Memorabilia store, and more.
Maxwell/High is streets bordered on the west and north by Maxwell and High streets respectively, containing a myriad of small, primarily youth-oriented independent boutiques as well as several restaurants. Small boutiques includes the Black Market Boutique, Helen's Boutique, Lucia's, Calypso, Mod Boutique, John's Walk Run Shop, and ILO.
South Lime/Campus Area The bordering downtown campus area features many locally owned restaurants and small locally owned stores. Stop by CD Central for used CDs, new albums, DVDs, wall sized posters, T-shirts from major and local artists, and more. Sqecial Media features many unique gifts from magazines, eclectic books, jewelry, candles, incense, trinkets, and journals. ReBelle is a one of a kind shop featuring all kinds of yarn, locally made clothes, and jewelry.
Eat
Lexington is home to an astonishing number of independently owned restaurants at all price levels. The city's college town atmosphere and affluent lifestyle contribute to this relatively small metropolitan area's great culinary offerings. Chain restaurants, typical in most American cities and towns, can be found here, as well as a great number of privately owned and operated establishments.
Kentucky cuisine to look for includes the
Hot Brown
, an open-faced sandwich of turkey, bacon, and cheese sauce;
burgoo
, a traditional game stew with as many variations as there are people who make it;
beer cheese
, a spicy spread of cheddar cheese and beer; and
bourbon balls
, a sort of chocolate and bourbon truffle with pecans.
Note that smoking is banned in restaurants, bars, and many public buildings in Lexington.
Budget
Downtown
phone: +1 859 255-5301

address: 257 N Limestone

This coffee shop also serves up unique sandwiches. It's a hip cool hang out with an artistic vibe and store inside.

phone: +1 859 335-0300

address: 829 E Euclid Ave

This popular eatery brings a bit of New Orleans to the Bluegrass. The way Bn'T works is quick and painless: pick what you want from the day's selections listed on the chalkboard menu, then order and pay at the register. Not sure what you want? Just ask them for some samples. Standards include Cajun and Creole classics like étouffée, gumbo, and jambalaya, as well as barbecue sandwiches and a few unique creations. Vegetarian and gluten-free options available.

Charlie Brown's

phone: +1 859 269-5701

address: 816 E Euclid Ave

Hip sandwich restaurant where patrons lounge in sofas and armchairs while chatting in the permanently low lighting. Bookshelves line all four walls and are crammed with old hardbacks; patrons may take any book they please as long as they replace it with another.

phone: +1 859 252-9292

address: 1080 S Broadway

Cajun like no other. Menu changes every week, but standards like White Chile, Gumbo, Jambalaya are usually on, as well as a couple of their good vegetarian or vegan options. If you are lucky, you can end up there on a day they are dishing up Pazole Stew or Jambalaya Ya Ya. And their famous Yatwich is something to surprise you: sort of a turkey-based sloppy joe with a lemony kick.

Le Matin French Bakery

phone: +1 859 269-1511

address: 890 E High St

A quaint little bakery that serves up fresh bread, and other items such as lunches, desserts, and more.

phone: +1 859 253-2007

address: 606 S Broadway

A typical college town "greasy spoon" restaurant, "The Ho," as it is called by students, serves classic items like hamburgers (from smallest to largest, the Tolly-Ho, Super Ho, and Mega Ho); shakes; Epic Fries with chili, bacon, jalapeños, and cheese; and the ever-popular cheddar tots. It gets extremely crowded when the bars close around 2:30AM and the line stretches out into the front parking lot.
Around town
phone: +1 859 273-2911

address: 161 Lexington Green Cir #B

This café is an excellent spot for breakfast or lunch, with a monthly menu of salads, sandwiches, and other entrées inspired by novels or cookbooks available in the bookstore.

phone: +1 859 269-2958

address: 3323 Tates Creek Rd

Serves up sandwiches, soups, and other delectable items available behind a huge glass display case. Always made right in front of you. When you're finished dining you can revel in the shopping part of the store that includes cookware, chocolates, homemade bread, and more.

phone: +1 859 254-8723

address: 1230 E New Circle Rd

Built in the 1950s and recently restored to its original condition, this Lexington establishment offers delicious burgers, hot dogs, and fried chicken.
Mid-range
Downtown
Around town
phone: +1 859 245-1789

address: 3715 Nicholasville Rd

This local Italian restaurant is inspired by trattoria, gathering places for family and friends. The dimly-lit interior features stone floors and greenery throughout the rooms.

Columbia's Steak House

phone: +1 859 268-1666

address: 2750 Richmond Rd

phone: +1 859 277-2255

address: 1917 Nicholasville Rd

A classic Mexicana restaurant with all your favorite dishes that serves up delicious food in which seems like mere minutes after you order. A friendly staff and quick service make this a enjoyable trip.

Ramsey'sThis "meat and three" is a favorite for Southern cuisine, and is frequently filled to capacity. All ingredients are obtained from local farmers. Breakfast is available all day every day.
Ramsey's

phone: +1 859 271-2638

address: 4053 Tates Creek Center

Ramsey's

phone: +1 859 264-9396

address: 3090 Helmsdale Dr

Ramsey's

phone: +1 859 219-1626

address: 4391 Harrodsburg Rd

phone: +1 859 259-2708

address: 151 Zandale Dr
phone: +1 859 268-9555

address: 2640 Richmond Rd

Great steaks and chops in a warm, friendly environment.
Splurge
*
Downtown
Around town
Malone's

phone: +1 859 335-6500

address: 3347 Tates Creek Rd

Malone's

phone: +1 859 977-2620

address: 3735 Palomar Centre Dr

Malone's

phone: +1 859 264-8023

address: 1920 Pleasant Ridge Dr
phone: +1 859 269-5417

address: 1074 Merrick Dr

Boasts a classy restaurant nestled within the ritzy gated community "Merrick Place".
Drink
Coffeeshops
Downtown
Around town
Bars
If you're at all interested in bourbon, consider making a daytime trip to explore some of the nearby bourbon distilleries, listed in the Do and Go next sections.
Downtown
Around town
Nightclubs
If you want to hit the dance floor, there are a few bars that are also nightclubs.
Sleep
In Lexington, accommodation rooms are taxed at 13.4%. A complete list of hotels, motels and bed and breakfasts can be found at
www.visitlex.com
Kentucky Horse Park Campground

address: 4089 Iron Works Pkwy

Offers spacious sites with 50/30/20 amp electric and water. All sites are 55' paved back-ins with fire rings and picnic tables. Has many extras including a grocery, gift shop and two bathhouses with modern conveniences. Take advantage of our planned recreational activities or catch a game of tennis or basketball on lighted courts, cool off in the junior olympic–size swimming pool, try your hand at pitching horse shoes, croquet, or maybe square dancing in the recreation pavilion. Also has electric primitive and primitive available for those wishing for a more rustic stay. Planned activities are available on most weekends beginning Memorial Day weekend through Labor Day. Camp has wireless Internet available; first 15 minutes free, various paid time blocks availalble with 24/7 support.
Budget
Mid-range
Splurge
Connect
The area code for Lexington and most surrounding counties is
859
(which spells out "UKY", a testament to the popularity of UK basketball). Scott County (including the major suburb of Georgetown), immediately to the north, is in area code 502, but calls between Lexington and Georgetown are local. Outside the metro area, the area code is 606 to the east; 502 serves the state capital of
Frankfort
. The phone system may be able to correct you if you misuse the area code.
Stay safe
The Lexington Division of Police, accredited by the Commission on Accreditation for Law Enforcement Agencies (CALEA), was awarded "Flagship Status" in 2010 for the third consecutive assessment, becoming the first and only municipal police agency in the U.S. to be so honored. The Police department has several special patrol units, including bicycle, Segway, and a mounted patrol.
Lexington's crime rates rank favorably with other cities of its size.
The University of Kentucky campus is patrolled by the
University of Kentucky Police Department
and is generally quite safe. An initiative called "Cat's Path" is comprised of a series of recommended walking routes that span central campus. The routes were chosen due to their frequent use and accessibility to the main campus destinations. Marked with highly visible signage and paw print ground logos, the Cat's Path is patrolled frequently by University Police, both on foot and in special police golf carts.
Go next
Lexington's central location makes it the ideal base to explore the
Bluegrass Region
.
Activities
An hour east of Lexington, the Red River Gorge, offers numerous opportunities for hiking and rock climbing. Natural Bridge State Park features some of the largest stone arches in the eastern United States. Both are located inside the Daniel Boone National Forest.
Kings Island, in Mason north of Cincinnati, is an amusement park just under 2 hours from Lexington, famous for The Beast - the world's longest wooden roller coaster for 30+ years.
Bourbon
Bourbon distilleries
are plentiful in the area, due to the particular geology of the region that make this distinctively Kentuckian liquor possible. Many distilleries operate tours where you can learn about the processes of mashing, distilling, and aging, and often sample the product. Five are within 30 miles of Lexington.
Small towns
Big cities
Louisville, 79 miles west, is Kentucky's largest city and is famous for—among other things—the Kentucky Derby and the Louisville Slugger Museum.
Cincinnati, Ohio, is 82 miles to the north. As Kentucky was a slave state and Ohio was free, this route north was one of the more popular Underground Railroad lines leading to the freedom shores of southwestern Ontario just across Lake Erie.