Lexington (Massachusetts)
Lexington
is a northwestern suburb of
Boston
in
Massachusetts
.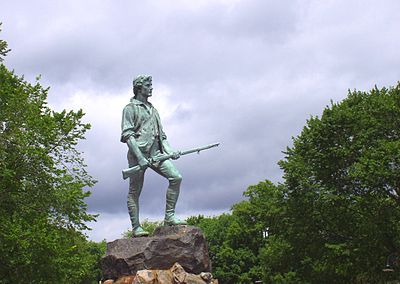 Understand
The Birthplace of American Liberty, the Lexington Green is where the first shot of the American Revolution was fired and the first blood shed. Old cemeteries bear the names and dates of colonial families and many of the colonial houses have been preserved.
Visitor center, on the town common, or "Battle Green". Daily 9AM-5PM, except Dec-Mar 10AM-4PM.
Get in
By plane
Logan International Airport in Boston is the closest major airport, located about 17 miles from Lexington Center, and depending on traffic is around 45 minutes to reach Lexington.
The Laurence G. Hanscom Field, a civil general aviation airport, is located in Bedford, Massachusetts.
Other regional airports include:
Worcester Regional Airport, Worcester, Massachusetts
T. F. Green Airport, Warwick, Rhode Island
Manchester Airport, Manchester, New Hampshire
By train
By car
Lexington is most accessible by the two highways that run through it, Interstate 95 (Route 128) and Route 2. On Interstate 95, take exit 31 or 32. On Route 2, take exit 53, 54 (westbound only), 55 (eastbound only), or 56. From Boston or Cambridge, if you follow Massachusetts Avenue through Arlington to Lexington you are retracing the route that William Dawes (and to some extent Paul Revere) used to warn the colonists in Lexington of the approaching British troops.
By bus
MBTA bus #62 and #76 provide service to Lexington. They run from the Alewife subway station (the end of the line on the Red line) that bring you to the center of town, where 'the Green' is (site of the skirmish between British controlled forces and colonial irregulars). Of these the 76 - Hanscom Field bus should also be able to bring you close enough to walk to some of the other Revolutionary War sites on the far side of 95 aka Route 128.
There is an intra-town bus service, Lexpress, which can be useful in getting to different points in the town. See "Get around".
By bike
Minuteman Bikeway, Massachusetts Av. at Miriam Av. On the trackbed of the railroad. The bikepath starts at the Alewife subway station, near the Arlington/Cambridge border, and roughly parallels Massachusetts Avenue through Arlington and Lexington.
Get around
Tip: Most of the attractions and dining, shopping and entertainment options are located in or near the town center, so be sure to first visit the center, and then fan out from there.

phone: +1-781-861-1210

Lexington's in-town public transit service. Three buses run six routes throughout Lexington during the week (except legal holidays) from 6:45AM to 6:25PM in September-June, and 7AM to 6:25PM during July and August.
Liberty Ride is a seasonal trolley between Lexington and Concord that serves many of the tourist attractions.
See
Minute Man National Historical Park is partly in Lexington. For information see Concord.
The Battle Green, which includes the famous Minuteman Statue and the nation's oldest war monument. Capt. John Parker, who commanded the Lexington militia. His famous command was, "Stand your ground. Don't fire unless fired upon, but if they mean to have a war, let it begin here!"
In close proximity to the Green is the Old Belfry, the Old Depot and the adjacent Depot Square.
The Old Burying Ground, featuring the oldest gravestones in the town, dating back to the 1690s, and the burial site of Captain John Parker and the British soldier wounded on the British retreat from Concord on April 19, 1775.

The Lexington Historical SocietyGives guided tours of three houses:
The Buckman Tavern, 1 Bedford Street, . Daily 10AM-4PM, mid Apr-Oct. Built around 1710, is the only building still on the Green that was there during the Battle of Lexington. The Minutemen gathered here to await word of British troop movements, and they brought their wounded here after the conflict.
Hancock-Clarke House, 36 Hancock Street, . Daily May-Oct. This is where Samuel Adams and John Hancock were staying when Paul Revere arrived. They fled to nearby Woburn. The 1698 house, furnished in colonial style, contains Lexington Historical Society's museum.
Munroe Tavern, 1332 Massachusetts Avenue, . Daily May-Oct. Taken by the British to use as a headquarters and hospital this 1690 building has period furniture. Gardens are historically accurate.
Scottish Rite Masonic Museum & Library

phone: +1 781 861-6559

address: 33 Marrett Rd

Sponsored by the Scottish Rite of Freemasonry.
The Lexington Bicentennial Band, ; and the Lexington Sinfonietta, .
Do
Battle Green Guides, Phone: +1 339-223-5623. Tours available from spring through fall to give visitors a free walking tour of the historic Lexington Battle Green and Old Burying Ground by enthusiastic tour guides dressed in colonial attire. Arranged tours available but requires a call beforehand.
Liberty Ride, Phone: +1 781 862-0500, ext. 702, , a 90-minute tour along the historic Battle Road with a costumed guide who recounts the exciting events of April 19, 1775 and the literary legacy that defined American identity and culture. Operates from October 15 to May 27 and has departures at 10:30AM, 12 Noon, 1:30PM, and 3PM. Tickets $20 for adults, $10 for students (5-17). Free for children under 5.
phone: +1 781 862-5516

address: 225 Cedar Street

A 9-hole/35-par municipal course.
The Lexington Venue

phone: +1 781 861-6161

address: 1794 Massachusetts Ave

One of the last remaining small-town cinemas in the area that features indie and foreign films along with the obligatory blockbuster.
Buy
Muse's Window

address: 1656 Massachusetts Av

Crafts.
Eat
Alexander's Pizza

address: 180 Bedford Street

A quick and unpretentious Greek pizza shop.

Bertucci's Brick Oven Pizzeria

address: 1777 Massachusetts Av

Dabin

address: 10 Muzzey Street

Authentic Japanese and Korean cuisine.

Daikanyama

address: 43 Waltham St

Quaint Japanese restaurant. Features Sushi bar.

Khushboo

address: 1709 Massachusetts Av

Indian.

Lemon Grass

address: 1710 Massachusetts Av

Thai cuisine

address: 1666 Mass. Av

Mario's Italian Restaurant

address: 1733 Mass Av

Reasonably priced Italian restaurant.

address: 94 Hartwell Av

Fine Dining.

Teppanyaki

address: 27 Waltham St.

Hibachi-style Japanese restaurant. Also features sushi bar and some Chinese food.

address: 41 Waltham Street

Upscale pizza.

address: 1845 Massachusetts Ave

All-day café.

address: 21 Depot Sq

Chinese.
Specialty
address: 182 Bedford Street

Freshly baked French pastries.

Rancatore's Ice Cream

address: 1752 Mass Av

Home made ice cream and sauces. Shades of vanilla and chocolate.
Note: There are no fast-food chain restaurants in Lexington, so be prepared to stay a bit if you go out to eat, although there are Starbucks and Dunkin' Donuts, along with a couple quick-fix cafés and the like.
Drink
Lexington is living up to its Puritan roots in the nightlife category. There are no dedicated bars to speak of, although many restaurants serve alcohol.
phone: +1 339 970-0187

address: 1720 Massachusetts Ave

Cyclist focused coffee shop and bike repair spot conveniently located near the Minuteman Bike Trail. Ride has a selection of locally roasted coffees and well made espresso drinks. There is also a small menu of locally sourced food and if you happen to have bike trouble, they can probably fix it for you.

address: 1749 Mass Av

Coffee, tea, pastry.
Sleep
address: 189 Wood Street

3 rooms.

address: 24 Eldred St

3 rooms.

Greentrees Bed & Breakfast

address: 40 Sherburne Road

2 rooms.

Morgan's Rest Bed and Breakfast

address: 205 Follen Road

3 rooms.

Pacem Bed & Breakfast

address: 62 Sherburne Road

3 rooms.

address: 440 Bedford St

phone: +1 781 761-1700

address: 727 Marrett Road

Element Lexington

address: 727 Marrett Road
Go next