Leysin
Leysin
,
Switzerland
in the commune of Vaud is a laid back, non-posh, non-pretentious mountain village in the Vaud Alps, above
Montreux
. It also happens to be the site of a ski resort with awesome off piste possibilities. Leysin is quickly earning a reputation as the college center of Switzerland, as it is the home of five international schools. Live music is no stranger with an active Blues Club Summet du Blues to provide live music year round, open mike nights at the Yeti Bar, and always the impromptu jam if you can find them. When here stroll down the Rue du Commerce and check out the bohemian galleries, yet another side of this sleepy town. All that and the Kuklos, a mountain top revolving restaurant (of course!). In a way it's sort of amazing that one village can have this much cool stuff and remain as laid-back as Leysin is.
Leysin is in the
Alpes Vaudoise
roughly above and one mountain over from
Montreux
. The panorama includes all of the Alps Vaudois, including the Mont Blanc to the Eiger. It is just as, or more impressive as those found further up into Canton
Valais
, and prices that are a bit more competitive.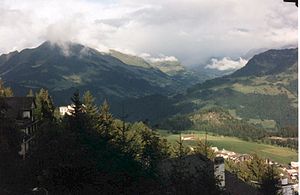 Get in
By train
Leysin is served by the TPC (Transportes Publics du Chablais) which has a cog-wheel train which runs once per hour from the
Aigle
station, which is timed to connect with the main Swiss National trains arriving from
Montreux
on the
Geneva
-
Brig
line. On certain dates during the ski season there are direct TGV trains from
Paris
to
Brig
offering the same connection at
Aigle
. The trains up to Leysin leave from track 12, which is actually in front of the
Aigle
station in the parking area (it's the track closest to the buses).
There are multiple stops within Leysin, notably Leysin-Village, Versmont and Leysin-Feydey. Leysin-Feydey (+41 24 494 11 16) is the station closest to the Télécabines. For other destinations check the destination listing below for the correct station.
By car
Although the final approach to the village has a number of hairpin bends the potential motorist should not be deterred. The views are stunning and the road kept clear throughout the year and the village can be comfortably reached from Geneva in an hour and a half. Once in the village there is ample parking even at the height of the skiing season. Parking close to the ski lift is policed at the weekend and a small charge is levied.
Get around
Leysin combines a great landscape, lower prices, and a lively atmosphere, so what's the rub? This is: a near total lack of public transport once you get off the train. The free village bus (navette) circulates once per hour, during the Winter (end Dec. - beg. April) and Summer (mid-June - mid-Sept.) seasons. Luckily it's not much trouble to walk to most places for a healthy young traveller, or for that matter for anybody who's used to it. Disabled travelers might opt for a better equipped (if pricier) mountain getaway in perhaps
Zermatt
or
Verbier
.
If all else fails you can get a cab from Taxi ABC (+41 24 493 22 93) or Taxi Kojak (+41 24 494 25 55).
The TeleLeysin cable car runs both summer and winter.
See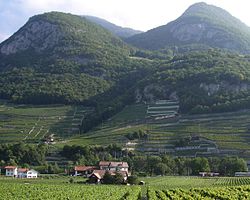 People mainly come to Leysin to
Do
things like skiing, mountain
biking, or horseback riding. That said, there are a couple of sites worthwhile for the casual traveler, even on a lunchtime excursion from
Montreux
or
Lausanne
phone: +41 24 494 16 35

address: Place Large, about 100m east from the Leysin-Feydey station

The views on the ride up are nearly as spectacular at those from the top. On a clear day you can take in Mt. Blanc, the Eiger, and Lausanne from this perch above Lac Leman.
Do
Ski, access to most runs from the Berneuse ski station, Place Large. +41 24 494 16 35. If you are a total beginner of course it's best to take classes, but if you just want to brush up before you go for the gusto you should check out the beginner's slope just above the ski station which costs only Fr. 14 to use. It's a bit hard to find at first, so don't be afraid to ask. If you're up to a bit more of a challenge, but still want to practice you can take the chair lifts up to the Tete d'Ai, and then—taking a left—ski cross-country style over to a very nice easy run below the Berneuse restaurant. The descent to the same run directly from the Berneuse cable-car is a more intermediate, but you should be able to handle it if you are comfortable turning and stopping. There are also fun descents down from the Tete d'Ai through the forest. Ski passes start at Fr. 30 for a half day, and 42 for a full day. Standard ski rentals start at Fr. 28 per day plus boots from Fr. 15 per day. Prices good as of January 2006.

phone: +41 24 494 28 68

At the southern edge of the village. Claiming to be the first toboggan park in the world which allows snow tubing in bobsled like runs, the toboggan park is a good alternative for kids and adults who are a bit too afraid of heights to ski, but who feel the need for snow and speed. Tickets for an hour and 50 minutes go for Fr. 20 for adults and Fr. 15 for kids. A single run on a tube is Fr. 3. The Leysin park is considered by some to be the best one in whole of Europe for its great jumps and chances for inexperienced skiers and snowboarders to practice without pressure

Ice Skating

Kids' SleddingThere's a fairly well maintained sledding run for kids oppsite the Patinoire. It's completely bowl-shaped, so there's no risk of sledding out of control.

address: Leysin, Switzerland

Trekking, hiking, snowshoeing, navigation training, winter travel & avalanche safety with an International Mountain Leader based in Leysin.
Events
Nescafé Champs Open, at the top of the Berneuse, the first weekend in February, and several days running up. World champions in free-style snowboarding, skiing and para-gliding compete over four days for several thousand dollars worth of prizes provided by the Nestlé corporation. The whole thing is free with your normal lift-tickets, but of course if you want a beer or hot-chocolate you'll pay mountain rates.
Learn
Fly, try to do tandem paragliding from the Berneuse ski station. Very nice flight which last from 10 to 30 minutes, depending on the condition of the day. More informations on Panpam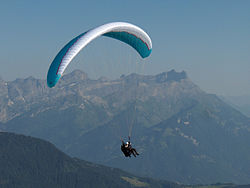 Leysin American School +41 24 493 3777. Offering an American high school diploma, and the international equivalent, the American school more or less guarantees that you'll hear quite a bit of English spoken in Leysin with an American accent. If you or your kid(s) are of high school age check out their programs, including one year, four years, and a summer program. Leysin American School also offers the IB ( international baccalaureate) program for its students, it has 8, 9, 10, 11, 12, 13/PG grades. Check out their website www.las.ch and find out more.
KLAS. If you are a traveler who is Japanese and of school age this baccalaureate school presents an opportunity to convince your parents to let you spend 3 months to 4 years in the Swiss Alps.
ALPADIA Language School. Formerly known as ESL-Ecole Suisse de Langues. ALPADIA runs camps for teenagers for students from 13 to 17 years old and summer camps for juniors from 8 to 14 years old . Swiss and international students summer camps for teens in Leysin.
FSU. FSU- Florida State University International Programs, runs two separate five week long sessions between the months of May–July. Courses offered are geared toward a hospitality curriculum with limited business classes. FSU is a leader in international study abroad programs and encourages students from other schools to apply.
Buy
Chez Maria Place du Marché. A fairly typical Swiss souvenir shop in most senses if it weren't for their specialty: Amazing chocolate with pralines, and a huge selection of coffees.
l'Atelier l'Art Partout. Place de la Gare de Leysin-Feydey. +41 79 215 82 50. A refreshing change from the ordinary souvenir shop, this one has a range of home-made objects many of which the multi-talented proprietor makes herself on the premises.
La Fromagerie, in the center of the village, there are lots of signs. +41 24 494 22 05. As the name suggests they make cheese here, and sell it. You can get a fairly personal guided tour of the facilities.

phone: +41 24 494 17 14

French language school. If you want to learn French, this is the place to be. All levels accepted, small classes, emphasis on oral. For more info, please check our website: www.voxlingua.ch
Eat
Kuklos, at the top of the Berneuse, accessible by cable-car. +41 24 494 31 41. Built to replace a Châlet which burned down in 1984, this revolving restaurant will be known by most winter-time visitors as a ski-lunch stop, but the real time to enjoy the restaurant is during the summer, when they (and the cable car) are open evenings for intimate classical and folk music concerts with a set menu dinner. They are happy to serve vegetarians and vegans any time, but will be better prepared to serve you if you book ahead.

Restaurant de la PatinoireOffering basic Rösti, pasta, and other simple dishes the restaurant at the skating rink is a good place to warm up after (or wait out) kids' ski lessons at the neighboring jardin des neiges. Free Wi-Fi.

La Fromagerie,+41 24 494 22 05, Found in the heart of the village the restaurant ouzes as much charm as its fondue ouzes cheese. The menu is based on traditional Swiss fare but has an international component with dishes such as Thai curry also available. Many of the ingredients are locally sourced but all are attributed to their source so an informed choice can be made.
Drink
Saloon Leysin, in the village. An American style saloon.
Top Pub, often frequented by students from the Leysin American School
Sleep
phone: +41 24 494 13 39

address: Place Large

If you're in Leysin to ski there is no more convenient place to stay. It's directly next to the station for the cable car to the Berneuse. With 20 rooms. As usual with ski hotels the best room is the one in the attic.

Chalet Fougères

phone: +41 79 632 40 52

Operates as a residence for the American summer school in July and August. It is available for group bookings of up to 60 people.

phone: +41 24 494 12 61

address: Les Esserts

Two beautiful new chalet B+Bs near the lower village. Great views, exceptional hospitality.

Le Château

phone: +41 24 494 19 17

phone: +41 24 494 16 14

address: at the Leysin-Grand Hôtel train station

Hôtel la Paix

phone: +41 24 494 13 75

address: Rue Rollier

phone: +41 24 493 2280

address: Route des Ormonts

This hotel might be a good choice when travelling with kids since it's just around the corner from the snow kindergarten, skating rink, and sledding area. Free Wi-Fi.

phone: +41 24 494 13 89

address: En Avouillon, 1854 Leysin

Located in Leysin, a village in the Swiss Alps, this traditionally styled bed & breakfast offers a variety of facilities in a picturesque setting. Here, guests can enjoy mountain scenery and countryside views just 1 km from the cable car departure point and 60 km from Montreux and Gstaad. The hotel offers traditional rooms, decorated with mainly wooden furnishings, with a cosy atmosphere. Free Wi-Fi for guest use.
Connect
Internet