Liberec
Liberec
(German:
Reichenberg
) is nestled in the Jizera Mountains, at the foot of Ještěd mountain in the
Bohemia
region of the northern
Czech Republic
.
Get in
By bus
Prague: Buses depart from Černý most metro station, the terminus station on the yellow line (B) up to 25 times per day with Student Agency. Dopravní podnik města Liberce also operates a bus service from the same station. Adult tickets are 80-100 Kč (Dec 2018) and journey time is 1 hour 5 minutes.
By train
Liberec train station

Prague: Rail from Prague to Liberec is quite slow and there's no direct train from Prague. With change in Turnov the trip time is two times longer than by bus.
Dresden: 2 hr, four regional expresses a day. The Sachsen-Böhmen-Ticket can be useful.
Get around
The train and bus station are next to each other. You can walk about 1 km to the city center or get a tram No 3. From there almost every sight can be reached on foot.
Liberec city transport
consists of trams, buses and a inter-city narrow gauge tram line to
Jablonec nad Nisou
. The central terminal is
Fügnerova
stop. Single ticket costs 20 Kč (24 Kč if bought from the driver), one-day pass costs 80 Kč. See city line map and
online timetable
.
If you travel outside Liberec, a good solution is the
Euro-Nisa
network ticket
, available at train stations. It's valid for one day in all trains and most of buses in Liberec region,
Upper Lusatia
and
Zgorzelec
region (see
map
), as well as in cableway to Ještěd. Price is 160 Kč for one person or 320 Kč for a group of up to 5 people.
See
City Hall

address: Náměstí Dr. E. Beneše

The pride of the locals, a luxurious neo-Renaissance architecture built in 1888–93.
Dr. Edvard Benes SquareMain city square, named after the wartime president, Edvard Beneš.

address: Náměstí Dr. E. Beneše 1

address: Zhořelecká 5

Built in 1883 (same year as the National Theatre of Prague), named after František Xaver Šalda, an avant-garde playwright.
Church of St. Anthony the Great

address: Železná Street

A neo-Gothic church, no public access to the inside.
Liberec Castle

address: Felberova Street

A Renaissance chateau with glass collection, but no public access to the inside.
address: Masarykova 11

Closed until November 2019 for renovations.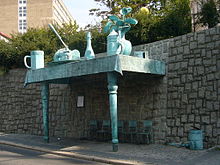 address: Masarykova 723/14

address: Masarykova 31

The first zoo in former Czechoslovakia, founded in 1919.

address: Purkyňova 1

Bus stop - sculpture Feast of Giants by David Černý. A table set with, among others, a carnivorous plant, knocked over menorah, German and Czech beer mugs and head of Konrad Henlein on a plate (all allusions to Liberec complex history).
Do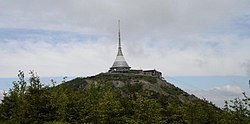 Ještěd MountainA well-known landmark of Liberec city with a famous tower on the top. The tower built in the 1960s has a unique hyperboloid shape, naturally extending the silhouette of the mountain. It serves as a hotel and TV transmitter. By good weather you can overlook most of northern Bohemia as well as part of Germany and Poland from the summit. Take a tram No 3 to Horní Hanychov and then either by hiking one of the trails or by cableway (60 Kč) to the top.

Cross-country skiing The city is famous for winter sporting events like FIS Nordic World Ski Championships 2009 or the Jizerské Mountains, where you can enjoy the majestic beauty of the Nordic nature on 115 km of cross-country paths.

address: Nitranská 1

Rebuilt from an former textile factory, the Babylon is one of the largest Czech entertainment complexes. It offers aquapark, lunapark, 3D motion simulator, golf simulator, laser game, wellness center and many others.
Golf at two golf resorts with an unforgettable atmosphere.
Eat
Duli

address: Moskevská 4

Pizza and pasta on the 1st floor, more on 2nd.

Kavárna Pošta

address: Náměstí Dr. E. Beneše 24

Viennese cafe, dances on Friday nights (with extra admissions)

Café Praha

address: Železná 2

Belongs to Hotel Praha, with some veggie dishes.

phone: +420 485 111 293

address: Husova 23/9

For Indian and Nepalese & Himalayan foods.
Drink
Hotel Radnice

address: Moskevská 11

Bar and restaurant.
Sleep
phone: +420 777 848 484

address: Svobody 2

phone: +420 603 449 185

address: Heliova 287

Very nice apartments close to the city center.
Go next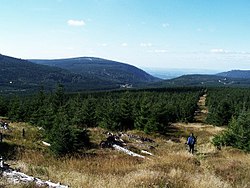 Jizera Mountains

(Jizerské hory) are a true island of Scandinavian nature in central Europe. The central plateau with endless forests is ideal for hiking and cycling in summer or cross-country skiing in winter. Although in recent years crowds of tourists head there and the nature park authority issues too many car entry permits, you can find there a lot of quiet deserted places where only birches, pines and long grass whisper between rocks and boulders. Good start points to Jizera mountains are:
Bedřichov, easily reached by bus from Liberec, but also full of tourists
Josefův Důl and Kořenov train stations
Harrachov train station, ideal for exploring the Polish part of Jizera mountains
Lusatian Mountains (Lužické hory) are lower than Jizera mountains but also less touristy and surely worth to visit. Military enthusiasts will be interested in remnants of interwar Czechoslovak fortification system with a lot of deserted concrete bunkers. Good start points are Rynoltice, Lvová and Jablonné v Podještědí (train stops) or Jitrava (bus stop).
Ralsko is a center of former military area, formed by vast plains with pine forests, quiet ponds, sandstone rocks and mysterious dilapidated military structures. Take a bus to Stráž pod Ralskem and get off in Osečná or Hamr na Jezeře.