Librazhd
Librazhd
is the name of a town and district in
Albania
. It is in the central east of Albania between
Elbasan
and
Pogradec
Get in
Librazhd sits between the cities of Elbasan and Pogradec, and is also on the road between
Tirana
and
North Macedonia
.
There are buses from Tirana at 14:00 every day. The buses depart from near the intersection of Bulevardi Zhan D'Ark and Bulevardi Dëshmorët e Kombit near the Taiwan Center. You can find minibuses to Pogradec which pass through Librazhd about 100 meters from the US Embassy.
Buses to Tirana depart Monday to Saturday at 06:00 and on Sunday at 10:00.
It is also possible to travel from Tirana to Librazhd by taking any
Korça
, Qafe Than, Pogradec, Bilisht, or Erseke-bound bus or minibus. Similarly, to travel to Tirana you can often take minibuses and buses coming from these locations.
Bus rides to Librazhd are 250 lek, while minibus (furgon) rides will cost 400 lek.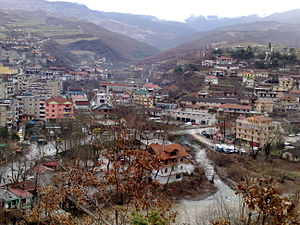 Get around

Librazhd is a fairly small city, so you can travel quite easily on foot.

See
Shebenik-Jabllanice National Park . The park contains a number of wild flora and fauna as well as a number of rare and endemic plants and mountains over 2,200 meters.

phone: +355 69 39 21 501

address: Near the town center

Local artist Gezim Hidri works with mosaics, motifs, oil paintings, sculpture, stone carving, etc. He is working on a mosaic of the Chelsea football club owner Roman Abramovich. Contact Iridion Bahiti at the number above for a free tour of his studio and stone-cutting workshop, or visit the artist's website.

Librazhd Ethnographic MuseumIn the environment of this museum is presented the economic life of the country's population developed on the basis of the living conditions of the climate and the establishment of settlements. An important place is the family setting as a guest house that reflects the good hospitality tradition and the home of bread. In this environment are located characteristic features of the rural apartment. Librazhd is located in a very favorable geographic position development of different skills such as stone, wood, and metal processing.

Koshorishtit Church (Church cave)Koshorisht Hermit's Church, a unique cultural monument, believed to be a creation of the 9th-12th century AD. It is a unique and historical site. This cave church is on a cliff in height about 70 meters from the river of Qarrishta where Mary and the disciples were painted during a ceremony. It retains its original colors despite the padsing of time. Many of the residents of these areas go to visit a shrine that brings you luck. Many other visitors, local and foreign tourists, remain captivated by its beauty.

Bee Rock CaveLocated northwest of the village of Monte Pear Librazhdit district, on the eastern slope of Mount Polis and rocky ravine Bee Rock with height 1409 m.

Shebenik lakeThis lake is on the northern slope of Shebenik Peak, at 1800 m altitude, in a large circus glacial complex. Here glacial forms are developed. There are crystal-clear water and cool. During winter freezes on the surface. It stands for rich vibrant world.

Polis MountainThe mountain is about 80 km from Tirana, is between Elbasan and Librazhd in a place called Mirake. There is diverse vegetation which is an attraction for different biologists. 6 months of the year is covered by snow. There can be developed winter tourism, winter sports, horseback riding, skiing, etc.

Cave of the Old ladyIn Gizavesh Village there is a cave known with the name "Cave of the Old lady". Because it is thought and said that before there has lived an old lady. Many years ago, it was thought that this cave connected two villages, Gizavesh and Librazhd Katund, but now this road is blocked. In the entrance there is a water spring and in the cave there are special stones that sparkle. To visit the cave, you must have lighting.

Egnatia road routeStreet Egnatia, which is also know as "Via Egnatia", is one of the major roads with importance of the ancient world. It was built in 149-120 BC by the Roman proconsul of Macedonia. Via Egnatia has known trade, historical battles, church preachers, roman and ottoman religions. This road is still kept untouched, throughout the upstream of Shkumbin river, particularly in mountainous areas of Librazhd from Miraka to Qukës.

Kamara bridgeThe object, which was declared "Cultural monument" is about 20 km northeast of Elbasan, 5 km before reaching the town of Librazhd, directly on the Shkumbin river bed. It was built in 1715 by Ahmad from Elbasan, according to the inscription on the plaque of Turkish stone in the bridge, which is now preserved in the museum of Librazhd.
Do
Visit the bazaar on Saturdays and Mondays behind the Taçi gas station

Buy
Market Luani has products from all over Europe and products from the United States at extremely low prices. The owner is extremely friendly and nice and the store has a friendly atmosphere. The store is down the stairs from the Albanian Post Office on the stairs on the left hand side of the building.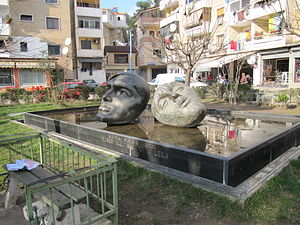 Eat
Ura E Lizes

phone: +355 686 195 618

address: Rruga Elbasan Librazhd

Restaurant serving traditional Albanian food. Inexpensive, family friendly, spacious with ample parking, friendly staff, and warm atmosphere.
Sleep
Lindi Komplex

phone: +355 69 224 1774

address: Town Square

A room with two beds is 2000 lek a night and includes coffee, tea, or espresso as well as washing and ironing for those staying longer. Furthermore, extended visitors may negotiate lower prices. There is no reception, but you may inquire for a room at the attached bar which is open until midnight. The owner's name is Agron Gurra.
Go next